Why does my dog roll around after eating? If this question is constantly asked in your mind, here's what you need to know. Dogs are known to be energetic and playful companions, but sometimes they're downright quirky. One such quirk is the tendency for some dogs to roll around after eating their meals.
So while it might look like they're just getting dirty, there's a reason why your dog does this. Experts have several theories about why dogs roll around after eating – from celebrating a delicious meal to getting rid of lingering food smells.
The most likely explanation is that your dog is trying to spread their scent around. This article will explore why dogs roll around after eating and explain why it's generally nothing to worry about. So, without further ado, let's dive into it.
Before you scroll down to a more in-depth answer to this guide, "Why Does My Dog Roll Around After Eating," you can check out these other dog-related questions answered by our team at We Love Doodles: Why Does My Dog Sleep By The Door and Why is My Dog Eating Grass Frantically?
Why Causes My Dog Roll Around After Eating?
While it may seem bizarre, this is a natural behavior for dogs. It's likely a holdover from their wild ancestors, who would roll in dirt or grass after eating to camouflage their scent. This made it harder for predators to track them down and steal their food. Today, most dogs don't have to worry about being hunted by predators.
However, the instinct to roll around after eating is still there. For some dogs, it's simply a way to enjoy a post-meal stretch. Others may do it to get attention from their humans or as a way to release excess energy. Let's go into more detail about a few of the most common reasons your dog might roll around after eating.
1. A Burst of Energy From Your Dog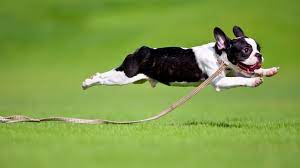 After a big meal, it's not uncommon to see a dog settle in for a nap. But sometimes, a dog will run or roll around energetically instead of sleeping. This is because when your dog eats, its blood sugar rises as its body digests the food. This can cause your dog to feel a burst of energy and send them rolling around like crazy – which is often lovingly referred to as the "zoomies."
Some experts believe that zoomies are the dog's way of digesting food. The act of rolling around helps to massage the digestive tract and gets things moving along. Others believe that zoomies are simply a case of released pent-up energy. After all, it's hard to take a nap when you're full of energy.
No matter the cause, the zoomies are usually harmless and only last for a few minutes. After all, it's just your dog's natural reaction to an influx of energy. So if you see your dog suddenly start rolling around after eating, don't worry – they're likely just working off their meal.
Related: Goldendoodle Energy Level Information and Top Low-Energy Hypoallergenic Dogs That Don't Shed.
2. Your Dog is Expressing How Happy It Is
Some dogs roll around after eating because they're happy and content. Food is among dogs' greatest joys in life, and they might express that happiness with a celebratory roll. After all, what's better than a full belly and a sunny spot to kick up your heels in?
If your dog rolls around after eating and seems happy and content, there's no need to worry. They're just expressing their joy in the best way they know – by being a dog. So let them enjoy the moment, and they'll eventually tire themselves out and take a nap.
Related: Ways to Make Your Chihuahua Happy.
3. Your Dog is Scent Masking
As we mentioned, one of the most likely explanations for why your dog rolls around after eating is that they're trying to mask the scent of its food. In the wild, predators are often attracted by the smell of food. By moving around in the dirt or grass, your dog can effectively cover up lingering food smells and make it harder for danger to find them.
This behavior is more common in wild dogs, who are constantly at risk of being hunted. But even domestic dogs haven't lost that instinct to mask their scent, which is why they might roll around after eating. Even something as simple as a neighbor's dog can be considered a predator to your puppy, so they might roll around to make themselves less noticeable.
If your dog is rolling around after every meal, it might be worth keeping an eye on them to make sure they're not being overly cautious. If they seem anxious or stressed, consider talking to a vet or animal behaviorist to see what you can do to help them feel more relaxed.
4. Your Dog is Marking Its Territory
Alternatively, your dog might be rolling around after eating to mark its territory. When dogs roll around, they're depositing their scent onto the ground. This is a marker for other dogs, letting them know that this is someone's territory. When another dog comes across this scent marker, they'll avoid the area entirely.
Marking territory is more common in male dogs, who are naturally more territorial. But even female dogs might do it sometimes, especially if they feel like their territory is being threatened. After eating, your dog may need to mark their territory and ensure other dogs don't try to take their food.
Dogs fearful, submissive, or anxious are more likely to respond in this manner, as they feel the urge to protect themselves and their belongings. When they feel their territory is threatened – for example, by a new dog in the neighborhood – they might roll around after eating to reassert their dominance.
Related: Can Two Dogs Share a Crate?
5. Your Dog Could Be Cleaning Its Face
Another reason your dog might roll around after eating is to clean its face. Dogs often get food and water around their muzzles when eating. And can we blame them? Eating out of a bowl is tricky, no matter how well-trained your dog is. Rolling around can help remove any food stuck to their fur, keeping them clean and comfortable.
This behavior is prevalent in puppies, who are still getting used to the whole eating process. Puppies are often messy eaters and might not yet know how to clean their faces after meals effectively. So they'll rely on rolling around to help them out until they learn how to do it themselves.
If your dog constantly gets food stuck to its fur, you might think about switching to a shallower dog bowl. This makes it easier for them to eat without making too much of a mess. You can also try using a damp cloth or dog-specific wipes to clean their face after they eat.
Related: Why Do Dogs Rub Their Face?
6. Your Dog Wants to Feel Pleasure
We're all aware of how amazing it feels to scratch that itch that's been bothering us. And dogs are no different – they often roll to scratch an itch that they can't reach with their paws. Sometimes, the only way to get to that itch is by rolling around on the ground until it's finally scratched.
If your dog appears overly itchy, look to see if anything is irritating. Bug bites, dry skin, and allergies are all common causes of itchiness in dogs. Talk to your vet about the best course of action if you can't find anything and the problem doesn't resolve itself.
Related: Is Sudocrem on Dogs Safe?
7. Your Dog is Showing Signs of Discomfort
Unfortunately, not all reasons your dog rolls around after eating are good. In some cases, it could signify discomfort or even pain. If your dog seems to be moving around to relieve something, pay attention to see if there are ongoing signs of distress. For example, if your dog is also licking their lips or making swallowing motions, it might feel nauseous.
This has several causes, including motion sickness, eating too fast, or eating something that doesn't agree with them. While not usually cause for alarm, don't hesitate to talk to your vet if you're concerned. Note: Gastric dilatation and volvulus (GDV) is a life-threatening condition where the stomach fills with gas and twists.
While the exact cause remains unknown, it's believed that exercise after eating a big meal could increase the risk. So if you notice your dog's stomach appears bloated or swollen while rolling around, especially on the left side, take them to the vet immediately.
8. Your Dog Could Be Dealing with Allergies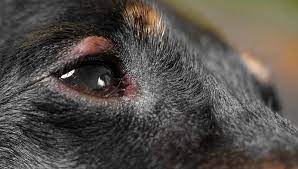 Environmental allergies, food allergies, and seasonal allergies are all relatively common in dogs. And one of the most common symptoms of allergies is itchiness. It might roll around if your dog is itchy to relieve the irritation. Allergies can also cause other symptoms like excessive licking, rubbing their face, and red or watery eyes.
If it seems like your dog is suffering from allergies, talk to your vet. They can help you identify what might be causing the problem and recommend the best way to treat it. Sometimes, you can manage allergies with a change in diet or medication. But it's always best to get professional help to ensure your dog is as comfortable as possible.
Related: Everything You Need to Know About Chicken Allergy in Dogs and Top Labradoodle Allergies and How to Treat Them.
Conclusion For "Why Does My Dog Roll Around After Eating"
As you can see, your dog might roll around after eating for many reasons. In most cases, it's nothing to worry about and is simply part of your dog's instincts or expression of happiness. However, consult your veterinarian to discuss any possible underlying health issues if you notice something out of the ordinary and believe your dog is in pain or discomfort.
If you find this guide, "Why Does My Dog Roll Around After Eating," informative, you can check out these other dog-related questions answered by our team:
In case you believe that your dog is in trouble, you can learn more about signs of a dog in trouble by watching "14 Critical Signs Your Dog is Begging For Help" down below: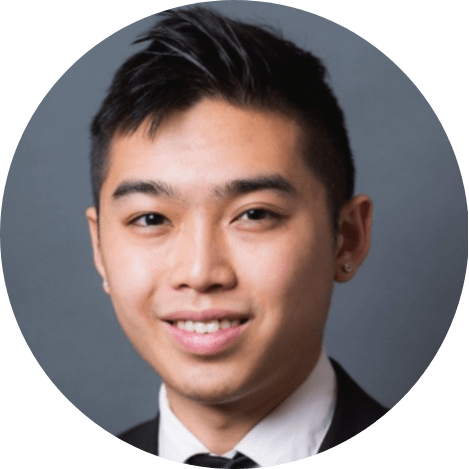 Andy is a full-time animal rescuer and owner of a toy doodle. When he's not saving dogs, Andy is one of our core writers and editors. He has been writing about dogs for over a decade. Andy joined our team because he believes that words are powerful tools that can change a dog's life for the better.
Why Trust We Love Doodles?
At We Love Doodles, we're a team of writers, veterinarians, and puppy trainers that love dogs. Our team of qualified experts researches and provides reliable information on a wide range of dog topics. Our reviews are based on customer feedback, hands-on testing, and in-depth analysis. We are fully transparent and honest to our community of dog owners and future owners.