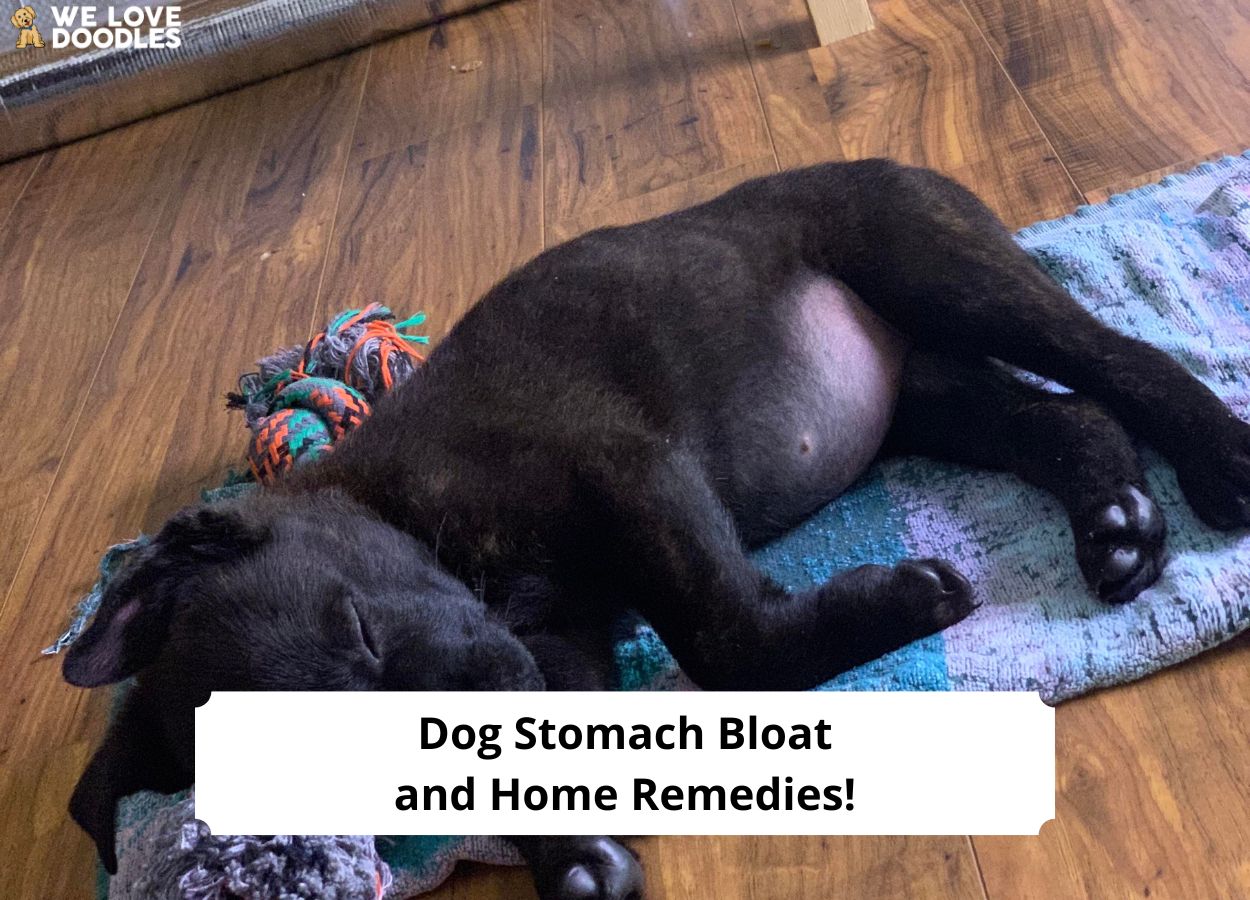 Sometimes, a dog can eat too much food, and it makes its stomach bloat like a balloon. While uncomfortable for them, it's usually not super serious. But if the stomach gets too big and twisted, it can cut off the blood flow to important organs and put your dog at risk.
This is called gastric dilatation and volvulus (GDV) and can be life-threatening. It's important to get them medical help right away if this happens.
Before reading this guide, "Dog Stomach Bloat and Home Remedies," check out: 8 Home Remedies For a Sick Dog Not Eating! (2023) and Should I Feed My Dog Before or After a Walk? (2023).
What Causes a Dog's Stomach to Become Bloated?
Your dog has a sensitive stomach, and there are many things that can cause bloat. Understanding the cause will help you make sure your pet avoids it and you know how to treat their bloat as well.
Intestinal Parasites
Intestinal parasites are a common problem in young puppies that can cause their belly to appear bloated, giving them a "wormy" appearance. Hookworms and roundworms are the two most common intestinal parasites that are often detected during a fecal screening test conducted by veterinarians.
Symptoms of intestinal parasites can include spotting long, roundworms in the stool, vomiting up worms, and experiencing poor haircoat, pale gums, and diarrhea with or without blood.
Fortunately, with timely diagnosis and proper deworming, this condition is treatable and can be corrected relatively easily.
Overeating
Has your cute little pup got into a big bag of dog food or gobbled up a bunch of dirt? Maybe they took a liking to your toddler's Play-Doh and chowed down? Dogs can have peculiar eating habits, but consuming a lot of non-food items can result in painful stomach distention.
While some foods may be digested eventually, depending on the item your pup ate, they may require extra care, such as hospitalization and IV fluids. More severe cases, like swallowing stuffing from their bed or ingesting mulch from the yard, might even call for surgical removal of the foreign object.
An enlarged stomach in dogs can also be caused by reduced gastrointestinal motility or constipation. A thorough examination from your trusted veterinarian will diagnose the cause of your dog's bloated stomach, which may include additional testing such as blood work or X-rays.
Don't hesitate to seek help if you notice any abnormal behavior in your furry friend.
Abdominal Fluid
Dogs can get a round belly for a few reasons, and one of them is called ascites. Basically, it means they've got a bunch of fluid building up in their belly. Depending on how much is in there, they might start to look like they've got a potbelly.
This isn't the most common reason a dog's belly gets big, but it can happen. Sometimes, there might be an issue with their heart or kidneys that causes low protein levels, or it could be cancer.
It can even happen if they're bleeding somewhere else in their body. Unfortunately, this tends to happen more to older dogs and usually means they're pretty sick.
If your dog looks swollen and you're worried about it, the first thing to do is figure out the cause. Then, the veterinarian can recommend the best course of action. They'll need to assess the type of fluid that's causing the bloating and make sure your dog is stable enough to go through treatment.
Gastric Dilatation and Volvulus (GDV)
GDV is a serious situation in veterinary medicine. It happens when a dog's stomach fills up with air and then twists. This makes the dog's body look bigger and like they're trying to throw up.
They might also be breathing heavily and seem like they feel unwell. If the dog's stomach hasn't twisted yet, but it's still filled with air (gastric dilatation), they'll need X-rays to see what's going on.
Cushing's Disease
Cushing's disease, also referred to as hyperadrenocorticism, is a condition caused by hormone-producing tumors found in either the adrenal or pituitary glands. This illness manifests in numerous clinical indicators that can be challenging to identify.
In particular, dogs with the disease often have a bloated-looking stomach due to the weakened abdominal muscles that result from the excess cortisol produced by the body.
Is a Bloated Stomach Dangerous for Dogs?
Bloat is a term used to describe the distention of a dog's belly, which can be caused by various factors. It is often confused with gastric dilatation and volvulus, a specific medical condition. However, not all bloated stomachs indicate this disease.
As such, it is essential to identify the causes and types of bloating in dogs and seek veterinary attention if necessary. Below, we will delve into some common signs and sources of bloating in dogs, providing you with more detail, facts, and a richer understanding of this issue.
What Are the Most Effective Home Remedies for Bloat in Dogs?
If your dog is suffering from the condition known as bloat, you should not try to treat it at home and should seek medical attention immediately. If your dog is simply bloated, there are several home remedies you can try to provide relief.
Try an Elimination Diet
We've all been there — sitting on the couch, trying to watch TV when suddenly, a funky odor hits the air. Yup, it's our beloved pup's flatulence. And if your dog's stinky farts are making your living room unbearable, it's time to take a closer look at their diet.
Turns out, cheap kibble can do more harm than good. Many mass-produced dog foods contain harmful ingredients such as gluten, carrageenan, and chemical preservatives that can wreak havoc on your dog's digestive system. Plus, artificial food dyes? We don't even like them in our own food!
Try an elimination diet by feeding your pup a high-quality, natural dog food. Look for good options that use a lot of fresh ingredients, such as fresh meats and vegetables. This will help your dog pass the bad food faster and ensure they are eating a nutritious meal.
Probiotics and Prebiotics
Did you know your dog's gut contains both "good" and "bad" bacteria? Don't worry, it's all part of the natural gut flora. However, it's important to maintain a balance between these bacteria for your dog to stay healthy.
One way to do this is prebiotics, which are essentially fiber that the body can't break down. Instead, prebiotics make their way to the colon, where they serve as food for the "good" bacteria living there.
On the other hand, probiotics work by repopulating the "good" bacteria that may be lacking in your dog's gut. This is achieved by regulating the production of cytokines, which improves your dog's immunity and promotes the secretion of SIgA — a special antibody that helps form a protective layer in the gut.
So, whether you opt for prebiotics or probiotics, both can help maintain a healthy gut and keep your dog feeling its best.
Learn About Your Dog's Health History
If your dog is constantly farting or has a bloated stomach often, it's a good idea to check with the vet. They keep a record of your dog's visits, and it could shed some light on the problem.
If the gas has gotten worse and you've dealt with this stink before, check if your dog was given any medication in the past. That could be the culprit. It's also wise to bring your dog in for a check-up.
Change in Diet
If you plan on changing your dog's grub, proceed with caution! A sudden and drastic change in diet may lead to a ton of stinky gas. So, take it slow and steady.
Low-quality foods contain a whole bunch of fillers that'll just gunk up your dog's insides. These ingredients are tough to digest, leading to excess flatulence.
If your pooch has an issue with uncontrollable gas, upgrading his chow to a premium brand may just be the solution to your problem. Trust us, your nose (and your dog's tummy) will thank you.
Slow Down Fast Eaters
When it comes to remedies for your pup's bloated stomach caused by fast eating, slowing them down is a simple yet effective solution. You can easily achieve this by investing in a slow feeder, which you can purchase without breaking the bank.
Slow feeders turn mealtime into a fun game for your furry friend while slowing down their eating time by up to 10 times compared to a traditional bowl.
If you have multiple dogs and notice they tend to compete during mealtime, it's best to feed them separately to avoid interruptions and ensure each pet gets their fair share.
Dogs tend to eat more quickly when other animals are around to prevent their food from being stolen, so maintaining separate feeding spaces can help eliminate this issue.
Offer Parsley
Have you ever wondered why fancy restaurants serve a sprig of fresh parsley on your plate? It's not just for decoration! This herb is known for its ability to cleanse the palate, freshen bad breath, and reduce odor in the digestive system.
These benefits also apply to our dogs. By adding just a small amount of dried or chopped parsley to your dog's meal, you may be able to alleviate their stinky flatulence.
If you don't want to bother with chopping fresh parsley, you can also try adding a few drops of high-quality essential oil to their food or water dish. Give it a try and see if your pup's gas becomes less of an issue!
Light Exercise
If your dog is feeling bloated, don't worry — a simple walk can help them pass gas and relieve discomfort. Moving their body increases blood flow and gets their digestive tract moving too. And with any luck, your dog will poop during their walk, clearing out space and instantly feeling better.
As with any activity, though, it's important not to overdo it. Too much exercise can make your dog feel worse, so be sure to keep it light. It's normal for dogs to have a bit of gas, so don't worry too much. Just follow these tips and you'll be able to help your pooch feel more comfortable.
Of course, if you're concerned that your dog may be experiencing something serious like canine bloat, stay vigilant for any warning signs, and do not hesitate to contact your vet right away. Keeping a watchful eye on your pup's needs can make all the difference in their overall health and well-being.
Don't Feed Table Scraps
Have you ever sat down for a meal and noticed your dog staring up at you with adoring eyes, hoping for table scrap? It's tempting to share, but it's important to consider the harm it could cause.
A lot of foods we enjoy as humans can actually be toxic for dogs. Shockingly, certain produce can be bad for dogs and even deadly, even in small quantities.
It's always good to check with a vet before you try to feed your dog any type of human food or do your research to make sure it's safe. It's crucial to prioritize your dog's health and well-being by avoiding feeding them these dangerous foods.
What Should You Do If You Suspect Bloat in Your Dog?
It's urgent to get your pup to a trustworthy vet clinic or emergency facility pronto! You'll want to find a place that can perform emergency surgery if needed, as time is of the essence in this situation. Quick intervention significantly improves the chances of your furry friend's survival.
Fortunately, clinical signs and medical history can help experts understand what's going on with your dog's health. However, to confirm suspicions, veterinarians may need to take an X-ray, as it's a fast and effective method to determine if its stomach has twisted or shifted from its normal position.
It's crucial that dog owners with breeds susceptible to bloat do their homework and become knowledgeable about the condition. Taking the initiative to get educated about this serious issue can make all the difference in your pup's well-being.
You should also consider how you feed your dog. Feeding your pup just once a day is like playing Russian roulette with their health, especially if they're a breed prone to bloating. Instead, let's aim for three smaller meals throughout the day.
It turns out that scarfing down their food too fast and taking in too much air is also linked to an increased risk of bloating. And while it's a topic of debate, some experts believe that relying on dry dog food alone could also contribute to the problem.
Frequently Asked Questions
How do you help a dog with stomach bloat?
Light exercise, smaller meals, and a slow-feeder bowl can help a dog with stomach bloat.
What are the first signs of dog bloat?
If your dog has stomach bloat, it may act restless, whine or express pain when you go to touch its abdomen, or breath heavily.
Can stomach bloat in a dog heal on its own?
The most simple form of bloat in dogs can heal on its own, but there are still risks.
Conclusion for "Dog Bloated Stomach Home Remedies"
In the past, we thought that exercising your dog too much before or after a meal could increase the risk of bloating. But today, opinions are more divided on that front. Nonetheless, it's now recommended to keep your dog's food bowl at ground level to avoid unnecessary strain on its stomach.
And don't forget about your pup's mental state at mealtime. Stressful situations, like competing for food or being disturbed while eating, could up the chances of bloating. If your dog eats quickly and seems to be bloated, it may need veterinary care.
Your dog's age and history should also be considered. As dogs age, they become more susceptible to bloat — a condition that commonly affects those between the ages of three to seven years old.
Additionally, if a dog has close relatives who have suffered from bloat, this increases their likelihood of developing the condition as they grow older. Therefore, if you're considering purchasing a breed that is known to be at risk for bloat, it is important to be vigilant and communicate with the breeder.
This may include investigating whether any of the pup's immediate family members — such as parents, aunts, or uncles — have a history of bloating. That way, you may be able to mitigate the risk of your pet developing this serious and potentially life-threatening condition.
If you find this guide, "Dog Stomach Bloat and Home Remedies," informative, check out:
Learn more by watching "Dog Bloated Stomach Home Remedies" down below:
Garrett loves animals and is a huge advocate for all Doodle dog breeds. He owns his own Goldendoodle named Kona. In addition, he volunteers at the Humane Society of Silicon Valley, where he fosters dogs and helps animals. Garrett enjoys writing about Doodles and believes that dogs can teach humans more about how to live than humans can teach a dog.
Why Trust We Love Doodles?
At We Love Doodles, we're a team of writers, veterinarians, and puppy trainers that love dogs. Our team of qualified experts researches and provides reliable information on a wide range of dog topics. Our reviews are based on customer feedback, hands-on testing, and in-depth analysis. We are fully transparent and honest to our community of dog owners and future owners.