Owning a dog, for some, is almost the same as having a child. You constantly keep an eye on them, keep them out of trouble and make sure they are healthy. Along the path of dog ownership, there are a number of occurrences and behaviors you may notice in your puppy and wonder whether or not this is normal or safe for your dog. This is completely normal, and encouraged, because we all want the happiest and
healthiest dogs
possible. For instance, maybe you've noticed that your dog's stomach is gurgling like crazy or making weird noises – whether it's growling, rumbling, or growling! You may wonder if this is a normal part of their digestion or if this occurrence may be something more serious that needs to be addressed with your veterinarian. Luckily, we've got you covered with some of the possible causes, solutions, and other important information regarding this condition.
Before scrolling down this guide, check out these related topics: Why Does My Dog Sound Congested?
Why is my dog's stomach gurgling?
In order to address whether or not a gurgling stomach is a cause for concern, we first have to evaluate the possible reasons for the gurgling itself. Typically, this sound coming from your dog is nothing to be worried about, but in rare cases, it might be cause for concern. This gurgling noise could be due to a number of things, such as hunger, digestion, gastrointestinal upset, or in the worst case, a dangerous parasite. Let's dive deeper into those reasons, so you can attempt to figure out which one relates to your precious pooch.
Normal Digestive Gurgling
Just like a human's digestive system, our dog's system pushes gases through the intestines as food is digested. The gastrointestinal tract, or GI tract for short, includes the stomach, small intestines, and large intestines. All of these organs contain smooth muscles to aid in moving food and water through the body. A quiet gurgling is completely normal during this time, just like when your stomach makes noises after you eat. It's your body's way of processing this food, and dogs have to do the same thing. You may also notice sometimes these gurgles are pretty loud, that's relatively normal too. Most likely, your pet doesn't even notice these sounds at all and goes about their day completely unphased. If you notice that these gurgling noises occur after eating and go away within an hour or two and that your dog does not seem to be in any pain, you can rest easy knowing that their body is working in a completely normal fashion, and there's nothing to worry about! In fact, these noises have a pretty fun name – borborygmi, which are the result of food and water moving through the digestive tract in a process called peristalsis.
A Sign of Hunger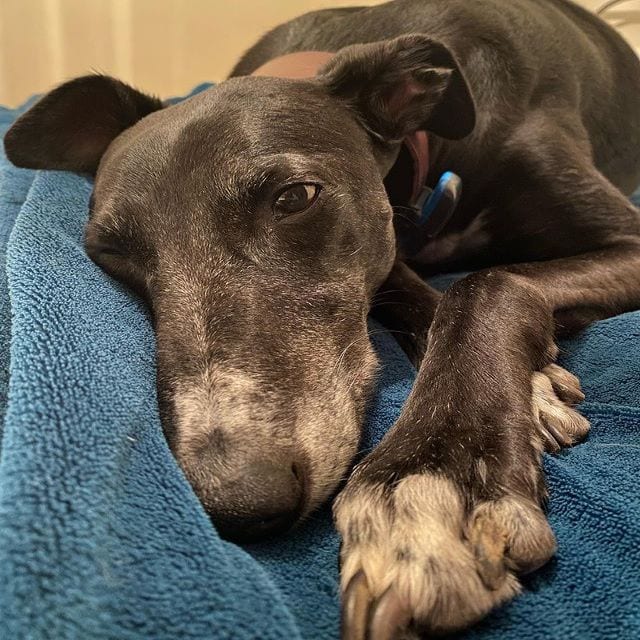 The second, and one of the most common reasons for your dog's stomach making a gurgling noise is a sign of hunger. Another instance is just like that of the human body. When you are hungry, your stomach may growl or rumble to indicate that you need food now! As we mentioned previously, the GI tract contains muscle to move food through the intestines. Food and water muffles this sound, which is why the gurgles are relatively quiet after you or your dog have just eaten, but think about when you are hungry – those gurgles are much louder, right? This is because, without food in the intestines, there is nothing to muffle the contractions of those muscles, resulting in a louder rumble. If it is breakfast or dinner time and you notice these loud rumbles coming from your dog, it's best to offer them their meal to cure the sounds. If you notice that the grumbles have ceased following their meal, hunger was the culprit of those sounds, and again, nothing to worry about with your companion's health! Another important thing to note in regards to your
dog eating
and being hungry is if you notice that they seem to have an upset stomach following eating, they may have a sensitive digestive system and require a more bland diet. In this case, it's a good idea to carefully switch to another, more mild
brand of dog food,
or in some cases, make boiled chicken and rice with no additives – this is the perfect diet for a dog with a sensitive stomach.
Eating A Foreign Object
Now that we've covered the harmless reasons why your dog's stomach is gurgling – we need to tackle the more alarming matters. The next reason why your dog's stomach could be gurgling is that they have eaten a foreign object of something that doesn't agree with their stomach. Most commonly, this happens when a dog breaks into the trash can and consumes all kinds of food scraps, paper, plastic, or other discardable items that may be in your garbage bin. Of course, eating all of this is not good for your dog, and such can result in gastrointestinal upset. This can lead to vomiting, diarrhea, or one of those objects causing a blockage. A blockage, or bowel obstruction, occurs when your
dog eats
a "non-digestible" item or "non-food" item, like those items we mentioned before that live in your trash can. These things can get stuck in their stomach or intestines, which then causes an increase in the amount of gas as their body attempts to move the object forward through the digestive system. All of this commotion will likely cause more audible noises coming from your dog's stomach. In some cases, vomiting and diarrhea will occur in an attempt to get these objects out of your dog's body. Severe cases can lead to pancreatitis in dogs. If this issue persists or you notice your dog is in serious discomfort, it's a good idea to take them to your trusted vet.
Potentially Serious Health Condition
Unfortunately, persistent stomach gurgling could mean something much more serious for your dog's health. Common disorders or syndromes can include things like intestinal parasites, inflammatory bowel disease, gastrointestinal foreign bodies, hemorrhagic gastroenteritis, an adverse reaction to medications, metabolic problems such as liver or kidney disease, glandular disorders, and even cancer of the intestines. If your dog is experiencing constant gurgling, vomiting or retching, lack of appetite, or lethargy, it is exceptionally important to visit your veterinarian so they can diagnose the condition, and come up with a plan to get your puppy back to health whether it be antibiotics, medications, or other therapies.
How to Prevent Stomach Gurgling
Of course, we want to keep our dogs as safe and healthy as possible, so your next question might be "How do I prevent my dog's stomach from gurgling?" Well, there are a number of answers to this question which all depend on the reason for the noises. Now that you're versed on some of the possible causes, you can better address a method for prevention. For example, if you have deemed the reason for your dog's growling stomach to be hunger, there are a few things that can be done to prevent this such as splitting their food into more frequent meals, giving more food, ensuring they have plenty of water or taking them on a walk following their meals to aid with digestion. Alternatively, if the grumbling is due to eating a foreign object, it may be a good idea to keep those un-digestible items in a harder-to-reach place for your dog. Consider putting your trash can in a pantry, closet, etc. when you are not able to keep a close eye on them. Finally, if the gurgling stomach issue is due to a more serious reason, it is best to seek advice from a professional on methods of prevention and care. They will have the best
advice for you on how to prevent these health issues.
Frequently Asked Questions
When should I worry about my dog's stomach gurgling?
You're probably wondering if this is normal or if you should be taking your dog to the vet. For example, a dog's gurgling stomach(borborygmi) may signify a
digestive issue
. You should visit your vet if your pup is vomiting or has severe diarrhea. If your pup guzzles his food, then he may ingest excess air. Common causes of stomach gurgling include the following:
Excessive gas
Gas movement through the GI tract
Hunger
What can I do for my dog's gurgling stomach?
If your dog is hungry, you'll need to feed him. A gurgling stomach is often the result of hunger or an empty stomach. Food and water moving through the digestive tract can also be normal digestion. To reduce flatulence, try feeding your dog a highly digestible, low-fiber diet, and feed two or three smaller meals instead of one large meal. You can also add some pureed pumpkin to his feed. Your veterinarian may also recommend giving your dog a simethicone dose to help absorb intestinal gas.
Why is my dog's stomach making horrible noises?
PetMD adds that stomach grumbling is often a normal part of digestion. Stomach noises usually result from food and water moving through the digestive tract through peristalsis. 
PetMD
 explains that some conditions linked to gurgling stomach noises can be serious. These are the following:
Diarrhea
Eating something bad
Bowel obstruction
Gastrointestinal disorders/diseases
Parasites and bacterial infections
Gas
What does a noisy stomach mean?
It can be part of normal digestion called peristalsis. Without food in the intestines, there is nothing to muffle the contractions of those muscles, resulting in a louder rumble. Some stomach noises are normal, while louder gastrointestinal noises may be a sign of a gastrointestinal disturbance.
Can worms cause stomach gurgling in dogs?
PetMD explains that parasites and bacterial infections can all cause stomach gurgling. Parasites may reduce the absorption of nutrients and produce gas on their own as they colonize the GI tract. Bacterial infections are caused by the following:
Coccidia salmonella
E. coli
Giardia
What medicine can you give a dog for an upset stomach?
While Pepto Bismol may work well in the short term, it could cause more harm over the long term to your dog's health. PetCareRx explains that if you're at a loss as to what to do to relieve your dog's symptoms, Pepto Bismol is safe to use for dogs, nor cats if used properly. PetCareRX also advises that you reach out to your veterinarian first before using this antacid. Corrective Suspension is the brand used for dogs, but dogs can also take off-the-shelf Pepto Bismol as we do. Dogs that should not take Pepto Bismol include the following:
Dogs with allergies
Pregnant or nursing dogs
A dog with a bleeding disorder
A dog that is taking medications that could interact with Pepto Bismol. These include aspirin and some antibiotics.
Is Pepto Bismol safe for dogs?
Pepto Bismol
is good for helping your dog feel better immediately but may not help in the long run. If your dog has underlying health issues, you don't want to hide the problems with Pepto. PetCareRx explains that Pepto Bismol can cause inaccuracies in abdominal x-rays and urinalysis and that veterinarians may recommend Fat Balance GI Tube for immediate stress relief. They add that dogs that suffer from the following should visit the veterinarian right away:
Lethargy
Loss of appetite
Vomiting
Straining during defecation
Dark or black stools
Stools mixed with blood or mucus
If diarrhea affects your pup, you need to visit your vet immediately.
Conclusion for "My Dog's Stomach is Gurgling Like Crazy. What Does This Mean?"
In summary, it is common for us as humans to wonder about the safety of our dogs when it comes to the little things they do. In regards to a gurgling stomach, or
borborygmi
, it is important to monitor their behavior and actions to determine a cause for the noises that are coming from their stomach. Once you have determined the cause, you can then address a method of prevention that works best for you and your furry companion – when in doubt, always reach out to a medical professional for the best advice. We hoped you found this article helpful when it comes to the matter of your dog's gurgling stomach!
You will also like:
Garrett loves animals and is a huge advocate for all Doodle dog breeds. He owns his own Goldendoodle named Kona. In addition, he volunteers at the Humane Society of Silicon Valley, where he fosters dogs and helps animals. Garrett enjoys writing about Doodles and believes that dogs can teach humans more about how to live than humans can teach a dog.
Why Trust We Love Doodles?
At We Love Doodles, we're a team of writers, veterinarians, and puppy trainers that love dogs. Our team of qualified experts researches and provides reliable information on a wide range of dog topics. Our reviews are based on customer feedback, hands-on testing, and in-depth analysis. We are fully transparent and honest to our community of dog owners and future owners.