Cushing's disease, yperadrenocorticism, is a condition that can affect dogs of any age but is most commonly seen in middle-aged to older dogs. The disease is caused by an excess of the hormone cortisol in the body, which can lead to various health problems. 
This buying guide will look at the best dog food for dogs with Cushing's Disease in 2022 and help you choose the right option for your pet. We reviewed over 40 products on the market to help you choose the best one for your furbaby. But first, let's discuss Cushing's and dogs. Here's the takeaway:
Product
Best Overall
Royal Canin Veterinary Diet Gastrointestinal Low Fat LF Dry Dog Food 1.5 lb
Runner Up
Hill's Prescription Diet Metabolic Chicken Flavor Dry Dog Food
Editor's Choice
Zignature Turkey Formula Grain-Free Dry Dog Food 25lb
Image
Best Overall
Product
Royal Canin Veterinary Diet Gastrointestinal Low Fat LF Dry Dog Food 1.5 lb
Image
Runner Up
Product
Hill's Prescription Diet Metabolic Chicken Flavor Dry Dog Food
Image
Is your dog struggling with sensitive stomach or intestinal issues? If so, Royal Canin has just the food to help. Their Gastrointestinal Low-Fat LF dry dog food is formulated to support gastrointestinal health in dogs while reducing fat intake. 
This recipe is also easy on the stomach and features high-quality proteins and prebiotic fibers to promote a healthy digestive system. The formula features a combination of highly digestible proteins, prebiotics, and EPA & DHA to help support digestive health. It also has a low-fat concentration while providing a maintenance energy level, allowing dogs with difficulty digesting fat.
Features
Veterinary prescription diet
Crafted with highly digestible proteins, prebiotics & EPA & DHA
A low-fat concentration
Helps maintain energy level
A Royal Canin pet food product
Is your dog carrying around a few extra pounds? If so, Hill's Prescription Diet Metabolic Weight Management dry dog food is just what they need. This formula is designed to help your pup lose weight and maintain a healthy weight. It's made with high-quality ingredients like chicken and fish meal to help your dog feel full and satisfied. 
Plus, it's packed with nutrients to support a healthy lifestyle. This formula helps dogs naturally by activating their unique metabolism.96% of dogs lost weight at home in 2 months when on this formula. Hill's Prescription Diet is the #1 US Vet Recommended therapeutic pet food. You'll need to reach out to your vet to see if this is the right dog food for your pup with Cushing's.
Features
Veterinary prescription diet
Clinically proven nutrition
Unique blend of fiber helps keep dogs feeling full 
Chicken flavor
Numerous sizes & formulas for all dogs breeds & life stages
This Zignature Turkey Formula Grain-Free Dry Dog Food is formulated to meet the nutritional levels established by the AAFCO Dog Food Nutrient Profiles for all life, including the growth of large size dogs (70 lbs. or more as an adult). This is a certified low glycemic dog food that uses only high-quality ingredients in its formulas, including single animal proteins. The rotational diet allows your dog to switch between select Zignature formulas with ease. 
Zignature features many choices like whitefish, kangaroo, lamb, duck, salmon, catfish, and more. This product has over 4,600 positive reviews and works for dogs with Cushing's because it does not contain corn, wheat, soy, or potatoes. 
Zignature Turkey Formula Grain-Free Dry Dog Food is made with no Corn, Wheat, Soy, or Potatoes and is also Lactose-Free. This formula uses quality ingredients like Turkey Meal, Peas, Chickpeas, Flaxseed, Turkey Fat (preserved with Mixed Tocopherols), etc. This food is perfect for dogs who are sensitive to these ingredients or who have allergies. This formula is also grain-free and contains no fillers.
The first ingredient in this Zignature Turkey Formula Grain-Free Dry Dog Food is Turkey Meal, a high-quality protein source that is rich in amino acids and essential nutrients. 
This ingredient provides your dog with the building blocks for strong muscles and a healthy coat. The second ingredient is Peas. Peas are a great source of carbohydrates, fiber, vitamins, and minerals. They are also highly digestible and provide your dog with energy. Chickpeas are the third ingredient in this formula. 
Chickpeas are a good source of protein, fiber, vitamins, and minerals. They are also highly digestible and provide your dog with energy. Flaxseed is the fourth ingredient in this formula. Flaxseed is a good source of essential fatty acids, fiber, vitamins, and minerals. This ingredient helps to support a healthy coat and skin. The fifth ingredient is Turkey Fat. Turkey Fat is a good source of energy and essential fatty acids. This ingredient helps to keep your dog's coat healthy and shiny.
This Zignature Turkey Formula Grain-Free Dry Dog Food is made in the USA with high-quality ingredients. It is available in multiple sizes and has a money-back satisfaction guarantee.
Features
Over 4,600 positive reviews
Affordable
Low glycemic, grain-free diet
Limited ingredients. low in saturated fat. 
Rich in selenium, riboflavin, & phosphorus.
It may be beneficial as a Cushing's diet.
Blue Buffalo Natural Veterinary Diet HF Hydrolyzed for Food Intolerance Dry Dog Food features a formula specifically designed to ease dog food sensitivities. It's made with high-quality ingredients like salmon, potatoes, and peas. Plus, it's free of artificial colors, flavors, and preservatives. 
The first ingredient is hydrolyzed salmon, meaning that it's easily digestible as a protein source. It also features vitamins, minerals, and other nutrients, including key antioxidants to support immunity, plus omega-three fatty acids from fish oil and flaxseed to support healthy skin and coat. 
This formula works for dogs with Cushing's disease, diabetes, allergies, etc. This formula contains no chicken (or poultry) by-product meals, NO corn, wheat, or soy, and no artificial flavors or preservatives. It also features only 12% min crude fat. This formula is available only with a veterinary prescription.
Features
Hydrolyzed salmon is the first ingredient
Low-fat, low, low carb formula
Grain-free
Suitable for sensitive stomach
All life stages
12% min crude fat
Prescription dog food
It may be beneficial as a Cushing's diet.
Pamper your pup with Wellness Complete Health Natural Grain-Free Dry Dog Food. This recipe is packed with delicious whitefish, fruits, and vegetables to provide your four-legged friend with the nutrients for a healthy lifestyle. 
Plus, it's grain-free, so you can rest assured that your pup is getting the nourishment they need without any fillers. This formula features no meat by-products, fillers, or artificial preservatives. Instead, it features antioxidant-rich ingredients for optimal immune support. And it is made in the USA with high-quality ingredients that are non-GMO.
Features
Affordable
Offers a full range of foods to support your dog's specific needs, including grained and grain free options
Grain-free for adult life stage
Crude fat 12%
Supported by omega fatty acids, antioxidants, glucosamine, probiotics & taurine for a healthy heart
It may be beneficial as a Cushing's diet.
Cushing's and diabetes
Both are closely linked with Cushing's disease related to Type 11 diabetes. Both diabetes and Cushing's are triggered by an overload of carbohydrates. In addition, dogs with diabetes and Cushing's develop metabolic syndrome. Their bodies cannot handle the quantities of carbs and high glycemic index ingredients found in many highly processed dog foods.
What should dogs eat if they have Cushing's?
Diet is a huge factor in the increase of Cushing's today. Poor diets can result in inflammation. Other factors like over-vaccination, pesticide use, and more chemicals around the home or when out on walks may also play a significant role in increasing Cushing's disease in dogs today.
Studies show that feeding dogs a grain-free, low fat, low fat, processed diet are beneficial. Dogs on a raw, high-protein diet do well. If you decide not to opt for a raw diet, feeding a grain-free, potato-free, high-protein diet works well. Homemade or commercial cooked food is another good option, and even high-quality canned dog food can work for dogs with Cushing's. Changing your dog's diet to a healthier one can make a huge difference.
Acupuncture for dogs with Cushing's
Besides a change in diet, acupuncture may be beneficial in helping to regulate the endocrine system and reduce inflammation. For example, dogs with Cushing's do well with acupuncture every two months if stabilized.
What is Cushing's disease in dogs?
The most important thing to remember when choosing dog food for Cushing's Disease is to pick an option low in carbohydrates. This is because excess carbs can cause spikes in blood sugar, which can worsen the symptoms of Cushing's Disease. 
You'll also want to avoid foods containing artificial preservatives, flavors, or colors, as these can also trigger health problems in dogs with Cushing's Disease.
What causes Cushing's disease?
There is no one definitive answer to this question, as there are several possible causes. For example, Cushing's disease has three types, each having a different cause, so your vet needs to identify the cause. Each prognosis will have a different outcome.
One of the most common underlying causes is a dysfunction of the pituitary gland, which is responsible for regulating many critical bodily functions. Other possible causes include tumors on the adrenal gland, the pituitary gland, or inflammation of the adrenal gland. Excessive cortisol from prolonged use of steroids can lead to iatrogenic Cushing's disease. 
Whatever the underlying reason, it is essential to seek veterinary care if you suspect that your dog may have Cushing's disease. For example, VCA Animal Hospital explains that "It is caused when there is excessive administration of an oral or injectable steroid. Although the steroids were usually given for a legitimate medical reason, in this case, their excess has become harmful to the patient."
Symptoms of Cushing's disease
The most common symptom of Cushing's disease is an enlarged abdomen due to an increase in the size of the liver and other organs. Other symptoms may include increased thirst and urination, thinning coat, appetite, panting, hair loss, muscle weakness, and lethargy. If your dog is displaying any of these symptoms, it's essential to consult with your veterinarian. 
Dogs that are affected by Cushing's may develop a pot-bellied appearance. VCA explains that "The pot-bellied appearance is also created because the abdominal wall muscles become weaker and eventually atrophy (shrink in size). 
Panting, thin skin, chronic skin infections (pyoderma), dark-colored spots (hyperpigmentation), skin mineralization (calcinosis cutis), poor skin healing, and persistent bladder infections are other common clinical signs of this disease."
Mid-stage symptoms of Cushing's include the following:
Darkly pigmented, thin, wrinkly skin
Muscle loss
Tendon weakness
Intermittent diarrhea & vomiting
Variable appetite
Calcium deposits on the skin
Potbellied look
Shaking & trembling
Treatment
There is no cure for Cushing's disease, but treatments can help control the symptoms and improve your dog's quality of life. One of the most important things you can do for a dog with Cushing's Disease is to feed them a high-quality diet designed for dogs with the condition. 
An abdominal ultrasound is beneficial in the diagnostic process allowing your vet to see the adrenal glands and determine the size and presence.
Your vet will offer a treatment plan for your pup where your dog may have to take regular meds. 
Sometimes this may be a lifelong process. For example, the prognosis for pets with large tumors that affect their brains is not good, but surgery is normally curative for dogs with benign adrenal tumors. 
Foods to avoid
There are a few specific things to avoid feeding your dog if they have Cushing's disease. One is to avoid foods high in carbohydrates, as this can worsen the symptoms of the disease. You should also avoid giving your dog any food that contains artificial preservatives, flavors, or colors, as these can also aggravate the symptoms. Finally, avoid feeding food high in fats, leading to weight gain and other health problems. Talk to your veterinarian about what specific foods to avoid feeding your dog.
Best food for Cushing's Disease
Dr. Leilani Alvarez, DVM, via The Honest Kitchen, explains that dogs can live a very long life despite having Cushing's disease. She adds that the disease is not expected to progress when actively treated Cushing's. She adds that around 5% of dogs get Cushing's due to an inherited condition. 
Dr. Alvarez recommends a healthy diet for dogs with any chronic disease and explains that in terms of Traditional Chinese Veterinary Medicine (TCVM). "Diets rich in carbohydrates and dairy would be more "dampening" or "inflammatory. Diets that are highly processed or SOMETHING OTHER THAN KIBBLE-type and foods containing milk, cheese, or another dairy could be more pro-inflammatory and lead to symptoms of "bloating." 
Given that Cushing's Syndrome can cause similar symptoms, one could use a TCVM approach and avoid these types of foods to reduce these symptoms." She recommends always looking for an AAFCO label on dog food and advises looking for the following:
Proteins sources that are whole (as opposed to meal or other more processed particles that contain protein).
Complete & balanced diets
Grain-Free Fish and Limited Ingredient Fish (formerly Zeal and Brave) and Grain-free Turkey (formerly Embark).
She recommends flax hull lignans for supplements as a useful supplement and explains that lignans have natural phytoestrogen activity and are complete for estradiol receptors in the body. 
Melatonin can also be useful, especially for hair loss
TCVM herbal formulas with damp draining effects and Yin balancing formulas can also be useful.
You should also not overfeed a dog with Cushing's disease.
What treats and supplements are best for dogs with Cushing's?
According to TCVM, freeze-dried liver treats or freeze-dried organ meats are low in fat and provide liver meridian support. Chinese veterinary medicine offers many natural alternatives for Cushing's disease. Fish oil
is also beneficial with beet pulp to lower triglycerides and cholesterol and provide fermentable fiber to dogs. 
Digestive enzymes and probiotics are always helpful to dogs with Cushing's and help boost gut health and optimal immune system health. Pet MD adds that it's unnecessary to supplement as long as you're feeding dog food that's AAFCO – formulated for adult maintenance. 
In addition, antioxidant therapy consisting of both a-tocopherol, B-carotene, vitamin C, selenium, and methionine may be beneficial in lowering fats in circulating fats.
Finding an integrative treatment plan that includes alternative therapies like diet, herbs, and acupuncture can help dogs with Cushing's. Opt for commercial kibble with less than 12% fat, and that's moderate in crude fiber (8-17 percent DM). 
PetMD explains that nutritional therapy can help alleviate high-circulating cortisol levels and be beneficial in managing secondary and underlying disease processes when used correctly. 
Therefore, they recommend not feeding a pet food that's recommended for all life stages but instead providing one specifically for adult maintenance. This compensates for any muscle wasting that's part of the disease. PetMD adds that "the protein in the food should be highly digestible. Qualifying examples include egg whites, muscle meats (chicken, beef, lamb), and organ meat. 
They also explain that commercial pet foods higher in chloride should be avoided if hypertension is present. Dog food diets low in sodium will help maintain normal blood pressure in dogs. As usual, never restrict water intake and always have fresh water available. As a result, dogs with Cushing's have increased thirst. Therefore, always consult your veterinarian before opting for a Cushing's appropriate diet for your dog. In addition, some veterinarians will prefer using prescription diets for Cushing's.
Still want to learn more about Cushing's Disease and how changing their diet can help? Watch the video below: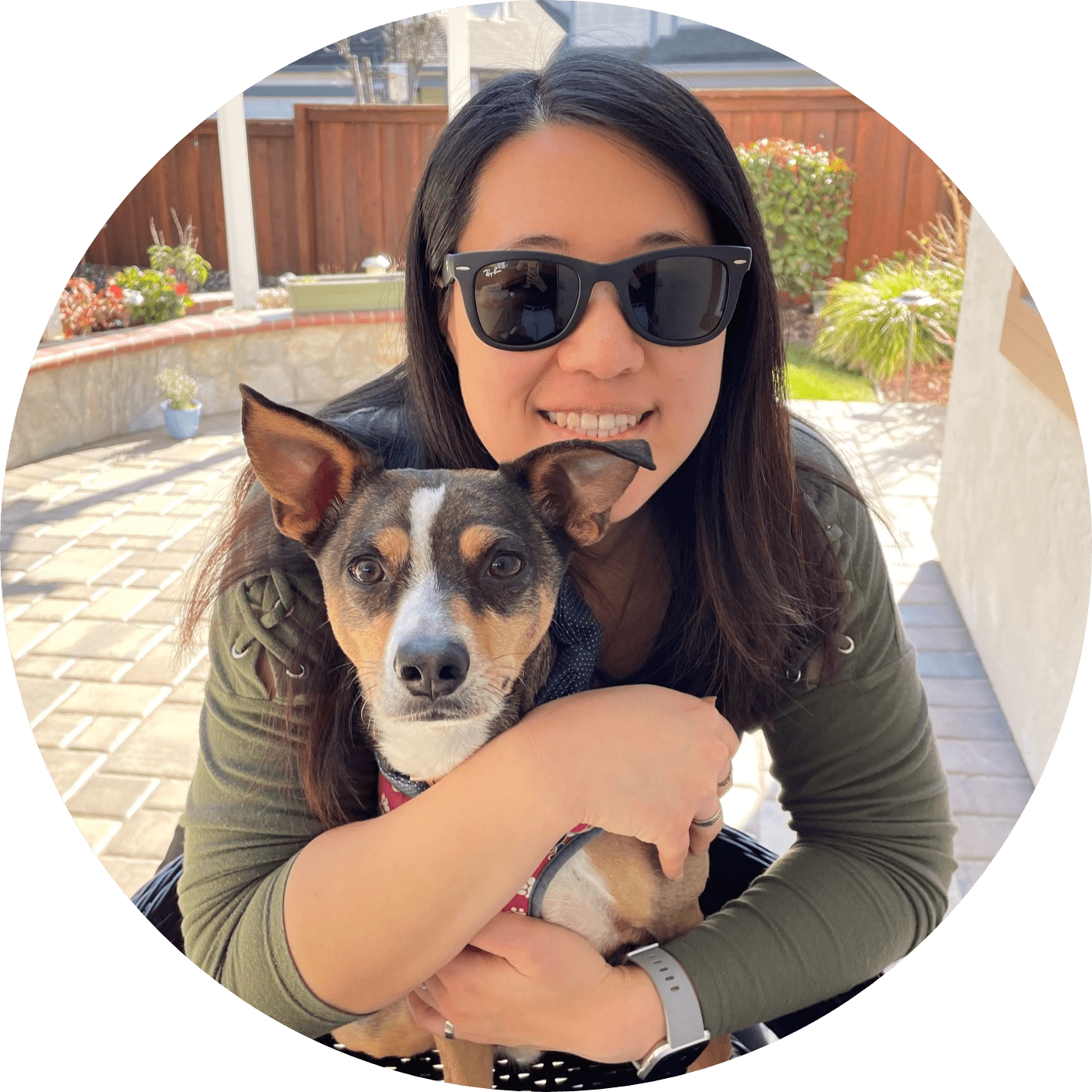 Dr. Sabrina Kong graduated from the Royal Veterinary College in England in 2016 and has been working at a small animal clinic in Northern California since then. She grew up in the Bay Area and got her bachelor's degree from Cal Poly San Luis Obispo. She also became a Certified Canine Rehabilitation Practitioner through a program at the University of Tennessee.
When she isn't in the clinic taking care of her four-legged patients, she enjoys traveling and trying new foods with her friends and her three-legged dog, Apollo. She adopted Apollo from her clinic when he was a puppy with numerous health issues. Dr. Kong truly cares about taking care of animals.