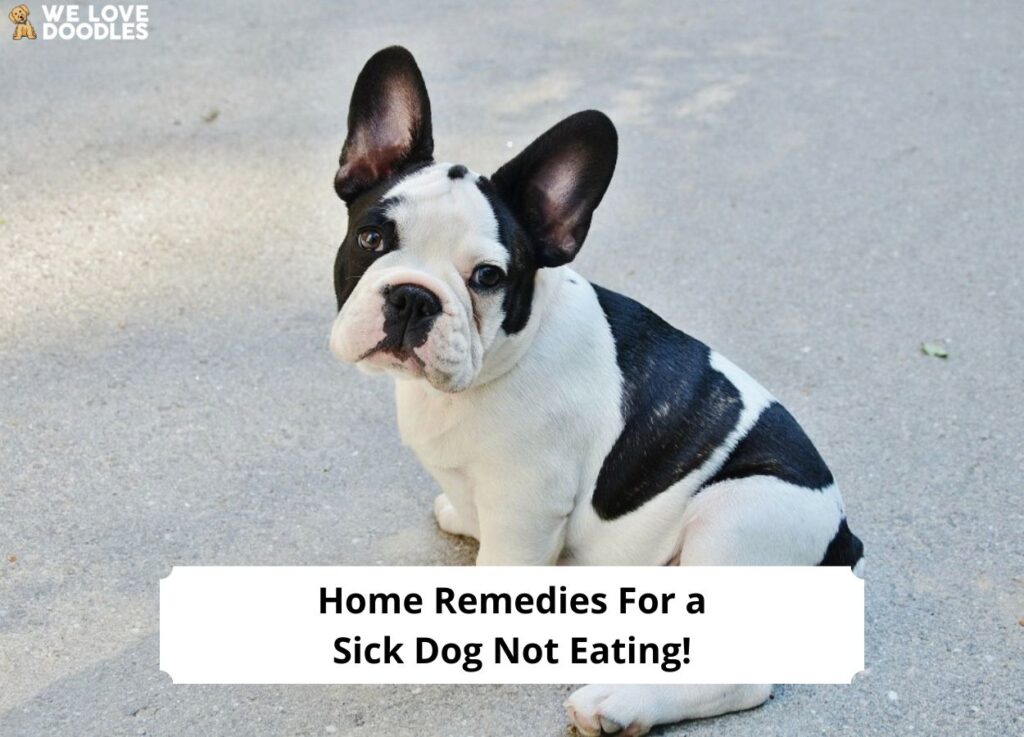 Recognizing when your dog is unwell is often quite evident, so having a few home remedies for sick dogs not eating on hand is beneficial to aid your beloved dog. A sick dog's behavior may become unusual, accompanied by symptoms such as vomiting and lethargy.
There are many home remedies for sick dogs not eating, many of which will seem familiar. These range from ginger, to fasting, and making sure your dog is hydrated. A few foods they may be able to eat include oatmeal, sweet potatoes, or rice.
Experiencing a loss of appetite in your dog can be distressing. However, this is a standard indicator of illness, and various factors can contribute to this symptom.
It is crucial to identify the root cause before determining an appropriate remedy. While timely application of home remedies can be practical, it is advisable to consult your veterinarian for guidance.
Before scrolling down to a more in-depth answer to this guide, "Home Remedies For a Sick Dog Not Eating," check out these other dog-related questions answered by our team at We Love Doodles: Why Does My Dog Roll Around After Eating? and Why Won't My Dog Eat in the Morning?
How Can You Help Your Dog To Eat Again?
Before attempting any treatments, it is advisable to consult your veterinarian. While the following list of home remedies can help improve the condition of a sick dog, professional guidance is always best. From there, try home remedies if your sick dog isn't eating.
1. Use Ginger
If your dog's lack of appetite is due to nausea, incorporating ginger into a pet-safe treat or tea might be beneficial. Ginger has antiemetic properties that can help alleviate nausea by blocking serotonin receptors in the gut.
However, if you plan to give your dog raw or powdered ginger, it is essential to ensure you administer a safe dosage.
2. Make Your Dog Fast
Providing a period of fasting allows your dog's gastrointestinal system to rest and recuperate. By removing food from the equation, the likelihood of vomiting decreases. If your dog vomits yellow bile, it indicates vomiting on an empty stomach.
Typically, a 24-hour fast is sufficient to reset the digestive system. However, the duration of fasting may vary depending on your dog's size and age. Be sure to make water readily available to them through the fasting period.
3. Update Their Diet
Once the fasting period is over, the vomiting should have subsided. Now, replace your puppy's regular food with boiled chicken and rice. Ensure that the chicken used is skinless and boneless.
Remember that rice should comprise most of the meal, accounting for about two-thirds. The meat is to make it appealing for your dog. Continue feeding this diet until your dog shows signs of improvement. Once you feel your canine friend is improving, gradually reintroduce their regular food for the next few days.
4. Ensure Hydration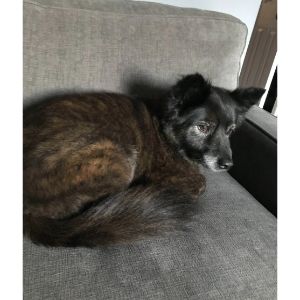 Ensuring your sick dog stays hydrated is paramount, particularly if they suffer from diarrhea and vomiting. These conditions can accelerate the dehydration process due to the loss of water. Therefore, consistently offering fluids to your sick dog is crucial.
One effective method of maintaining hydration is by providing ice chips. They are less likely to induce vomiting and can assist in stabilizing your canine companion. However, if your dog goes without drinking water or consuming ice chips for 24 hours, it is essential to seek veterinary assistance promptly.
5. Sooth Their Stomach
Dogs are naturally curious creatures, often exploring their surroundings and consuming various objects. Unfortunately, this impulsive behavior can lead to an upset stomach, causing a loss of appetite while increasing water consumption. In most cases, this is a mild gastrointestinal issue you can treat with home remedies.
Examining your dog's stool is vital to ensure everything is alright. If you notice any presence of blood, it could indicate an emergency, and contacting your veterinarian is necessary. Similarly, seeking veterinary care is advisable if vomiting and diarrhea persist beyond 24 hours.
Otherwise, allowing your dog to fast for a few hours, followed by a bland diet, can help promote recovery. Typically, the dog will regain normal health within a day or two.
6. Increase Their Comfort
Dogs can experience separation anxiety when left alone, which may lead to illness. If you leave your puppy alone for the first time, they may refuse to eat. Training them to be comfortable with solitude is essential, preventing them from becoming depressed or engaging in retaliatory behavior by not eating.
This training becomes particularly crucial if you work full-time and need your puppy to be at ease when alone.
Similarly, introducing a new pet into the family can elicit a negative response from your older dog. For example, they may refuse to eat as a protest until they accept the new addition.
Besides jealousy, fear can also play a role, especially if the new member is a giant breed. To ease the transition, provide separate feeding bowls and prioritize attention to the older companion.
7. Help With Constipation
If your dog is exclusively eating dry food and experiencing a lack of appetite, constipation could be the underlying cause. One solution is to transition your canine to high-quality canned food for a few days.
The increased moisture content in wet food can facilitate smoother bowel movements. However, it is advisable to consult your veterinarian before selecting a commercial food to avoid potential allergic reactions.
Another approach to enhance your puppy's digestion is to incorporate more fiber into their diet. This dietary adjustment can promote improved bowel movements, aiding in treating constipation. Additionally, increasing your dog's daily exercise can contribute to their recovery from this condition.
8. Change the Space
Adjusting to a new environment can be challenging for humans and dogs. When relocated to a different place, dogs may experience discomfort and require time to adapt. It is not uncommon for them to display peculiar behavior during this transitional phase, and refusing to eat is one way they may express their discomfort.
Foods You Can Give Your Dog To Help
When it comes to feeding a dog experiencing nausea, it's essential to offer bland and easily digestible foods that are gentle on the stomach. Here are some options you can consider:
Boiled Chicken
Plain, skinless, and boneless chicken breast or thigh meat cooked without any seasoning or spices can be easy to digest and appealing to dogs.
Boiled White Rice
Cooked plain white rice is a good source of carbohydrates and can help settle the stomach. You can mix it with small amounts of boiled chicken for added flavor.
Plain, Low-fat Yogurt
Some dogs find plain yogurt soothing for upset stomachs. Opt for yogurt without added sugars or artificial sweeteners.
Pumpkin
Canned pure pumpkin (not pumpkin pie filling) can be helpful for dogs with gastrointestinal issues. It contains fiber and can assist in regulating digestion.
Baby Food
Unsweetened and unseasoned baby food, such as plain meat (like chicken or turkey) or pureed vegetables (like sweet potato), can be a palatable option for dogs experiencing nausea.
Boiled or Steamed White Fish
Fish such as tilapia or cod, cooked without any seasoning or oils, can provide a gentle, light protein source on the stomach.
Sweet Potatoes
Cooked, plain sweet potatoes can be easily digestible and may help soothe the stomach. Avoid adding any seasoning or butter.
Oatmeal
Plain, cooked oatmeal without added sugar or flavorings can be a gentle home remedy for dogs that are not eating. It may soothe the upset stomach.
Cottage Cheese
Plain, low-fat cottage cheese can provide an easily digestible protein source. Some dogs find it appealing even when they are feeling nauseous.
Bone Broth
A homemade or store-bought bone broth made from simmering bones and meat can be diluted and offered to your dog. It can help provide hydration and some nutrients.
Cooked Vegetables
Steamed or boiled vegetables such as carrots or green beans can be offered in small amounts to provide some fiber and nutrients. Ensure they are thoroughly cooked and soft.
Watermelon
Fresh watermelon can be a hydrating and refreshing dog treat with the seeds and rind removed. It can also help soothe their stomach.
Remember to introduce these foods gradually and in small portions. If your dog's nausea persists or worsens, it's crucial to consult a veterinarian for proper diagnosis and treatment. They can provide specific recommendations based on your dog's needs and condition.
FAQs About Sick Dogs Not Eating Properly
What do you feed a sick dog that will not eat?
When your sick dog isn't eating, it's essential to address the underlying cause and consult a veterinarian. However, there are a few options you can consider to encourage your sick dog to eat:

Offer a different type of food

Try providing various options, such as wet food, homemade meals, or even plain baby food (without onion or garlic). Some dogs may have a preference for a particular texture or flavor.

Warm up the food

Heating food can enhance its aroma and entice your dog.

Try hand-feeding

Offer small amounts of food directly from your hand to encourage your dog's appetite. This personal interaction can stimulate their interest in eating.

Ensure a calm eating environment

Create a quiet and comfortable space for your dog to eat without distractions. Minimize noise and other potential stressors.

Use food toppers or broth

Add a small amount of tasty food toppers, such as shredded chicken or low-sodium broth, to enhance the flavor and make the meal more appealing.

Assist with feeding tools

If necessary, use specialized feeding tools like syringes or feeding tubes recommended by your veterinarian to ensure your dog receives adequate nutrition.
What home remedy can I give my dog for not eating?
When it comes to home remedies for a sick dog that is not eating, it's essential to remember that these remedies are not a substitute for veterinary care. However, you can use interactive feeding toys. Some dogs may be more interested in eating when they have to work for their food. In addition, interactive feeding toys or puzzles can provide mental stimulation and encourage eating.
What home remedy is good for sick dogs not eating and vomiting?
When a sick dog is experiencing both a loss of appetite and vomiting, it's important to note that home remedies are not a substitute for professional veterinary care. However, there are a few things you can try to help provide some relief to your dog:

Fasting

Allow your dog's gastrointestinal system to rest by withholding food for a short period, typically 12 to 24 hours. Make sure to provide access to fresh water during this time.

Small, frequent meals

Gradually reintroduce small, bland meals to your dog after fasting. Offer easily digestible foods such as boiled chicken and rice in small portions throughout the day.

Hydration

Keeping your dog hydrated is crucial, mainly if vomiting occurs. Offer small amounts of water frequently or provide ice chips for them to lick on.

Ginger

Ginger has antiemetic properties that may help alleviate nausea. Consult your veterinarian for appropriate forms and dosages of ginger for dogs.

Elevated feeding

Elevating your dog's food and water bowls can help reduce the chances of vomiting after eating.

Probiotics

Probiotics can support gut health and aid in digestion. Discuss with your vet about suitable probiotic options for your dog.

What is the home remedy for a sick dog?
Regarding home remedies for a sick dog, it's important to note that they are not a substitute for professional veterinary care. However, there are a few general home care measures you can take to provide comfort to your sick dog:

Rest and isolation

Provide a quiet and comfortable area for your dog to rest. Isolate your dog from stressful or stimulating environments to promote relaxation and recovery.

Hydration

Ensure your dog has access to clean, fresh water. If your dog is not drinking enough water, you can try offering ice chips or small amounts of electrolyte solutions formulated for dogs.

Warmth and comfort

Keep your dog warm and cozy by providing a soft blanket or bed. Maintain a comfortable room temperature to prevent chilling.

Balanced nutrition

Offer easily digestible and bland food options like boiled chicken and rice. Consult your veterinarian for specific dietary recommendations based on your dog's condition.

Medication administration

If your veterinarian has prescribed medication for your dog, administer it according to their instructions. Follow the recommended dosage and schedule closely.

Gently cleaning and grooming

If your dog has any discharge or mess due to illness, gently clean them using a damp cloth or pet-friendly wipes. Regularly brush their coat to keep them clean and free from tangles.
Can dogs have Pedialyte?
Yes, dogs can have Pedialyte in certain situations and under veterinary guidance. Pedialyte is an oral electrolyte solution formulated to help rehydrate humans, especially infants and young children, during bouts of diarrhea or vomiting. It contains essential electrolytes, such as sodium and potassium, which can benefit rehydration.

In some cases, veterinarians may recommend giving Pedialyte to dogs experiencing dehydration due to diarrhea or vomiting. However, it's essential to consult with your veterinarian before giving Pedialyte to your dog. They can guide the appropriate dosage and duration of use based on your dog's specific condition and health needs.

It's worth noting that Pedialyte should not be a substitute for veterinary care. If your dog shows signs of dehydration or is ill, it's essential to consult a veterinarian to determine the underlying cause and receive an appropriate diagnosis and treatment.
Conclusion For "Home Remedies For a Sick Dog Not Eating"
Recognizing when your dog is unwell and experiencing a loss of appetite is crucial for their well-being. While home remedies can provide some relief and aid in recovery, it is always advisable to consult a veterinarian for proper diagnosis and guidance tailored to your dog's specific condition.
You can consider home remedies for a sick dog that's not eating such as using ginger for nausea, implementing fasting followed by a bland diet, ensuring hydration, soothing the stomach, increasing comfort, helping with constipation, and adjusting to a new environment.
However, professional veterinary care should always be your go-to to ensure the best care and treatment for your sick dog.
If you find this guide, "Home Remedies For a Sick Dog Not Eating," informative, you can check out these other dog-related questions answered by our team:
In case you believe that your dog is in trouble, you can learn more about signs of a dog in trouble by watching "14 Critical Signs Your Dog Is Begging For Help" down below:
Garrett loves animals and is a huge advocate for all Doodle dog breeds. He owns his own Goldendoodle named Kona. In addition, he volunteers at the Humane Society of Silicon Valley, where he fosters dogs and helps animals. Garrett enjoys writing about Doodles and believes that dogs can teach humans more about how to live than humans can teach a dog.
Why Trust We Love Doodles?
At We Love Doodles, we're a team of writers, veterinarians, and puppy trainers that love dogs. Our team of qualified experts researches and provides reliable information on a wide range of dog topics. Our reviews are based on customer feedback, hands-on testing, and in-depth analysis. We are fully transparent and honest to our community of dog owners and future owners.