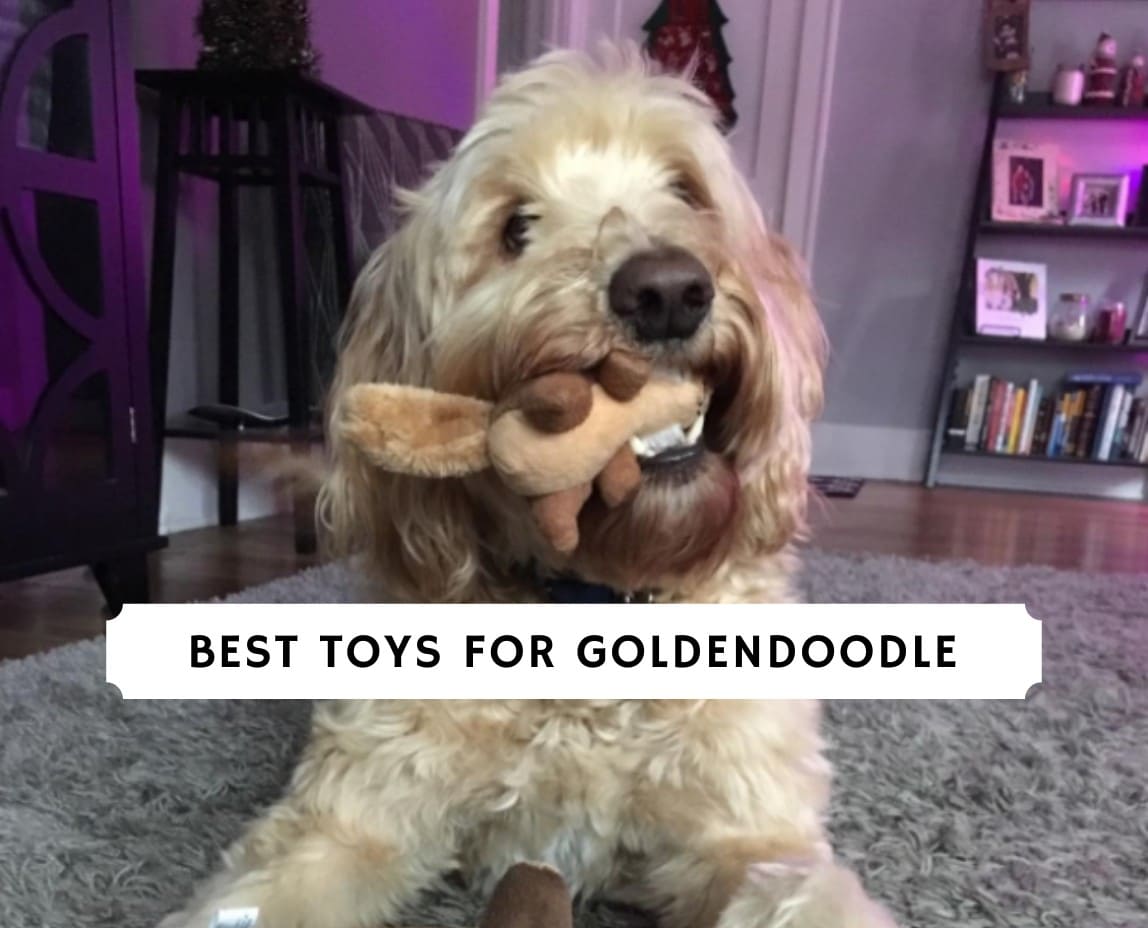 Goldendoodles have quickly become some of the most popular dog breeds out there. It's no wonder really with their fun and friendly personalities. In addition, these dogs are great for people who suffer from pet dander-related allergies and just want a smart and loving dog.
On paper, Goldendoodles are a great dog for most families. Then, of course, there are other characteristics of Goldendoodles that aren't so pleasant like their high energy.  We just think it's important that you're prepared for their high energy since they come from two working dog breeds.
These dogs are super smart and they LOVE to play. Goldendoodles need exercise and they need constant entertainment to be mentally stimulated. The downside is that if they get bored, they tend to be destructive around the house chewing on shoes or doing rebellious activities. They like to chew or growl, particularly if they are not entertained appropriately.
You need things like chew toys, fetch toys, puzzle toys, and more to keep Goldendoodles busy so they don't cause trouble!
In this guide, we will share with you the 7 best toys for a Goldendoodle. These toys come Goldendoodle approved and you may need a few of them or even all of them to keep your Goldendoodle entertained!
The 7 Best Toys for Goldendoodles Reviewed
We've scoured the market to bring you the very best toys for Goldendoodles. We chose these toys because they will stimulate and entertain your dog and hopefully keep them on their best behavior! I've personally purchased all of these toys for my Goldendoodle after doing a significant amount of research.
Each review will contain a detailed overview as well as a list of the pros and cons you might be up against.
In a rush? Here are the Top 3 Picks!
You may have seen this dog camera on the Ellen show. It's a fun and interactive dog toy that will be great for your Goldendoodle. Even when you aren't home, you can check in on your dog and give them treats or speak to them as needed.
This toy is unique in a sense that it can toss treats and has a nice high-definition camera. It's not a chew toy for a Goldendoodle but it's a great way to check in on your dog and stay connected to your dog when you can't be right there with them. You get a wide view angle that you can pull up on your phone at any time.
You can set timed treats or talk to your dog and dispense treats as needed. There is a microphone and speaker as well as 2-way audio. This means you can talk to your Goldendoodle but you can also hear your dog and get alerts if they bark.
One more really neat feature for this toy – it's compatible with Alexa. So, you can just tell Alexa to have Furbo toss a treat and it works like magic!
Pros:
Interactive dog toy
Camera and microphone access
Automatically tosses treats for your dog
Raved about on Ellen
Compatible with Alexa
Cons:
Required to subscribe to access a lot of the attractive functionality
Here is a toy for a Goldendoodle that provides your pet with the ability to have a chew toy and interacts with your dog simultaneously. This toy is appropriately named Consuela the Cactus. It's so much fun with a 2-in-1 design.
Your dog is less likely to just shred this toy, and if they do, it's designed for trashing, squeaking, and shredding! They will find another toy inside. So it's really no worries when they destroy the cactus, it leads to more fun with a small squeaky toy in the middle.
The materials on this dog toy are non-toxic. This is perfect for both playing fetch with your Goldendoodle and having them chew on it. The toy is safe and made with high-quality materials, which will give your dog plenty of playtime and last a long time. You can use it for fetch and interaction while also allowing your dog to chew and play.
Barkbox offers a money-back guarantee on this product so if you don't love it, they've got you covered!
Pros:
2-in-1 toy for double the fun
Acts as a chew toy that can be interactive as well
Durable and high-quality materials
Non-toxic chew toy
Satisfaction guarantee on the toy
Cons:
The outer skin does tend to destroy very quickly but that
Here's another fun, interactive toy option for your Goldendoodle. It's designed for interaction but also durable enough to stand up to chewing dogs. This is a bobbing toy that can hold dog treats or food inside of it and dispense it through interaction with your dog.
If you need to keep your Goldendoodle busy, put their meal in the toy and let them play for their kibble. This toy can be purchased in small or large sizes. It has a large enough chamber that if you use it for feeding, you can fit a full meal in it. The treat dispensing section can be adjusted to your needs also.
This is a wobbling toy dog toy so it moves around and wobbles when touched, which also then dispenses food from the inside. This is a great option for entertaining your Goldendoodle dog and keeping them busy for an extended period of time.
This is the toy that isn't really designed for chewing but rather designed for distracting your dog to keep them out of trouble.
Pros:
A fun interactive wobble toy
Can fit enough dog food for a full meal
Adjustable dispenser for various sized food or treats
Available in small or large
Provides extended stimulation and entertainment
Cons:
This toy does not stand up to active chewing from a dog
Get ready to play and clean your Goldendoodle's teeth at the same time! That's right, this toy has a little bit of everything. It has a tug rope so you can play and it has a center chew toy that also cleans your dog teeth during chewing.
This toy is non-toxic and the chewing section is made with 100% natural rubber. It allows your dog's teeth to stay clean and fresh when used. You can add toothpaste to the reservoir and let your dog chew for a set period of time.
You can play fetch, tug, and get a little bit of everything out of this toy. The toy is both safe and durable so it can hold up to the chewing it will receive. We love that this toy is a multi-purpose dog toy option that does more than just play, it also protects your dog's teeth!
Pros:
Interactive toy
Cleans dog teeth while chewing
Made with safe and durable materials
Let you play or lets your dog chew
The company offers a satisfaction guarantee
Cons:
The corn cob is very thick so be sure the size will work for your dog
This dog toy pack has a nice variety of small toys to give your dog some choices. Your Goldendoodle may get tired of one toy quickly, but the good news is, there are 6 more to choose from! The toys are great for chewing and the cow toy has a squeaker inside which Goldendoodles love.
These toys were designed for chewing puppies, but they will work well for playing with your Goldendoodle or letting them entertain themselves from their very own toy basket. You get 4 different rope-style toys and 3 stuffed toys, including a cow, ham bone, and donut.
These are all made with natural cotton and they are designed to be durable as well as non-toxic. These safe toys are also good for dental health. They will promote clean teeth while soothing the dog's urge to chew.
Pros:
Designed for chewing animals
Variety of toys to play with
Safe and non-toxic materials
Durable for playing and chewing
Promotes healthy teeth
Cons:
These were made for small dogs and puppies so they may not hold up for very long overall
Here is another really great toy option for squelching boredom and keeping your Goldendoodle busy. As far as Goldendoodle dog toys go, this one is interactive but also teaches your dog to forage for their food.
This looks like a miniature plot of grass on a layer of dirt. Of course, it's made with felt cloth materials that are durable enough to withstand your dogs chewing. You can hide food or treats in it and let your dog find them, just as if they were searching through grass or weeds. It even scrunches up so you can take it on the go.
This is a fairly large piece and it has a non-slip bottom so it stays in place when put down. You can use it fully opened up or even just partially opened like a bowl. The cloth is environmentally-friendly and this toy is easy to clean and care for. You can toss it in the washing machine regularly.
This is a great way to provide distraction and entertainment or simply work with your dog and encourage foraging skills. This is also a mentally stimulating toy for your Goldendoodle that will keep them busy.
Pros:
Portable snuffle mat
Can be used as a mat or a bowl
Encourage foraging skills
Provides entertainment and keeps dog busy
Easy to wash and keep clean
Cons:
A dog could tear this up if left unattended. Remember the purpose of the design.
Last but definitely not least, we have this great hide and seek interactive toy for Goldendoodles that has squeaky features as well. It's a burrow and the little woodland creatures play hide and seek, making this a fun option in dog toys for Goldendoodles. Goldendoodles are really smart dogs so it's really easy to teach them to play hide and seek with their toys.
This toy is a really cute option. It's a puzzle toy that will challenge your dog to get the woodland critters out of the holes while keeping them occupied for a good length of time. It's a plush dog toy and it was designed for medium and large dogs, so it's perfect for Goldendoodles.
The creatures are squeaky so as the dog plays and tries to get them out, they will squeak and make noise as well. The fabric is soft and gentle but also durable so that it will hold up to chewing. This is dog toy is perfect for interaction, challenges, and entertainment to keep that sweet Goldendoodle of yours out of trouble.
Pros:
Fun and interactive
A puzzle toy that challenges your dog
Toy squeaks during play
Soft and durable fabric
Super fun and cute toy option
Cons:
Dogs can easily tear up the little chipmunks but you can also purchase replacements
How to Choose a Dog Toy for a Goldendoodle
Goldendoodles are very active so you want to be sure that whatever toy you choose for them will keep them entertained and keep them out of trouble. They tend to chew or get destructive when they get bored.
All of these toys are great options but we also recommend that you have several options on hand so you can mix things up and give your dog plenty of entertainment options, particularly when you can't watch them every minute.
We have a few characteristics that you should consider when purchasing Goldendoodle dog toys.
Durability
Goldendoodles could potentially be rough on their toys. They like to play and they have an abundance of energy coming from the Poodle and Golden Retriever. If your dog is a chewer, you will want something that can stand up to their chewing behavior.
Goldendoodles can get medium to large in size, so choose a toy that is suitable for a larger dog and therefore is made with materials that will last for large dogs.
You don't just want simple plush toys that will fall apart the first time your dog plays.
Variety
Remember that Goldendoodles are more likely to commit negative behavior when they get bored. Having a variety of options is really the best plan you can possibly have for choosing dog toys.
If you have multiple options then when they get bored with one thing, they can play with another.
Active Stimulation
If you haven't noticed a theme, your dog needs exercise and entertainment. They need to be stimulated and not get bored. Find toys that require them to challenge themselves to play or use them. Find toys that will keep them busy.
Puzzle toys and durable or interactive toys are really the best because they could keep your Goldendoodle entertained for plenty of time.
Goldendoodles are a very intelligent breed. They learn quickly and train easily but that doesn't change the fact that they still require exercise, entertainment, and stimulation. Stock your house properly with plenty of toys to be prepared to keep your dog from getting bored.
Other articles you might like:
Garrett loves animals and is a huge advocate for all Doodle dog breeds. He owns his own Goldendoodle named Kona. In addition, he volunteers at the Humane Society of Silicon Valley, where he fosters dogs and helps animals. Garrett enjoys writing about Doodles and believes that dogs can teach humans more about how to live than humans can teach a dog.
Why Trust We Love Doodles?
At We Love Doodles, we're a team of writers, veterinarians, and puppy trainers that love dogs. Our team of qualified experts researches and provides reliable information on a wide range of dog topics. Our reviews are based on customer feedback, hands-on testing, and in-depth analysis. We are fully transparent and honest to our community of dog owners and future owners.