As your furbaby gets older, you might notice that he's taking longer naps and has numerous gray hairs around his muzzle. Senior dogs also have different dietary needs, and you'll need to ensure that your dog food recipe is specially formulated for a senior life stage.  
With aging, you may need to tackle problems with teeth and gums that can affect your dog's breath and appetite. Your pup's activity level may change, as well as weight and overall health. This review will discuss the best soft dog food for older small dogs with few teeth.
In a rush? Here are the top picks!
Product
Best Overall
Hill's Science Diet Adult 7+ Small Bites Chicken Meal, Barley & Brown Rice Recipe Dry Dog Food
Runner Up
Blue Buffalo Life Protection Formula Natural Senior Dry Dog Food, Chicken and Brown Rice
Editor's Choice
Blue Buffalo Homestyle Recipe Natural Senior Wet Dog Food, Chicken 12.5 Oz Can (Pack of 12)
Image
Best Overall
Product
Hill's Science Diet Adult 7+ Small Bites Chicken Meal, Barley & Brown Rice Recipe Dry Dog Food
Image
Runner Up
Product
Blue Buffalo Life Protection Formula Natural Senior Dry Dog Food, Chicken and Brown Rice
Image
This option from Hill's Science Diet 7 + small bites is specially formulated for the specific aging needs of your toy or small breed senior dog. All the ingredients are easy-to-digest and help to support energy levels and keep a healthy immune system. 
This formula features balanced minerals for heart & kidney health and also is crafted with small kibble featuring high-quality protein for lean muscle. We like this recipe for dogs with bad teeth because it is #1 veterinarian recommended and features high-quality protein as the first ingredient. This is science-based nutrition that supports energy levels and keeps the immune system, heart, and kidneys healthy.
Feature
s
Easy-to-digest ingredients 

Balanced minerals for heart & kidney health

#1 Vet recommended

Features no chicken by-product meal

Features over 7,100 positive reviews
Blue Buffalo Life Protection Senior formula always features real meat as the first ingredient. This is a high-quality protein recipe from real chicken that helps your dog build and maintain healthy muscles. It also features wholesome whole grains, garden veggies, and fruit. 
We like Blue Life Protection Formula senior dog food because it contains glucosamine and chondroitin to support optimal joint health and overall mobility and also is crafted with high-quality proteins and carbohydrates to help with energy requirements for a healthy lifestyle. The first five ingredients include the following: Deboned Chicken, Chicken Meal, Brown Rice, Barley, Oatmeal. 
Features
Crafted with Lifesource Bits to support immune system health

High-quality protein sources

Cold-formed to preserve the potency

Features no chicken (or poultry) by-product meals, corn, wheat, soy, artificial flavors, or preservatives

Over 6,300 positive reviews
Blue Buffalo Homestyle Recipe wet dog food for senior dogs features paté style wet dog food with a high-quality protein from real chicken that supports healthy muscle maintenance. This product has over 4,600 positive reviews and can easily be mixed into your pup's dry kibble or can be fed as a meal on its own. 
We like Blue canned wet food for senior dogs because it contains NO chicken (or poultry) by-product meals, NO corn, wheat (a common thickening agent used by other brands), or soy, and NO artificial flavors or preservatives. The first five ingredients include Chicken, Chicken Broth, Chicken Liver, Carrots, & Peas.
Features
Numerous formulas to choose from

Real deboned chicken provides essential amino acids

Affordable

Over 4,600 positive reviews

396 Kcals/can
Another great option for soft dry dog food dogs with bad teeth is Royal Canine small breed chunks in a gravy pouch. This recipe is specially formulated for small senior dogs 12 years plus and older senior dogs weighing 22 lbs. These are easy to open pouches that pair perfectly with Royal Canin Small Aging 12+ dry dog food. The kibble size is perfectly adapted to a small breed jaw size. 
We like this recipe because this aging care formula comes in a convenient easy-to-open pouch in chunks in gravy texture your small dog will love. It also features an exclusive complex of antioxidants that supports cellular health to help fight the signs of aging. 
The formula is crafted with phosphorus content that helps support kidney health and also features omega-3 fatty acids EPA and DHA for optimal skin and coat health.
Features
Over 50 years of scientific research and observation

New convenient pouches for ease of use

Affordable

Over 1,800 positive reviews

Targeted nutrition for senior dogs

Gravy texture
Only Natural Pet Max Meat combines natural and wholesome first ingredients, that includes lamb, cod, lamb liver, lamb heart, and lamb kidney. This is a premium quality dog food brand with many different recipes for all life stages and even the fussiest of eaters. This is a Paleo-inspired diet for dogs.
 We really like this recipe from Natural Pet Max Meat Holistic Grain-Free Air-Dried because it features natural, free-range New Zealand lamb together with wild-caught cod. The ingredients are air-dried gently so that all the nutrients are not destroyed in the process. This is also a grain-free recipe that is free of soy, wheat, oats, corn, or grain.
 

Features
Air-dried ingredients

Free-range formula

For all life stages

Balanced and complete

Paleo-inspired high-meat high protein diet for dogs

Crafted with human-quality ingredients

High-quality New Zealand free-range proteins

Veterinarian/ holistically formulated.
Taste of the Wild High Prairie with ROASTED BISON & VENISON REAL MEAT is the #1 ingredient for optimal amino acid profile & protein-rich for LEAN STRONG MUSCLES. This formula is crafted with high protein ingredients and added vitamins & minerals, fruits, and vegetables for optimal nutrition. Taste of the Wild Bison & Venison formula has over 14,900 positive ratings.
 This is a great dog food formula for dogs with digestive health issues. It's crafted with sweet potatoes, which are a good source of dietary fiber as its third ingredient. Taste of the Wild is also loaded with antioxidants and features a high source of vitamin E.
 Sweet potatoes have many essential nutrients and offer many vitamins like A, B6, and C, calcium, folate, copper, thiamine, iron, and potassium. This brand is U.S made and remains one of the most trusted dog food brands around. 
Features
First ingredient: salmon

Includes real chicory root as a prebiotic fiber

Balanced levels of omega 3 and 6's

Species-specific probiotics

Over 14,900 positive ratings

For all life stages
Zeal Air-Dried Food, Canadian Jerky Company LTD, is based in British Columbia and crafts gently air-dried dog food recipes with premium ingredients. The salmon recipe is a complete, balanced, wholesome diet for dogs crafted with 96% wild salmon. 
The natural air drying process is used to preserve all the nutrients and flavors. This is done with an artisanal technique that naturally evaporates the moisture by gently circulating air, reducing its volume while concentrating the nutrition. 
 We like this brand because it features raw air-dried nutrition that features a high-protein with low-fat content. Zeal also uses locally sourced wild salmon. Here's the take with Zeal air-dried dog food: 
Features
The website has a comprehensive transitional feeding guide for dogs trying this formula for the first time.

Concentrated and balanced nutrition that is gently air-dried

Crafted with high-quality premium ingredients

Grain-free for all life stages

No recalls
Orijen senior dog food delivers a diet rich and varied in fresh, whole animal ingredients from free-run chicken and turkey, wild-caught fish, and cage-free eggs. This formula features 85% quality animal ingredients. 
ORIJEN nourishes dogs according to their natural, biological needs and uses fresh and raw animal ingredients, including meat, organs, cartilage, and bone. ORIJEN is a biologically appropriate, grain-free diet that dogs have evolved to eat. 
We like this recipe because the first five ingredients include: Deboned chicken, deboned turkey, Atlantic flounder, whole eggs, and whole Atlantic mackerel. And you also get dried kelp, zinc proteinate, kale, spinach, mustard greens, collard greens, turnip greens, whole carrots, whole apples, whole pears, pumpkin seeds, sunflower seeds, copper proteinate, chicory root, turmeric, and more!
Features
Rich in 85% whole animal ingredients (Whole prey diet)

Grain-free

Biologically appropriate diet

First five ingredients fresh or raw

Includes turkey giblets and chicken liver
Protein quality
When choosing a senior small breed dog food for mature pets, consider protein quality because older dogs may have more difficulty absorbing nutrients.
Some senior dogs might need fewer calories because they are less active and gain weight when older. Older small breed dogs may lose weight due to certain health conditions or dental issues, so you shouldn't cut back on calories. 
How to shop for senior dog foods?
If you haven't yet switched your senior dog food formula, now may be the time where you can begin a slow transition by reducing the ratio of your old dog food to the new senior recipe. If you see that your senior dog has diarrhea or is vomiting, you should reach out to your vet. Also, look out for patchy hair loss, dull coats, and even dandruff. Nutritional issues caused by dietary deficiencies can result in skin issues in dogs.
What should you opt for?
When switching formulas, you need to realize that your pup's metabolism may be slowing down, and he may not need as many calories as he did when he was younger. 
You should also reach out to your vet to check how many daily calories your dog needs based on his breed, weight, age, and level of activity. You should opt for senior dog foods with supplements like essential fatty acids and glucosamine for joint disease. 
What's most essential to keep in mind is that the amount of supplements in a commercial dog food diet is minimal, so additional supplementation may be needed for your senior small breed dog.
AAFCO
As your dog gets older, you should consider measuring portions and limiting treats given each day, and most importantly, you should look at the nutritional adequacy statement from the Association of American Food Control Officials (AAFCO). This is found on the dog food bag. You also need to consider that there is no specific guidance from the AAFCO about food for senior dogs.
Specialized diets for senior dogs with health conditions
As your dog gets older, you should also consider any health conditions that he may be prone to. Your older dog may need a specialized diet if he has diabetes, kidney disease, liver disease, or arthritis. 
Numerous senior dog food formulas are crafted with supplements like essential fatty acids or glucosamine for joint disease. It's also important to note that supplements in a diet are limited, so it may be a good idea to provide additional supplementation to your senior dog after speaking to your vet.
This review will discuss some of our top picks for soft senior dog food for dogs with bad teeth. Some small breeds may be prone to weight gain. As usual, when choosing a pet senior pet food for older small dogs with bad teeth, you should consider weight and mobility issues. 
Senior dog with bad teeth
A senior dog may have some oral issues, such as bad teeth and gums, that soft food can help with. While soft food is often recommended for dogs with tooth or gum problems, soft dry dog food has many benefits. 
One approach that works better is a gradual switch. Start by moistening your dog's kibble with water or broth, gradually reducing the liquid over time, and replacing it with soft food. This softens kibble and gradually changes a dog's palate to appreciate soft foods.
For seniors, soft dry dog food can help ease feeding and digestion. Because of its smooth texture, soft dry dog food is easier for senior dogs with sore gums or dental issues to eat. It also helps prevent choking and makes it easier for older doggies to get the nutrition they need.
Digestive relief
Most commercial dog foods feature probiotics and enzymes that are both heated and overly processed. So if you're looking for commercial dog food with probiotics, you should opt for whole-food-based probiotics which remain stable at natural pH levels, and are not destroyed by heating, cooling, or with mechanical processing. These probiotics and enzymes will be beneficial in helping your senior dog activate and utilize vitamins and minerals in his diet to enhance and support optimal digestive health and wellness.
Probiotics
Probiotic supplements are available in different forms and can help senior pets live a better life. Research demonstrates that probiotics can be beneficial for senior dogs and help them with digestive issues. 
The advantages of probiotics are that they help boost good bacteria and lower the numbers of disease-causing bacteria in a pet's gut. Probiotics also make it more difficult for potentially disease-causing pathogens to set up in the small intestine. The advantages of probiotics for senior dogs include the following:
Boost poor immune function

Beneficial in addressing bacterial imbalance and enhancing the health of cells in the tissue of a dog's gastrointestinal tract that produce digestive enzymes.

Helps with constipation, bloating, and diarrhea
Check out this video: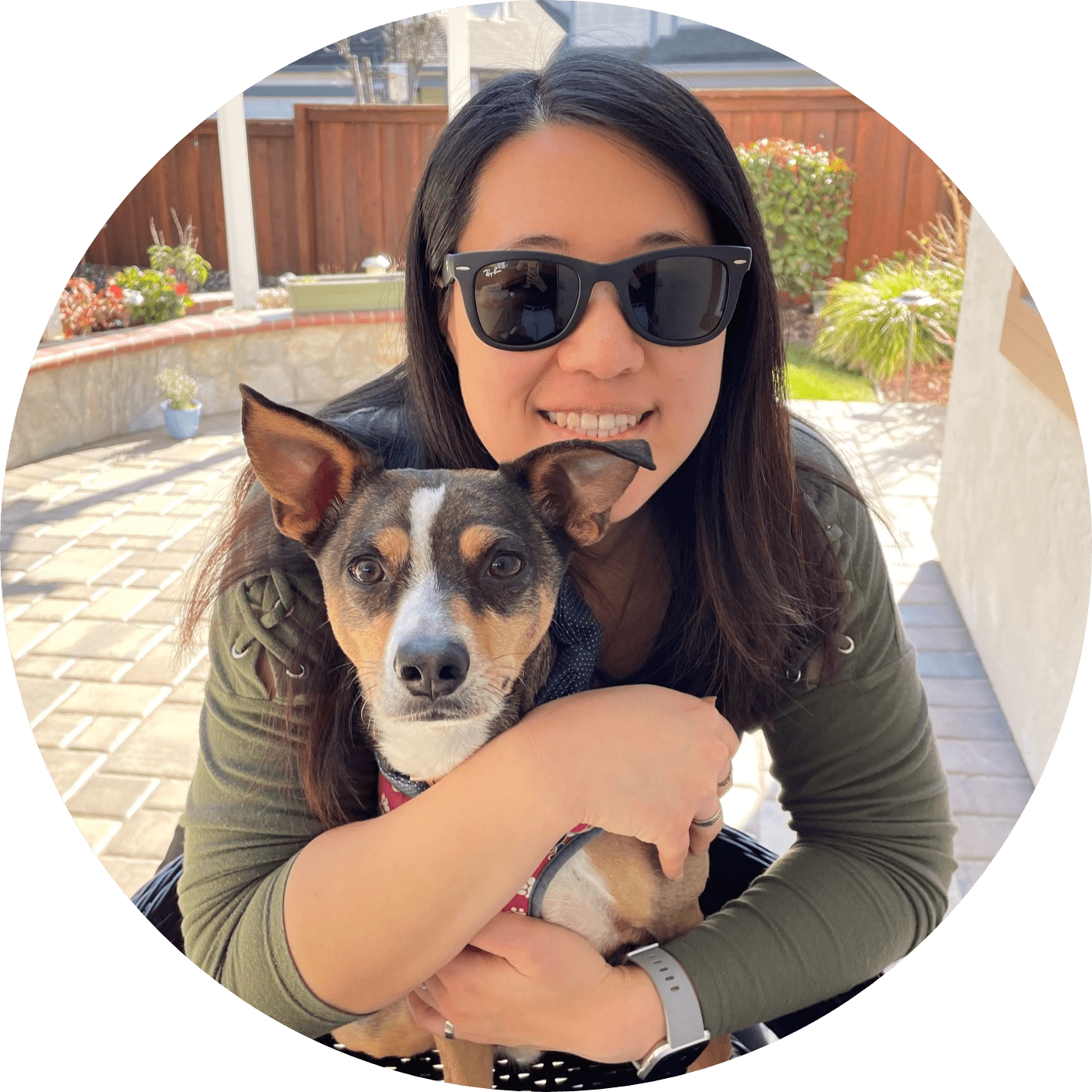 Dr. Sabrina Kong graduated from the Royal Veterinary College in England in 2016 and has been working at a small animal clinic in Northern California since then. She grew up in the Bay Area and got her bachelor's degree from Cal Poly San Luis Obispo. She also became a Certified Canine Rehabilitation Practitioner through a program at the University of Tennessee.
When she isn't in the clinic taking care of her four-legged patients, she enjoys traveling and trying new foods with her friends and her three-legged dog, Apollo. She adopted Apollo from her clinic when he was a puppy with numerous health issues. Dr. Kong truly cares about taking care of animals.