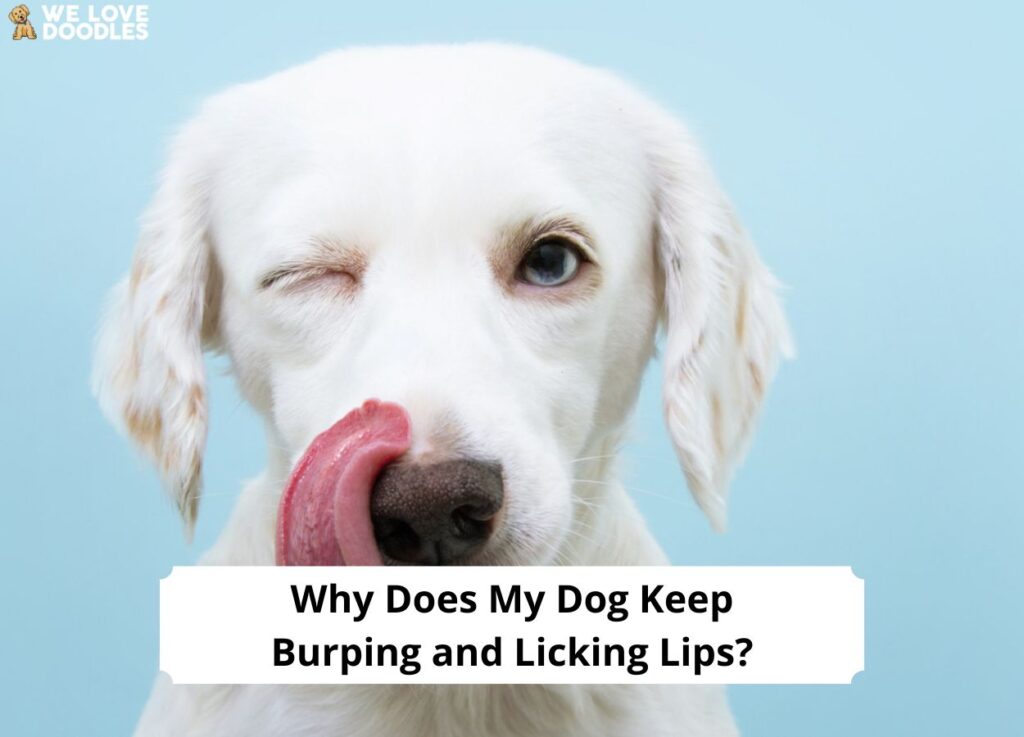 Seeing your canine friend acting strange is among the most stressful things that can happen to you as a dog owner. You're responsible for providing them with basic care and recognizing when they're unwell. Like humans, your dog could keep licking their lips and burping frequently.
While these behaviors aren't necessarily signs of anything serious, you shouldn't dismiss them when they become excessive. So, if your dog keeps burping and licking its lips, there are numerous possible causes for this behavior. Fortunately, you can recognize some of them without a vet's assistance.
Before reading this guide, "Why Does My Dog Keep Burping and Licking Lips," check out: Why Does My Dog Roll Around After Eating? 8 Reasons! (2023) and What Does It Mean When Your Dog's Burp Smells Like Poop? (2023).
Potential Causes Why Your Dog Keeps Burping and Licking Lips
If your dog keeps burping and licking its lips, the most common causes could be:
Acid Reflux
Acid reflux is the major contributor to dogs' excessive licking and burping behaviors. It's also the easiest sign to notice. It happens when the esophagus cannot block the stomach acid passage up the food pipe. When your dog has a digestive problem, the excess saliva forces them to lick their lips to reduce the drool continuously.
In addition, your dog may have food sensitivities. If you've recently switched your dog's food, your pet's digestive system may react negatively to an ingredient in the new diet. If fed regularly, that can trigger an overproduction of stomach acid, leading to heartburn and other digestive issues.
Toxic foods like raisins, grapes, and chocolate may also cause digestive problems. Acid reflux is manageable, and you can treat it at home. If you are unsure how to manage the situation, it's best to consult a vet.
Anxiety and Stress
A dog is likely to lick its lips whenever it feels threatened. They usually exhibit this behavior in times of high stress, such as when they are frightened or nervous.
It's similar to how stressed-out humans bite their nails and exhibit other physical signs like sweating and clenching their fists. The behavior is a way of signaling that they would rather avoid facing their fears.
For instance, if you constantly find your dog licking its lips when you return home, you're likely used to reprimanding them for peeing in the house. Since they can't correlate the reprimand to what they did hours earlier, your dog might become fearful of you whenever you return home.
Itchy or Infected Gums
Unlike humans, your dog's gums may see more action, and it's simple for them to become unclean over time, particularly considering that they don't brush their teeth daily.
Your dog's normal unclean gums are not the sole reason for its behavior, which may include excessive lip licking and burping. You need to examine the color of the gums for any severe discoloration indicators.
Examine the gums closely to see if they have any color other than the typical pink. When the gums aren't normally pink, it's usually because the dog is suffering from cyanosis, a condition in which a shortage of oxygen in the bloodstream causes breathing difficulties.
When a dog exhibits such kind of oxygen deprivation, it may also indicate the presence of other grave illnesses, such as a congenital heart defect.
Sickness
You've probably observed that when your dog is unwell, its mouth produces more saliva, which makes it challenging to refrain from swallowing repeatedly. Sick dogs often experience a surge in saliva, causing them to burp and lick excessively.
Even though this symptom is slightly different from acid reflux, the same fundamental guidelines apply to uncover what's wrong with your dog. Once you've ruled out the possibility of your dog having eaten any poisonous food, then it's possible that they sniffed something that made them ill.
Aftermath of Toad Licking
Toads try to avoid contact with humans and dogs. However, dogs are naturally curious animals and are unlikely to leave them alone when they stumble upon one.
The repercussions of licking a toad vary depending on the kind of toxin your dog absorbs in their mouth and gums from the toad's skin. The toxins induce an overabundance of salvation, causing the dog to burp and lick their lips.
While burping and licking may be signs of toad poisoning, it's not always easy to tell whether that's the case until you witness your dog licking one. Nevertheless, it's still essential to recognize its possibility, mainly if you reside in an area where toads are a common sight.
What to Do if My Dog Is Burping and Licking Lips
You can use home cures if a dog burps and licks its lips excessively. To treat your dog effectively, you must first determine the root cause of its strange behavior. Here are some of the things you can do to help your dog.
Give Them Antacid Medication
If you suspect your dog has acid reflux, administering an antacid pill is the best action. Alkaline medication in antacids coats the stomach lining, helping it recover. Their effectiveness in calming acid indigestion pain is almost instantaneous.
Exercise and Give Them Toys
You can help your dog release any trapped air and put an end to its burping through exercising. Furthermore, giving your dog a toy, engaging in play, or taking a stroll may help redirect your dog's attention away from the unwanted behavior.
Avoid lavishing attention since your dog could associate it with negative emotions like anxiety or fear.
When nauseating, your dog will attempt to eat grass. That makes them feel better and settles their tummy. You shouldn't try to stop your dog from eating grass if they are interested in doing so. It's their natural, instinctual method of relieving illness.
Feed Them a Low-Fat Diet
Your dog may benefit from a low-fat, bland diet when having acid reflux. Proteins and carbohydrates are simpler for the body to break down than lipids.
In addition, try to limit your dog's fat intake. A fantastic low-fat diet includes a combination of lean chicken and white rice. Rice is great at absorbing extra gastric acid.
Feed your dog smaller meals throughout the day rather than one large meal. It would be best if you also attempted to limit their access to table scraps. Table food can often be challenging to digest and lead to excessive burping.
If you decide to treat your dog, ensure it's appropriate for its size and health status.
Determine the Color of Their Gums
If your dog's gums are pale or purple, it could be a sign of internal bleeding or a significant obstruction cutting off oxygen to vital organs. It's okay to use medicine to address acid reflux if the gums are usually pink.
Take Them to a Vet
If nothing else works, it is time to make an appointment with a local veterinarian. They'll want to conduct a comprehensive oral examination, during which your vet will look at the following areas:
Teeth
Gums
Lips
Surrounding skin
The vet may also want to see your dog's medical history, including information on their eating habits, diet modifications, and contact with waste or pollutants, to enable them to make an accurate diagnosis.
Furthermore, substituting your dog's food with a diet meal is excellent for alleviating gastrointestinal problems, but it may not provide all the necessary nutrients.
You should discuss incorporating other foods into the bland mix with your vet and ensure you adhere to their recommendations.
Frequently Asked Questions
Here are the most common questions people ask about dogs burping and licking lips.
Why does my dog keep licking his lips and gulping?
A dog may lick its lips and gulp for several reasons, including anxiety, stress, acid reflux, oral ulcers, and underlying medical conditions. Talk to your vet if the behavior doesn't disappear with home remedies.
Why is my dog suddenly burping so much?
When dogs swallow too much air, they'll burp to get rid of it. If a dog licks its lips, it could be a sign of nausea, acid reflux, or oral pain.
What does it mean if my dog burps a lot?
Persistent burps signal air is escaping from the esophagus. In addition, your dog may have excess water in their bellies from swallowing too much air.
Is excessive burping a cause for concern?
Yes, if your dog's burping and lip-licking are persistent or if it appears to be accompanied by signs of discomfort, it may be cause for concern. Look for other symptoms like restlessness, drooling, vomiting, and loss of appetite. Their presence could be a warning sign of something more serious.
Conclusion for "Why Does My Dog Keep Burping and Licking Lips"
Burping and lip licking are common behaviors in dogs. However, they can indicate a medical condition if they occur frequently or if accompanied by other signs of distress. In such situations, you should consider taking your dog to the vet for a checkup. They'll provide a diagnosis and treatment plan to help your dog feel better.
You can provide your dog with the best possible care with basic preventative measures and lifestyle adjustments. We hope our article had valuable insights to help you if your dog keeps burping and licking its lips.
If you find this guide, "Why Does My Dog Keep Burping and Licking Lips," helpful, check out:
Learn more by watching "The Reasons Why Your Dog is Licking Their Lips All the Time (are they in pain?)" down below:
Garrett loves animals and is a huge advocate for all Doodle dog breeds. He owns his own Goldendoodle named Kona. In addition, he volunteers at the Humane Society of Silicon Valley, where he fosters dogs and helps animals. Garrett enjoys writing about Doodles and believes that dogs can teach humans more about how to live than humans can teach a dog.
Why Trust We Love Doodles?
At We Love Doodles, we're a team of writers, veterinarians, and puppy trainers that love dogs. Our team of qualified experts researches and provides reliable information on a wide range of dog topics. Our reviews are based on customer feedback, hands-on testing, and in-depth analysis. We are fully transparent and honest to our community of dog owners and future owners.