 Boxers are a purebred dog, and much like other purebreds, they can be susceptible to genetic health conditions.
The most common health issues that they have been associated with are concerning the eyes, heart, joints, and digestive system.
This means that they are prone to having sensitive stomachs and cannot handle a lot of dog food on the market. 
However, boxers are also very energetic and need to consume a lot of calories to fuel their personalities.
For this reason, it is vitally important that you find a food that your boxer can eat without getting tummy issues. 
We must stress that we are not trained veterinarians and therefore don't know all of the reasons why your dog might be suffering from a sensitive stomach.
If you're worried we would always recommend talking to a professional beforehand to rule out any serious conditions that need treatment. 
However, if your dog is simply suffering from a sensitive stomach and needs some food that they can handle, we are here to help.
We've found the five best foods for your boxer on the market that should help calm their stomach.  
In a hurry? Here are the top picks!
Product
Best Overall
Purina Pro Plan Sensitive Skin & Stomach
Runner Up
Hill's Science Diet Dry Dog Food
Budget Pick
Nature's Recipe Easy to Digest Wet Dog Food
Purina Pro Plan Grain-Free Adult Canned Wet Dog Food
Image
We know that seeing your boxer in pain is not fun, which is why we want to tell you the best food out there right away.
If you want to find a product and get your dog better food to help their sensitive stomach right away, we're here to help.
Purina Pro Plan Sensitive Skin & Stomach is our favorite on the market, and here is why:
There are no filler ingredients.

Lots of protein for your dog to digest without any issues.

The added prebiotic fiber can help aid your dog's digestive system.
Kicking off our list is the Purina Pro dog kibble for sensitive skin and stomachs.
With the first ingredient being salmon, you know that your dog is getting a great amount of protein.
As protein is very important for boxers with sensitive stomachs, this is an excellent benefit. 
The prebiotic fiber included in this kibble also helps your dog's digestive system and therefore will make them feel more energetic and happy.
There are no corn, soy, or wheat fillers within the formula which ensures that your dog won't have trouble breaking the food down.
You can choose between a 5, 16, 30, and 41-pound bag of kibble for your dog.
There is also the option to get this food for small breeds, so if you have another smaller dog that has digestive issues you could also get them this type of food.
Hill's Science is a reputable brand of dog food as they have a lot of high-quality products that can help with various ailments that your dog might suffer from.
This dry kibble is no different as it is specifically designed to help your dog's sensitive stomach and skin, just like the above product.
You can choose between a chicken and barley food or a grain-free alternative.
We think that the latter is the best option as there aren't any useless grain fillers within the ingredients list. These are difficult for your dog to digest and therefore can hinder their sensitive stomachs. 
There is added prebiotic fiber added to this dry kibble which can support a balanced gut and healthy digestive system.
This food is the number one recommended by veterinarians, so you know that your boxer is only getting the best.
Next up we have a type of wet food, full of premium sources of protein. Choose between chicken and lamb as the primary source of protein for your dog.
The other main ingredients are rice and barley, which are two high-quality sources of carbohydrates that are also easily digestible. 
Added vegetables ensure that your boxer gets enough minerals and antioxidants.
Nature's Recipe has been creating dog food for over 30 years, meaning that they have lots of experience in dog food for sensitive stomachs. 
As well as being able to choose between the sources of protein, you can also opt for a ground alternative to the stew formula.
The ground meat might be easier for your dog to digest, so it's worth giving it a go! You'll get 12 cans of dog food for an impressive price.
Purina ONE offers you a great variety with their SmartBlend dry dog food as there are three variations to choose from.
The first is for sensitive stomachs with the main source of protein being salmon.
The other two are both with chicken as the main protein source, but one is for digestive health and the other is with limited ingredients. 
All three of these options are great for boxers with sensitive stomachs in their own way.
It might take some trial and error, but we believe that you'll be able to find your dog's perfect food thanks to Purina ONE. 
This veterinarian recommended food is also rich in antioxidants and minerals to ensure good health for your dog.
Every ingredient within this food has a purpose as they are all working towards a common goal of helping your dog's sensitive stomach.
Finally, we have Purina Pro Plan wet dog food for sensitive stomachs. The grain-free recipe is full of protein, a great benefit as your boxer will be able to digest this the easiest.
You can see that there is plenty of protein in this food by looking at the ingredients list. 
In the first five ingredients, four of them are rich protein sources.
The formula contains ground meat which is easily digestible rather than big chunks of meat. Sweet potato is also included which is a great and healthy source of carbohydrates.
Choose between nine flavor options or, if you don't know what your dog will be in the mood for, opt for the variety pack. You get 12 13-ounce cans for a great price.
Best Dog Food for Boxers with Sensitive Stomachs Buying Guide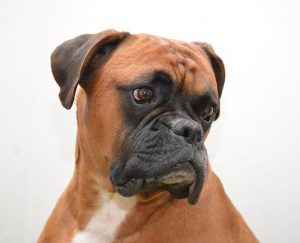 When it comes to purchasing the best food for a boxer with a sensitive stomach, there are a few things that you need to consider beforehand.
For example, if you were just considering dog food for a healthy dog, the price might be a big factor in your decision. 
However, as your dog has a sensitive stomach, it might be more important to prioritize the ingredients rather than the value for money.
While this can be a little irritating, it is well worth it to see your dog happy and full of energy again. 
Below we have created a list of the most important things to consider when choosing dog food for your boxer with a sensitive stomach. 
Ingredients
It goes without saying that the ingredients are the most important thing to look out for when choosing dog food for your boxer.
The ingredients are most likely what is making your dog feel under the weather in the first place, so pay attention. 
Many dog food manufacturers include grains in their formula because they act as a filler. This makes the manufacturing process cheaper and therefore the profit margins higher.
However, grain fillers can be very upsetting on a dog's stomach, so make sure that you opt for one that has very small amounts of this, if not none.
High-quality ingredients should always be fed to your dog so that their stomachs can handle it. Better ingredients mean a higher amount of nutrients being given to your dog, which can also help them recover from a sensitive stomach quicker. 
It's always worth paying for better quality. You might even be surprised at how much this small difference makes to your pet.
You wouldn't like a diet of cheap meats and filler ingredients, so why would your dog? 
Protein is important in a dog's diet, particularly for those that suffer from sensitive stomachs.
High amounts of protein are able to break down easily inside of a boxer's stomach, ensuring that food is not trapped there waiting to be broken down. 
In fact, it's a common recommendation from veterinarians that you should feed your boxer lots of protein to avoid digestive issues that can be common for the breed of dog. More protein in the food also prevents there being any filler ingredients. 
Unlike protein, fat is very difficult to digest in the stomach and therefore can affect your dog adversely.
An easy way to see if your dog's food is too fatty for their sensitive stomach is to read the first four ingredients on the ingredients list. 
If one or more of the first four ingredients are fat or oil, it's a good indicator that the food will be too fatty for your dog. Leave that food and try to find another that doesn't have such a high-fat content.
Flavors
Another thing to consider when buying dog food for a boxer with a sensitive stomach is that you need to match the flavor with your pet's preferences.
While it's all well and good having a high-quality food with lots of protein and no fillers, if your dog doesn't like the taste they're not going to eat it. 
If you know your dog pretty well and know what protein is their favorite, make sure that you choose this.
Alternatively, you could look for a variety pack with lots of different flavors. This would allow your dog to test them all out to see what their favorite was. 
It's always advised that you slowly mix their new food with their old food for the first few days. This allows your dog to become accustomed to the new taste without having too much of a shock.
Changing their diet too quickly could also upset their stomach, so it's important to slowly wean your dog off of their old food and onto their new food. 
Wet vs. Dry
It has long been known that dry food is best for dogs with sensitive stomachs because wet food is too rich and can be difficult to digest.
For this reason, many dry foods are suitable for sensitive stomachs. However, that doesn't necessarily rule out wet food altogether. 
As some dogs prefer wet food to dry, more manufacturers are creating wet foods suitable for sensitive stomachs.
So, which one you opt for will all come down to your dog's personal preference. We recommend getting some wet and dry food so that your pooch can reap the benefits of both foods. 
Value For Money
Okay, just because we said that price doesn't mean everything doesn't mean that you're not allowed to take it into consideration.
Dog food can get expensive if you're not paying attention, so it's normal to want to get the best deal available. 
Wet foods come in multipacks which can save you money when you work out the price per portion.
Dry food is generally considered cheaper than wet food, so if money is an issue you might prefer to feed your dog a kibble-based diet. 
Vitamins and Minerals
Every diet should include many vitamins and minerals to keep the body in good working shape.
This is no different for pets, either, so make sure that your dog is getting the most benefits from their food as possible. 
Omega fatty acids are very beneficial for your dog's overall health but they can also be harsh on their stomachs.
Ensuring that your dog is consuming enough vitamins and minerals will give you peace of mind that your dog is getting everything that they need.
Other articles you would like:
Frequently Asked Questions

How do I know if my boxer has a sensitive stomach? 
Many owners have this question and the answer is rather difficult. In fact, you might find that you need to put your detective hat on and search for clues.
The elimination diet can be very beneficial as it will indicate what the triggers of their original diet might be. 
For example, if you remove gluten from your boxer's diet and there is a change in their behavior, you might wonder if they have a sensitivity to gluten.
On the other hand, if you remove gluten and there is no change, it suggests that your dog is fine with gluten. 
If you want to try the elimination diet, you would normally feed your dog a source of protein, such as chicken, rabbit, or lamb, as well as rice or potatoes.
If your boxer doesn't seem to be struggling after eating this diet for a few days, you can assume that they have a food allergy. 
A veterinarian will be able to help you more when it comes to food allergies, so we recommend that you book to talk to them about it. 
What food is best for boxers with sensitive stomachs?
Any dog food with limited ingredients and plenty of protein is sure to help ease the effects of your dog's ailments.
Make sure that the fat content is not too high and that the food contains all of the vitamins and minerals that your dog needs. 
We cannot give you a one size fits all type of answer to this question as every dog is different when it comes to their dietary needs. 
However, we think that you will be able to see a great difference in your dog's behavior once you switch their diet from their normal food to a food designed for sensitive stomachs. 
How do you wean a dog onto new food?
Changing a dog's diet can be a difficult task, especially if your dog is very fussy when it comes to mealtimes.
For this reason, it's recommended that you start off by feeding your dog with 75% of their old food and 25% new food. 
After a few days, you can switch this to 50% old and 50% new. Again, after a few more days change the quantities to 25% old and 75% new.
Before you know it, your dog will be on 100% new dog food and they won't have even noticed a difference.
Garrett loves animals and is a huge advocate for all Doodle dog breeds. He owns his own Goldendoodle named Kona. In addition, he volunteers at the Humane Society of Silicon Valley, where he fosters dogs and helps animals. Garrett enjoys writing about Doodles and believes that dogs can teach humans more about how to live than humans can teach a dog.
Why Trust We Love Doodles?
At We Love Doodles, we're a team of writers, veterinarians, and puppy trainers that love dogs. Our team of qualified experts researches and provides reliable information on a wide range of dog topics. Our reviews are based on customer feedback, hands-on testing, and in-depth analysis. We are fully transparent and honest to our community of dog owners and future owners.