Picture this: you've just filled your pup's bowl with kibble, they munch it up at lightning speed like they always do, and now they're all on your face seeking some affection. Suddenly, they burp! And for some reason, your dog's burp smells like poop.
If you're wondering what this means and if it's cause for concern, we've got all the explanations.
Before scrolling down this guide "What Does It Mean When Your Dog's Burp Smells Like Poop," check out: How Often Do Puppies Poop? (2023) and Why Does My Dog Walk Around and Poop? (2023).
Why Do Dogs Burp?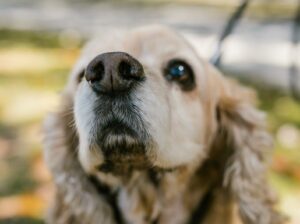 A burp, also known as eructation, is a behavior as common to dogs as it is to humans.
It happens when gas is expelled from the stomach through the mouth. Dogs may burp for varying reasons, such as eating or drinking or as a consequence of swallowing excess air while panting or exercising. Dogs also burp due to diet changes.
Typically, a dog's burp will have a natural, sour smell similar to their food's smell. This is often because the air they burp contains the same gases in their stomach, such as hydrogen.
While it's normal for dogs to occasionally burp, excessive burping — or burping accompanied by other symptoms, such as poop smell, vomiting, or loss of appetite — are signs something is off.
Why Does My Dog's Burp Smell Like Poop?
As noted, a dog's burp naturally smells sour. So, when Fido's burp suddenly smells like poop, something is amiss. Your dog's burp could be smelling like poop for the following reasons:
Diet
Just like humans, a dog's diet significantly affects its overall well-being. A healthy diet keeps their weight in check, provides necessary nutrients, and supports immune strength.
On the other hand, a diet rich in certain nutrients can lead to various problems, including smelly burps. For instance, while a diet high in sulfur-rich foods such as eggs helps prevent mange in dogs, it typically results in sulfur-laden burps, similar to the smell of poop.
Dogs on a raw-food diet are also more likely to have sulfur burps because their bodies produce this gas as they digest the raw proteins.
Dietary changes are also likely to cause poop-smelling burps in dogs. This is because some of these furry best friends have sensitive stomachs and take time before their digestive systems adjust to the new food.
In other instances, smelly burps might be due to sensitivity to particular ingredients. For example, some dog food products contain bacteria-forming ingredients that are hard for a dog's digestive system to handle, such as lactose, pectin, and soy.
Do the following to identify whether your dog's diet may be causing their burps to smell like poop:
Keep a food and burp diary: Record everything Fido eats and any changes in their burping behavior to identify any specific foods or ingredients that may be causing the problem
Try a hypoallergenic diet: If you suspect your pooch has a food allergy or sensitivity, try a hypoallergenic diet formulated with novel or hydrolyzed protein sources. This can help you determine the specific ingredient in your pup's previous diet that may be the culprit.
Consult a vet: A vet is the best bet if the above steps don't prove effective
Infected Anal Glands
Dogs have a pair of glands on either side of the anus. These glands — referred to as anal sacs or anal glands — help them mark their territory or identify other pups. They are naturally emptied when the pooch defecated.
When Fido's anal glands are full and not expressed, they may feel uncomfortable and lick or bite their anus to relieve the pressure. Consequently, the anal sacs may become infected or abscessed, causing further discomfort in the pup.
The result?
They lick and bite their anal glands more frequently, producing poop-smelling burps. To determine if your Pooch's poop-smelling burps are due to infected anal sacs, look for swelling or redness around the anus.
Also, look out for discharge from the anus or if your pup has a hard time defecating. If you identify two or more of these signs, your dog's smelly burps are due to infected anal sacs, and you should see the vet as soon as possible.
Acid Reflux
Acid reflux is a digestive problem caused by gastric fluid being pushed from the stomach into the esophagus. It's caused by over, or under-production of stomach acids. Normally, the esophagus is closed, but in pups with this condition, the sphincter supposed to close it off is usually open.
Acid reflux in dogs has multiple symptoms, but one of the most common is increased poop-smelling burps. To determine if acid reflux is causing your Beagle's smelly burps, look for other symptoms. These include:
Decreased or increased appetite
Bad breath
Empty swallowing
Vomiting bile
Painful swallowing
Licking lips or the air
If your dog exhibits one or more symptoms above accompanied by smelly burps, then acid reflux is probably the culprit, and you should consider booking a vet appointment as soon as possible.
Infections or Disease
Sometimes poop-smelling burps in dogs may be a sign of underlying conditions like:
Pancreatitis
In simple terms, pancreatitis refers to the inflammation of the pancreas. Pancreatitis in canines occurs due to the early activation of digestive enzymes, causing the organ to digest not only itself but also cause secondary damage to surrounding organs, such as the bile ducts, liver, and gallbladder. It may be either acute- sudden, severe, or chronic.
Symptoms often vary but generally include:
Abdominal pain
Vomiting
Diarrhea
Appetite loss
Lethargy
In addition to the symptoms above, pancreatitis in canines can also cause poop-smelling burps because the inflamed pancreas interferes with normal digestion and absorption of nutrients. Note that besides irritating poop-smelling burps, pancreatitis is a severe condition, and it requires prompt vet attention. So, if you notice several of the signs above, book an appointment with your vet immediately.
Inflammatory Bowel Disease
Inflammatory bowel disease — or IBD — is a condition in which the digestive tract's lining is inflamed and unable to function properly. This results in various digestive symptoms, including diarrhea, vomiting, weight loss, and poor appetite. Similar to pancreatitis, IBD can also interfere with regular digestion causing your dog to produce burps that smell like poop.
Aerophagia
When dogs eat or drink too quickly, they also swallow air, causing a buildup in the digestive tract that results in burps. Generally, this is acceptable. However, if your dog swallows excessive air repeatedly- aerophagia, this changes the abdomen's normal organ layout causing uncomfortable gastrointestinal symptoms such as bloating and smelly burps.
Note that some dog breeds are more prone to suffering smelly burps due to aerophagia than others. For instance, flat-faced breeds like Pugs, Boxers, Boston Terriers, and Chihuahuas are usually more prone to swallow excessive air due to their short snouts.
To prevent aerophagia-caused burps, try to slow your pup down during mealtimes. Use a treat feeder or invest in a food bowl designed to slow pups from eating too fast. Also, try to feed your dog at least three times, as dogs that feed once daily often eat too fast, consuming air in the process.
Frequently Asked Questions
Frequently Asked Questions
Is it normal for a dog to burp?
Yes, dogs burp just like humans and other mammals. They burp when gas is pushed from the stomach due to panting, exercising, or after meals.
Is it normal for a dog's burp to smell like poop?
No, it's not normal for a dog's burps to smell like poop. When they do, it can be due to aerophagia, fermentable ingredients in their food like beans, and eggs, acid reflux, illnesses like pancreatitis and inflammatory bowel disease, or due to infected anal glands.
What causes sulfur burps in dogs?
Sulfur burps have a rotten egg smell because they contain hydrogen sulfide. Sulfur burps in dogs are due to your pup eating something spoilt or rotten. They may also be a result of food that contains sulfur, such as eggs or broccoli. In other instances, they are due to an infection or diseases that affect the digestive system, such as IBD.
What can trigger pancreatitis in dogs?
Pancreatitis in dogs could be due to a long list of reasons, including severe blunt trauma, high-fat diets, dietary indiscretion, diabetes mellitus, severe blunt trauma, genetic predisposition, hyperthyroidism, and certain medications.
Why does my dog smell like poop?
If your dog smells like poop, it may be due to its anal sacs. They secrete substances with an odor similar to feces or fish. In other cases, your dog's smell of poop may be a result of its burps.
Conclusion for "What Does It Mean When Your Dog's Burp Smells Like Poop"
Dogs' burps are naturally sour, but if they start smelling like poop, that's not normal. After reading through our list of potential causes, be sure to consult a vet if you repeatedly notice that your dog's burp smells like poop.
While you're at it, remember that every pup is unique, and what may be the culprit for poop-smelling burps in one, may not be the same in another.
If you enjoyed this guide, "What Does It Mean When Your Dog's Burp Smells Like Poop," you might like:
Learn more by watching, "BAD BREATH in DOGS – 5 Tricks to GET RID of It" down below: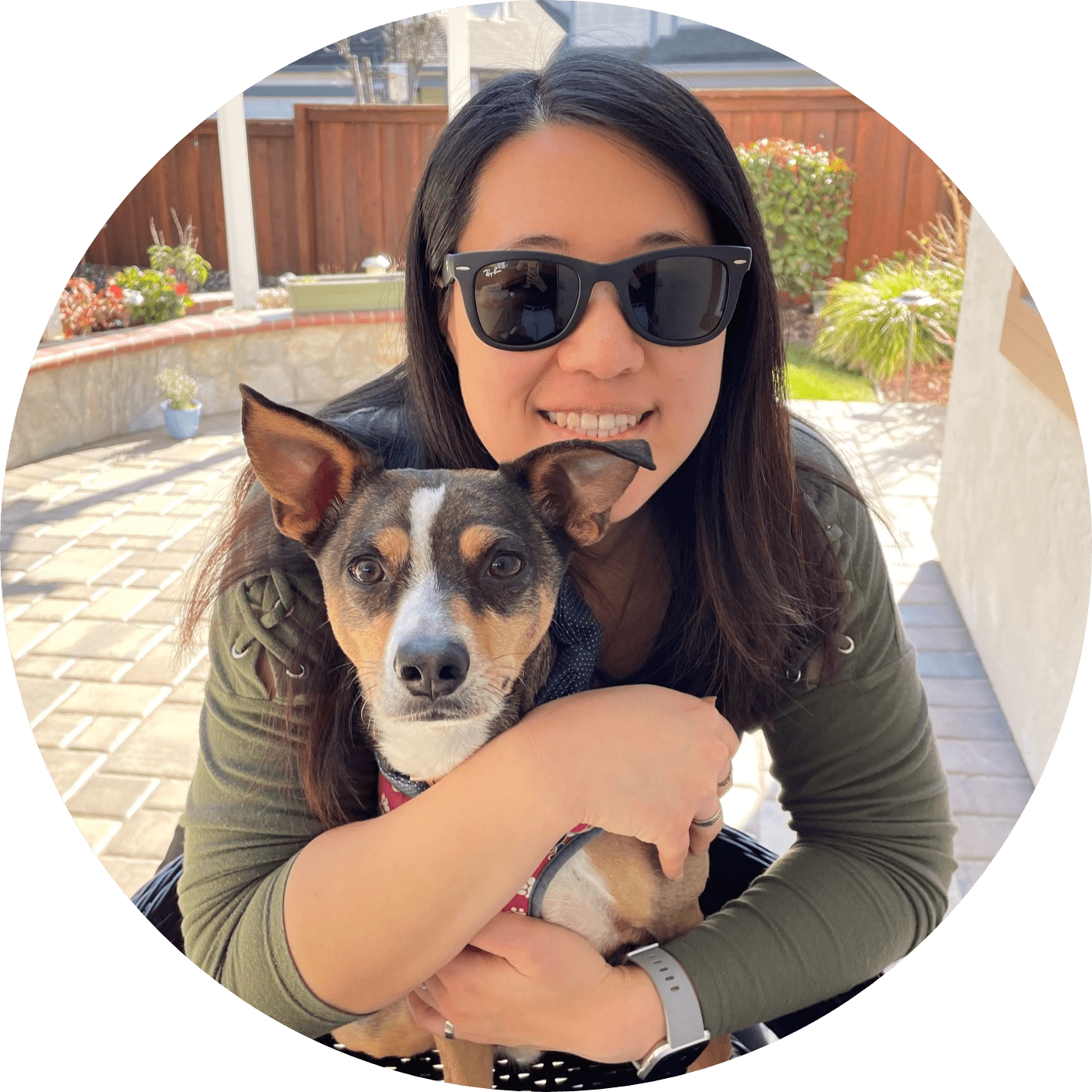 Dr. Sabrina Kong graduated from the Royal Veterinary College in England in 2016 and has been working at a small animal clinic in Northern California since then. She grew up in the Bay Area and got her bachelor's degree from Cal Poly San Luis Obispo. She also became a Certified Canine Rehabilitation Practitioner through a program at the University of Tennessee.
When she isn't in the clinic taking care of her four-legged patients, she enjoys traveling and trying new foods with her friends and her three-legged dog, Apollo. She adopted Apollo from her clinic when he was a puppy with numerous health issues. Dr. Kong truly cares about taking care of animals.