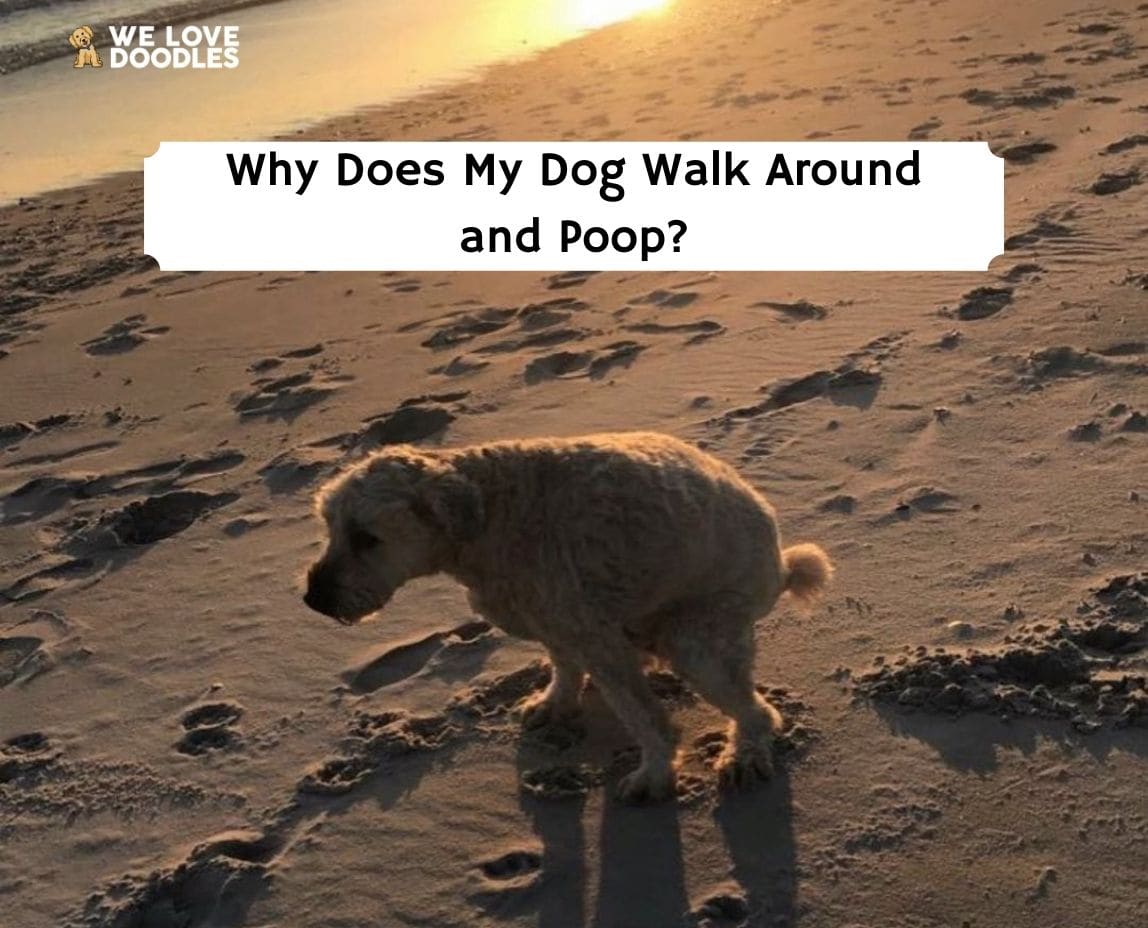 As a dog parent, you've probably witnessed your furry friend do things that you may not quite understand.  When your dog is walking around and pooping, you may find this strange and wonder what motivates your dog to do so?
Your dog walks around and poops due to poor diet, muscle atrophy, long and hard stool, fecal incontinence, marking territory, and a persistently negative habit. Also, they may poop because of allergies to certain foods, anxiety, and excitement.
Continue reading to discover why your dog walks around and poops. Additionally, we'll explain whether you can stop this behavior and how to stop it.
Other articles you would like: Best Dog Waste Disposal System and Best Dog Food For Less Poop.
Why Does My Dog Walk Around and Poop?
When your dog walks and poops at the same time is not normal behavior. However, what motivates your dog to do so?
The following are a few possible explanations for your dog walking around and pooping.
Poor Diet
Your dog's nutrition may be contributing to their inability to control when and where they take a dump. Your dog may be constipated or have diarrhea due to an improper and imbalanced diet.
If your dog is constipated, they may need to walk around while pooping to ensure pressure builds up in their bowls to excrete the poop. On the other hand, if your dog has diarrhea, it may walk around and poop due to its inability to hold the feces.
The shape, color, and consistency of your dog's feces are all indicators of their overall health.  A poop that is either too soft or too hard will cause discomfort to your dog, possibly forcing them to walk and poop.
As a quick Internet search will reveal, the optimal dog food is a contentious subject.
However, what is constant is that it must be of top-notch quality and contain proteins, water, fats, carbohydrates, minerals, and vitamins.
Muscle Atrophy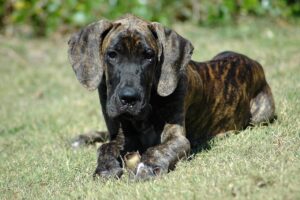 Are your dog's legs trembling? Is your companion writhing in agony?
If this is the case, you may blame muscle soreness, ruptured ligaments, and limb injuries. Typically, muscle loss develops as dogs age since their muscles deteriorate due to decreased activity.
Additionally, maintaining the squat position while defecating requires considerable strength and muscle strain. General weakness can make it challenging for your old dog to hold the poop for extended periods. As a result, senior dogs like to stroll to increase their comfort due to gravity's assistance.
Long or Hard stool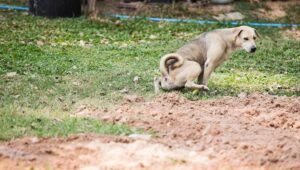 If the stool your dog is attempting to expel is excessively long, or not all of the poop comes out, it's common to notice dogs walking and pooping. The same thing occurs if the feces become trapped in the fur as the dog takes a dump.
By walking, your dog is attempting to dislodge the waste. Your furry buddy may scoot their bottoms on the grass to assist in removing the poop if they become sufficiently frustrated.
There are many reasons why the excrement lengthens to the point where the awkward squat walk is required. For instance, longer-haired dog breeds may experience additional issues if some of the waste sticks onto their fur.
The fur, which works comparably to a binder in cement, binds the feces, resulting in extraordinarily long poop logs. A similar thing happens if your dog eats grass to alleviate stomach problems.
Fecal Incontinence
Fecal incontinence is more of a medical issue where any dog, regardless of age or breed, can develop an inability to control its bowels.  Failure to control the bowel can be caused by illness, accident, or poor diet. Other indicators of poor bowel control include gas, diarrhea, vomiting, and scooting.
If your dog is ill or has a severe medical problem, they may have difficulty regulating its excrement. The behavior is frequent in dogs infected with parvovirus, parasites, or other diseases. Injuries or atrophy of the bowel muscle may also potentially be the cause.
Due to their inability to contain themselves, you may notice your dog having more poop accidents in the house.
Marking Territory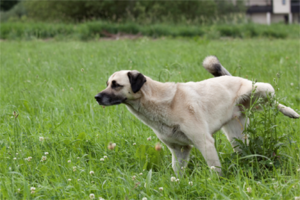 Territory marking is among the most common and understandable causes of walking around and pooping. For years, animals have used their pee and excrement to make their presence known and avoid contact with other animal parts, so this is unsurprising.
When you take your dog for a walk, they may do the walking and pooping in response to detecting another animal's smell and wishing to lay their poop down in secret. Naturally, scent glands surround your dog's anus and emit a pungent odor when your dog walks.
The musky stench assists your dog in self-identification and alerts other dogs of their presence. Walking helps amplify the musky odor of the glands, enabling them to leave a more potent scent behind, and in this case, training your dog to sit while pooping is easy with constant effort and plenty of treats if this is the case.
A Persistently Negative Habit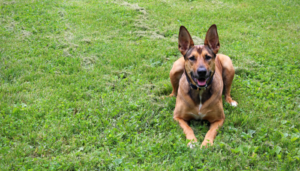 In some instances, your dog's walking around and pooping strange behavior results from established habits.
As dogs age, their bladders and bowels become more challenging to control. Poop accidents may occur frequently, and many young puppies attempt to rectify the situation by moving to the appropriate potty area in the middle of a dump.
Teaching your dog to be more in control is a critical part of housetraining them. However, not all dogs are capable of breaking the habit. While the dogs may learn to keep their bowel movements until they reach the outside, releasing them while walking around is a more difficult habit.
Fortunately, with some practice, it is possible to eliminate the behavior.
Allergies to Various Foods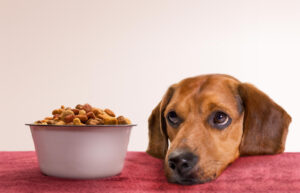 Another possibility for your dog's stools to be excessively hard or soft is that they have a dietary allergy. So, allergies may be the reason your dog poops while walking.
Regardless of whether your canine companion has been eating the same food since the beginning of time, food allergies can develop at any time. Infact, allergies can develop overnight.
Unfortunately, it is pretty challenging to determine whether your pup is allergic to a certain food, especially if they have been consuming it for a while. Therefore, test each allergy individually.
Additionally, it's hard to identify how many food allergies they have, but chicken, chocolate, beef, and dairy products are the most common allergens.
Anxiety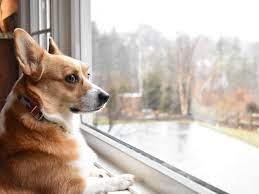 Anxiety may be a factor in your dog's walking around and pooping. If your furry buddy has a history of anxiety or if you have adopted an abused dog, you may observe this as part of their behavior.
Anxiety typically occurs when the dogs live in an unfamiliar habitat. When dogs are in an unpleasant setting, they will try whatever to leave that space.
Due to the danger that pooping exposes your dog, your pup will attempt to poop and walk away. Occasionally, the dog will walk across their feces to reach a familiar spot to feel less anxious.
Excitement
Save for anxious dogs, there are incredibly excited dogs. Many dogs become delighted when they are going for a stroll. They're relieved and excited to be outside that their emotions suffocate them.
Before you know it, you'll have an utterly hyper dog pooping on the lawn. It's a striking sight, but it's also very harmless.
Consider taking your dog for a stroll in familiar regions before they poop to help calm them down. After they pass their bowels, you can move to other fascinating locations.
What They Are Used To
There is not always a rationale for why your dog walks while pooping. A pup will only do what they want. For this reason, allow the dog to poop freely and continue walking if this is the case. Dogs are as unique as humans are. Allow them to be themselves and to enjoy their uniqueness! Certain dogs desire to poop and go.
Others choose to release a small amount and escape the odor to complete their business in a more clean atmosphere. It's the equivalent of the mid-poop flush in people. Yes, you are aware that certain group members engage in this activity.
How Can You Stop Your Dog From Walking and Pooping?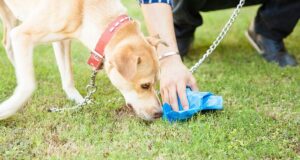 If this is the first time you've noticed this behavior, it could be a sign of a medical concern. Consider taking your pup for a check-up for any condition, from constipation to something more serious, such as a torn ligament.
You should notice that their defecation behavior returns to normal once they see a veterinarian and receive treatment. If your dog has exhibited this habit since you brought them home, it may be more challenging to change.
Additionally, as previously said, it can be a learned or innate behavior. You should contact a trainer to see if they have any suggestions for changing the behavior.
However, is it genuinely critical to correct the behavior? While waiting for them to empty themselves every few minutes on a stroll can be irritating, it may be wiser to "let it go" unless there is a medical reason. Allow them to poop in whichever manner they like.
Conclusion For Why Does My Dog Walk Around And Poop?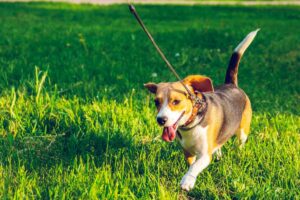 While your dog's eccentric toilet habits may be an irritation, try to let them be. You will not always understand why your furry friend behaves in certain ways. It's a well-known fact that your dog's excrement may disclose more than you believe. It is simply not a language that humans can comprehend.
It is not uncommon to be concerned about a dog walking around and pooping. You may never know why your dog behaves this way, but as long as no indicators of disease are present, there is no danger in allowing them to enjoy a somewhat portable toilet.
Other articles you would like:
Still curious why dogs walk around and poop? Check out this video.
Garrett loves animals and is a huge advocate for all Doodle dog breeds. He owns his own Goldendoodle named Kona. In addition, he volunteers at the Humane Society of Silicon Valley, where he fosters dogs and helps animals. Garrett enjoys writing about Doodles and believes that dogs can teach humans more about how to live than humans can teach a dog.
Why Trust We Love Doodles?
At We Love Doodles, we're a team of writers, veterinarians, and puppy trainers that love dogs. Our team of qualified experts researches and provides reliable information on a wide range of dog topics. Our reviews are based on customer feedback, hands-on testing, and in-depth analysis. We are fully transparent and honest to our community of dog owners and future owners.