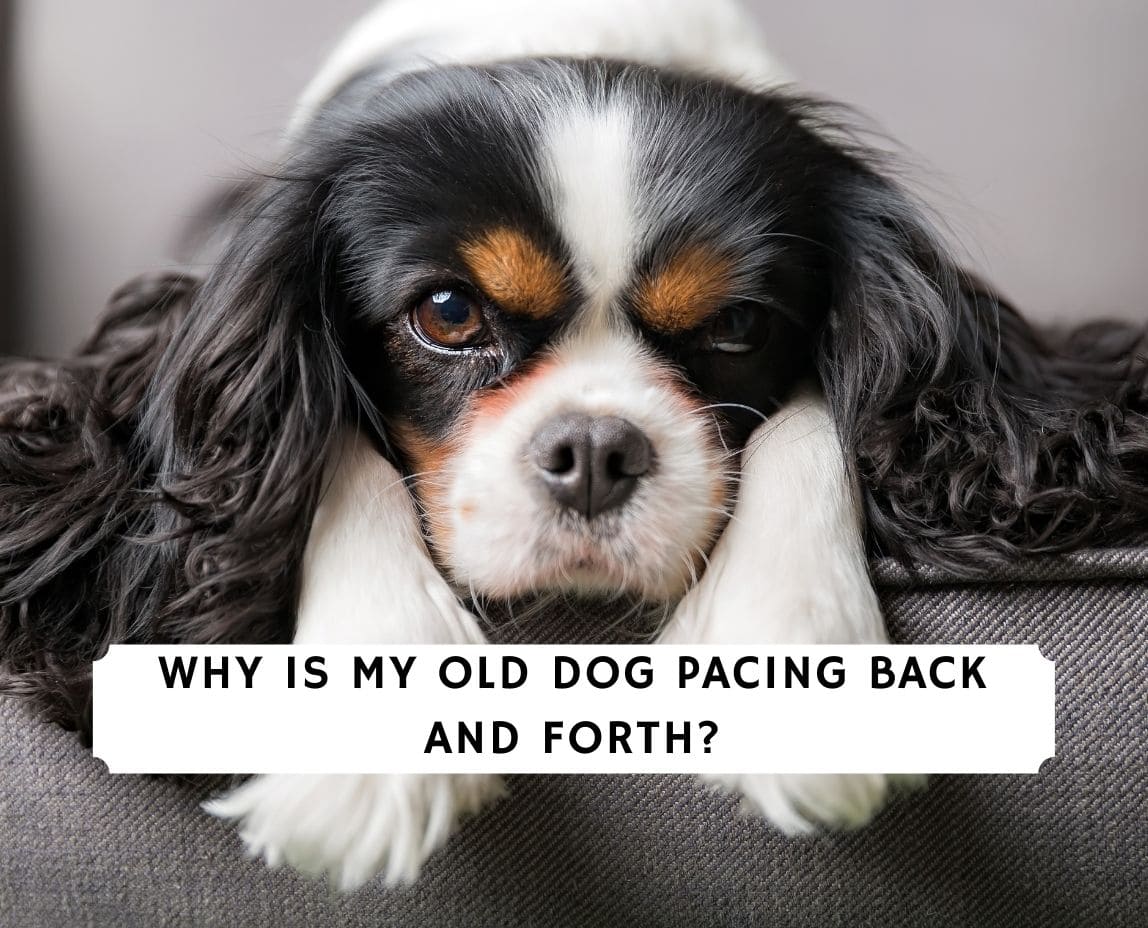 If you're wondering why your old dog is pacing back and forth, then this guide has everything you need to know. People with a senior canine at home dread the moment when their dog starts to pace back and forth. However, before you start panicking and are ready to rush to the vet, take a deep breath. The reason for the pacing could be harmless too. There are many reasons why an old dog starts pacing back and forth, and here's what you should do if that happens to you.
Other dog behavior questions you might be curious about: Why Does My Dog Lick My Eyes and Why Does My Dog Stretch So Much?
Don't Panic and Stay Calm
Most of the time, we tend to assume the worst and start to worry. This, in turn, could affect your dog as well. Remember, it's normal for your dog to be pacing back and forth. Here are several reasons why you should not be alarmed.
1. Hyperactivity
In case your dog is hyperactive, then this behavior is expected even in its old age. Think about this – has there been a change in your daily routine? If you have stopped going out for walks with your dog, your dog might not be getting enough exercise. Then the pacing could be due to its hyperactive nature. It needs to expel its energy somewhere, and moving back and forth is a way for your pet to do that and get its daily dose of activity as well. Try going for daily walks and see if this puts a stop to the pacing.
2. Anxiety
Our companions are no different from us when it comes to dealing with stress. Dogs, especially at an older age, suffer from various stresses and anxieties. If there's been a drastic change in the environment or your life, your dog might get affected by that as well. Anything from death, a change in your partner's behavior, or a family member leaving home can trigger their fears. Unlike people who talk about their problems, animals are unable to express their emotions using words. They communicate with us by changing their habits, behaviors, and moods.
Pacing back and forth could be a sign of emotional stress that they are unable to express. If there's been a drastic change in your lifestyle or family dynamics and you feel this is affecting your pet, it's time to consult an animal psychologist or even your vet. Separation anxiety issues are easier to detect. If you notice your pet getting restless when you leave your home or when it's unable to see you around, then it could be due to separation anxiety. However, it is best to consult a specialist to be sure.
Related: Dog Bed For Separation Anxiety and Dog Toys For Separation Anxiety.
3. Compulsion
Compulsion could often be the reason why your dog is pacing. This is true if your dog has always felt the need to do things that might seem unusual, like barking for no reason, chasing something you cannot see, going in rhythmic circles, and pacing. However, if you feel that your pet is doing this more frequently than usual, there could be a cause for concern. It could be an indicator of a more severe issue linked to their mental health. Either due to a particular fear or their beliefs, dogs too get affected by mental instability and act out on them. Though not fatal, it still needs to be treated at the earliest.
Dog Health-Related Article: My Dog is Panting and Shaking and Clingy – What Should I Do?
Indication of Serious Underlying Issues For Your Dog
Now that we have covered some of the issues that your dog could be facing, we cannot rule out the possibility that your old dog is pacing back and forth because of a severe illness. Let us explain some of them in detail.
1. Cognitive Decline
The effects of cognitive decline are seen very clearly in older dogs. Just like human beings, dogs also get affected by old age. Cognitive decline affects the dog's memory, vision, and in some cases, makes them do recurring actions like walking back and forth. If you think your dog is showing signs of cognitive decline, you must consult an expert. Though it might turn out to be completely harmless, being aware is always better to rule out the possibility of a deadlier illness. After a visit, you will learn about different activities and foodstuffs to keep your dog healthy and fit for a longer time.
2. Canine Cognitive Dysfunction
Canine cognitive dysfunction, which is informally referred to as dogzheimers, is a condition that causes confusion or disorientation amongst dogs. Like Alzheimer's creates memory loss and anxiety amongst humans, dogzheimers have a similar effect on dogs. However, most dog owners do not take this seriously during the initial phase and confuse it with other mental issues. Dogzheimers can have adverse effects on the health of your beloved pet. If left untreated for a long time, it can lead to severe organ failure.
If you observe any of the symptoms, you must immediately consult a specialist. Disorientation in dogs can be observed if it's caught early on. If your dog starts acting strangely, like forgetting things, changing habits, and peeing in the house despite being trained not to, it is a cause for concern. Also, these changes might be terrifying for your dog, and they might seem to act irrational and afraid. So, immediate action should be taken.
3. Cushing's Syndrome in Dogs
When the dog's adrenal glands start producing copious amounts of a hormone called cortisol, that leads to Cushing's Syndrome. Some of the symptoms include increased thirst, appetite, apathy, and loss or thinning of hair. Panting and pacing can also be observed due to anxiety. The most noticeable symptom is a bloated belly, which is hard to miss. If your dog is facing any of these symptoms, you must immediately take action. It is a severe medical condition that requires attention.
Most commonly, a tumor in the pituitary gland causes an increase in cortisol. The tumor is often benign, but in rare instances, it can be malignant as well. To get a clearer picture, you must visit the vet. He might ask you to get a few tests done, which might help you determine the root cause of the problem. If you do not get an expert opinion and the symptoms persist, your dog will face severe health issues. To avoid a bad health scenario, you must book your appointment with the vet immediately.
4. Brain Tumor
Though it is the last possibility, it cannot be completely ruled out. Dogs are as susceptible to cancer just like humans. Dog cancer is rampant. Though the pacing is a weak symptom of cancer, it could be followed by more evident signs. Some of the symptoms are seizures, abnormal behavior, a sudden increase in anxiety and restlessness, and nausea. It is merely a possibility, but as cancer is a severe illness, your dog will show much more obvious signs. These will be hard to ignore. If your dog starts peeing constantly or acts differently, there will be specific changes that you won't be able to ignore. If you feel that your dog might be facing severe health issues, you must consult a vet. It is scary but avoiding the problem isn't a wise option.
Dog Health-Related Article: Can A Dog Have Down Syndrome
What Should You Do If Your Dog is Pacing Back and Forth?
If these changes in behavior are prominent, you need to consult a vet at the earliest. This will not only relieve you of the stress, but you will also be able to help your pet with the right course of action. Do not stay in denial about your pet's health, and deprive them of the care they need. Having said that, we also recommend that you do not get too anxious about everything they do and give yourself and the dog panic attacks. The only way you can help your dog is by staying alert and following the instructions of the specialists.
These are a couple of solutions when you're in this situation:
Stay calm and try not to panic
Do your research well
Observe your dog
Consult your vet
The pacing might not be as scary as it sounded earlier, but it's definitely an indication of something that isn't right. You must go with your instinct and ask for help. Stay alert and be calm as your dog might mimic your fears. Whether or not your dog has a severe illness is something only an expert can determine. All you can do is give the best treatment and hope for the best.
Dog Health-Related Article: What Can I Give My Dog To Sleep At Night?
Conclusion For "Why Is My Old Dog Pacing Back and Forth"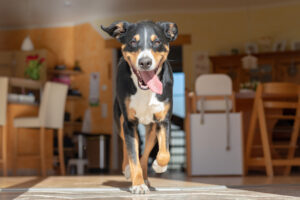 You and your pet have spent some of the best moments together. During its old age, both you and your pet will become emotional and fearful. Denial might be a way of coping for dog owners, but that can jeopardize the life of your beloved pet. Being careful and alert might save your pet and ensure its wellbeing. If you notice any suspicion or anything is off about your companion, your best bet is to pay a visit to the vet as soon as possible.
For more dog health-related articles, watch:
To learn more about old dogs, watch "Senior Dogs – Habitual Behavior Problems" from AnimalWised down below: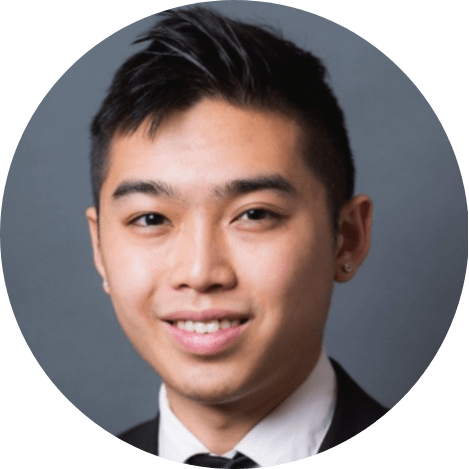 Andy is a full-time animal rescuer and owner of a toy doodle. When he's not saving dogs, Andy is one of our core writers and editors. He has been writing about dogs for over a decade. Andy joined our team because he believes that words are powerful tools that can change a dog's life for the better.
Why Trust We Love Doodles?
At We Love Doodles, we're a team of writers, veterinarians, and puppy trainers that love dogs. Our team of qualified experts researches and provides reliable information on a wide range of dog topics. Our reviews are based on customer feedback, hands-on testing, and in-depth analysis. We are fully transparent and honest to our community of dog owners and future owners.