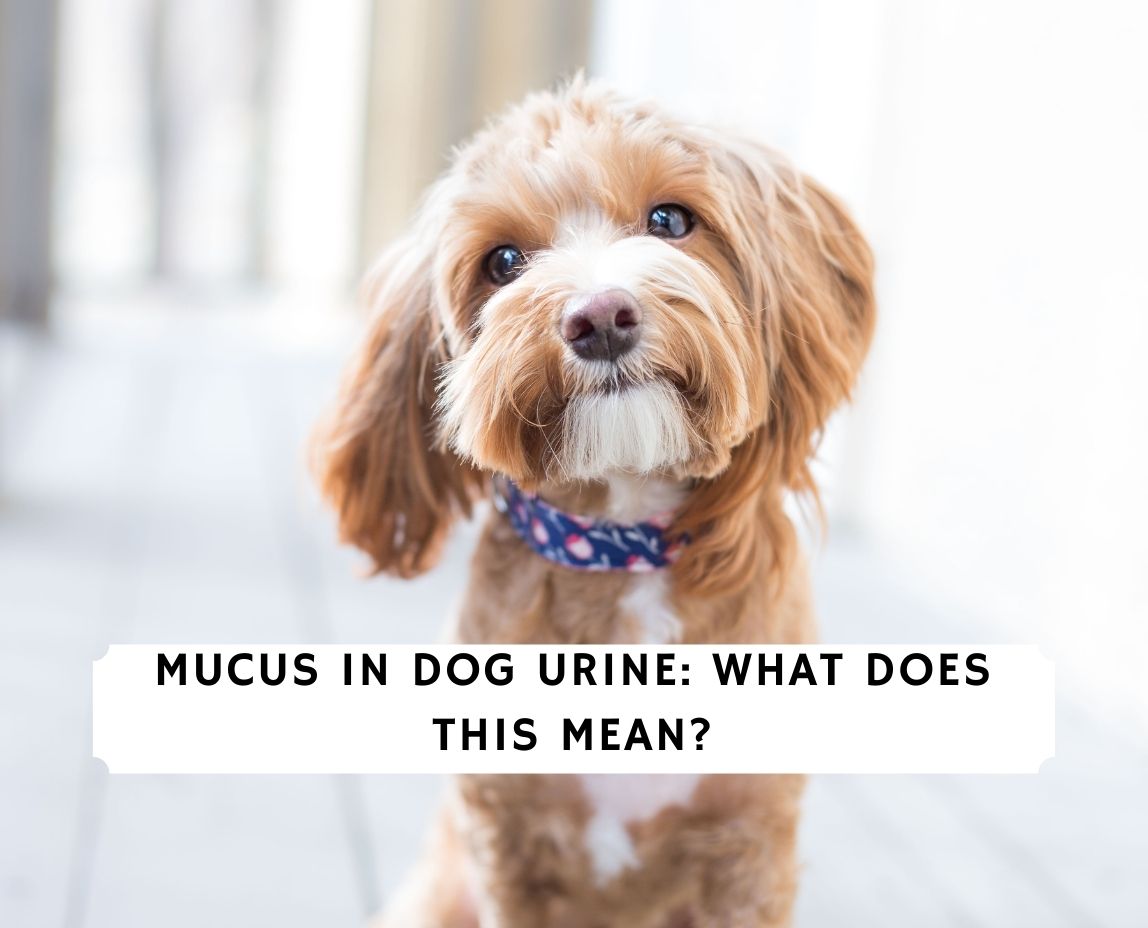 When you see mucus on dog urine, what does this mean for your companion? Is everything okay? Mucus is a slippery and slimy substance produced by glands and membranes to moisturize and protect certain parts of the body. Healthy dogs primarily have light yellow and transparent urine without traces of mucus or any solid/semi-solid material. Mucus in dog urine is a sign of infection and indicates that something has made your dog sick. If you notice a strong odor in your dog's urine, then it could be another issue.
Causes of Mucus in Dog Urine
Mucus in your dog's urine could be a symptom of many conditions and does not determine the exact problem. Only a veterinarian should give a diagnosis and advise you for treatment. If you observe mucus in your dog's urine, call your veterinarian immediately. Not getting timely help can exacerbate the issue.
Helpful Dog Guide: How To Clean Dog Eye Boogers Safely
Is Mucus in Dog Urine Life-Threatening?

Mucus in dog urine is a sign of inflammation caused by multiple factors, including eating food that did not sit well in the dog's stomach, bacterial infection, a viral or parasitic infection, allergies, or other disorders. These are serious conditions but not necessarily life-threatening. Potentially life-threatening diseases could arise from digestive tract blockage from eating something that is inedible or non-digestible, cancerous tumors, an injury to the digestive system, or canine colitis which is the inflammation of the colon in dogs.
Helpful Dog Products: Best Dog Allergy Test.
Symptoms of A Dog Bladder Infection
Urinary tract infections (UTIs) are common in dogs and are equally uncomfortable, but not too difficult to spot. Cloudy urine, frequent urination but very little urine production are signs that your dog has a urinary tract infection. Visible pain while urinating is an obvious sign that the dog has a urinary tract infection, excessive licking of the genitals. If the bacteria that induced the urinary tract infection moves farther up the tract, it may also end up infecting the bladder. That is a much more difficult situation. Vets usually prescribe antibiotics for urinary tract infections in dogs, which clears the UTI as long as it is spotted and treated at the earliest.
Vaginitis in Dogs
The inflammation of the vagina or vestibule in female dogs is known as Vaginitis. Common symptoms include continuous licking of the genitals, urinating frequently, rubbing the genitals on grass or carpets, and thick urine caused by mucus or other discharge. A female dog can catch vaginitis at any age, whether spayed or not. If your dog has contracted vaginitis, book an appointment with a vet immediately. Vaginitis is usually treated with doses of antibiotics.
Pyometra in Female Dogs
Another cause of mucus in dog urine is Pyometra. A bacterial infection of the ovaries in female dogs is called pyometra and could be life-threatening. The condition most commonly presents itself in older, non-spayed female dogs after a heat cycle when the uterine wall thickens. This causes the uterus to not squeeze together and push out fluids resulting in an infection.
How Does The Infection Present Itself?

The infection can present itself in multiple ways depending on whether the cervix is opened or closed. If the cervix is open, you will see a discharge with mucus and foul smell. This means that the infection is leaving the body. If the cervix is closed, the disease cannot leave the body. The discharge builds up inside and leaks into the bloodstream and abdomen, leading to shock and ultimately death.
Get a Urine Analysis Done
If you are certain that a female dog in heat is excreting thick urine and not discharge, you should book an appointment with a vet immediately and get a urine analysis done. Once a urine analysis is done you will know if the infection is fungal or bacterial.
Urinary Crystals or Stones
Bladder stones can form because of dietary issues, infections, or a problem in the body's metabolism. Sometimes, naturally formed minerals in your dog's urine can cluster together, forming stones or crystals. Many things can cause these minerals to cluster: an infection, genetics, diet, medication, how much water your dog drinks, and how often your dog urinates. Symptoms of urinary stones can differ based on whether they are located in the kidneys, urethra, ureters, or bladder. Common signs include painful and slow urination, fatigue, vomiting, and abdominal or kidney pain. Treatment of these stones depends on where they are in the body and may require medication, surgery, or a change in diet. Medication may also consist of antibiotics if the stones are caused due to an infection.
Prostate Complications
Enlarged prostates can be caused due to tumors, cysts, infections, and hormones in dogs that have not been neutered. Symptoms of prostate problems range from bloody urine, experiencing pain while urinating to incontinence. If an infection has caused prostate enlargement, dogs tend to drink more water, resulting in urination. Less common causes of prostate problems in dogs include tumors in the bladder, a fractured penis (which is very rare), or scar tissue development.
Preventing Urinary Problems in Dogs

If you think your dog is suffering from a urinary tract infection, inspect them closely while they urinate. Is the flow of the urine steady or does it come out in fits, is the stream steady or weak? Check your dogs' genitals: Is there redness, signs of scratching, or biting? Is your dog continuously licking its genitals? Other signs your dog may have urinary problems are bloody or cloudy urine, difficulty to pass urine, fever, pain, a strong smell to the urine, and more. The key to preventing urinary problems in dogs is continuous care. Dogs, like humans, need to take annual exams to stay completely healthy.
Conclusion For "Mucus in Dog Urine"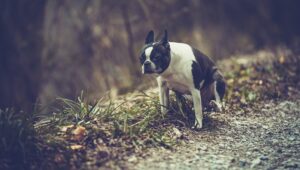 With either mucus or blood in your dog's urine, the cause can be detrimental to the health of the animal. After close inspection, if you feel that your dog is suffering from a urinary tract problem, make an appointment with a veterinarian right away.
For more health information for dogs, information from these articles might help you:
To learn more about dog health problems, watch "Top 10 Common Dog Health Problems" from WatchMojoLifestyle down below: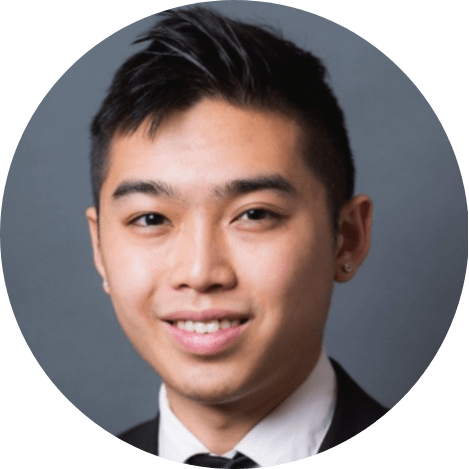 Andy is a full-time animal rescuer and owner of a toy doodle. When he's not saving dogs, Andy is one of our core writers and editors. He has been writing about dogs for over a decade. Andy joined our team because he believes that words are powerful tools that can change a dog's life for the better.
Why Trust We Love Doodles?
At We Love Doodles, we're a team of writers, veterinarians, and puppy trainers that love dogs. Our team of qualified experts researches and provides reliable information on a wide range of dog topics. Our reviews are based on customer feedback, hands-on testing, and in-depth analysis. We are fully transparent and honest to our community of dog owners and future owners.