Did you know that there are over 600 brands of dog food to choose from? Just walking down the aisle of your local pet shop can spark anxiety in even the most experienced pet owner. So how do you know which is right for your dog? 
Of course, it's important to be mindful of the ingredients in your dog's food. Recognizing bad dog food is something that every dog owner should be able to do, but avoiding harmful ingredients is a lot easier said than done. 
Like human food, ingredients are displayed on a dog food label. However, a responsible pet parent should know how to read these labels to determine whether a particular brand is of a high enough quality to feed their fur baby.
In this guide, we'll take a look at which ingredients you should avoid while selecting your dog's food, and we'll also point out a few brands we love! Let's get started!
What Dog Food Ingredients Should You Avoid?
The best way to choose a dog food is through a veterinarian's recommendation. You and your vet can determine which brand and formula is best for your dog based on his or her age, sex, health, and other factors. 
However, if you're shopping on your own, without the guidance of a vet, you'll need to keep an eye out for a few key dog food ingredients to avoid.  
Meat By-Products 
Dog food is not usually held to the same standards as human food, and many dog food brands use questionable ingredients to make their products. One of the most notable additions is meat by-products. 
The term "by-product" refers to meat products that are derived from the leftovers found in a slaughterhouse. That means your dog's food contains a mixture of organs and limbs.
It can be argued that organs, limbs, and other animal parts are high in protein. However, while they'll do in a pinch, these parts are not optimal for supporting your dog's health. Avoid them if you can.  
When it comes to providing your dog with a well-balanced diet, it is imperative that you give him a decent supply of protein. Check your dog food label to ensure that the food contains quality cuts of meat. 
4D Meat Products 
Although meat by-products are best avoided, they're certainly not the worst ingredients that dog food can contain. In fact, some brands have been known to utilize controversial 4D meats. 
So what is a 4D meat? Well, consider what the "Ds" stand for: down, disabled, diseased, and dead. These 4D meats aren't always inspected or processed in the same way that a standard cut of meat will be. They're typically leftovers taken from slaughterhouses, but the 4D meat category can include any meat products collected from across the country. That means your dog could be eating dead zoo animals, roadkill, and even other dead pets.
Perhaps the worst thing about 4D meats is that dog food manufacturers don't have to say where they acquired the meat. That means that many brands will often label the waste as meat by-products.
Because of this, it's very difficult to determine whether the meat in your dog's food came from the slaughterhouse or the local motorway. 
Filler Products
Dog food manufacturers want to make a profit. For that reason, filler products are often used to "supplement" the more nutritious ingredients in dog food. Corn, wheat, and soy are three examples of filler products. 
Now, it's important to understand that filler products and grains are not necessarily harmful to your pet. A majority of harm is done when the nutritional value of your dog food is compromised as a result of these fillers. 
Not only do filler ingredients work to make the food look more substantial, but they also increase the calorie count and make it appear as if your pooch is eating a full and nutritious meal. Although these ingredients do help to fill up your dog, this does not mean that they are providing a nutritional benefit to your pet.
In fact, some filler products can even make your dog feel very sick, as ingredients such as soy and corn can be very difficult for your dog to digest, which can result in serious problems. 
Artificial Products
While some dog food manufacturers have been known to use cheap and diseased meat, others choose to utilize food dyes and preservatives to make their products more visually appealing. 
Some artificial flavors can make your pup's chow tastier, but they're not necessary. Before you purchase dog food with artificial colors or flavors, consider whether the additives are essential to the product.  
When possible, it's best to avoid dog food brands that utilize artificial products. Speak with your pup's vet for more information about natural dog foods that are well-suited to your dog's needs. 
7 Worst Dog Food Brands
Now that you understand what ingredients you need to avoid, let's take a look at some of the worst dog food brands currently available on the market.
1. Kal Kan Complete Adult 
Like many dog food brands, Kal Kan Complete Adult uses various filler products to create their recipes, with corn often featured as a primary ingredient. 
You may be wondering what's wrong with corn in dog food. Well, corn isn't known for its nutritional value, supplying all but empty calories to your dog. Moreover, however, corn is often treated with harmful pesticides, herbicides, and other chemicals that can cause your pet to become ill. 
In addition to corn, Kal Kan includes bone meal as another key ingredient. Bone meal is essentially a combination of ground-up animal bones and cartilage. Finally, this particular brand has been known to use other fillers such as soybean and wheat, with some chicken by-products added for good measure.
While the ingredients in Kal Kan dog food aren't necessarily harmful to your pet (though they can be!), these filler ingredients are no substitute for proteins and even veggies that will provide essential nutrients to your puppy or dog. 
2. IAMS Dog Food 
IAMS is a popular brand among Americans, and it's a name brand that's widely recognized. But is it really the best brand for your pup? Let's take a look. 
As you read the ingredients in your IAMS dog food, you'll notice that meat, like chicken, is the first ingredient. However, a closer inspection will reveal that there's a significant amount of cornmeal and sorghum in the food. These are cheap filler products that provide very little nutritional benefit to your dog. 
 Meat and meat by-products are listed in the ingredients of IAMS dog food and, as mentioned, we're not always certain where those "animal by-products" come from! Bones, organs, and leftovers from other animals in the slaughterhouse could be making their way into your pup's food!
Finally, IAMS Dog Food features beet pulp as a key ingredient. Beet pulp is high in sugar content and could result in obesity. Put simply, there are many better options on the market than IAMS dog food, despite its national brand recognition.
3. Kibbles 'N Bits 
There are some schools of thought that maintain that a raw diet is better than a processed one. But whether you opt for raw food or a processed kibble, it's widely understood that it's best if your dog contains real meat! 
Although many kibble brands market their products as containing delicious meat-based ingredients, Kibble 'N Bits does not feature any real meat at all, with meat by-products such as bone meal being used as the main source of protein. 
Kibble 'N Bits is also notorious for its use of filler products, with the brand utilizing corn and soybeans to add some much-needed weight to the final product. 
Add to that a combination of food dyes and preservatives and you have one of the worst dog foods brands currently available for your pooch.
4. Ol' Roy Dog Food 
Produced by Walmart, Ol' Roy is yet another dog food that claims to contain everything that your dog needs to maintain a healthy diet. However, in this case, the brand fails to deliver on almost every front. 
Currently, Ol' Roy can be purchased in a range of different flavors, with each recipe containing vast amounts of corn and wheat to pad any nutritious content. Additionally, the brand's foods contain fillers and meat by-products, which can greatly outweigh any natural ingredients that it claims to contain. 
What's more, this particular brand of dog food is well known for its notable shelf life. Wonder why it lasts so long? Ol' Roy dog food contains preservatives such as citric acid, which has been linked to both dental and digestive problems in dogs.
5. Pedigree Dog Food 
Pedigree is now considered to be one of the most popular dog food brands in the world, with many of their products becoming best-sellers. 
However, this does not mean that their products are beneficial for your dog's health, as many contain fillers that offer limited nutritional value. 
For example, most Pedigree products contain whole-grain corn as the primary ingredient, even though this substance can cause allergic reactions and is also difficult to digest. 
Beyond this, Pedigree is not above utilizing meat by-products and artificial flavors to cut costs. Clearly, Pedigree has an eye on the bottom line, not on your dog's health! 
6. Cesars Filets 
Unlike the other products we have discussed, Cesars Filet does not contain any fillers or artificial ingredients. 
Instead, the reason we'd recommend you steer clear of this brand is due to the high salt content of its products. Just as too much salt is unhealthy for humans, a high sodium content in dog food can adversely impact your pet's health. 
Take note of your Cesars Filet ingredients list. Specifically, check the label for meat by-products. While not a significant problem with the brand, the inclusion of these by-products is one more thing to be wary of. 
7. Gravy Train 
Like other dog food brands on this list, the Gravy Train recipe does include real meat, though the proportion is considerably small when compared to the level of meat and poultry by-products found in the final recipe. 
However, the Gravy Train recipe is noticeably higher in fillers than other, superior brands. Artificial colors and preservatives add to the dog food ingredients you should avoid that are present in this food. Soy and cornstarch, in particular, are used frequently in Gravy Train products.
So if you have been searching for a dog food brand that uses real meat, then there are other nutritional options that promise to meet your needs.
5 Best Dog Food Brands 
Now that you understand which dog food brands to avoid, let's take a look at a few options that are preferable. While there are dozens of quality products on pet store shelves, we've chosen the following five brands for their availability to the average consumer. 
For the first entry on our list, we have chosen Rachel Ray Nutrish Peak Dry Dog Food, which is a great product that does not contain any filler ingredients or preservatives.
Unlike the brands we have previously discussed, this dog food is bursting with nutritional value, with a delicious combination of open-range beef, lamb, and venison providing a high concentration of quality protein. 
Using only fresh and natural ingredients, this dog food brand takes pride in being both gluten- and grain-free, with the final recipe free from any artificial flavors or food dyes.
Not only does this premium brand offer flavors your dog will love, but it's a nutritious option for most dog breeds. Check with your vet to ensure this is the right brand for you and your dog. Note that this brand can be a little spendy – it's not in everyone's budget but worth the cost if you're able to buy it.   
You can find out more about this brand here.
Combining fresh and natural ingredients into one delicious package, Taste of the Wild High Prairie Grain-Free dog food is free from any artificial ingredients and is the perfect choice for any dog owner who wants to provide their pooch with a balanced and nutritious diet. 
In addition to the absence of artificial colors and preservatives, Taste of the Wild is also free from grains and gluten. If your pet has food sensitivities this may be a good option. Furthermore, the inclusion of more nutritious ingredients rather than fillers means more nutrition for your pet. 
Taste of the Wild dog food contains venison, fruits, veggies, and other natural foods that will provide your pup with a well-balanced meal. 
You can find out more about this brand here.
We understand that finding affordable high-quality dog food can seem overwhelming, so we recommend taking a look at Merrick's grain-free line of products. 
Available in a variety of delicious flavors, this dog food brand uses only fresh and high-quality ingredients to produce its recipes. Each can contains real meat as its source of protein, and fresh fruits and vegetables provide vitamins and minerals your dog needs.
One of the best elements of this dog food brand is the protein content, with each product containing 47% of high-quality protein. This is the highest concentration of any dog food currently available on the market. 
Wet dog food isn't right for every dog. Speak to your dog's vet about whether you should consider mixing kibble with your pup's food. However, senior dogs and dogs with dental issues will love Merrick's in their bowls!
You can find out more about this brand here.
Considered to be one of the best dog food brands for larger breeds, Wellness Complete Health offers a range of wet and dry products that pack a nutritional punch!
Unlike some of the other brands that we previously discussed, this brand does not utilize meat-by products or low-quality fillers to pad out their recipes. Each product contains fresh boneless chicken, offering your dog an excellent source of protein.
Of course, the Wellness brand also includes vegetables in dog food to provide the necessary nutrients. For instance, flaxseed, found in these dog foods, is a viable source of Omega-3. 
You can find out more about this brand here.
Formulated especially for adult dogs, Blue Buffalo is a dog food brand that takes pride in including only fresh meat as the first ingredient in their recipes. 
As one example, the Blue Buffalo Life Protection Formula Natural Adult Dry Dog Food includes delicious boneless chicken that provides high-quality protein to your beloved pet.
Featuring a combination of healthy grains, Blue Buffalo refuses to use wheat or corn fillers in its products, as they want to promote the health and safety of your dog. The formula also contains large amounts of Omega-3 and Omega-6, which can help to give your dog's fur a sleek and shiny appearance. Dogs with skin conditions or joint problems may benefit from this dog food. 
You can find out more about this brand here.
In conclusion, if you want to provide your pooch with a dog food brand that promises to promote nutrition and growth, then there are certain elements that need to be considered first:
If a dog food brand contains meat by-products, fillers, or artificial ingredients, then it may not be the best choice for your pet. Please consult with your vet before purchasing these recipes.

The low-quality brands we've listed may not be overtly harmful to your dog. However, over the long term they may cause vitamin and other deficiencies. TThink twice before you choose to feel your dog these brands as his primary source of nutrients.

To provide your dog with a balanced diet, it is important that they are receiving a high concentration of protein. This means you should be investing in dog food that uses only real meat.
Other articles you would like: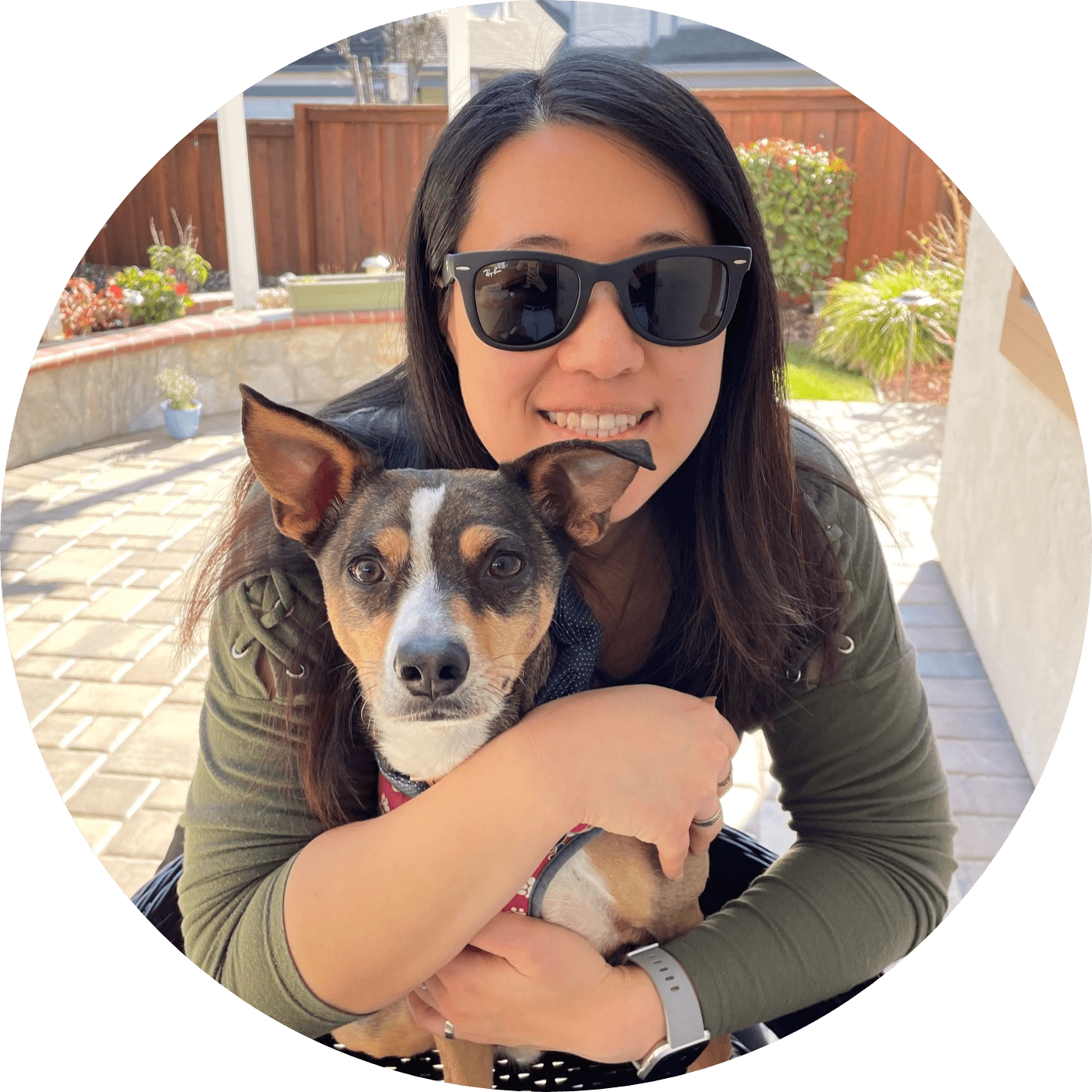 Dr. Sabrina Kong graduated from the Royal Veterinary College in England in 2016 and has been working at a small animal clinic in Northern California since then. She grew up in the Bay Area and got her bachelor's degree from Cal Poly San Luis Obispo. She also became a Certified Canine Rehabilitation Practitioner through a program at the University of Tennessee.
When she isn't in the clinic taking care of her four-legged patients, she enjoys traveling and trying new foods with her friends and her three-legged dog, Apollo. She adopted Apollo from her clinic when he was a puppy with numerous health issues. Dr. Kong truly cares about taking care of animals.