When it comes to dog food and pet food in general, there are a lot of nuances that consumers do not think about. Not only is there an abundance of different types and brands of food, but the many different dog breeds out there all have unique dietary needs. That means that simply picking up the cheapest bag of dog food at the grocery store isn't going to do you or your pup any favors.
There is something for everyone, whether you have a large dog breed like a Great Dane or even a tiny dog breed like the Chihuahua. Many factors go into figuring out what the best soft dry dog food is for your furbaby. You want something that both you and your dog can enjoy and benefit from. 
So, we compiled a list of the 14 best soft dry dog food options out there for you to choose from, without all the hassle of sorting through thousands of various brands.
In a rush? Here are the top picks!
Product
Best Overall
The Honest Kitchen
Runner-Up
ZIWI Peak Air-Dried Dog Food
Best Value
JustFoodForDogs
Northwest Naturals Freeze Dried Raw Diet
Image
The Best Soft Dry Dog Food
The best dog food formulas feature the most straightforward and most nutritious ingredients. Opt for high-quality ingredients like whole meats, organic fruits, vegetables, and grains, and look out for the different macronutrients like proteins, fats, and carbs. You will also need to feed your dog the most appropriate dog food formula for his health that is beneficial for his breed and for his life stage.
Texture & Taste
Dog food nutrition isn't the only important factor. Some pet parents tend to forget that texture and taste are just as important, if not more important. Your dog's diet should be one of the most exciting parts of his day. The best soft dry dog food options are made with natural meats, fruits, veggies, vitamins & minerals and you should be able to spot healthy whole foods in the first five ingredients.
Dog food recalls and what they mean for consumers
Before we get into the 14 best soft dry dog food brands, it is essential to make sure everyone knows about dog food recalls. Not only are there not many articles on them, but most people don't understand what they mean for the future of their dog food. The FDA issues dog food recalls when complaints of sickness, injury, or death are brought to their attention.
Soft dry dog food or regular dry dog food?
Soft dry food is known to be easier on your pup's teeth and gums. It has been ground up into smaller pieces which means less complicated chewing. This is important for senior dogs that have dental issues or arthritis. We really like dehydrated dog food options as well because they tend to have high nutritional benefits and have a limited ingredient list.
Many soft foods also contain high levels of Omega-3 fatty acids that help to keep your dog's skin and coat healthy. Essentially, soft dry dog food allows you to maintain the benefits of dry kibble while being slightly more palatable for your furbaby. 
As long as the soft dry dog food features an appropriate nutritional profile for your dog's specific age and breed, you can try to see if your dog prefers it to regular dry kibble, which may be crunchier.
The Best Soft Dry Dog Food
In our past reviews, we've already covered some dog food formulas that are great for dogs with allergies, though scientists and dog experts haven't pinpointed the exact cause for allergies. The best soft dry dog food should still contain a proper balance of vitamins and minerals, as well as other essential nutrients that will contribute to your pup's long-term health.
Ensure that your dog's food comprises mainly organic and natural ingredients (no chemicals and preservatives). The best soft dry dog food should contain a good amount of meat, eggs, and fish. Look for vitamins and minerals that are added, such as zinc, iron, and B vitamins. Sources like meat, whole grains, fruits, vegetables, eggs, or fish are excellent choices.
How did we choose the best soft dry dog food?
 Because dog breeds have varying sizes, the feeding requirements will be different. That said, when you feed high-quality dog food from a reputable brand, you're on the right track. 
Here's what to look for when choosing high-quality dog food. The ingredient list is packed with whole meats, organic fruits, or vegetables in their top 5 list of ingredients. This is considered good. Those that also add in antioxidants like blueberries, cranberries, pomegranates, and pumpkin are super popular. Additionally, organic, natural, and preservative-free with no artificial ingredients are vital to a well-balanced and high-quality dog food.
Essential features of a high-quality soft dry food
One of the most significant dog food trends today is grain-free soft dry dog food recipes. You'll see that some brands have been releasing grain-free versions of their original formulas. That said, it's essential to take note of all the grain-free dog food updates by the F.D.A. with the potential for grain-free diets to trigger canine dilated cardiomyopathy. (C.D.C.) Here's what to look for:
Dog food formulas should feature no artificial flavors, colors, or preservatives like propylene glycol.

Diets should be crafted with whole foods and not processed foods.

They should also feature real meat instead of meat meal. 

Organ meats are also beneficial.

Opt for by-products such as organ meats, which are fine, but have no non-meat parts.

Calcium is essential in a dog food formula for healthy bone, teeth, growth, proper muscle building and so forth.

The formulas should be crafted with vegetables for fiber and nutrients such as flavonoids.

Formulas must be tested using AAFCO feeding trials or a formulation that meets AAFCO nutrient profile requirements.

There should be specific quality control measures to assure consistency and quality of all ingredients used.

All dog food formulas should be complete and balanced.

The dog food formulas should indicate what life stage they are intended for.
Perfect for camping trips and all dog breeds, this is another famous soft dry dog food formula that is dehydrated for easier digestion. It's a grain-free formula that features human-grade ingredients.
The Honest Kitchen offers cage-free turkey, chicken, beef, beef and salmon, chicken & duck, fish, or turkey and fish as its first ingredients with fewer carbs in every batch of food. 
The soft dry dog food formulas are crafted to keep all dog breeds at a healthy weight. This formula works for both adult dogs and puppies and meets all F.D.A. safety standards. 
It is an all-natural and dehydrated dog food crafted with natural whole food ingredients like cage-free turkey, organic oats, cabbage & apples, which are gently dehydrated for maximum flavor & nutrient retention and easy digestion.
 All the ingredients are guaranteed 100 percent Human Food Grade. The Honest Kitchen is one of the only pet food manufacturers in the U.S. to have proved to the F.D.A. that every ingredient it uses in its products is suitable for human consumption. 
The formula features no animal feed-grade ingredients and is made in an FDA-inspected facility. Additionally, all their ingredients are gluten-free, and their foods contain the raw foods' natural color, flavors, and aromas, which shows that it still has life—offering dehydrated turkey, organic flaxseed, spinach, potato, organic coconut, eggs, cranberries, celery, and apples, with no GMO-ingredients, everything in this soft dry dog food product safe for even human consumption.
Additionally, the Honest Kitchen is great for dental health in dogs because it does not contribute to plaque buildup. It features no sugars, salt, or added preservatives. It's also a lightweight formula and super easy to carry and cost-effective to ship, so it's also perfect for taking along on a pet vacay. 
What's more, this natural soft dry dog food formula is a no-brainer to prepare! Prices range from $43 to $83 depending on the size and can be found online, as well as at traditional pet-supply stores. With over 7350 positive reviews, you cannot go wrong with this high-quality dehydrated soft dry dog food.
Features
Over 7,300 positive reviews

Made in the U.S

Suitable for use as a meal topper or a complete meal

Ideal for travel, dog shows, camping trips

Easy to prepare

Crafted with all-natural human-grade ingredients
Open Farm Freeze-dried soft-dried dog food features a gluten-free recipe crafted with meat, organs, and bone from pure beef raised responsibly in the U.S.A. without additives. It's also 100% G.A.P. Step 4 Rated, so you can feel good about the food that's in their bowl. You can either mix it into meals as either dry nuggets or use its absorbency to rehydrate it with a bit of water for soft, moist bites. 
We like this freeze-dried dog food blend because it uses bits of meat and vegetables to supply vital health benefits through protein and prebiotic fiber. It also comes in a sustainable and resealable travel pouch container that is easy to use and travel with. There are also six recipes to choose from, like surf & turf, pasture-raised lamb, harvest chicken, homestead turkey, and more, allowing for your furbaby to enjoy a variety of meats, chicken, and fish with vegetables and fruits.
Here's the takeaway:
Features
No wheat, corn, or soy

Added extra fresh superfoods like non-GMO pumpkin and blueberries for optimal wellness

G.A.P. step 4 rated

Affordable

Suitable as a meal topper or complete meal

All ingredients come from family farms with humane & sustainable practices

Freeze-dried raw recipe soft dry dog food
Ziwi Peak air-dried dog food is formulated with the cleanest ingredients and is formulated for all life stages. Some ingredients include Beef, Beef Heart, Beef Kidney, Beef Tripe, Beef Liver, Beef Lung, New Zealand Green Mussel, and more. This is a grain-free, low carb, limited ingredient (L.I.D.) premium dog food without added carbohydrates. 
It's ideal for food-sensitive dogs. We like this soft dry dog food formula because it does not include cheap fillers like grain, potato, or peas, linked to obesity, food allergies, and other health concerns. 
Dehydrated dog food is twice as dense as regular dog kibble, so you don't need to feed the same amount as regular dog kibble. When providing air-dried dog food, you need to feed half as much of what you're used to feeding with regular kibble.
Here's the scoop on this human-grade, air-dried formulated dog food.
Features
High-protein (free-range lamb) & nutrient-dense

Human-grade dog food

Over 3,700 positive ratings

Crafted as a grain-free dog food with limited ingredients (no grains, rice, soy, or potatoes)

Affordable for multi-pet households

Part of a Peak Prey formulated recipe by KIWI

Good for all life stages and all dog breeds

It can be used as a topper or a complete soft dry dog food meal.
Just Food for Dogs dry soft dog food is for all breed sizes and features a variety of formulas so you can switch from chicken, beef to fish or turkey in a second. Your pup doesn't have to eat the same ingredients every day. 
This dog food formula is real food for dogs. It features human-edible lamb hearts, brown rice, cauliflower, carrots, spinach, safflower oil, blueberries, cod liver oil, & JFFD's vet-developed nutrient blend. We like this soft dry dog food brand because it's crafted with ZERO rendered meats, ZERO artificial coloring, ZERO growth hormones, and scary acronyms like BHA, BHT, or LFBT. 
It's also a ready-to-serve meal formulated by a team of veterinarians and canine specialists and then gently cooked to maximize nutritional value and promote a healthy immune system. Here's the takeaway:
Features
Over 2,400 positive reviews

Formulated by veterinarians

Crafted with real ingredients

Numerous recipes with whole food ingredients

Affordable

Two-year shelf life
Alpha Paw creates high-quality breed-specific pet food and wellness products designed for the unique health needs of your pet. As a company of pet parents, Alpha Paw knows that every breed has a different need. That's why they work together with a team of experts to develop products that cater to your pets' unique needs. 
We like this medium soft dry dog food because it's a nutritious grain-free dog food formula designed specifically for the needs of the dachshund breed of Wiener dogs. It's also crafted with turmeric that increases bile production and flow and protects the liver and stomach. 
It's the perfect herb to have in your dog's food. Additionally, there's no soy, grain, wheat, or corn. Also, there are no meat-by-product meals or artificial colors or flavors. This formula is for all life stages.
Alpha Paws also formulates breed-specific dog food for all breeds, small and large. This medium-soft dry dog food for small breeds was prepared with the wellness of your Dachshund in mind. Whether you have a puppy or a senior, this dry food is suitable for all life stages. 
Their healthy medium-soft dry dog formula has everything this dog breed needs to be ultra-healthy and happy. Support your wiener dog's immune system & cardiac health with this grain-free dog food. 
You can add the Alpha natural peanut butter multi chews, or even the Alpha Paw Hip & Joint soft chews with green-lipped mussel, glucosamine, turmeric, M.S.M., and more. Top it with some natural organic yogurt and some blueberries. Keep in mind that snack time should include fruits and lightly steamed or raw veggies.
Here's the takeaway with the best soft dry Alpha Paws dog food for all breeds.
Features
Affordable for multi-pet homes

Extra small bite-sized pieces (smaller design to better accommodate your Dachshund's narrow mouth.)

Filled with extra protein, just for dachshunds. The density of protein in each bite provides essential amino acids.

Crafted with turmeric & salmon oil for optimal mobility

It contains sweet potato for dietary fiber

Real chicken #1 ingredients and all-natural ingredients with veggies

A nutritionally complete diet that supports your dog's overall health and wellness
Northwest Naturals offers complete dog and cat food, delicious pet treats, and pet snacks that only use natural ingredients.
Northwest Naturals soft dry dog food features five formulas and includes chicken and salmon, lamb, beef, chicken, turkey, and salmon whitefish combo. This is an all-natural dog food that is crafted as a freeze-dried soft dry dog food nugget. 
The dog nuggets are gluten-free, grain-free, and free from added hormones or antibiotics. Each puppy bit is all-natural and the perfect size for those pet training sessions and as a meal or topper. The lamb recipe features 80% lamb, organs, and bone. It is a complete and balanced grain and gluten-free soft dry dog food.
Features
All-natural soft dry dog food

Free from hormones and antibiotics

Easy to feed

Highly palatable 

Freeze-dried raw dog nuggets
Every batch of Stella's Super Beef Dinner Patties features 95 percent beef (always grass-fed!), organs, and bone plus 100 percent organic certified fruits and vegetables. Additionally, all ingredients are responsibly sourced. 
We like Stella's Super Beef Dinner Patties' all-natural recipe because it is crafted with care in small batches in Stella and Chewy's own U.S.A. kitchen to provide the highest levels of protein-rich meat and quality grain-free nutrition for your pet. It is also minimally processed and all-natural. Here's' the takeaway:
Features
Grass-fed beef

100 percent organic certified fruits and vegetables

Made in the U.S

Minimally processed and all-natural soft dry dog food

Crafted with added taurine (an amino acid that is essential for vital functions)
This is a natural soft dry dog food that features added vitamins and minerals. It's a premium rolled dog food that's easy to serve and can be purchased online. We like this dog food because it's great for concealing pet meds, easy to shred or cube, and fed as a topper or a complete meal.
 Redbarn soft dry dog food is good to use as a high-quality training treat. It is formulated as a high-protein diet and contains fresh meat, high quality, and garden-fresh ingredients. These rolls are great to use as a topper to high-quality dog kibble.
Features
Affordable for multi-pet homes

High-protein natural diet

Nutritional levels established by AAFCO for all life stages

Uses low cooking temperatures to retain vital minerals and nutrients

Over 50% protein per roll

Crafted with no corn or soy

A Redbarn pet product

No additives
Dr. Harvey's canine health miracle dog food features human-grade dehydrated soft dry dog food. This is a base mix used to effortlessly create balanced, homemade meals for your dog–known to improve your dog's kidney health. It's crafted with 100% human-grade dog food packed with real food, including nine dehydrated vegetables, crushed eggshells, and six organic grains without preservatives, dyes, chemicals, and fillers. 
We like this formula because all you need to do is simply rehydrate with hot water and add your raw meat–top off with Dr. Harvey's Fish Oil for Dogs and Dr. Harvey's Kidney Health Supplement for a complete meal. A 5-pound bag of dehydrated whole foods makes 33 one-pound finished meals for your furbaby. Here's the takeaway:
Features
100% human-grade dog food packed with real food 

Includes nine dehydrated veggies

Climate Pledge Friendly product uses sustainability certifications

Fresh, balanced homemade soft dry dog food

Powerful ingredients for vital pet nutrition

Dehydrated whole food formula
Another Stella & Chewy pet food product that works as a meal mixer. We like this product because of its ingredients list: Duck with Ground Bone, Turkey, Turkey Liver, Goose, Turkey Gizzard, Organic Bananas, Organic Blueberries, Organic Strawberries, and more. This freeze-dried raw meal mixer super blends cage-free duck recipe soft dry dog food that gives your dog a boost of natural essential nutrition and taste that your pet naturally craves.
Features
100 percent organic fruits and vegetables

Raw poultry, bone, and organs (with no added hormones or antibiotics)

Numerous recipes like duck, chicken, or beef

Made in the U.S.A

No grain, gluten ingredients, fillers, artificial preservatives, or colorings

Highest levels of protein-rich meat and quality grain-free nutrition
Orijen is another popular soft dry dog food. ORIJEN Regional Red Freeze-Dried Dog Food delivers a diet rich and varied in raw, whole animal ingredients from ranch-raised beef, wild boar, Boer goat, grass-fed lamb, Yorkshire pork, and wild-caught mackerel. It features 90% quality animal ingredients. 
ORIJEN Freeze-Dried Food offers the benefits of a raw diet in a convenient dry form, nourishing dogs according to their natural, biological needs. It's super easy to feed and is also a great pet travel dog food for pet parents on the go. We like this formula because it uses raw animal ingredients, including meat, organs, cartilage, and bone. ORIJEN is a biologically appropriate, grain-free, protein-rich diet that dogs enjoy eating. 
Features
Raw, dry & frozen soft dry dog food

Evolutionary diet

Fed as a meal, mix, or as a topper

Easy to use and suitable for travel

Crafted with ranch-raised meats and wild-caught fish
This formula features beef, chicken, salmon, and whitefish. We like this brand because there are no fillers or preservatives, and it's packed with healthy nutrients. The various recipes include meat from a variety of nutritionally loaded sources. 
Also included are plenty of nutritionally dense organ meats and nutrient-dense fruits and vegetables. There are no unnatural fillers, cereals, or grains in 360 Pet Nutrition Freeze-dried soft dry dog food. The first five ingredients include beef, chicken, salmon, whitefish, beef liver, chicken liver, etc.
All you need to do is add water to rehydrate the food.
Features
Affordable for multi-pet homes

Healthy with superfoods for brain & heart health

No fillers or artificial preservatives

Complete & balanced meal

Freeze-dried raw formula

Numerous recipes available
Natures Diet Simply Raw combines the safety, easy prep, and shelf-stable convenience of kibble and canned food with the unsurpassed nutrition offered in natural, fresh raw food. Just add water to make this 3 lb. bag into over 18 lbs. of whole raw food, ready to serve in minutes. 
We like this soft dry dog food formula because it's made with only the freshest human-grade ingredients. Every ingredient is chosen with care to support holistic health and provide functional benefits for lasting wellness. The first five ingredients include freeze-dried raw beef muscle, organ meat, chicken bone broth, whole egg, vegetables, fruit, nuts, seeds, and OMEGA fatty acids.
Features
Affordable for multi-pet homes

No fillers, no grains, no G.M.O.s, no unnatural preservatives, no soy, no added flavorings or dyes.

The U.S.A. sourced & sustainable

Freeze-dried ingredients (free of pathogens)

Meets all of the nutritional levels established by AAFCO dog food profiles for all life stages.
Freshpet features Salmon, Ocean Whitefish, Fish Broth, Cranberries, Spinach, and Blueberries as the first six ingredients. It's crafted with 100% sustainably sourced salmon. The recipe also features Omega 3 & 6 Fatty Acids to Support Healthy Skin & Coat. 
There is no chicken, grains, or potato ingredients. Fresh pet soft dry dog food rolls also contain no rendered by-products or meat meals. It's a complete & balanced formula for all life stages. Here's the takeaway:
Features
Affordable for multi-pet homes

Easy to feed

Suitable for travel

Grain-free

Non-GMO
Why would you need soft dry dog food?
Senior Dogs
Senior dogs require special diets, as their nutritional requirements differ from other stages in the life stage of a dog. Senior dogs' best soft dry dog food must contain high-quality protein because senior dogs tend to have less efficient digestive systems.
As delicate as a dog's digestive system is, the best soft dry dog food should include supplements that help ease digestion. For example, digestive enzymes or probiotics can be found in various brands. These can be especially beneficial for older dogs with gastritis or other issues related to the digestive system.
Puppies
Much like senior dogs, puppies require higher nutritional content. The best soft dry dog food for puppies features a high protein content and does not contain any grains or fillers. Puppy dog food should include six essential ingredients: protein, fat, carbohydrates, vitamins, minerals, and water. These elements make up the minimum daily requirement, which is determined by the Association of American Feed Control Officials (AAFCO).
Dogs with dental issues
Dogs with dental issues may find it challenging to eat harder kibble. Fortunately, the best soft dry dog food can help ease this problem. Soft food can be easier to chew and digest, beneficial for tiny mouths or sensitive teeth. However, the best soft dry dog food should still contain a proper balance of vitamins and minerals, as well as other essential nutrients that will contribute to your dog's long-term health.
Fussy eaters
Picky dogs can find it challenging to maintain a healthy diet if they don't eat their kibble. But as previously mentioned, the best soft dry dog food should still maintain a proper balance of vitamins and minerals. In addition to this, healthy dog food can often be a great way to entice your pup to eat.
Allergies
Some dogs suffer from allergies. These can range from allergies to corn or wheat to sensitivities towards ingredients like chicken, beef, or fish. To avoid ingredients that could cause an adverse reaction, look for the words "hypoallergenic" or "limited ingredient." 
All dog breeds
Again, soft dry food should still contain a proper balance of nutrients to keep your pup healthy. So when in doubt, look for the words "Complete and Balanced" on the label of the best soft dry dog food.
In addition, you may want to consider a recipe that is focused on a specific breed of dog. For example, it has excellent recipes for all large breeds and other formulas focused specifically on small dog breeds.
How to choose the best soft dry dog food?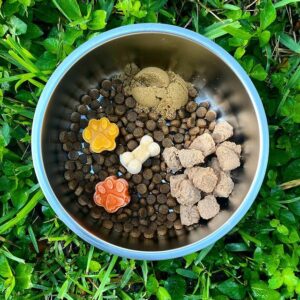 Avoiding obesity linked to many diseases is key and can be done by opting for high-quality dog foods and combining that with daily exercise and a healthy lifestyle.
It is also essential to consider the health of your dog. If you have a senior dog, choose soft dry food that is easy on the stomach and is limited in fillers. If you have small dogs, make sure that the soft dry food contains balanced nutrients for a smaller breed life stage.
The best soft dry dog food formulas are crafted with the most straightforward and most nutritious ingredients. Opt for high-quality ingredients like whole meats, fruits, vegetables, and grains, and take heed of the different macronutrients like proteins, fats, and carbs. 
You will need to provide your dog with the most appropriate diet that is healthy and beneficial to his life stage so that you can help give your dog a long and healthy life. 
However, it's vital to understand that feeding healthy helps with focus and behavioral issues. Finally, consider choosing a food that is made of mostly meat and features organic veggie and fruit ingredients.
Say no to artificial ingredients
Artificial ingredients can be linked to several diseases. Artificial colors and flavors can also be dangerous and may lead to serious health problems.
Avoid corn, wheat, and soy
While these ingredients are not dangerous to your dog's health, they are fillers with no nutritional value. These ingredients are often used to bulk up the food, so taking them out will lead to an increase in the amount of meat and produce your dog ingests.
Meat is first
This means that there should be more meat ingredients than any other single ingredient. It should also mean that the meat source is first on the ingredient list. You can also opt for exotic meats like venison, buffalo, lamb, and so forth. 
Free-range meat recipes are sometimes enhanced with coconut oil and apple cider vinegar for a shiny coat. They may also feature ingredients like flaxseed, carrots, chickpeas and are free of soy, GMO ingredients and artificial preservatives and colors. These are the formulas you should try to opt for.
Grain-free and organic are good
These ingredients are often used to help bind the dog food together. They can also lead to a host of allergies in your dog. While it can be a little more expensive, organic ingredients are better for your dog because they are free of pesticides and chemicals. Here's the takeaway on additives in dog foods.
According to Animal Wellness, "Artificial ingredients are often highly antagonistic and can contribute to an animal's mental and emotional imbalance," adds Andi Brown, director of Halo and author of The Whole Pet Diet. "Some additives can be so detrimental that they can have the same effect on an animal as hallucinogenic drugs have on people. 
Andi recommends adding minerals and vitamins, especially the entire complex of B vitamins, to a dog's food to help with behavior problems.
The Price of Bad Nutrition
If you're like us, you'll want to feed a high-quality dog food throughout your dog's life. It's necessary to keep in mind that not all dog food is the same and that without good nutrition, your pup may suffer from numerous health problems, which may include the following:
Malnutrition

Skin & coat problems

Allergies

Obesity

Cancer
Dogs with food allergies often come down with skin problems like rashes, hives, hot spots, and chronic itching. Your dog may at some stage develop allergies to protein and carbohydrate sources even if he's consumed them for years, and by simply changing the protein sources, you may be able to stop the allergic reaction.  
Dogs fed a low-quality diet tend to become overweight or malnourished because their diet often lacks essential nutrients. When a diet is not complete and balanced or is minimal, malnutrition can set in. 
Protein Sources in Dog Food
 Protein sources are derived from meat, meat-by-product meal, meat and bone meal, soybean meal, corn gluten meal with a portion coming from whole corn, barley, whole wheat, rice, amino acids, and animal digest. 
Finally, keep in mind that most pet food manufacturers comply with the Association of American Feed Control Officials. (AAFCO) As a pet parent, you should spend most of your money on high-quality dog food than on any other pet-related expense apart from veterinary. 
Each protein source needs to be examined to check for digestibility. Dogs can digest most of the protein in muscle meat, but not much in other animal parts like hair or hooves. Fat is essential too and is a dog's primary energy source. It delivers some of the vitamins to the dog's system and is beneficial in the skin, coat, and paw pad health, as well as nose suppleness. 
Fats are derived from fatty acids, and many different fatty acids are suitable for your pup. Your dog can synthesize all types of fatty acids, but not omega-6 (linoleic acid), obtained from muscle meat and vegetable oil. 
 A small amount of omega-3's can be found in fish oil, and this is beneficial in helping decrease inflammation and arthritic symptoms. Keep in mind that the omega-3 found in your dog food formula must be in the correct proportion to omega-6 fatty acids to be optimally effective. This is around a 1: 5 ratio)
Supplements for dogs
There's a whole lot of focus on the best dog foods right now, but not enough said about all the soft chew supplements for dogs that you can add to your dog's meals.
In this review, we will be discussing soft dry dog supplements that you can add to your dog's soft dry dog food. Supplements for dogs should be added after you have started feeding high-quality dog food to ensure that your pet is getting the proper balance of nutrients.  
Remember, there are no magic supplements that can replace a balanced, nutritious diet. Only whole foods will provide the necessary nutrients your pet needs to live a healthy life.
Just as humans need supplements, dog hip, and joint chews, 15-1 one multi chew, omega chews, allergy chews, and even calming chews are always recommended by veterinarians. If you're like us choosing numerous top-notch dog supplements is just as important as feeding a good soft dry dog food. With a plethora of options available on the market, brands like Alpha Paws ensure trustworthy high-quality supplements with top-notch ingredients.
How do supplements benefit working or sporting dogs?
Supplements can benefit working or sporting dogs as some supplements help with training, focus, and recovery. If you have a dog that enjoys the outdoors, you should consider adding supplements to their diet. Sporting dogs are the same. Supplements are often considered for older dogs, but younger working or sporting dogs can benefit from supplements.
So, if you are thinking of adding supplements to your dog's diet, consider these key points.
What do you need the supplement for? Then compare the different options available to find one that will do what you need it to.

 Would your dog benefit from a supplement designed for dogs with a specific condition or problem? For example, would your dog benefit from an antioxidant supplement if they have cancer? Or would they benefit more from a joint supplement for a dog with arthritis?

 What size is your dog? Small, medium, or large. Supplements are designed for all dog breeds and dosage is based on the weight of the dog.

 How much or how little does your dog eat? This will affect the size of the chew you choose.
Just remember, supplements won't provide all the nutrients your pet needs, so they should be used in addition to a healthy diet.
What is the right kind of supplement for senior dogs?
The right kind of supplement for senior dogs is called glucosamine. Glucosamine is an essential part of your older dog's diet. It is an amino sugar that occurs naturally in the body. Glucosamine helps to maintain healthy joint cartilage, which is essential as a dog's age.
Daily antioxidants for dogs
This supports canine health in numerous ways. Antioxidants promote a healthy immune system, support optimal eye health in senior pets, and contribute to a regular inflammatory system. These can be added to your dog's food to help neutralize potentially harmful free radicals. But here's what you need to know:
 All antioxidants work somewhat differently

 A dog food diet that is varied and contains many antioxidants is beneficial to all life stages.

 It's never too early to start supplementing your dog's food to manage oxidative stress in healthy dogs.

 Senior dogs accumulate oxidized proteins and lipids, which can affect their health in many ways.

 Active and working dogs also experience significant oxidative stress. This is because aerobic exercise can result in free radical accumulation. The muscles produce energy using mitochondria, which are the powerhouses of the cell. 
The more active your dog is, the more power consumed and the more free radicals made. This results in damage to healthy muscle tissue, which can affect endurance, performance, and recovery. 
That said, it's necessary to use antioxidants to manage oxidative stress in dogs of all life stages. A high-quality dog soft dry dog food diet should be used in conjunction with supplements like green-lipped muscles, glucosamine, probiotics, prebiotics, multivitamins, allergy chews, hip & joint chews, and so forth. 
You should always reach out to your veterinarian to see which supplements work best for your dogs. Consider activity level, health issues, current pet meds, and life stage. Also, understand that even though high-quality dog foods have added vitamins and minerals, that may not be sufficient for your pup and that also if you add vitamins and minerals to a low-quality dog food, it does not make it a high-quality dog food since there are many components to healthy, high-quality dog food- with the number one factor being ingredients and where these ingredients are sourced. 
It's worth spending a reasonable amount of money on the best dog food that you can afford as well as reputable supplements throughout your dog's lifetime.
Now that we have that out of the way let's get to the list. Here's the takeaway on the best soft dry dog food.
Choosing high-quality dog food seems so confusing. How can I learn the basics of dog food?
Dog food is a very personal choice, and many factors go into making this decision. The first thing I would recommend is to find out your dog's nutritional requirements. This will help determine how much your dog should be eating and what you need to look for in dog food. 
Always reach out to your vet if your pup has a health condition or if you need advice as to the best dog food for your dog.
My dog has a specific health problem. Can you recommend a dog food that could help his condition?
We like the idea of meeting the dog's nutritional requirements first. This is because different food formulas can help manage certain health conditions—for example, a diet with less fat or dog food for sensitive stomachs. If you have your heart set on one particular formula, make sure to speak with the vet to find the best option for your dog.
What are some signs that my dog is not getting enough nutrients?
If you have been feeding your dog a specific food for a few months and are not doing well, it is always best to speak with the vet. This is because there could be a nutrient deficiency in the dog food you are currently feeding your pup. Also, if your dog has lost weight or is acting abnormally, it is time to chat with the vet.
What's better… canned or dry dog food?
This is a very personal choice. If you are feeding an older dog that has trouble eating dry food, wet food may be the best option for them. As dogs get older, their teeth often become weaker, and harder to chew dry dog food. Canned food can be much easier for them to chew and also has added benefits.
How often should I feed my dog?
This also depends on your breed and age. "Free-feeding" is a popular way to get an accurate read of your dog's nutritional requirements. This means leaving food out all day and refilling as necessary. However, if you find this is not working for your pup, you can switch to feeding three times a day and taking the food away after twenty minutes.
Is dry dog food better for teeth?
When the dog chews on dry food, it acts as a natural toothbrush. This is because of all the roughage in the kibble. The hard crunching action helps to scrape away plaque and tartar while the food is in the mouth. This doesn't mean wet food is not suitable for teeth; just that kibble can be a healthy alternative.
What do I need to look for in dog food?
Check for a seal from the Association of American Feed Control Officials (AAFCO) stating that your dog's needs will be met by eating this food.
Check for an expiration date on the dog food bag or can. You want to make sure that the superfoods are still active.
Check the contents of the dog food for all of your dog's nutritional requirements. Remember that not all superfoods are created equal! Make sure you check for any harmful additives and food coloring.
Look at the protein and fat content of your dog's food. This should be given in a percentage of the food. An excellent place to start is 18% protein and 12% fat for an average adult dog.
If there are no percentages, look at the first five ingredients in the dog food. Ideally, these will be meat-based proteins rather than vegetables or grains.
Some superfoods such as blueberries and flaxseed can be bought separately and fed to your dog in small quantities. This is great for dogs with food sensitivities and allergies to superfoods, such as salmon and eggs.
Does my dog need omega 3?
Omega 3 fatty acids are very beneficial to your canine friend's health. This is because they promote a healthy coat and skin, help with anti-inflammation in the body, and can even lower your dog's chances of getting cancer. 
You can supplement with Alpha Paws Omega Soft Chews. We like these because they feature flaxseed, wild Alaskan salmon oil, vitamin C, Biotin, Kelp, D.H.A. Gold, vitamin E, and more.
Other articles you might like: