Many dogs try to eat anything and everything in their path. That behavior can be problematic if they eat dangerous items, but some foods may benefit a pup. It's hard to know which foods are good or bad for dogs. For example, can dogs eat peas and carrots?
Here is everything you need to know about how eating peas and carrots can affect dogs.
Before you scroll further down this guide, "Can Dogs Eat Peas and Carrots," you can check out these other dog-related questions from our team at We Love Doodles: Can Dogs Eat Bratwurst and Can Dogs Eat Capers?
Can Dogs Eat Carrots?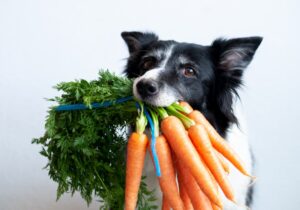 If your dog likes to emulate a rabbit by chowing down on carrots, don't worry. Both cooked and raw carrots are not harmful to your pup and can provide helpful nutrients to your fuzzy friend. Carrots contain fiber, vitamin A, and potassium.
Besides their nutritional value, the crunchiness of the carrot can be beneficial for your dog's teeth. This root can also be a good choice for a new treat or chew toy option. Teething puppies may enjoy a frozen carrot if they are teething.
Before giving your pup a carrot, it is essential to wash the vegetable. Doing so will clean off any pesticides and dirt. You can also peel it if you want.
While a whole carrot is fine if you want your dog to use it for their teeth, you should avoid carrots that are a chokable size. Cut carrots down to a size appropriate for the size of your dog.
If you are worried about your dog choking on carrots, try cooking a carrot and mushing it into a safe texture. As with any food you cook for your dog, avoid cooking carrots in butter or oil, and don't add any seasoning.
Dogs do not care about the taste of those additions. Fats and seasonings can be harmful to your pooch.
Stick to steaming, boiling, and roasting, and always cool down the carrots before giving them to your dog.
More Dog-Related Questions: Can Dogs Eat Pita Bread and Can Dogs Eat Chicken Noodle Soup?
Can a Dog Eat Too Many Carrots?
Yes, a dog can eat too many carrots.
Although carrots provide a ton of benefits for humans and dogs alike, too many of them can have disastrous consequences.
Treat carrots like you treat any other fruit or vegetable. Some dogs are sensitive to too much sugar (which carrots contain) and they may get diarrhea from too many of these orange delights.
The right amount of carrots will vary from dog to dog. In general, larger dogs can eat more carrots than smaller dogs. Certain breeds are prone to more digestive sensitivity than others.
When you first try to give your dog carrots, try giving them a small amount at first and wait a few hours to see how they feel. Check their stool to see if there is any noticeable difference. If everything seems fine, you can give them more and continue gauging the result.
More Dog-Related Questions: Can Dogs Eat Slime and Can Dogs Eat Canned Chicken?
Can Dogs Eat Peas?
Dogs can eat some peas in their diet. However, you should only give your dog any vegetables in moderation. Your dog is likely more sensitive to chemicals in peas than chemicals in carrots. Too many peas can cause health issues.
Any variety of fresh peas is alright to give your dog. However, only give them pea pods that you can also chew. Difficult-to-eat pods can be a choking hazard. Frozen and thawed peas are also fine for dogs. However, the salt that canned peas have is bad for your dog's health.
You shouldn't season your peas with salt or any other seasonings. Especially avoid using oil, butter, and other fats when cooking your peas. The best peas are plain. If you do decide to cook them, steam them, this type of cooking doesn't add anything to the peas.
Peas make a good little treat substitute, especially in training. You can also blend peas with little portions of other veggies like carrots, smush the peas into an activity mat, or add peas to their food. However, peas may not always be the choice for a dog.
Dogs that can eat peas benefit from vitamin A, vitamin B, potassium, zinc, iron, lutein, dietary fiber, protein, manganese, and magnesium. All these chemicals have benefits for your dog's heart, skin, and eyes.
More Dog-Related Questions: Can Dogs Eat Raw Chicken Breast and Can Dogs Eat Clover?
Why Are Peas Not Good For Dogs?
While peas can provide many benefits for most dogs, it is essential to be thoughtful when you give your dog peas. Always check with your vet before adding peas or other vegetables to your dog's diet.
Some dogs should avoid peas since they contain purines, which produce uric acid. While purines and uric acid are not necessarily bad on their own, since they filter through the kidneys, they can exacerbate kidney issues.
As a result, peas can contribute to kidney stones or other damage in dogs with kidney issues.
Moderation is especially essential with peas since there is some evidence to suggest that an excess of peas can cause health issues, including a taurine deficiency.
Those issues should only arise if you feed your dog an excess of peas and other legumes. A few peas as a treat should not have the same negative impact.
Another issue presented by peas is they can be chokeable for some dogs. For very small dogs, you may want to mash some peas rather than presenting them whole. When giving them pea shells, ensure they are safe and chewable.
More Dog-Related Questions: Can Dogs Eat Sugar Cane and Can Dogs Eat Watermelon?
Health Benefits of Peas and Carrots for Dogs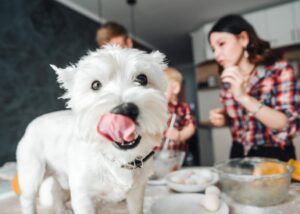 When consumed in moderation, peas and carrots offer plenty of good benefits for dogs. Many of the benefits are from certain chemicals and minerals within these vegetables.
Health benefits of peas
Vitamin A is essential for eye care, development, immune well-being, and other cell operations.
Vitamin Bs, such as thiamine, plays an essential role in the metabolism and regulating ion channels.
Potassium helps your body regulate fluids in your body. It also encourages blood clotting.
Fiber is a big help with healthy digestion for your dog.
Protein is a major benefit of eating peas because it facilitates several elements of your dog's body.
Health benefits of carrots
The texture of carrots helps clean a dog's teeth. Clean teeth can reduce the risk of several health issues, including heart disease.
The fiber in carrots contributes to gastrointestinal health and can help with weight loss and blood sugar levels.
Vitamin A works hard to provide your pup with good health in many ways. This nutrient contributes to epithelial health, reproduction, and growth.
Potassium impacts how the body deals with water, keeping fluids in balance, blood pressure, nerve signals, and muscle movement.
How Many Peas and Carrots Can Dogs Eat?
The right amount of peas and carrots will vary depending on the dog. A good general guideline is to ensure your dog's carrots and peas make up less than 10% of their daily diet
An average dog between 20 and 50 pounds can have one large carrot or two or three baby carrots each day. Smaller dogs should eat less than that, and larger dogs can have more.
Dogs are somewhat more sensitive to peas than carrots. So, you should only give them between one teaspoon and a tablespoon of peas each day. The smaller the dog, the smaller the number of peas you should give them.
More Dog-Related Questions: Can Dogs Eat Free-Dried Strawberries and Can Dogs Eat Sprinkles?
What Vegetables Can Dogs Eat Every Day?
While vegetables are not necessary for a dog's diet, they can be a nice treat and offer other nutritional benefits. Here are some other vegetables to try with your dog if you want options other than peas and carrots.
Broccoli helps the heart health and bone density of dogs thanks to the presence of potassium and vitamin C.
Spinach is one of the best vegetables you can give your pooch. It contains B vitamins, vitamin C, potassium, iron, calcium, and magnesium.
Beets are worth trying for your dog since the vitamin C, potassium, manganese, fiber, and folate support the immune system and digestion.
Besides providing hydration, cucumbers are also anti-inflammatory thanks to antioxidants and phytonutrients.
Kale is another green ideal for dogs since it helps fetal development, good vision, and immune health. This vegetable has vitamin A, potassium, and iron.
More Dog-Related Questions: Best Dog Scooting Treatments and Best Pee Pad Holders For Dogs.
Can Dogs Eat Peas And Carrots Every Day?
Yes, you can feed your dog a few peas and carrots every day, but remember, peas have a risk of getting your dog sick. We'd recommend you give your dog more carrots than peas.
Before you commit to changing their diet, go to your vet and get insight on the health of your pet before giving extra veggies. Depending on your dog's health, breed, dietary requirements, temperament, and other considerations, they can have particular recommendations.
The quantity of these vegetables you should feed your dog will also be something a veterinarian may advise you on.
More Dog-Related Questions: Can Dogs Eat Nutella and Can Dogs Eat Corn Starch?
Conclusion For "Can Dogs Eat Peas and Carrots"
So, can dogs eat peas and carrots? Yes! while there are some exceptions, feeding your dog vegetables can be a tasty treat and a valuable source of nutrients. Keep in mind that veggies are not necessary for your dog, thus, it's okay if your dog rejects peas and carrots.
If you find this article, "Can Dogs Eat Peas and Carrots," helpful, you can check out these other dog-related guides from our team:
Before you decide to feed your dog things like peas and carrots, you can learn more about what you can or cannot feed your dog by watching "Human Foods That Are Actually Good For Dogs" down below: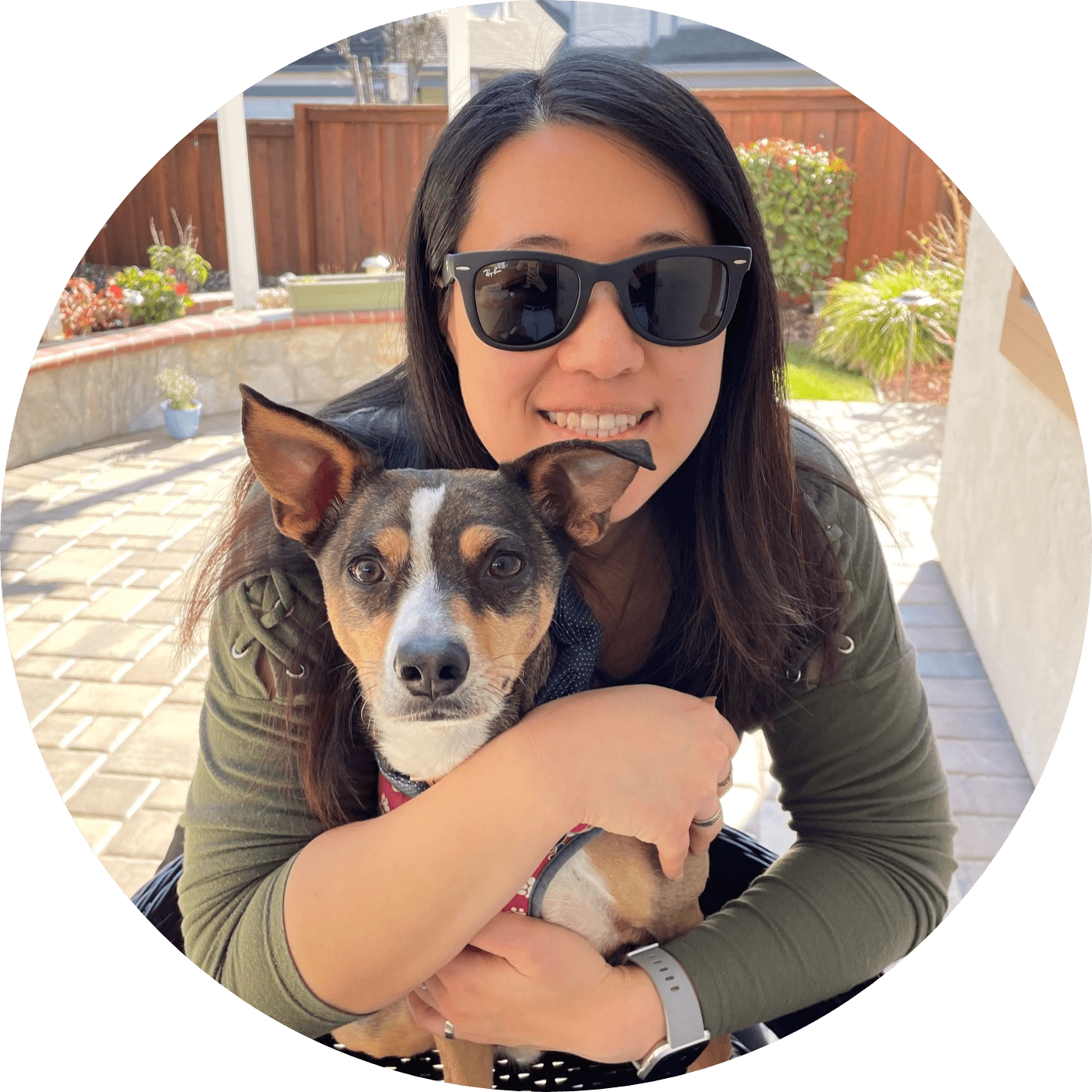 Dr. Sabrina Kong graduated from the Royal Veterinary College in England in 2016 and has been working at a small animal clinic in Northern California since then. She grew up in the Bay Area and got her bachelor's degree from Cal Poly San Luis Obispo. She also became a Certified Canine Rehabilitation Practitioner through a program at the University of Tennessee.
When she isn't in the clinic taking care of her four-legged patients, she enjoys traveling and trying new foods with her friends and her three-legged dog, Apollo. She adopted Apollo from her clinic when he was a puppy with numerous health issues. Dr. Kong truly cares about taking care of animals.