Can dogs eat sprinkles, and is it safe for them to consume? The question of what you're allowed to share with your dog is a common query for many dog owners – who can resist those cute faces when begging for a little taste.
A specific question that may have entered your head is, "can a dog eat sprinkles?" Well, we have the answer for you. There are many reasons you may be wondering about this. With the holidays quickly approaching, there is a steady increase in the number of sweet treats lingering around the home.
Before scrolling down this guide, "Can Dogs Eat Sprinkles," you can check out these other similar guides from our team at We Love Doodles: Can Dogs Eat Garlic Bread and Can Dogs Eat Mochi?
Is It Safe For Dogs to Eat Sprinkles?
Whether you are hosting a party, baking as gifts to give to friends and family, or maybe baking a cake just for your dog, it's important to know what to keep your pets away from to keep them as safe as possible. First, let's address the different kinds of sprinkles that exist.
Dog Product Recommendations: Best Dog Treat Dispensing Cameras and Best Dog Treat Dispenser.
What Ingredients in Sprinkles Will a Dog Be Eating?
Not all sprinkles are created equal, so not all sprinkles will have the same effects on your puppy. Rainbow sprinkles, or rainbow "jimmies," as some call them, are mostly made of wax, oil, and food coloring. These kinds of sprinkles are best known to be found at ice cream shops or on top of an ice cream sundae.
Another type of sprinkles is called "sugar sprinkles," these are small, granular pieces that look similar to glitter. You may have seen these on sparkly cookies or cakes. Because of the simplicity in the ingredients of rainbow sprinkles, If your dog is going to have any sprinkle, this is the best choice – but in small quantities, of course.
This will not harm your dog unless it is allergic to food dyes or eats an extremely large quantity. Sugar sprinkles, the very small glittery kind we mentioned previously, should be avoided at all costs for your puppy. They contain microplastics that could get stuck in your dog's digestive system and cause many issues.
Related: Beefhide vs. Rawhide Treats For Your Dog.
Other Items You May Be Curious About – "Can my dog eat that?"
In addition to sprinkles, you may be wondering about other baking ingredients that are safe or harmful for dogs to consume, such as food coloring, icing, decorating gel, etc. Here's a quick list of items to avoid or share with your furry companion. If feeding your dog anything outside of their normal pet food, it is also a good idea to consult your trusted vet to get their professional opinion to keep your pet as healthy as possible.
Food Coloring: Whether or not food coloring is safe for dogs depends on the type of food coloring we are talking about. For example, synthetic food colorings are sometimes made with ingredients that are not the healthiest but are approved by the FDA to use in food products. These food colorings are not recommended for dogs but will not harm them if they ingest a small amount. On the other hand, food colorings are made from natural ingredients, such as plant materials. These are absolutely harmless and completely fine for your dog to enjoy. Although, they probably won't care since dogs do not see color as we do.
Icing: Just as with most food items, a small amount of icing won't hurt your dog, but a large chunk of icing or cake may cause diarrhea, vomiting, retching, and a very upset stomach. For example, if a tiny dollop of icing falls onto the ground and your dog licks it up, they will probably be just fine. But, if your dog swallows a piece of cake or somehow gets its paws on an entire jar of icing, this will be cause for concern. Also, it is important to note that the amount of icing that will cause this reaction depends on how big your dog is and how sensitive its digestive system is. Some of the reactions your dog could experience after eating a large amount of icing for their body type are vomiting, diarrhea, and in some cases could lead to death. For your dog's safety, we recommend keeping a close eye on the icing around your dog to avoid any unwanted illness.
Decorating Gel: Decorating gel, or piping gel as you may know it, is controversial on whether or not it is safe for your dog to consume. Usually, this kind of gel is made from cornstarch and gelatin. Although both of these ingredients are safe for dog consumption, the dyes they use to make the gel in different colors may not be safe, just like the food coloring. If you can find a brand colored with natural ingredients, it is best to choose that. We recommend contacting a veterinarian if you are unsure or want more information.
Whipped Cream: While there is nothing inherently toxic to dogs in whipped cream, this may not always mean that whipped cream or other dairy products will agree with your particular puppy. All dogs have different digestive systems, and while some may tolerate whipped cream just fine, some may experience vomiting or diarrhea. The best idea would be to avoid this food item or test by giving your dog an extremely small amount.
Related: Can Dogs Eat Rice Krispies?
Conclusion For "Can My Dog Have Sprinkles?"
The most important part of our article is ensuring your beloved pets' safety. We created this article to spread awareness to dog owners who may be wondering whether or not to share their sprinkled treats with their companions because we understand it is quite difficult to resist their sweet baby faces when they're begging for a bite of your cookie or cake.
Although they may be cute, keeping them safe is more important than sharing a bite in some cases. If you want to receive more information on how these food items can affect your dog's health, we recommend reaching out to your vet to provide you with the best facts and opinions.
If you find this guide, "Can Dogs Have Sprinkles," helpful, you can check out:
Instead of sprinkles, you can learn more about what human food you can or cannot give your dog by watching "Human Foods That Are Good For Dogs" down below: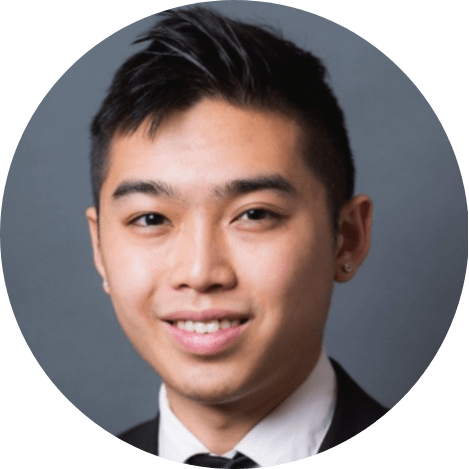 Andy is a full-time animal rescuer and owner of a toy doodle. When he's not saving dogs, Andy is one of our core writers and editors. He has been writing about dogs for over a decade. Andy joined our team because he believes that words are powerful tools that can change a dog's life for the better.
Why Trust We Love Doodles?
At We Love Doodles, we're a team of writers, veterinarians, and puppy trainers that love dogs. Our team of qualified experts researches and provides reliable information on a wide range of dog topics. Our reviews are based on customer feedback, hands-on testing, and in-depth analysis. We are fully transparent and honest to our community of dog owners and future owners.