Can dogs eat sugar cane, and is it safe for dogs? Whether you have a sweet tooth or not, we all enjoy eating a little bit of sugar now and again, but can dogs have sugar cane? Let's take a look at everything you need to know.
Before you scroll down to a more in-depth answer of this guide, "Can Dogs Eat Sugar Cane," you can check out these other dog-related questions answered by our team at We Love Doodles: Can Dogs Eat Goldfish Crackers? and Can Dogs Eat Freeze Dried Strawberries?
What is Sugar Cane?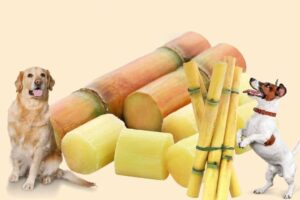 Sugar cane is a type of tall, perennial grass that is used for the production of sugar. The sugar we use in cooking and baking is made from the leaves of sugar plants like sugarcane and sugar beets through extraction, purification, and crystallization.
However, you can eat raw the inside of the plant by peeling back the skin. You can also press it to make sugar cane juice and cook it and eat it with meat and fish, but are they safe for dogs to eat?
Related: Can Dogs Eat Sprinkles and Can Dogs Eat Garlic Bread?
Is Sugar Cane Poisonous to Dogs?
Sugar cane isn't toxic to dogs, but that doesn't mean it's good for them. As the name suggests, it is packed full of sugar which is not advisable to give to dogs as it can have harmful effects on their health over time.
Related: Are Slugs Poisonous to Dogs?
Can Dogs Eat Sugar Cane?
The short answer is – yes, but they shouldn't. While dogs can have sugar cane as it is not poisonous or toxic, it is also not good for them, and there is very little benefit to giving your dog sugar cane. It's also so full of sugar that it can make your dog very sick when given to them regularly or semi-regularly.
Related: Can Dogs Eat Mochi and Can Dogs Eat Pepper Jack Cheese?
Why is Sugarcane Bad For Dogs?
As mentioned above, sugar cane is rich in sugar, which can cause many problems. Let's take a closer look at what they are.
In the short term, your dog may experience gastrointestinal issues such as a tummy ache, vomiting, and diarrhea from consuming something so high in sugar, especially if they have a sensitive stomach and are prone to digestive issues, allergies, or if they have a history of pancreatitis or worms.
That said, so long as it clears up within a day or two and there are no other symptoms, it's not too serious. It shouldn't be anything to worry about – but if your dog does experience an upset stomach from eating something, we wouldn't recommend giving it to them again.
Related: What Does it Mean When My Dog's Stomach is Gurgling Like Crazy?
2. Your Dog Will Gain Weight
Eating foods that are high in sugar regularly can also cause your dog to gain weight over time, which increases the risk of other health conditions like heart disease, lessens their tolerance for exercise, which significantly reduces their quality of life, and also makes symptoms of arthritis worse in senior dogs.
Breeds at higher risk of weight gain include American Cocker Spaniels, Basset Hounds, Beagles, Cairn Terriers, Cavalier King Charles Spaniels, Dachshunds, Labrador Retrievers, Norwegian Elkhounds, Rough Collies, and Shetland Sheepdogs.
3. It Could Lead to Diabetes For Your Dog
Consuming foods high in sugar, such as sugar cane, regularly can also contribute to diabetes in dogs, which is a serious and irreversible health condition causing increased appetite, thirst, and urination, as well as unexplained weight loss, sweet-smelling breath, and lethargy.
Diabetes can lead to serious consequences such as loss of vision or even death if left untreated. It requires lifelong management through insulin shots, dietary changes, and constant monitoring. So, it is important to try and prevent diabetes and get your dog's blood tested at the vet as soon as possible if you suspect them of being diabetic.
Does Sugar Cane Have Any Benefits For Dogs?
Every teaspoon of raw sugarcane contains about 4 grams of carbohydrates, which are good for energy. It is rich in vitamin C and vitamin B2, which help to fight free radicals, reduce inflammation, and supports good digestion and cognitive aging, as well as magnesium, iron, potassium, and phosphorus, which support healthy bones and energy levels in different parts of the body.
It is also free from fats, cholesterol, proteins, and sodium. However, none of these qualities outweigh the fact that it is so high in sugar, and your dog should be getting adequate quantities of these essential nutrients in their daily meals anyway.
Can I Give My Dog Sugar Cane as a Treat?
If you're a fan of sugar cane and you want to share it with your dog, it must be given as a very occasional treat only. For example, as a dessert after a festive dinner, and even then, it should be a very small amount, say a spoonful. However, you should beware that this could still upset your dog's tummy if they're sensitive to rich foods – so consider this.
Related: What is Beefhide For Dogs?
Is Sugar Cane the Same as Granulated Sugar?
Cane sugar is similar to granulated sugar, but it is exclusively made of the sugar cane plant, as opposed to sugar beets, which granulated sugar is usually made from and is a lot less processed.
It's also lighter in color and comes in slightly bigger granules than cane sugar when processed, but they make fine substitutes for one another for humans when it comes to taste. However, it isn't good for dogs.
Related: Can Dogs Eat Corn Starch?
Is Sugar Cane the Same as Caster Sugar?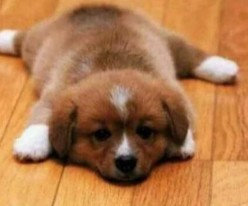 Caster sugar is the same thing as granulated sugar, only more refined, so it melts and mixes faster, which is why it tends to be used for baking and tea sweetening.
Related: Can Dogs Eat Orange Chicken and Can Dogs Eat Cream Cheese?
Is Cane Sugar The Same as Brown Sugar?
Brown sugar comes from sugar cane, but it is still a little different from cane sugar because it has been processed and coarse, while cane sugar is still in its rawest form. That said, it undergoes the same boiling and filtration process, but after filtration, it gets coated with molasses, which gives it its brown color.
Related: Can Dogs Eat Rice Krispies and Can Dogs Eat Raw Chicken Breast?
Alternatives to Sugar Cane For Dogs
If your dog has a sweet tooth, let's look at some alternative sweet treats that are healthier and safer for your puppy to eat.
Fruit: Fruit is a great sweet treat for dogs who like a little bit of sugar, and they all have added nutrients and benefits. Apples, bananas, blueberries, cantaloupe, cranberries, cucumbers, mango, oranges, peaches, pears, pineapple, raspberries, strawberries, and watermelon are all great treats for dogs – in moderation. All these fruits are safe to give your dog as a daily treat, but be sure to look up the exact amount recommended for dogs. You can even blend a few up and make your dog a yummy smoothie to drink, stew it for a yummy warm soup, or stick it in the freezer for a sweet slushy-like dessert.
Ice Lollies: Ice lollies are another great sweet treat, especially for hot summer days. Fill up some lolly trays or ice cube trays with water and add some wholesome fruit juice from dog-safe fruits, or much up some real berries and add those. Stick them in the freezer overnight, and voila.
Dog Ice Cream: Dog ice cream is another great idea for dogs with a sweet tooth. You can buy commercial doggie ice creams – or make your own by mixing some mushed-up berries or banana with some yogurt and sticking it in the freezer. This is especially good when paired with a licky mat or slow feeder for a mentally stimulating sweet treat.
Yogurt: Yogurt is a healthy natural dairy product that is good for dogs in moderation, as it is filled with natural protein, calcium, and probiotics, which are great for the muscles, bones, and gut. You can give them a few small spoonfuls a day if your yogurt is free from xylitol, a common sweetener toxic to dogs.
Homemade Flapjacks: You can also try baking your dog treats at home. To make your dog some yummy flapjacks, add a couple of spoonfuls of peanut butter and half a banana or apple to a cup of oats and bake it in the oven for a yummy, crunchy, sweet, and slightly salty treat for your dog.
Cinnamon: Whichever of these ideas you go for, consider adding a sprinkling of cinnamon for a kick of sweetness. The sweet spice is tasty and very good for dogs in moderation. It is chock full of anti-inflammatory properties, which slow bacterial growth and relieve arthritis pain in senior dogs. It can even help overweight dogs fight the risk of diabetes by regulating blood sugar and raising their insulin resistance.
Commercial Treats: There are also many commercial dogs treats made for dogs with a taste for sugar. We recommend avoiding those containing lots of added sugars and filler ingredients, but there are plenty of healthier options containing dried fruits and cinnamon.
Conclusion For "Can Dogs Eat Sugar Cane"
If you want to give your dog a tiny amount of sugar cane as an occasional treat, they will probably be fine. However, you should never feed your dog too much of anything that contains a high amount of sugar, even natural sugar, like sugar cane.
If you find this guide, "Can Dogs Eat Sugar Cane," helpful, you can check out these other similar dog questions answered by our team at We Love Doodles:
You can learn more about your dog consuming sugar cane by watching "Can Dogs Eat Sugar Cane" from DogVela down below:
https://youtube.com/watch?v=wralVXoMQ94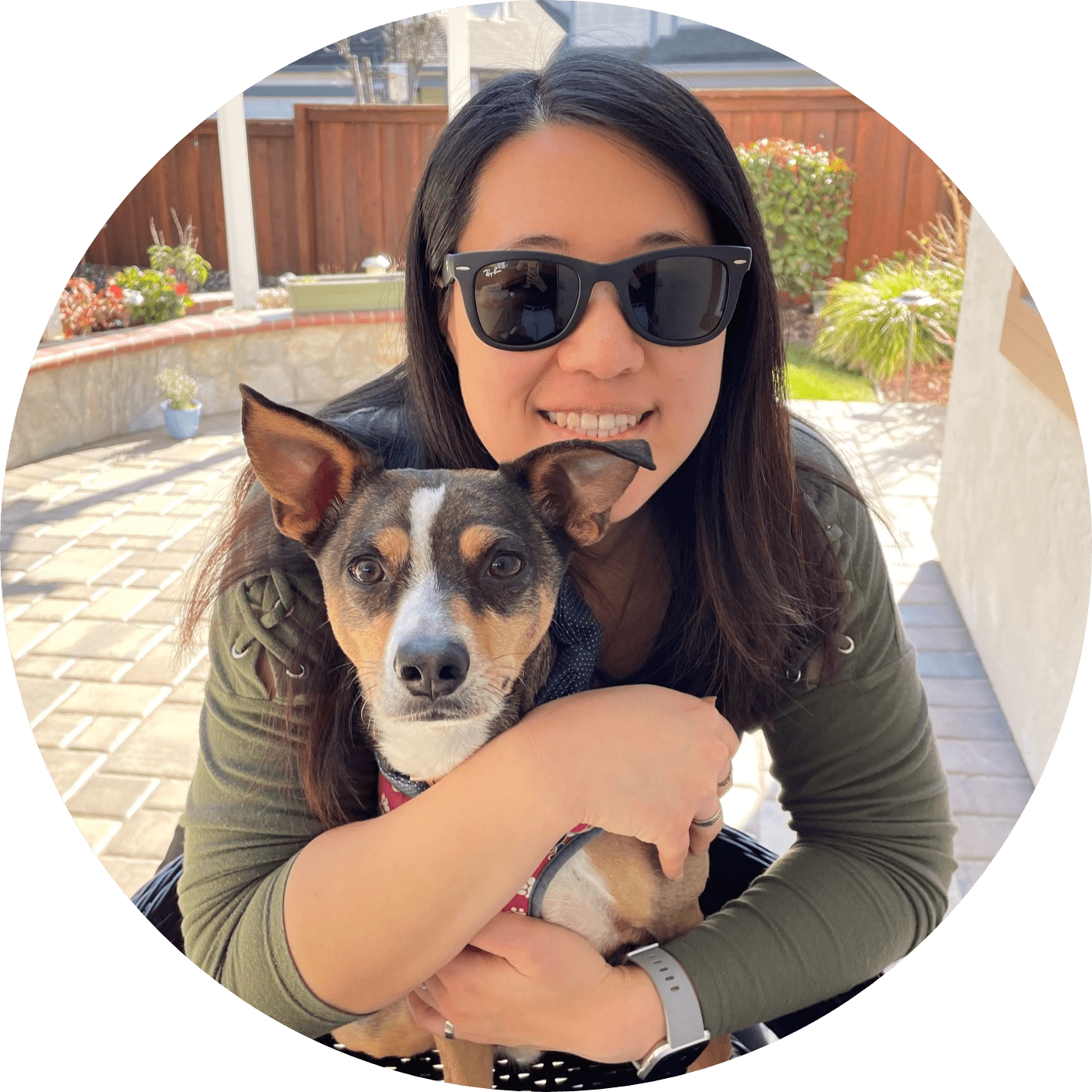 Dr. Sabrina Kong graduated from the Royal Veterinary College in England in 2016 and has been working at a small animal clinic in Northern California since then. She grew up in the Bay Area and got her bachelor's degree from Cal Poly San Luis Obispo. She also became a Certified Canine Rehabilitation Practitioner through a program at the University of Tennessee.
When she isn't in the clinic taking care of her four-legged patients, she enjoys traveling and trying new foods with her friends and her three-legged dog, Apollo. She adopted Apollo from her clinic when he was a puppy with numerous health issues. Dr. Kong truly cares about taking care of animals.