It's heartbreaking to see your pet slowly decline in health due to a debilitating condition. Arthritis is a common ailment that affects dogs, and just like humans, the condition can become severe. You may be wondering when to euthanize a dog with arthritis.
Once you get that unfortunate diagnosis from the veterinarian, there's a lot that goes through your mind. As much as you would love to keep your pooch, you must put its interests first. The reality is that it may be better to end its misery at some point rather than have it continue suffering.
If you are given the prognosis that this bone ailment cannot be effectively treated or cured, your veterinarian can guide you on when to euthanize a dog with arthritis.
Before we go deeper into the instances when to euthanize a dog with arthritis, let's understand this joint ailment a little bit better.
Causes of Arthritis in Dogs
Canine arthritis causes joint inflammation and chronic pain leading to extreme joint malformation.
This joint ailment is common in aging dogs, but it can also appear in younger ones due to injury or regular joint stress. Arthritis can affect any joint, and once the symptoms appear, the condition tends to worsen over time.
All dogs have a probability of developing the condition, but the risk factors can increase due to injury or family history. The leading causes of canine arthritis include:
underlying joint problems
orthopedic injuries
poor nutrition
Osteoarthritis vs. Rheumatoid Arthritis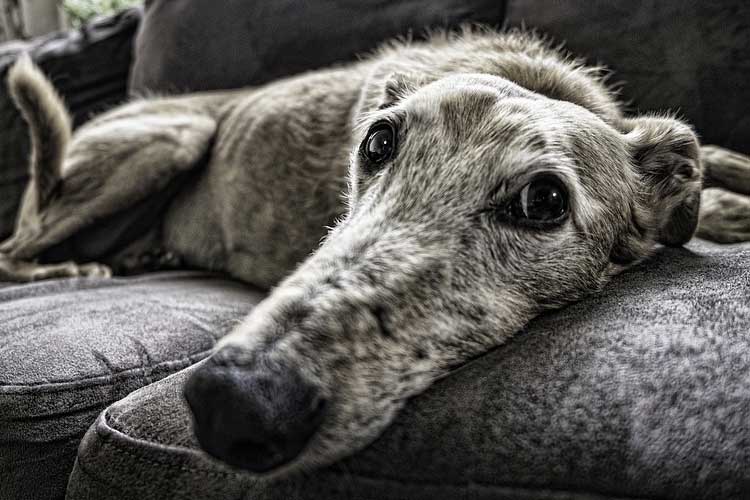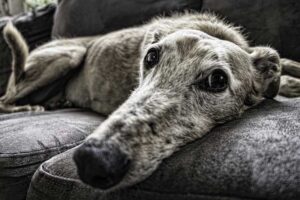 Several forms of arthritis affect dogs, but the two most common variants are osteoarthritis and rheumatoid arthritis. The symptoms of these two degenerative conditions are similar. However, they have different causes. Osteoarthritis occurs due to mechanical corrosion, which causes joint cartilage to deplete. Rheumatoid arthritis is an autoimmune ailment caused by the dog's immune system attacking its joints.
The veterinarian needs to know the type of arthritis your pet is suffering from to administer the proper treatment.
Stages of Arthritis in Dogs
Just like other medical ailments, arthritis in dogs ranges in severity. In this case, four stages define a dog's symptoms and joint deterioration.
Stage 1
The first stage can be defined as 'potentially at risk' since dogs usually do not display significant signs of arthritis. Dogs that fall into this category include those with prior injuries, large breeds, and breeds predisposed to bone disorders.
Stage 2
During this stage, dogs start showing mild signs of arthritis. Some of the common symptoms experienced include slight joint stiffness and reduced flexibility.  It's easy to overlook the potential risk in this stage because the signs are not that obvious.
Stage 3
In this phase, dogs begin to display noticeable symptoms of arthritis. Joint stiffness and pain become more prevalent, making it hard for the dog to do its daily activities.
Pet owners often become aware of the potential risk during this period, and most diagnoses reveal the worst after initial examinations.
Stage 4
Once a dog gets to this phase of the condition,  it will exhibit severe symptoms of bone degeneration.  Some common signs are difficulty moving,  lameness, altered gait, and reduced limb muscle density, among other changes.
It is easy to detect the onset of arthritis in the fourth stage with a physical exam and an x-ray examination.  The sad part about this bone ailment is that the animals often don't have any severe discomfort until the condition is too advanced and irreversible.
Treatment For Arthritis in Dogs
Once you recognize the signs of arthritis in dogs, you must consult a specialist immediately.  A professional diagnosis will help you understand the situation and find a lasting solution.
In the first two stages of canine arthritis, the dog may not have serious symptoms, but treatment is still required to slow the progression of the illness.  Your veterinarian will likely prescribe some supplements and recommend an enriched diet to maintain a reasonable body weight.
This basic treatment regime will slow down joint damage and possibly offer some longevity of life.
The third and fourth stages are more severe, and the dog requires pain relief.  In addition to following the treatment in the first and second stages, your veterinarian will prescribe additional anti-inflammatory medicine.
You can combine the medication with physical therapy, which will help ease pain and discomfort. Some of the options in this category include hydrotherapy, acupuncture, and massage.
Preventative Measures for Dog Arthritis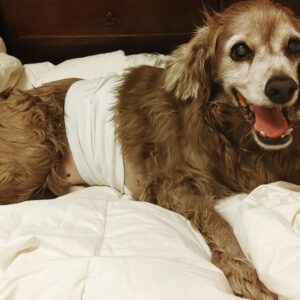 You can implement some pre-emptive strategies to prevent or delay the onset of arthritis.
First, only buy puppies from a credible breeder who understands the animal's family history. You could also ask for x-rays of the dog's limbs to confirm good joint conformation. Puppies shouldn't exercise too much because it puts stress on their joints, and this may lead to arthritis-related injuries.
A balanced nutrient-filled diet is essential for orthopedic health. Make sure your dog's meals include lots of omega 3 and calcium.
Also, you must make sure your dogs have a comfortable sleeping space to prevent them from laying down awkwardly, which can add unnecessary pressure to their joints.
Arthritis and Quality of Life
Once your dog is diagnosed with canine arthritis, you may wonder if it can live with the condition or whether it will succumb.
Arthritis is not directly life-threatening like many other illnesses, but it can seriously affect a dog's day-to-day life.  Some dogs can live a full life with proper care, but the negative symptoms become too severe in many cases.
Once the degenerative bone condition impacts mobility and comfort, end-stage arthritis dog owners face a dilemma whether to keep their pet alive and in pain or euthanize.
Understanding Euthanasia
About one in every five dogs has arthritis or similar degenerative conditions.  As your dog advances in age, the risk of affliction increases significantly.
Once arthritis becomes untreatable and there is no way of managing a pet's pain and discomfort, it's time to seek the last resort – euthanasia.
Euthanasia is a Greek-derived term meaning 'good death.' As much as death may seem grim for your beloved pet, it is often the most humane alternative for severely ill animals.
The decision to have your dog put down saves it from a lot of pain and suffering.
How Euthanizing is Done
You'll be glad to know that euthanizing a dog is quick and does not inflict any pain. Once you book a visit with your veterinarian, you will be allocated a slot either early in the morning or late at night which is often less stressful for pet owners.
Usually, the dog is injected with a sedative to relax, and a liquid barbiturate injection follows this up.  The substance known as pentobarbital overrides the central nervous system causing the dog to drift away peacefully.
The whole process typically takes less than 30 seconds, and dog owners can hold their pets as the procedure is done.  Sometimes it's more comforting to say goodbye in a familiar setting, so you can organize a house call once you make a final decision.
How Much Will It Cost to Euthanize a Dog?
Most veterinarians charge between $50 and $100 for clinic euthanasia. House calls cost upwards of $150.
This price varies depending on any extras you would like to add, such as cremation, a cemetery spot, farewell ceremony, memorial artifacts, among other expenses. We also wrote an article on how you can euthanize a dog for free or cheaply.
When to Euthanize a Dog With Osteoarthritis
Now that you know about arthritis and the process of euthanization,  you have to ask yourself if it is the right time to do it. Your final decision should be based on objective factors since emotions may cloud your judgment.
The following pointers will help you make a final decision based on facts when you find signs of arthritis in dogs.
Quality of Life Assessment Score
If you want to ensure your dog is a suitable candidate for euthanasia, ask your veterinarian for a comprehensive quality of life assessment.  The results of this test are based on a unique scientific scale developed by Alice Villalobos. It's advisable for any dog that scores less than 35 on the scale to be put down.
This scoring system offers a tangible way to assess a dog's mobility, pain levels, energy appetite, and general welfare.
Sometimes it's not enough to trust your instincts when dealing with your pet's wellbeing. A professional examination will help you understand the situation and make the appropriate decision.
Vet Recommendation
By the time your dog is exhibiting signs of stage four arthritis, you will have visited your veterinarian several times.  The veterinarian will gather first-hand knowledge of your dog's health and use data to make assessments during your interactions.
No one is better placed to recommend euthanization than a trained medical professional with solid experience.
When Natural Death is Not a Good Option
Ideally, pets should live out their lives and pass on naturally. But when afflicted by an illness such as arthritis, you may be forced to euthanize.
It's not in the dog's best interest to continue living with a debilitating condition. Natural death may seem like a more humane option but ending pain and discomfort for your canine is more rational.
Medical Incapacitation
When your pet gets to a point where it cannot go about its daily activities, it is cruel to watch the suffering and not do anything.  The rational thing to do is to put it out of its misery.
A quick and painless procedure is better than a life of suffering.
Costly Medical Care
When you are in and out of your veterinarian's practice, and treatment for arthritis in dogs becomes expensive, it may be time to seek a permanent solution. During end-stage arthritis, a dog can rack up some major medical bills that could leave you financially strapped.
A humane transition can end a dog's misery while ensuring that you don't compromise your financial status.
Humanitarian Perspective
It's heartbreaking to watch your loving pet whining and immobilized due to an irreversible illness. Knowing when to say farewell is hard, but sometimes, letting go is the best way to express love.
It is sad to see your pet suffer if you have a humane solution. You may have to dig deep in your heart to make the decision, but it will be the most beneficial for all parties.
Conclusion For When to Euthanize a Dog With Arthritis?
Losing a beloved canine pal is hard. Even with the advancement of medical research, you don't always have the option of nursing your dog back to health. Still, it is not easy to determine when to euthanize a dog with arthritis.
Take time to talk with medical experts and those around you about this significant step you're about to take. While the final decision rests with you, it is essential to get advice and have social support.
Once the process of euthanasia concludes, it is vital to get some closure. If you want to have a send-off ceremony, gather some friends and family for your final goodbyes. You can go a step further and give your pet a tribute by establishing a memorial.
Should you find it challenging to deal with the loss, seek emotional support from a counselor or mental health professional. Remember that letting go is the first step towards healing, and that the cherished memories will always remain.
Other articles you would like:

Dr. Chyrle Bonk received her veterinary degree from Oregon State University in 2010. She has been practicing in a mixed animal clinic in rural Idaho ever since at Clearwater Valley Veterinarian Clinic. When she's not busy writing, treating animals, or working on her cattle ranch, she may be found somewhere in the Idaho wilderness with her husband and kids. Dr. Chyrle Bonk is a writer for We Love Doodles and verifies that the information we post is accurate the up to date! She is also an advisor and editor.
Why Trust We Love Doodles?
At We Love Doodles, we're a team of writers, veterinarians, and puppy trainers that love dogs. Our team of qualified experts researches and provides reliable information on a wide range of dog topics. Our reviews are based on customer feedback, hands-on testing, and in-depth analysis. We are fully transparent and honest to our community of dog owners and future owners.