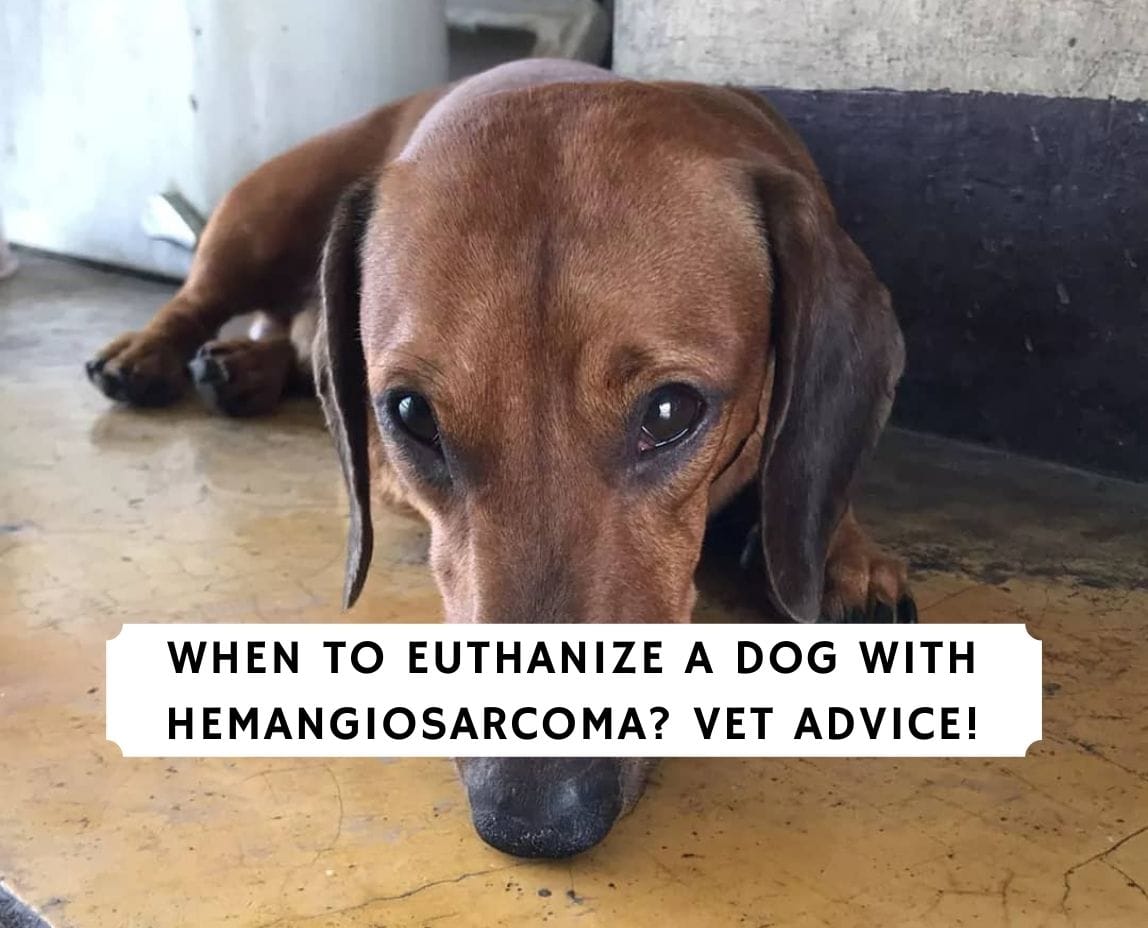 Have you noticed your dog feeling lethargic lately? Maybe your dog is experiencing stomach bloating and loss of appetite? If you have seen these symptoms, you should take your dog to a veterinarian immediately. Your dog could be suffering from a common disease called Hemangiosarcoma.
This disease can affect dogs of all breeds and sizes, so it is imperative you take your dog to the vet if you suspect your dog is suffering from this. Unfortunately, even with veterinary intervention, death rates are high, and you may have to make the hard decision to euthanize your dog who is suffering from this disease. We will give our advice on "When to Euthanize a Dog With Hemangiosarcoma?" from a veterinarian's perspective.
What is Hemangiosarcoma?
Hemangiosarcoma is a type of cancer that affects your dog's blood vessels. Malignant tumors develop from blood vessels making this disease fast-growing and rapidly spreading. These tumors can appear anywhere in the body as blood vessels flow throughout.
However, Hemangiosarcoma is most common to appear in and around a dog's skin, spleen, liver, or heart, as these are the areas with the most significant blood supply. This disease can affect any breed of dog but is especially common among Golden Retrievers, German Shepherds, and Labrador Retrievers. If you own one of these breeds, it is essential to educate yourself on this disease and be watchful for symptoms. 
Unfortunately, because blood vessels travel throughout the entire body, this disease spreads quickly and easily. These tumors' malignant nature also contributes to the rapid spread of cancer through your dog's body. These tumors directly affect the organs where they are located.
The tumors are also prone to bursting because of the unique makeup of the tissues comprising the tumor. If a tumor bursts, it is a medical emergency as your dog is experiencing internal bleeding. This occurrence requires immediate medical attention by a professional.
Types of Hemangiosarcoma
There are two primary types of Hemangiosarcoma that your dog can develop: visceral (internal) and dermal (subcutaneous and cutaneous). Symptoms and prognosis may vary slightly between the two kinds of Hemangiosarcoma. However, they are both equally dangerous and malignant. 
Visceral Hemangiosarcoma
The more dangerous of this kind of cancer, visceral Hemangiosarcoma, affects the internal organs of dogs. Most commonly, you will find this cancer in the heart, spleen, and liver. These tumors are located in and around these organs. This type of cancer spreads rapidly throughout the dog's body, often causing complications with multiple organs. 
Dermal Hemangiosarcoma
The dermal type of Hemangiosarcoma affects the skin of the dog. This type can be subcutaneous (below the skin) or cutaneous (on the skin). Dermal Hemangiosarcoma often appears as a discolored lump along your dog's skin. Dogs with the dermal type usually have a slightly longer life than those with the visceral type. However, dermal Hemangiosarcoma becomes visceral Hemangiosarcoma in two-thirds of cases.; this is because the cancer is malignant and spreads extremely rapidly throughout different parts of the body. 
Signs and Symptoms of Hemangiosarcoma
Often referred to as a disease that strikes without any warning, Hemangiosarcoma has many common symptoms. Unfortunately, in many cases, noticeable symptoms only manifest after a tumor has ruptured; this results from the rapidity in which this cancer spreads in dogs. 
Noticing symptoms of visceral Hemangiosarcoma is often a challenge. Being aware of the first signs of internal bleeding ensures you can get your dog immediate medical care. You will find some of the significant symptoms listed below. Most of these symptoms indicate internal bleeding, so it is essential to immediately get your dog to the vet. 
Lethargy

Weakness

Paleness in the gums

Loss of appetite

Bloated stomach 

Nose bleeds
Some dogs may experience symptoms before bleeding occurs. These symptoms are associated with the organ on which the tumor is located. Because of the hidden nature of the visceral type of Hemangiosarcoma, it is harder to notice. The heart, spleen, liver, and other internal organs are hidden from plain sight, so you will not be able to see tumors forming in these areas. These are the deadliest, as symptoms typically do not become visible until bleeding begins. 
Symptoms of the dermal type are easier to identify. These include discolored lumps found across the dog's skin. These lumps can be blue, black, or red in color. However, in most cases of dermal Hemangiosarcoma, cancer has spread internally as well. 
Diagnosing Hemangiosarcoma in Dogs
A diagnosis of Hemangiosarcoma is determined by a professional veterinarian who has completed surgery on the dog. If you manage to bring your dog to the vet before the tumor bursts, your vet may be able to remove it and perform a biopsy to confirm if it is a Hemangiosarcoma tumor or a different type of tumor. 
Ultrasounds, x-rays, and CT scans are used to determine the tumor's location and the severity of spreading. Once these are performed, a vet can determine whether a dog can undergo surgery to remove the tumor for further testing. Unfortunately, in most cases, many dogs are not fit for surgery because of this unique cancer's aggressive nature. 
Treatment for Dogs With Hemangiosarcoma
If you bring your dog to the vet and the tumor has already burst, emergency surgery will be crucial to saving your dog's life. However, blood work and x-rays will need to be taken before surgery as complications can occur. Blood work will assess your dog's organ function, blood cell count, and blood clotting ability. These tests will contribute to the decision on whether your dog is safe to undergo surgery. The x-rays will determine whether cancer has spread to other parts of the body. If the cancer is found throughout the dog, surgery will not be beneficial. 
On the other hand, if you bring your dog in before the tumor has burst, a removal surgery is possible. However, the x-rays, ultrasounds, and CT scans will still need to be performed because there is a chance cancer has spread. Removal is most common and effective in dogs' dermal tumors rather than internal tumors. You may also choose to give your dog chemotherapy to minimize the spread of cancer cells after removal.  
The Prognosis for Dogs With Hemangiosarcoma
Unfortunately, the prognosis for dogs with Hemangiosarcoma is not good. If you manage to get your dog to the vet in time for surgery, your dog will still only have an average of 1-3 months to live. If your dog undergoes surgery and chemotherapy, your dog has approximately 5-7 months to live. In a rare 10% of cases, some dogs live for over a year after being diagnosed with Hemangiosarcoma. 
In some cases, dogs with dermal Hemangiosarcoma have a greater possibility of living longer. Dogs whose tumors are located on the skin have a more straightforward removal process. Depending on whether cancer has spread or not, they have the possibility of remaining cancer-free. This prognosis is uncommon but still possible. 
When to Euthanize a Dog With Hemangiosarcoma
As you can see, for most dogs with this type of cancer, an effective treatment will only briefly prolong life. The significant problem is this prolongation may result in unnecessary suffering for your dog. If you can get a diagnosis before the tumor bursts or the cancer spreads, surgery is an option. However, most of the time, the tumor has already burst, causing excruciating pain for the dog, or cancer has spread throughout the body, making it virtually unmanageable. We suggest that you consider euthanizing a dog with Hemangiosarcoma when it is suffering and can no longer live a quality life.
In some cases, depending on the severity, your dog may die naturally, or your vet will recommend euthanization. In less severe cases, your veterinarian may still give you the hard choice of putting your dog down in order to avoid pain and suffering that will develop. Remember that your dog's happiness will suffer if you allow it to live in pain for an extended amount of time. 
If you decide to euthanize a dog with Hemangiosarcoma, your dog may get the option to perform this in the comfort of your home. In severe cases, dogs may require euthanasia while at the vet as they will not make it home. In other cases, you may be allowed to bring your dog home, where you can make sure its last moments are comfortable. A professional veterinarian will then visit your home and perform the procedure, allowing your dog to enjoy its final moments in a relaxed setting surrounded by loved ones. 
Conclusions Euthanizing a Dog With Hemangiosarcoma
As you can see, Hemangiosarcoma is a very aggressive type of cancer that is common among dogs. Signs and symptoms can manifest in many ways, most of which are painful and irreversible. After a diagnosis has been given, your vet can help you determine the most appropriate way to proceed.
In some cases, no treatment is the best treatment as your dog will only suffer more if it undergoes surgery or is left to live with the disease. In these cases, euthanization would be the most humane option. In the end, this difficult decision is up to the owner. However, it would be best to consider your veterinarians advice as they have an in-depth understanding of the disease and only want what's best for your dog. 
Other articles you might like:
What to learn more about when to euthanize a dog with Hemangiosarcoma? Check out the video below:

Dr. Chyrle Bonk received her veterinary degree from Oregon State University in 2010. She has been practicing in a mixed animal clinic in rural Idaho ever since at Clearwater Valley Veterinarian Clinic. When she's not busy writing, treating animals, or working on her cattle ranch, she may be found somewhere in the Idaho wilderness with her husband and kids. Dr. Chyrle Bonk is a writer for We Love Doodles and verifies that the information we post is accurate the up to date! She is also an advisor and editor.
Why Trust We Love Doodles?
At We Love Doodles, we're a team of writers, veterinarians, and puppy trainers that love dogs. Our team of qualified experts researches and provides reliable information on a wide range of dog topics. Our reviews are based on customer feedback, hands-on testing, and in-depth analysis. We are fully transparent and honest to our community of dog owners and future owners.