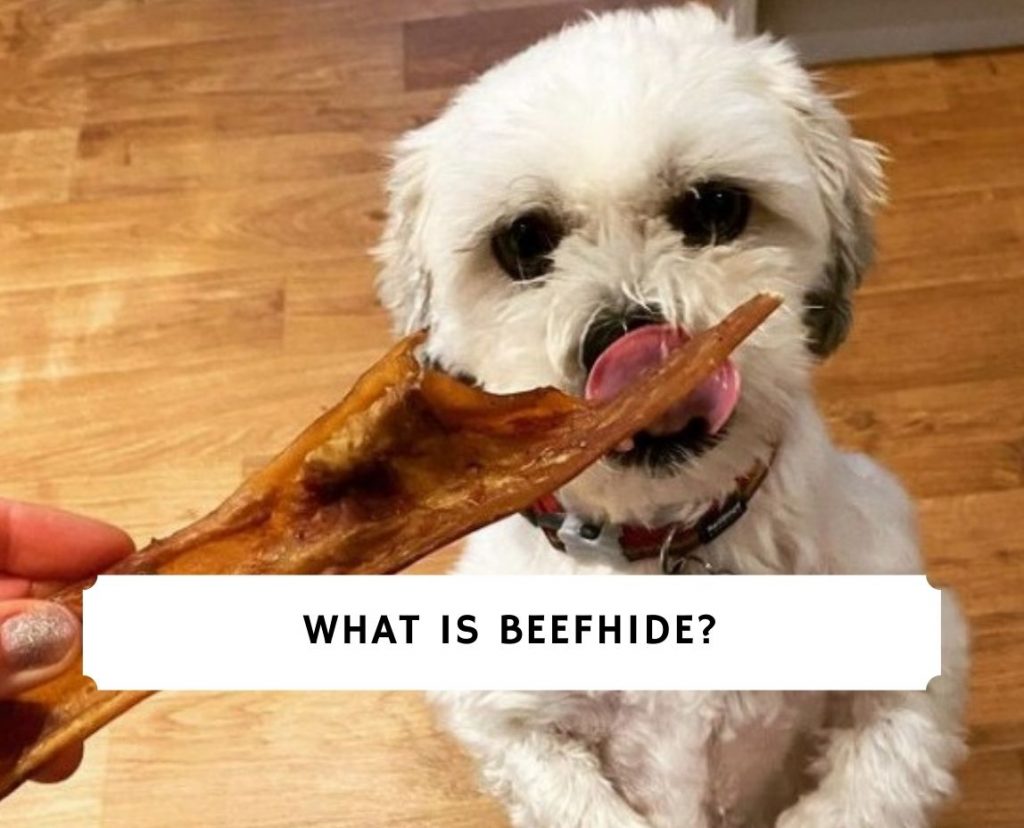 The moment you're searching for your dog's food or snacks, you come across Beefhide, and now you're wondering, "What is Beefhide?" Beefhide is a dog treat made entirely from the inner skin of cows. It's mostly substituted for rawhide, but the only difference is that rawhide is made from bovine livestock with cleft-hooves.
Beefhide is high in protein with low-fat content. Additionally, it is also very low in calories. Beefhide treats are very good for dogs that love to chew, and they also help keep their teeth clean by getting rid of tartar and bacteria.
Benefits of Beefhide
There is a lot of skepticism about Beefhide treats, but they offer a wide range of benefits. Here are some fantastic benefits your dog can enjoy from Beefhide treats:
It removes plaque and tartar and keeps your dog's teeth clean. As it chews on the cuts, the hide scrapes off tartar and calculus, especially in the not-so-easy-to-reach areas where harmful bacteria typically hide. It greatly reduces your dog's chances of having gum disease and tooth decay.
Beefhide is perfect for relieving stress and calming your dog. Chewing is an excellent stress reliever for dogs. You must continuously provide your dogs with non-harmful chew toys and bones in order to keep them busy.
Beefhide is an excellent way to work the dog's jaw and facial muscles.
It helps to keep your dog engaged, especially when you're busy. Beefhide is a long-lasting chew!
Beefhide treats allow your dog to use their natural chewing reflexes on a proper item instead of using your pair of loafers. These chews can help distract your job from destroying your house and personal items.
Risks Associated with Beefhide Treats
1. Digestive irritation.
Some dogs are very sensitive or hyperallergic to rawhide or other substances used in their production. It can lead to problems like diarrhea. If your dog eats Beefhide or rawhide and you notice soft stools, you should try to find an alternative dog treat.
2. Contamination.
Similar to all pet toys, some Beefhide treats may contain small quantities of toxic chemicals. Like other animal foods, Salmonella or E. coli contamination can also occur. Humans can also be affected when they come in contact with the bacteria on rawhide treats. 
3. Choking or blockages.
Beefhide bones and other dog treats can cause blockages and may lead to choking problems. There's also a higher chance of inflammation in the digestive system. 
When your dog swallows big pieces of these Beefhide treats, it can lodge in their throat or other areas of its digestive system. The veterinarian can easily take out the pieces by passing through his throat based on their size and location. However, surgery must be done in severe cases to remove them from the stomach or their intestines. If left untreated, gastrointestinal blockage can be fatal.
What Can I Do To Prevent These Risks?
Due to the various risks associated with Beefhide treats, it's best to be cautious when choosing your dog treats. If you are very careful, you can prevent many of such problems from happening. There's no need to keep your dog from enjoying such treats, especially if they love them.
Here is a list of safety measures for protecting your dog from any dangers:
Always wash Beefhide properly before giving it to your dog. This not only helps to remove some of the smell but can get rid of some bacteria.
Pick larger treats that your dog cannot swallow immediately. The perfect size of the treat will depend on the dog breeds you have.
If the treat becomes soft, take it away carefully and replace it with a new one.
Remove any pieces that are smaller than your dog's mouth to prevent them from swallowing the Beefhide before chewing it.
Eat in moderation. The Beefhide or rawhide puppy treats should be given in moderation; it shouldn't be part of their daily menu.
Always stay close to your dog whenever they're eating so that you can help them in case of a health hazard. You should consult your veterinarian before starting them on a new treat. Many problems can be prevented if you seek expert advice.
Talk to your vet about the right quantity for your dog. As a rule, the smaller your dog, the fewer pieces you should give them. When you first introduce the treats to your dog, start with one piece at a time. Wait for at least a day to see how their digestive system reacts to it.
Remove other pets or distractions. This will reduce their chances of eating large rawhide pieces whole when they get excited. Additionally, some dogs are very aggressive and territorial with food.
Give them other types of dog treats and see how they eat them. Do they swallow large pieces? Do they choke or gag as they eat? Talk to your veterinarian about other substitutes for your dog.
Beefhide Rawhide Treat Alternatives
If you are still concerned, and you want to avoid Beefhide treats completely, here is a list of other substitutes that you can use: 
1. Pegetables
Many pet stores have Pegetables. They are made of dental dog chews produced from the very vegetables. These include peas, carrots, and potatoes. Vegetables are gluten-free and do not contain grain or corn. They're also straightforward to digest. Vegetables also keep your dog's breath fresh and help to clean their teeth.
2. Bully Sticks
Many dog parents love bully sticks as they are free from chemical additives and preservatives. They also last for a considerably long time. The only drawback is that most of them have a strong odor.
3. Antlers
Deer or Elk antlers have high amounts of zinc, manganese, calcium, and potassium. They don't have a pungent odor like most dog treats. Unfortunately, antlers are very hard and your dog can fracture their tooth if they chew on it aggressively. Elk antlers are a little softer than deer antlers, but no matter the antler you choose, monitor your dog as they eat them.  
4. Salmon Skin Bones
Salmon skin bones are made from the inner skin of salmons. They're excellent for dogs who are hyperallergic or sensitive to other protein-rich foods. They're also suitable if your dog is very selective with vegetables. Salmon skin bones are great for your dog's fur, but you should always be there when they eat them. If they swallow a piece, it could lead to choking.
5. Eldon's Tendons
One of the effective ways of maintaining oral health is by flossing. If you give your dog tendons, they can floss with them too. Tendons are stringy, and they will sink into the dog's teeth as it becomes tender.  
Eldon's Beef Tendons are easily digestible and great for all dogs. Choose the appropriate size and protein best for your dog. Beef, lamb, and bison are the most common types of tendons.
Conclusion For "What is Beefhide?"
Beefhide treats are a very delicious addition to your dog's menu. They offer lots of benefits to your dog and are full of flavor. However, you must be cautious when giving your dog Beefhide treats. While there are benefits, there are risks as well. If you're feeding your companion, it's recommended to diversify their meals and treats to maintain a balanced diet.
For more informative guides and recommendations, check out these articles from WeLoveDoodles:
Garrett loves animals and is a huge advocate for all Doodle dog breeds. He owns his own Goldendoodle named Kona. In addition, he volunteers at the Humane Society of Silicon Valley, where he fosters dogs and helps animals. Garrett enjoys writing about Doodles and believes that dogs can teach humans more about how to live than humans can teach a dog.
Why Trust We Love Doodles?
At We Love Doodles, we're a team of writers, veterinarians, and puppy trainers that love dogs. Our team of qualified experts researches and provides reliable information on a wide range of dog topics. Our reviews are based on customer feedback, hands-on testing, and in-depth analysis. We are fully transparent and honest to our community of dog owners and future owners.