Cerenia (maropitant citrate) is used to treat vomiting caused by canine motion sickness and medication-induced vomiting. It's the first and only FDA-approved anti-vomiting medication. Due to the nature of maropitant citrate, it is very effective in most cases and is very safe for your dog.
Many are drawn to Cerenia as an effective treatment for vomiting as it is non-sedating, administered only once a day, and is fast-acting with 24-hour efficacy. Maropitant is also dosed by weight. This means it's tailored to your dog and gives them the best option for relieving negative symptoms from vomiting.
Whether you're about to go on a road trip with your dog or you're preparing for an upcoming surgery, Cerenia is there to help you and your dog along the way. We do always recommend you consult a veterinarian if you're unsure of how much Cerenia to give your dog.
Cerenia Dosage for Dogs
How Does Cerenia Work?
Although many things can cause vomiting in dogs, the system involved in triggering this symptom is the same. When set off, the central nervous system sends out a neurotransmitter known as substance P, which binds to the neurokinin-1 (NK1) receptor in the vomiting center.
In the proper dose, maropitant citrate will inhibit the binding of substance P to NK1, preventing your dog from feeling the need to vomit.
For example, motion sickness is caused the same way in humans as it is in dogs. When we look off in the distance, the horizon is stable and unmoving.
Is Cerenia Effective?
A randomized study from 2007 was conducted to test whether a maropitant dose for dogs reduced the occurrence of vomiting from a variety of causes.
The results showed that 97% of dogs treated with maropitant did not vomit after treatment in comparison to 71% of dogs treated with metoclopramide (an anti-vomiting medication, also known as Reglan, that works by stimulating small intestinal movement to prevent esophageal reflux).
If you're not sure why your dog has started vomiting, Cerenia is still very effective in treating its symptoms.
In a field study that tested 138 dogs with a history of motion sickness, it was found that 93% of those treated with Cerenia did not have a vomiting episode. Only 48% of those on the placebo did not vomit. The results show that a dosage of Cerenia significantly decreases the likelihood of vomiting.
Studies have shown that maropitant doses are safe and effective in the treatment and prevention of cisplatin-induced vomiting.
If your pet is currently undergoing chemotherapy as a treatment for another illness, consider administering Cerenia before their treatment. It may greatly reduce negative symptoms such as weight loss due to poor appetite and vomiting.
What Is the Appropriate Cerenia Dosage for Dogs?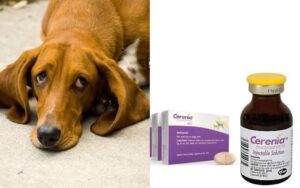 Cerenia is a peach-colored tablet and is available in dosages of 16, 24, 60, or 160 mg.
Commonly, Cerenia is given in a 60 mg dosage for dogs weighing over 65lbs. If your dog is smaller than that, you have the option of 16 or 24 mg tablets.
Cerenia injectable doses can be supplied in 20mL amber glass vials where 1 mL = 10 mg of maropitant citrate.
Cerenia for Dogs: Dosage by Weight
When administering for motion sickness, dogs 4 months and older can receive a minimum tablet dosage of 3.6mg/lb (8mg/kg) for two consecutive days.
The tablet should be administered only once a day, which is convenient for both you and your dog. The use of Cerenia tablets cannot be used interchangeably with injectables when preventing or treating motion sickness.
For prevention of motion sickness in dogs older than 4 months:
2 – 2.2lb = (½) 16mg tablet
2.3 – 3.3lb = (½) 24mg tablet
3.4 – 4.4lb = (1) 16mg tablet
4.5 – 6.6lb = (1) 24mg tablet
6.7 – 8.8lb = (2) 16mg tablet
8.9 – 13.2lb = (2) 24mg tablet
13.3 – 16.5lb = (1) 60mg tablet
16.6 – 22lb = (½) 160mg tablet
22.1 – 33lb = (2) 60mg tablet
33.1 – 44lb = (1) 160mg tablet
44.1 – 66lb = (1 ½) 160mg tablet
66.1 – 80lb = (2) 160mg tablet
88.1 – 132lb = (3) 160mg tablet
In cases of acute vomiting dogs 2-7 months of age, administer Cerenia tablets orally at a minimum dose of 0.9mg/lb (2mg/kg) once daily for up to 5 consecutive days. If vomiting continues, contact your veterinarian. In dogs 7 months and older, administer a minimum dose of 0.9mg/lb (2mg/kg) once daily orally until resolution of acute vomiting.
For prevention of acute vomiting, dispense whole or half tablets in strengths that closely result in a 0.9/lb dose:
8lbs – (½) 16mg tablet
15lbs – (1) 16mg tablet
25lbs – (1) 24mg tablet
50lbs – (2) 24mg tablets
65lb – (1) 60mg tablet
130lb – (2) 60mg tablets
Liquid Cerenia Dosage
Cerenia injectables are administered subcutaneously to dogs 4 months and older at 0.45 mg/lb (0.1mL/1kg) once daily for up to 5 consecutive days.
Administering with an injectable is recommended as an initial treatment for dogs that are actively vomiting. It is recommended at 0.45mg/lb to begin, then subsequent dosages can be interchangeable between injectable or in tablet form.
Example: 0.45mg x ___ lbs = injectable dosage
Keep in mind that those that receive an injectable for acute non-specific vomiting must be evaluated for underlying causes. If vomiting continues despite treatment, talk to your veterinarian.
How Often Can I Give Cerenia to My Dog?
Preventing Motion Sickness
When using Cerenia to prevent motion sickness, it is recommended that you administer Cerenia 2 hours before leaving for your trip. Your pet shouldn't eat for 1 hour before taking Cerenia.
Try avoiding using fatty foods such as sausages and pill pockets as they may decrease the effectiveness of Cerenia. Alternatively, you can wrap their dose in deli slices, cheese, or peanut butter. Treatment of motion sickness with maropitant should not exceed consecutive doses beyond two days.
When traveling with your pet remember to gather the contact information for local vets and hospitals in the case of an emergency.
Treating Acute Vomiting
If your dog is suffering from acute and non-specific vomiting it is recommended to initiate Cerenia dosing as an injectable, as you will see the effects much sooner than in tablet form.
If you only have access to tablet dosage that is more than sufficient as well.
You can administer Cerenia in the correct dosage by weight once-daily for 5 days for dogs 2 to 5 months of age. If they are 7 months and older, you may administer the Cerenia dosage to your dog until the vomiting has ceased.
Treatment for Postoperative Vomiting
Speak with your veterinarian to discuss the possible use of Cerenia for your pet's upcoming surgery. It can prevent postoperative acute vomiting and allows your pet to return to its normal self sooner. This brings a lot of relief to you as much as it does to your pet.
Check out for more: Best Bone Broth for Dogs Reviews! and How Long Does it Take for a Dog to Gain Weight?
Cerenia is Not Recommended For All
There are some situations when you should not administer Cerenia. If your dog is experiencing vomiting as a reaction to any of these situations, then it is not recommended.
Gastrointestinal obstruction
Vomiting due to ingesting toxins
Hepatic dysfunction
Puppies younger than 11 weeks of age
The effects of maropitant have not been evaluated in dogs used for breeding, those that are currently pregnant or lactating.
Cerenia Dosage For Dogs – Your Options
Weigh the Pros and Cons
It's important to consider all your options to decide what will be the best choice for your furry friend. There are many situations in which you may want to use Cerenia for your pet. While maropitant is safer than most anti-vomiting products, there are still some things that you should look out for after administering a dose of Cerenia to your dog.
Common side effects include:
Loss of appetite
Loose stool
Mucus in stool
Bloody stool
Increased drooling
Fatigue
Trembling/tremors
Anxiety
Pain at the injection site (if using an injectable dosage)
Vomiting
Anaphylaxis
Anaphylaxis is not a common side effect when using Cerenia, roughly 1 in 10,000 dogs have had this reaction. Contact your vet if you notice any difficulty breathing, swelling, or skin changes.
For a full list of adverse reactions based on the method of treatment, view the manufacturer's pamphlet.
Benefits of Cerenia
Non-sedating
Once your pet has stopped vomiting it allows the veterinarian to assess what may be the cause.
Allows your pet to ingest and absorb medications necessary for their treatment.
Decreases distress in your dog and help them to feel calmer.
Increases post-surgical appetite.
How to Choose Which Cerenia Dosage:
Considering which dosage for your dog is the best varies on a handful of scenarios. First, evaluate the reason for vomiting. Next, calculate the dosage by weight as was stated earlier. Provided below is a reference for the varying situations and how best to administer the Cerenia dosage for dogs.
What is the cause of the vomiting?
Motion sickness
4 months and older: dosage by weight, once-daily for 2 days.
Administer 2 hours before travel with a small amount of food (preferably non-greasy snacks).
If vomiting persists contact your veterinarian.
Non-specific acute vomiting (tablet and injectable doses can be used interchangeably)
Cerenia Tablets for Dog Dosage
2-7 months: dosage by weight, once-daily for 5 days.
If symptoms persist, contact your veterinarian.
7 months and older: dosage by weight, once-daily until symptoms are resolved.
Cerenia Injectable Dosage for Dogs
2-4 months: 0.45 mg/lb (equal to 0.1mL/2.2lb) once-daily for 5 days.
4 months and older: 0.45 mg/lb (equal to 0.1mL/2.2lb) once-daily for 5 days
Recommended as the first dosage if actively vomiting.
Postoperative and cancer treatment symptoms
Discuss with your veterinarian the possible use of Cerenia as a perioperative treatment to reduce vomiting as a postoperative symptom.
Administer 45-60 minutes before procedures.
Consult with your veterinarian if you have any questions regarding this information. This advice is not to take precedence over medical authority.
Cerenia for dogs is your best option to treat any type of vomiting. Although vomiting is very common in pet care, thanks to Cerenia, both you and your pet have less to worry about.
You will also like: