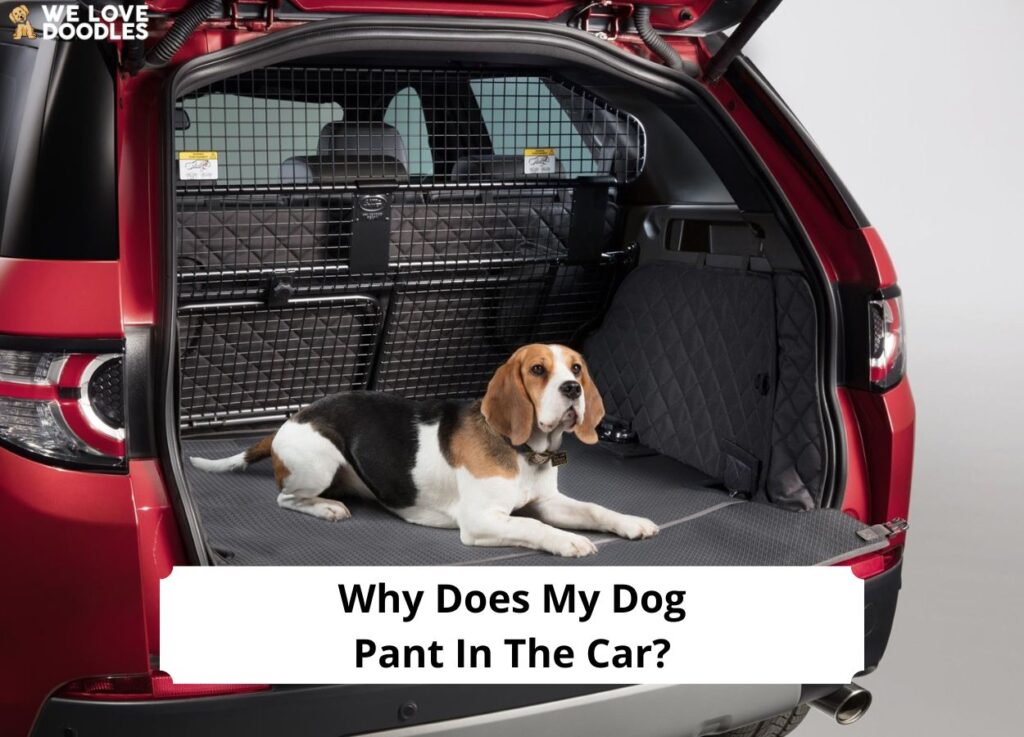 Dogs make excellent traveling buddies because they like hanging out with their humans. If you travel regularly or enjoy taking your dog places, training them to adjust to car rides is essential.
Most dogs have little problem traveling in cars, but some can become agitated and exhibit odd behaviors like excessive panting, which can make it difficult to bring your furry friend on a journey.
Typically, dogs pant in the car because they are struggling with a high body temperature, motion sickness, dehydration, stress and anxiety, discomfort, injuries, or illnesses.
These issues can be resolved by cooling down your dog with either air conditioning or wind, blocking its vision to prevent it from getting overwhelmed, taking it out for a quick walk, providing clean drinking water, acclimating it to car rides with frequent and short rounds, and taking it to the vet for professional help.
We have developed the perfect guide for you to understand the most common reasons why your dog might pant in the car, as well as ways to solve it.
Before scrolling down to the answer of this guide "Why Does My Dog Pant in the Car," check out: Why Does My Dog Jump on Me? (2023) and Why Does My Dog Stare Into Space? (2023).
Why Does My Dog Pant and Shake in the Car?
Whether inside a car or elsewhere, dogs pant for a variety of causes. It is their method of unwinding after physical activity or keeping their bodies cool on sweltering summer afternoons. The majority of them do not necessitate a trip to the doctor. Others are dangerous and require immediate medical intervention. If your dog begins panting as soon as it settles into its position, it is attempting to communicate with you.
Because dogs cannot communicate with their owners in other ways, they use nonverbal cues like panting to translate their emotions. Therefore, it is important to analyze your dog's behavior to determine any issues it might have.
Heat and Body Temperature
Elevated body temperatures are among the most prevalent reasons pups pant. On a hot day, it can be tougher for dogs to cool off, particularly if they have thick coats. It is natural for your dog to pant when it is feeling hot because dogs, unlike humans, do not possess sweat glands.
Their sweat glands are only found in their paws and a few other places, making it challenging for them to cool off. Therefore, panting becomes a way for them to expel heated air and cool themselves. The simplest way to resolve this is to put on the air conditioning and see if your dog's respiration returns to normal.
Motion Sickness
If your dog isn't used to traveling in a car, motion sickness might induce panting. This habit normally diminishes over time as dogs become accustomed to car rides. Younger dogs are more susceptible to motion sickness than older dogs.
Motion sickness is caused by a loss of synchronization between the eyes and the inner ear, which controls balance. For instance, your dog might get motion sickness from looking at fastly moving trees and cars. If you notice your dog is ready to puke, you must pull over and let him walk for a bit. This assists it in getting over the motion sickness and stabilizing.
Dehydration
Dehydration is another probable cause of panting in dogs during car rides. It shows up due to a variety of factors, such as extreme temperatures, both hot and cold. Your dog can also be at risk of dehydration if its water intake is not enough.
Stress
Dogs also pant in the car because of anxiety. Dog owners frequently take their pups on car rides only when they need to see a veterinarian. This establishes a link between the car and the vet in your dog's mind, making it uneasy and fearful of the experience.
Dogs that are unfamiliar with car trips may experience anxiety as a result of the changing surroundings. Dogs might become overwhelmed when they see the trees and vehicles speeding by. To lessen anxiety, get your dog acclimated to regular vehicle trips. This helps your traveling companion relax and quit panting.
Pain and Diseases
Another component that can contribute to panting in cars is pain. When dogs are experiencing discomfort, some may whimper, while others will pant. If your dog shrieks when you hold him or stroke him, make a note. Yelping indicates that your dog has been injured and requires medical assistance.
Large dog breeds also find it frequently difficult to seat properly in a car which can make them uncomfortable and lead to panting. Sometimes, the panting may resemble strained breathing rather than typical gasping. For example, when your dog's eyes are closed in discomfort, the tongue may remain within the mouth.
Several factors could be the culprit. It might be a physical injury that you didn't detect right away. For instance, senior dogs are more susceptible to damaging tendons in their knees. Your dog could have made it to the car before the agony kicked in.
If there is no visible physical injury, there might be an underlying issue. Inflammatory bowel disorders, parasite infections, and bloating have all been linked to chronic discomfort.
It's also entirely plausible that your dog's panting is unrelated to the car ride. In dogs, panting can sometimes be caused by a medical condition and by a variety of illnesses, including nausea, pneumonia, cardiovascular disease, or a pulmonary problem. If you suspect that is the case, you should seek urgent veterinary care for your pup.
How Do You Calm a Dog if It Pants in the Car?
Riding in the car with your delighted furry companion's tongue fluttering about is a wonderful picture, for certain. However, many dog owners feel like this bubble is soon to burst and cannot envision moments of peace in the car.
Their dog is panting, dribbling, trembling, and generally dislikes the driving experience. Simply rounding the next corner may transform the journey into a vomiting horror. Owners feel compelled to keep their dogs at home as a result.
If your dog pants in the car incessantly, causing you the same problems we discussed above, the best course of action is to spend a minute helping your dog relax. Turn on the air conditioning or pull down the windows of the car, and wait for a while until their breathing returns to normal.
If your pup is still restless, you should stop the car and take them out for a short stroll to help them destress. However, if your dog is panting due to dehydration, this may not be a great option because it might end up making them more lethargic and in the worst-case scenario, your dog may even pass out.
This is why it is important to first assess why your dog is panting in the first place. You can only make that judgment if you are aware of and up-to-date on your dog's diet and medical conditions.
If you believe your dog's panting is due to thirst, you must act quickly. Provide them with safe drinking water. If your dog refuses to drink, you should take it to the vet right away. A variety of disorders can trigger dehydration.
There are various illnesses that can prevent your dog from drinking water. Your veterinarian will assist you in identifying the issue and its remedy. If necessary, your veterinarian can hydrate your pup via IV drips.
Similarly, your best bet is the vet if you suspect your dog has a physical injury or underlying disease. The earlier you seek help, the quicker and better your pup will recover from any issues it might be facing.
The most straightforward solution is to limit your dog's vision of the surrounding environment. The same holds true for people. Humans can, however, take actions to mitigate the impacts, and dogs are unable to. Hopefully, hiding the vision will alleviate any nausea.
Consider using a plastic crate for your dog and putting a sheet on top of it to block vision. However, your dog will still feel the effects of the moving vehicle. To prevent the occurrence of motion sickness, you should also expose your pup to the sensation of movement, and eventually, they will come to enjoy it.
If your dog pants in the car due to stress or anxiety, positive reinforcement might be essential in this situation. If your dog is nervous about traveling in your car, take the time to demonstrate to them that there is no reason to be scared of car rides. Try to take short outings with your dog now and again. They will eventually become acclimated to the sensation and begin to like it.
Frequently Asked Questions
How do I know if my dog has car anxiety?
Some telltale signs include an unwillingness to go in the car, whining, barking, restlessness, trembling, and panting.
How do I calm my dog in the car?
High-reward treats, favorite toys, and practicing with short trips can help calm your dog. Longer term, it's best to get your dog used to the car by training them to sit calmly, one step at a time.
What is the best dog-safe sedative for car travel?
You can consider vet-prescribed options like trazodone, gabapentin, and alprazolam to lower your dog's anxiety in the car, especially for longer trips.
Conclusion for "Why Does My Dog Pant In The Car"
As we said earlier, panting is a natural dog instinct that notifies pet parents to pay attention to their pups. Understanding your dog's panting cues will help you swiftly resolve whatever is bothering your furry friend.
If you find this guide, "Why Does My Dog Pant in the Car," helpful, you can check out these other dog questions:
You can learn more about dog panting in the car by watching "Why Do Dogs Pant In The Car (Answered)" down below:
Garrett loves animals and is a huge advocate for all Doodle dog breeds. He owns his own Goldendoodle named Kona. In addition, he volunteers at the Humane Society of Silicon Valley, where he fosters dogs and helps animals. Garrett enjoys writing about Doodles and believes that dogs can teach humans more about how to live than humans can teach a dog.
Why Trust We Love Doodles?
At We Love Doodles, we're a team of writers, veterinarians, and puppy trainers that love dogs. Our team of qualified experts researches and provides reliable information on a wide range of dog topics. Our reviews are based on customer feedback, hands-on testing, and in-depth analysis. We are fully transparent and honest to our community of dog owners and future owners.