Dogs have many unusual behaviors, from sleeping on their backs to walking in circles before settling down. Your dog might even sleep between your legs when you crawl into bed, making you look more like a human pretzel than a comfortable pet owner.
When it becomes a habit, you might be asking: "why does my dog sleep between my legs?" We've got the answers. You might be surprised to find that dogs sleeping between their owners' legs is pretty common. But why do they do it?
Before scrolling down this guide, "Why Does My Dog Sleep Between My Legs," you can check out these other dog questions: Why Does My Dog Sleep At The Foot Of the Bed? and Why Is My Dog Suddenly Sleeping Alone?
Reasons Why a Dog Might Sleep Between the Owner's Legs
No, your four-legged friend isn't just trying to make you uncomfortable while you sleep. There are a few legitimate reasons why your dog might be sleeping between your legs.
Pack Instinct: Being pack animals, dogs are attuned to sleeping close to their mates for security, warmth, and survival. However, it's nearly impossible to behave this way in a domestic setting unless you have more than one dog. So they give in to their natural pack instinct by sleeping between your legs – you're the pack leader, after all. They're cuddling close for comfort, so you should see it as a sign of affection.
Fear: Dogs often develop fear due to a lack of socialization and past negative experiences. Loud, sudden noises like thunder, fireworks, and gunshots can also frighten dogs, causing them to sleep between your legs. They find comfort and safety there.
If you're not sure whether your dog is scared, keep an eye out for some of the other common signs, including:
Growling
Pacing
Trembling
Incessant barking
Whining
Hiding or running away
When your dog is scared, it might also assume a submissive posture by keeping its head down and tucking its tail between its legs.
Dogs Regard Their Owners as a High-Value Possession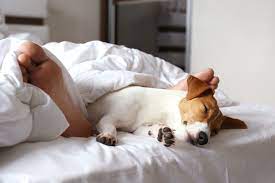 Like kids, dogs compete for attention – especially when there's a new addition to the family. There may be a new pet or baby, and your dog will curl up between your legs for attention because they value you.
While it's a sweet sentiment, be careful of any other "jealous" behaviors. Studies have shown dogs can sometimes exhibit aggression to protect a high-value item.
That behavior is referred to as resource guarding, and dogs use it to retain control of something in the presence of another animal or unfamiliar person. Mixed breeds and neutered males are more likely to display this type of aggression.
1. Looking for Warmth
Another reason your dog might sleep between your legs is to find warmth. Small dog breeds like Chihuahuas become more cuddly during colder months because they're not warm enough.
Chihuahuas have less hair and less body fat, so they get chilly quickly. Since human legs are soft, warm, and fleshy, they become instant heating pads. Also, if the dog's sleeping area is cold, they will look for warmth between your legs.
2. Expression of Love
Besides being protective, a dog sleeps between your legs to show how much they love and appreciate your company. It's also a way of thanking you for showing affection or giving them treats.
It's vital to acknowledge your dog and give them love and affection in return. While they need to respect your authority, they'll be happier and more content when you take the time to scratch behind their ears or praise them verbally.
3. Looking for Emotional Support
injured, anxious, insecure, unwell, or tired, dogs need emotional support. That's because they have similar brain structures as humans. According to Professor Stanley Coren, dogs experience similar chemical changes to humans during different emotional states.
They can feel basic emotions like anger, joy, love, and fear and need emotional support. So, your dog could be sleeping between your legs simply because they've had a bad day and need some comfort.
4. Looking for Security
Dogs also sleep between your legs because they feel safe there. Some dog breeds are trained to work alongside humans and aren't separated. They may also want to keep alert in case of any movement, and sleeping between your legs is the best way.
5. Separation Anxiety
Speaking of not wanting to be separated, some dogs struggle with being apart from their owners. Sleeping between the owner's legs provides maximum closeness and ensures physical contact. Such dogs exhibit aggressive behavior when left alone.
They may pace, growl, tremble, whine, or become restless every time the owner goes. They may also destroy furniture, bark, or escape from their crate. The best way to minimize separation anxiety is to leave the dog for a short period and reward them after getting back.
Repeat the process and increase the period they're alone until they get used to it. If your dog needs to be reminded of your presence each night by sleeping between your legs, it's best to give them that security and comfort.
Related: Best Dog Toys For Separation Anxiety.
6. Part of Training
Dogs obtained from rescue centers or other owners might already have ingrained habits. If the owner had trained the dog to sleep between their legs, they would carry on with the trend in the new home.
It shouldn't be a problem if you like the idea. If not, don't shame the dog for doing what they're used to. They might not be the right fit for you, or you might be able to train them to stop that habit. Whatever you decide, do so with gentle authority.
7. It Shows Trust
Dogs are a man's best friend, which can be displayed in a dog's protective and sometimes clingy habits. A dog develops a special bond with its owner over time, and sleeping between your legs is a sign of a strong bond.
A study conducted at Eotvos Lorand University showed that puppies trust humans like their moms and are more likely to exhibit this behavior.
During the study, 48 two-month-old puppies were introduced to these contraptions:
A plastic bin making noises from a hidden speaker
A fan blowing ribbons
The puppies were paired with their human owners and mothers. The lead researcher found that eight out of 10 puppies took emotional cues from their human owners and moms, proving the high level of trust between humans and dogs.
8. The Owner Allows the Habit
Simple habits like belly rubbing and scratching a dog's ears when they rest between your legs encourage them to carry on with the routine. But, while it feels okay, it might get uncomfortable as the animal grows.
In the case of large breeds like the German Shepherd, the animal feels heavy, making it impossible to sleep between your legs comfortably.
It's best to discourage this behavior from the onset by enrolling them in a dog training program or setting up a more relaxing place where they can rest.
9. Natural Burrowing
Dogs burrow when making holes and tunnels to hide or live. In the past, dogs would burrow in the woods to create a safe place for their puppies to stay and find food.
This instinct has been passed down from one generation to another. However, since modern dogs are domesticated, they can only burrow in sheets, blankets, and between their owner's legs.
How to Stop a Dog From Sleeping Between Your Legs
Before identifying ways to discourage the behavior, it's best to understand why and when they do it. Some dogs may exhibit this behavior after introducing another pet into the home.
The dog may stop after getting used to the new environment or situation, but it's time to look for ways to discourage the behavior if it lingers. Try some of the following ideas to make the process easier.
1. Train Them to Sleep Somewhere Else
Avoid encouraging their behavior and direct them to their crate or another resting place. Use positive reinforcement when they're behaving the right way and sleeping in their bed or next to you, rather than between your legs.
If the dog has developed the habit due to separation anxiety, spending time with them is essential. Cuddle or give them back rubs to calm them down before going to sleep.
2. Distract the Dog
Take your dog for walks, play with them, or take them to a nearby park where they can play with other dogs. Such activities reduce any energy that could be pent up in their systems. When they're tired, they'll be less likely to "burrow" at bedtime.
3. Create a Comfortable Place for Them to Sleep
A dog's resting place should be comfortable. Otherwise, they will seek comfort in other areas – including between your legs. Their sleeping area should also be equipped with the right accessories to entice the dog to sleep.
Comfortable crate mats, toys, and other accessories will lure your puppy into sleeping in their crate. The dog may also need some crate training, especially if they are new to the home.
That's because some dog breeds are resistant to crate training—a proper introduction to crating influences whether a dog will be comfortable and willing to sleep there.
The right crate size also matters. Like chairs, beds, and sofas, sizing is critical to keeping a dog comfortable, depending on their temperaments and breed.
Soft-sided crates are best for dogs that don't chew, while large crates are ideal for adult dogs that have already been house-trained.
The crate should also be comfortable, depending on the weather. I set up a crate fan near the crate to keep my heavy-coated pet cool during the warm summer months.
Related: Best Dog Beds For Separation Anxiety.
4. Ban the Dog from the Bedroom
Sometimes, dogs are so friendly that they don't realize the difference between their resting place and the owner's bed. The best way to avoid that confusion is to ban them from sleeping in the bedroom. If they're already used to sleeping beside you, train them to sleep in their crate gradually.
5. Avoid Reinforcing the Behavior
A dog sleeping between your legs can be uncomfortable, and it's best to point it out as soon as the dog engages in it. Then, please direct them to lie down on the floor, on their crate, or in other resting areas and be firm about it.
Don't "give in" sometimes and get upset when they try to do it again. Everything needs to be on your terms, not theirs.
6. Reassure the Dog
If the dog is sleeping between your legs due to fear,  reassure them of your presence until they can sleep alone. It would be best to expose them to other animals, people, and experiences regularly to help assuage their fears and get them used to different situations.
7. Enroll in a Dog Training Program
If all of these changes still don't address the problem, it's best to enroll your furry friend into a dog training program. Experts can identify the cause of the problem quickly and employ suitable remedies.
Conclusion For "Why Does My Dog Sleep Between My Legs"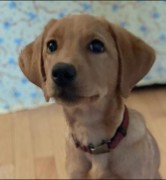 Now you've got plenty of answers. Whether you're okay with it or not, it's essential to understand your dog's behavior, get to the bottom of why they're crawling between your legs, and decide whether you want them to stay there or train them to sleep elsewhere.
If you find this guide, "Why Does My Dog Sleep Between My Legs," helpful, you can check out these other dog questions:
You can learn more about your dog's sleeping behavior by watching "Why Does Your Dog Sleep With You" down below: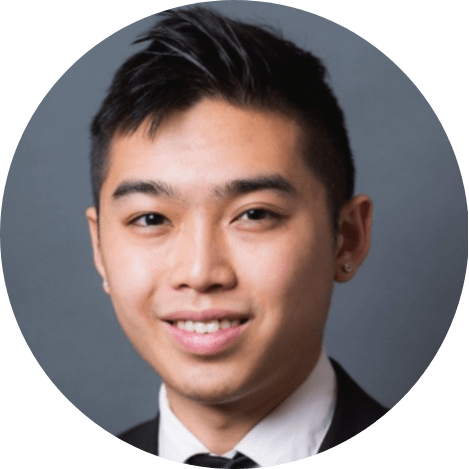 Andy is a full-time animal rescuer and owner of a toy doodle. When he's not saving dogs, Andy is one of our core writers and editors. He has been writing about dogs for over a decade. Andy joined our team because he believes that words are powerful tools that can change a dog's life for the better.
Why Trust We Love Doodles?
At We Love Doodles, we're a team of writers, veterinarians, and puppy trainers that love dogs. Our team of qualified experts researches and provides reliable information on a wide range of dog topics. Our reviews are based on customer feedback, hands-on testing, and in-depth analysis. We are fully transparent and honest to our community of dog owners and future owners.