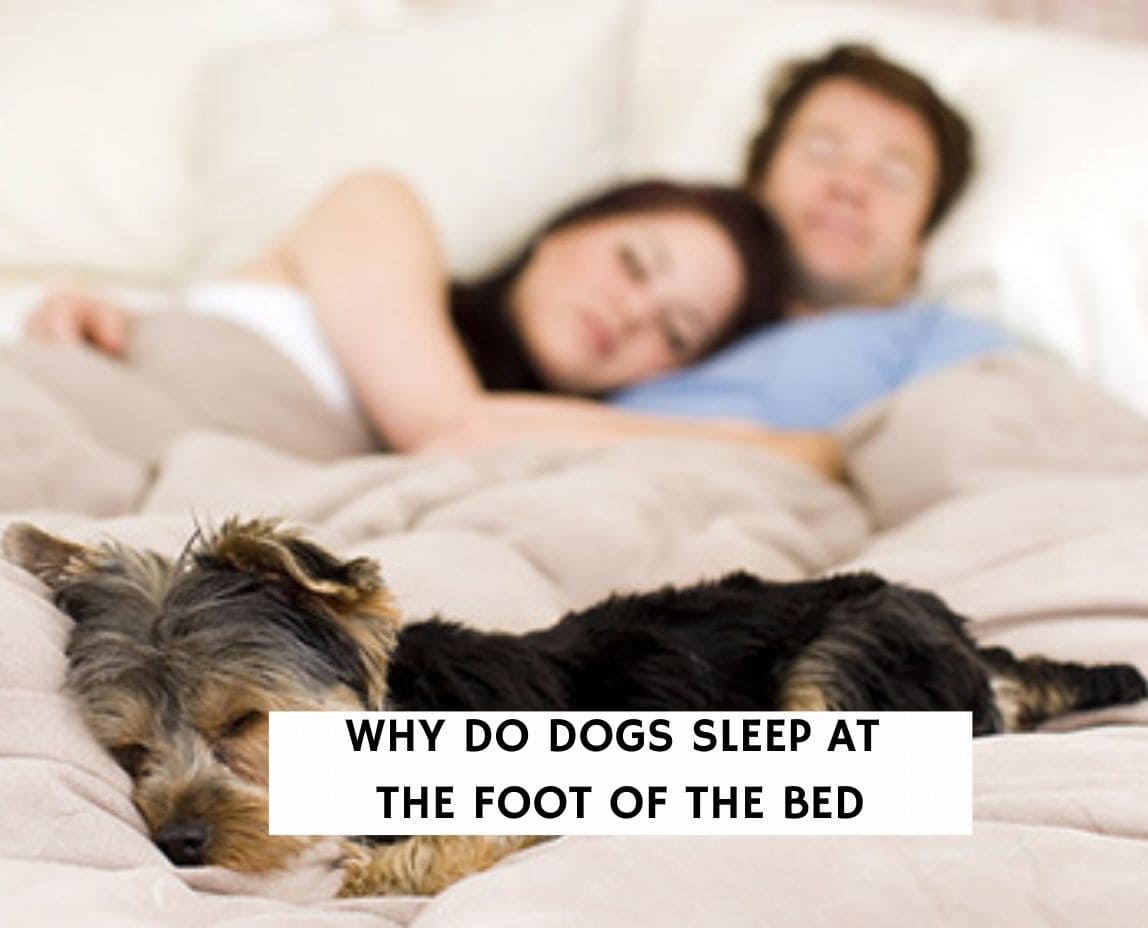 Dogs are family members. They're constantly around no matter what we're doing and that includes when their humans are sleeping.
So have you ever wondered why your dog only sleeps at the foot of the bed? Are they communicating with us when they lie down for the night?
There are reasons behind their nighttime behaviors including why they sleep at the foot of the bed. We will provide you with the 6 most common reasons!
Before scrolling down this list, check out this recommendation: Why Does My Dog Sleep On Me?
Reasons Why Dogs Sleep At The Foot Of The Bed
1. Instinctive Action
Depending on how the animal sees the pack leader of the house, dogs who sleep at the foot of the bed generally know their place in the pack. And that's a good thing.
There's a lot of misinformation online (imagine that) about wolf packs and pecking orders but there's one thing most people agree on – there is a pack leader (And sometimes two). From there, it often breaks down again into which pack leader is dominant.
Do you know how dogs often listen to one person over another in a household? That's instinct. Someone needs to be in charge. This is how a pack is set up in the wild and how it works cohesively to them.
Instinct is powerful, in dogs and in humans, and it's in a dog's genes to follow a leader.
In a home where the human is run by the dog — you know who I'm talkin' about lady-who-dresses-her-Chihuahua-up-like-a-baby — a dog will jump up in the bed without being asked or allowed, plop down where the person should be, and get comfortable.
The dog knows there's not really a leader in the house so the bed is fair game. The guardian then squeezes in not wanting to disturb them even if they themselves are uncomfortable.
This makes for an unhappy, unfulfilled dog whose instincts are fighting against the behavior that's coming at him. It's not the natural order of things.
Dogs are at their best in packs. They're descended from wolves and wolf packs sleep together. The pack leader chooses his position and the rest settle in.
Since humans are the pack leader, we have the first choice of where we sleep on the bed and the dogs fill in the surrounding gaps.
2. Protective Nature
They place themselves between you and anything or anyone that could threaten you. This dog wants to keep you from harm and might be a:
German Shepherd
Rottweiler
Bullmastiff
Boxer
Great Dane
Giant Schnauzer
Doberman
Just because you're the pack leader doesn't squash some breeds' innate desire to protect you.
This isn't about overprotective behavior which would definitely be a problem. Only the type they're born with that's "in their belly" and comes out when they think they can be of service to you. The service of being protective towards you.
3. They Feel Protected

Dog breeds can be nervous and/or clingy and a spot at the foot of the bed with you in it can bring them some relief. Some examples of these dog breeds who feel protected by sleeping at the foot of the bed are:
Maltese
Pug
Bichon Frise
Cocker Spaniel
These dog breeds feel protected. Secure. Let's clarify that this particular "foot of the bed" area is at your feet on the bed, not on the floor.
Every dog is quirky, just like people, and there's nothing wrong with being nervous or clingy. They just need you to help them feel like they have protection and if they're close to you, all is well.
4. Deferential/Submissive Action
These dogs sleep at the foot of the bed on the floor to say, "You're the boss. I'm just following your lead." If they've been trained not to be on the bed and instead have their bedding on the floor, they're just happy to be near you.
This is a well-trained dog. It's a dog who is in his element. He knows the hierarchy and also the rules. He's confident, secure, and at peace with you and himself.
5. Love/Comfort Action
It just flat-out feels good to them to be able to sleep beside their human(s). It's comforting and the action itself — lying down at your feet — means all is right with the world.
I've seen it in the countenance of many, many dogs who have slept with me. There's a peace and tranquility, a state of relaxation, in their face and body that's just not seen at any other time.
Except when they were puppies. You know how puppies pile on each other for love and comfort. They don't retreat to separate corners or try to go somewhere to be alone. They crave togetherness.
It's the same with their human(s). Dogs don't play games. There's no embarrassment or shame in their desire to get as much love and comfort from us as we can possibly give them. And sleeping at the foot of the bed gives them just that.
6. Body space action
Just like humans, sometimes dogs just want some space, and sleeping at our feet gives them some room.
Sleeping at our feet gives them physical space. Some dogs don't feel comfortably smashed up against their guardian so close they can barely move. That position may even make them feel trapped.
Sleeping between two people can feel like that while sleeping at the foot of the bed gives them ample room to stretch out as they've just eaten Thanksgiving dinner.
So whether you have a Great Dane who wants to protect you or a Pekingese who feels safer at your feet, here's hoping your family gets some good rest tonight.
And if you have a Saint Bernard who insists he sleeps on the bed with you at your feet? Good luck with that.
Conclusion for Why Do Dogs Sleep at the Foot of the Bed
Many dogs love to sleep at the foot of the bed for various reasons like protection, comfort, or even instinct. Chances are they just love being around the pack leader (you!). It's not necessarily a bad thing that your dog sleeps at the end of your bed, but they may feel some discomfort if they have to sleep on the floor when you board them or get a pet babysitter.
We've provided you with the 6 most common reasons why your dog sleeps at the foot of your bed. Once a dog starts sleeping on your bed, its hard to get them off!
You will also like:
Vinise Weeks is a hands-on, passionate, and creative writer who loves dogs. She has two fur babies named Miu Miu and Toto that she loves taking care of. In her spare time, she loves helping people and making the word a better place.