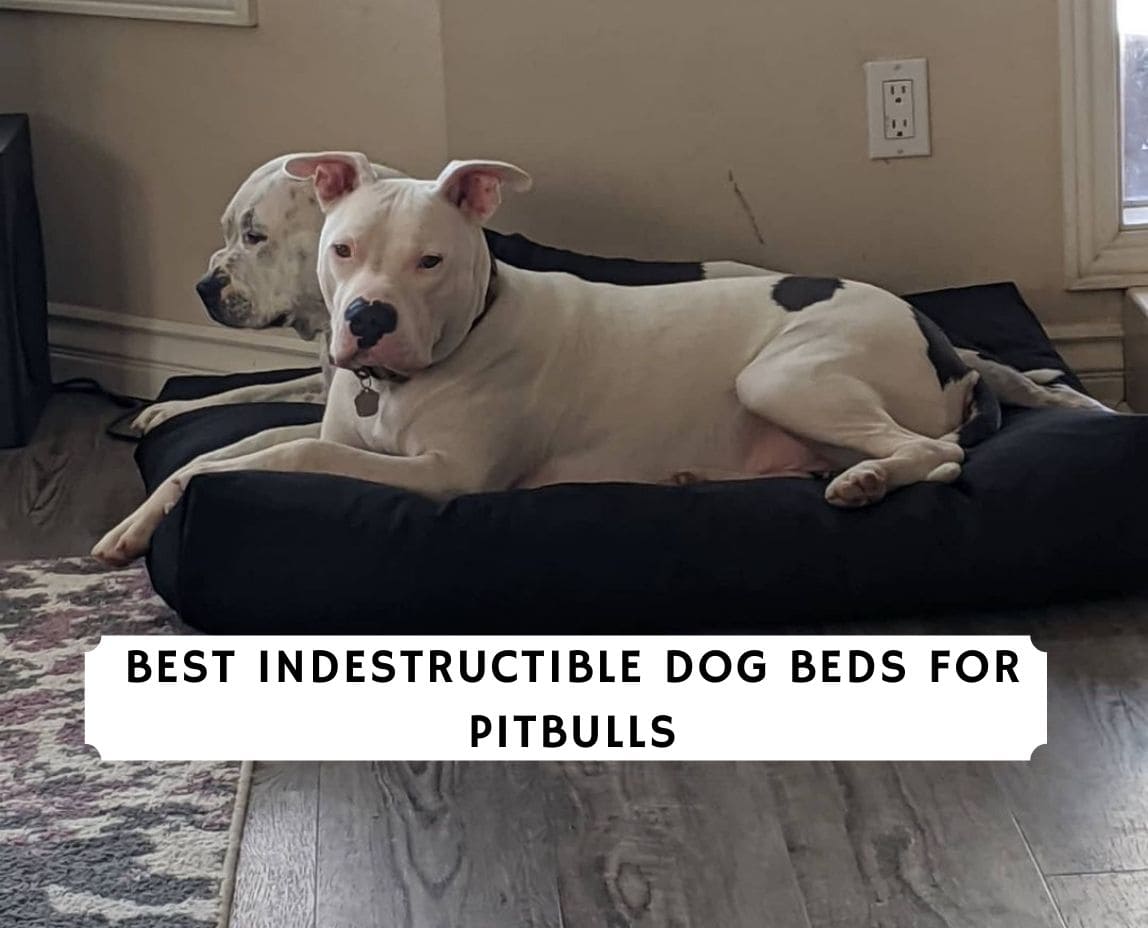 Pitbulls often gain a reputation for being aggressive dogs which often reverts back to their training and background. For the most part, the Pitbulls we have seen are great big teddy bears that love to cuddle and love to play.
While they are gentle giants when well trained, Pitbulls require a strong and sturdy bed with just the right amount of comfort. These dogs are incredibly muscular and they can be hard on their dog beds or tear them up easily if they decide they want to.
Choosing an indestructible and rip-proof dog can be harder than you think. That's why we're here. Instead of you having you spend time guessing what you need and researching the best indestructible dog beds for Pitbulls, we've sorted through the market and narrowed it down for you!
You need a bed that will protect your Pitbull's joints and will provide a safe and durable place to rest on. Durability, washability, and comfort are all very important and we have come up with some really great options for you to take a look at!
In a rush? Here are the top picks!
Product
Best Overall
K9 Ballistics
Bested Elevated Bed
K9 Elevated Bed
Image
The 8 Indestructible Dog Beds for Pitbulls Reviewed
We kept all of the relevant information in mind as we set out to find the best indestructible dog beds for Pitbulls. Bully beds for dogs must be carefully planned. You have to think of heavy-duty dog beds for large dogs and assume the bed is going to get chewed by sharp teeth and scratched with strong paws.
This first pick is by far the best indestructible dog on the market today. The BALAPET Chew Proof dog bed not fancy and it doesn't have a lot of bells and whistles, but it is comfortable and tear-resistant for Pitbull. For a Pitbull, we recommend going with large or extra-large sizes, but there are other sizes to choose from as well.
You can also choose your color options, which include blue, black, green, or tan. These solid colors will match with any interior decor and won't stand out like a sore thumb. These anti-rip beds are specifically designed as a dog bed for chewers. They are chew-resistant and can withstand chewing, digging, and scratching as well.
The dog bed is tough but comfortable. It has a slim profile, but the material is ripstop to make it last a long time. In addition, this indestructible dog bed is easy to spot clean and fits nicely inside of a crate if needed – without taking up excessive space.
The dog bed is machine washable which is another plus. In addition, your Pitbull will be comfortable and they won't tear up their bed within a day. Additionally, there are no zippers or Velcro that could hurt your Pitbull puppy either.
Next up, we have a specifically made dog bed that provides your Pitbull comfort inside of their crate. This bed can also be used outside of a crate, but the measurements are meant to fit within crates of certain sizes. There are multiple sizes available and a few different color options as well.
We have one of these for our own dog and we love the heavy-duty design. It's the first dog bed that hasn't been chewed apart and we're going on several months now. You can choose from black, red, blue, or camo colors which is a nice variety of options.
This indestructible bully bed for dogs is made with polyester materials and has a thin piece of comfortable padding within. This provides your Pitbull with comfort cushioning that they aren't likely to tear apart anytime soon.
Moreover, this bed is resistant to water, stains, and odors. Your dog will be comfortable the bed won't get destroyed from chewing or digging. In fact, your dog may not even want to chew it because it's so durable! The bolster on the edges creates a bit of extra pillow for your dog's comfort as well.
Here is another option from K9 Ballistics. We highly recommend K9 Ballistics because they specifically make the most durable dog beds on the market which are great for Pitbulls. This bed is not different and is considered to be an indestructible dog bed for chewers. In addition, it is an elevated dog bed which can add comfort, particularly for dogs like Pitbulls that sometimes have joint issues. You can choose from several sizes and colors in this elevated dog bed as well which is always nice.
This bed is even considered extremely cozy. The fabric has a bit of stretch that is just enough for your dog to cozy up on it. It can be used on its own or even put inside of a crate. The frame is aluminum with corner bumpers. Your dog is not likely to chew through this bed.
The fabric center is a waterproof material so it won't stain, absorb, or hold odors. This bed is far more than just chew proof. It is considered to be indestructible and it is well worth every penny to enjoy the benefits.
This dog bed is certainly unique with its anti-rip-proof nature that is slightly elevated. While it doesn't look overly fluffy or padded, the material is designed to be supportive and comfortable, making this a premium heavy-duty dog bed for large dogs.
This dog bed provides cooling comfort in an orthopedic fashion. It's a large dog bed that measures 32 x 44 inches. You can buy smaller sizes, but your Pitbull probably needs a larger size. It comes in a dark, bright blue color that is very nice.
This dog bed has cooling comfort which means your dog will not get overheated when they are sleeping or resting after a long play session on a hot summer day. In fact, they will be comfortable and cozy. Additionally, the cooling layer is actually soothing if they happen to have any aches or pains as well.
This bed is designed to be orthopedic, which means it is designed to be friendly for age, hips, joints, bones, and more. Pitbulls can sometimes have arthritis or hip dysplasia and this dog bed is soothing for those discomforts. If your dog does chew the bed up, the insides are not toxic for your puppy.
This works almost like a water bed. You need to add water for the cooling comfort properties and extra padding. The dog bed is comfortable and soothing and can even be ideal for dogs with skin problems or breakouts.
This next option is a super soft mat that can act like a dog bed for heavy chewers. Since this is thin and soft as opposed to thick and fluffy, your dog will be less tempted to chew at it. It provides them with the ultimate comfort at all times without being over the top or taking up excessive space. Most chewing dogs like Pitbulls are less likely to chew flat-style beds like this.
This is a great priced dog bed so if you are looking for something that's not so hard on the budget, this might be great for you. You can choose from several different sizes and most of them coordinate with specific crate sizes so you can use them in a crate if needed.
There are several color options for this dog bed as well. The colors include gray, brown, blue, pink, and red. They are simple colors so you can choose which works best for you. The exterior material is soft like a micro-suede material that is soft to the touch and will be soothing for your puppy.
The bottom of this dog bed has a non-skid bottom as well so it won't slide around. It's a quilted top and it's even handmade so there is care given to the overall quality and design. This heavy-duty dog mat provides joint support and a soft and comfortable surface.
This next bed is very similar to the one we just looked at but it does have its own unique style and quality as well. This dog bed is highly-rated across the board and it's built to last. It is even listed as an Amazon's Choice item for indestructible dog beds. You really can't go wrong with this bed and it's another budget-friendly option as well.
This strong dog bed is available in multiple sizes. The sizes are suitable to fit inside crates that very specific sizes. You can choose from small to large sizes and get what is right for your needs. There are also several color options to choose from, including dark gray, light gray, dark blue, brown, and red.
This indestructible dog mat is designed for protection for your dog with an orthopedic style. The mat is soft and flat, which means it provides necessary support to the spine and for joints and bones as well. This is a microfiber material so it is both safe, soft, and there is no cotton stuffing to worry about.
The bottom of the mat has an anti-skid surface so it always stays in place. The mat can be used just about anywhere you need it and it will always provide safety and comfort for your Pitbull puppy. The mat is machine washable and is very durable.
Maybe you just need an option to protect a bed you already have in place or just soften the kennel floor. Alternatively, maybe you just need a good solution to protect your couches and beds. This PetAmi dog blanket could be the pet bed for you. It's really not a bed, but rather a heavy-duty dog blanket.
This blanket could be used as a bed as it is soft, protective, and waterproof. It is thick for a blanket, but not padded like a typical dog bed. The blanket has a soft microfiber material on top and Sherpa fleece on the bottom, making it comfy and cozy.
The blanket is reversible as well which is a nice feature. It makes it a bit more multi-functional and versatile than some of the dog beds on the market. Since this is thin and soft, some Pitbulls are less likely to chew on it. It provides comfort in just the right way.
This blanket is made to be durable with high-quality materials. It will protect your bed or furniture and can also provide comfort in a crate or kennel. It is waterproof as well with a waterproof membrane between the blanket layers. There are multiple sizes and colors to choose from.
This mat is like an anti-rip kennel pad that can act like a dog bed. It is perfect for kennel use and your Pitbulls comfort. You really can't go wrong here as this is a thin mat made with a strong outside material and a layer of cotton inside. It is comfortable and provides support for your Pitbull.
This bed has anti-slip material on the bottom so it stays in place. It fits perfectly inside of a kennel or a crate. The color is a light gray and it hat this cute bone print in the center. There are a few different size options as well.
This bed is machine washable and it doesn't lose its shape over time. It's not 100% chew proof for persistent chewers but it is less likely to draw your dog's attention than a traditional fluffy dog bed. Additionally, the material is breathable and won't hold odors like some beds do.
How to Choose an Indestructible Dog Bed for a Pitbull
Let's talk really quickly about how you know if a bed is good for a Pitbull. There are some specific qualities that you may want to look for. These are simply designed to help you think about important qualities and make an informed decision in the end. 
Size
 The bed for your Pitbull needs to be a decent size and something they can grow into. If you plan to use it within a crate or kennel, be sure the size is something that will fit in the kennel. Otherwise, you should plan on using a large or extra-large dog bed. Pitbulls can be large dogs and they need a bed big enough to fit all their whole body.
Support
Pitbulls can suffer from health issues like aches, arthritis, joint pain, and hip dysplasia. You want an indestructible dog bed that will contour and offer them support and/or relief when they are resting. The bed is meant to be a comfortable location so try to find something soothing and supportive for your Pitbull puppy.
Durability
Finally, some Pitbulls are chewers and be destructive when they aren't properly trained. Pitbulls can be playful one moment and destructive if they really want to get rough with their dog bed. You want something that is made to be durable so your dog doesn't tear it up right away or need a new bed every week! This is the number one reason why you want indestructible dog beds for Pitbulls.
Conclusion for Indestructible Dog Beds for Pitbulls
Since Pitbulls can be heavy chewers and scratches, especially when left alone in their dog crates, a traditional dog bed will not work. You're going to need to find an anti-rip, heavy-duty, and strong dog bed for your Pitbull to sleep in. That's why we created a list of the best indestructible dog beds for Pitbulls. It's important that you invest in a durable dog or else it's just going to keep being torn apart. We hope that you found your next dog bed!
Other articles you would like:
Garrett loves animals and is a huge advocate for all Doodle dog breeds. He owns his own Goldendoodle named Kona. In addition, he volunteers at the Humane Society of Silicon Valley, where he fosters dogs and helps animals. Garrett enjoys writing about Doodles and believes that dogs can teach humans more about how to live than humans can teach a dog.
Why Trust We Love Doodles?
At We Love Doodles, we're a team of writers, veterinarians, and puppy trainers that love dogs. Our team of qualified experts researches and provides reliable information on a wide range of dog topics. Our reviews are based on customer feedback, hands-on testing, and in-depth analysis. We are fully transparent and honest to our community of dog owners and future owners.