It is not uncommon for many pet owners to be met with a growling noise as they pass their dog at night while they are sleeping. Also, it is common to be disturbed by the growling of your dog while you're trying to enjoy a night of peaceful rest. Many people start asking the question "Why does my dog growl at me at night?".
There are several reasons dogs growl especially in the dark at night, so a good understanding of their action (or reaction) to the circumstances surrounding their situation can help proffer a solution. Punishing your dog is not the best call, even though it seems like an easy way out. You need to analyze and understand the behavior rather than resorting to punishment. We will tell you the main reasons why your dog is barking or growling at night.
Before scrolling down this list, check out our other recommendations: Top 5 Reasons: Dog is wobbly and Off Balance
Reasons Dogs Growl at Night at Their Owner
Dogs growl at night at owners for various reasons at night. The following can serve as a checklist for figuring out what's getting on your dog's nerves and making it growl. Once you identify the issue, you can do some positive reinforcement training to help mitigate against the growling. Most of the time, you don't doesn't want to be aggressive, there may just be some environmental factors that cause them to growl when they are startled.
1. Your Dog Needs Attention
Displaying signs of aggression at night like growling could point to a dog who just wants attention from its owner. Puppies will typically exhibit this behavior, as they enjoy being the center of attention. These small dogs are usually energetic and love to play with their toys and owners all the time.
This can be a problem at night when your dog is not allowed to play or be with its owner. It can cause separation anxiety which can affect the dog's behavior. This may happen if you try to crate train your smaller dog and they aren't near you during the nighttime.
If you have a puppy, consider dropping a couple of toys in their crate or by their dog bed at night to reduce the chances of growling and dog barking. The idea is to encourage light play and keep them occupied at night. 
Another way to reduce aggressive growling at night is by creating opportunities for plenty of exercise. Your dog will be likely want to rest at night instead of demanding attention. After all, a tired dog, they say, is a well-behaved dog. 
2. Trauma
Be mindful of the timing of your dog's growling. Is it only in the evening? Does your dog appear terrified with hairs standing on end? This might be trauma that is linked to darkness or night. For example, some dogs might exhibit anxiety when it starts getting dark. 
Rescued dogs can display signs of Post Traumatic Stress Disorder (PTSD). This is especially true if they have had a rough past or experienced something horrible that lingers in their memory and still haunts them. For example, many military dogs exhibit signs of trauma. Additionally, rescue dogs that were abused during the nighttime may have previous trauma.
Additionally, your dog might just hate a dark room, or it being in a dark place can trigger some repressed memory of a horrific event in the past. Believe it or not, dogs also can get scared of the dark.
3. There is an Issue with the Diet
Improper diet might also be one of the reasons your dog stays up at night and growls. In other words, the meals might be too much, too little, or even the wrong nutrition. 
Be sure to pay attention to your dog's meals and ensure no one else feeds the dog in your absence. Also, you can make it a habit to feed your dog early in the evening rather than late at night. Dog's will tend to growl less at night if they have already digested their food.
4. Group Barking
Your dogs might also growl at night in response to other dogs in the area. This is common at night when everywhere is quiet and the streets are no longer busy. 
Typically, this starts with one dog growling while the others follow suit and bark along. 
5. Your Dog Hears Sounds You Can't Hear 
Without a doubt, dogs have a better hearing ability than humans. This is because their ears can detect sound waves at frequencies not audible to the human ear. As a result, their growling might be directed at a strange sound far away that your ears cannot pick up. 
Such aggression could be directed at another animal – perhaps a rodent – that wanders into their space at night.
6. The Sleeping Spot is Not Conducive
Dogs are quick to express their discomfort when they do not like their environment. This is particularly the case with highly picky dogs. If a dog can't sleep well then it will get grumpy.
The sleeping space might be too bright, dark, cold, or hot, or generally not comfortable, making your dog express its displeasure by growling. To avoid this, be sure to check their sleeping spot for anything that might set off a growling dog.
Discouraging Growling is Not a Good Call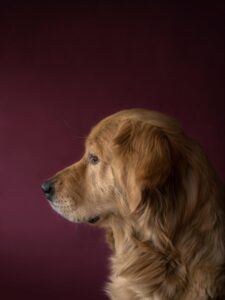 It is unreasonable to ask an infant not to cry when they are uncomfortable in some way. Crying is the child's way of communicating discomfort, even if the act of crying and whining can be distracting and even annoying to the adult.  Similarly, your dog's growling is its way of communicating and expressing disapproval or general discomfort. As a result, harshly discouraging the behavior is not a good call. 
When your dog growls, it is probably its way of warning you of something. Your best move would be to identify and remove what is causing the dog to get so worked up instead of preventing the growl. The best way to do this is to understand why dogs growl and using positive reinforcement to train your dog not to growl.
What to Do If Your Dog Growls at You at Night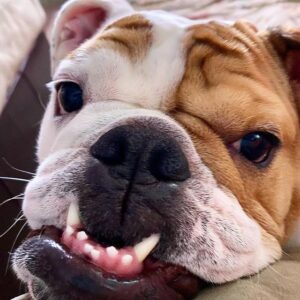 As discussed above, there are many reasons your dog growls at night, so knowing the exact cause of these vocalizations is crucial to preventing bad behavior. 
Your dog could be warning you. Take a moment to look around for what could be the problem. This tells the dog that you acknowledge its effort to alert you. Do not touch or pet your dog at that moment to avoid encouraging the dog's growling.
Crate training can also help prevent your dog from growling if they don't get separation anxiety. It is a way of making your dog feel safe and comfy in its crate. This involves giving your dog a dedicated space where it can feel safe and secure. You can also cover their crate with a blanket if they react too much to the environment around them.
Also, it is important to pay attention to their food and avoid feeding them just anything. Talk with your local vet and get diet recommendations for your dog, including the best timing for meals. You also want to make sure your dog gets optimum exercise. A dog that is not properly exercised will have too much energy at night, making them less hyperactive. 
Besides exercise, constantly stimulate their minds as well to help avoid nighttime barking.  Give them puzzles to challenge their mind. We hope that you figured out why your dog is growling at night and got some ideas on how to stop their behavior.
You will also like:
Garrett loves animals and is a huge advocate for all Doodle dog breeds. He owns his own Goldendoodle named Kona. In addition, he volunteers at the Humane Society of Silicon Valley, where he fosters dogs and helps animals. Garrett enjoys writing about Doodles and believes that dogs can teach humans more about how to live than humans can teach a dog.
Why Trust We Love Doodles?
At We Love Doodles, we're a team of writers, veterinarians, and puppy trainers that love dogs. Our team of qualified experts researches and provides reliable information on a wide range of dog topics. Our reviews are based on customer feedback, hands-on testing, and in-depth analysis. We are fully transparent and honest to our community of dog owners and future owners.