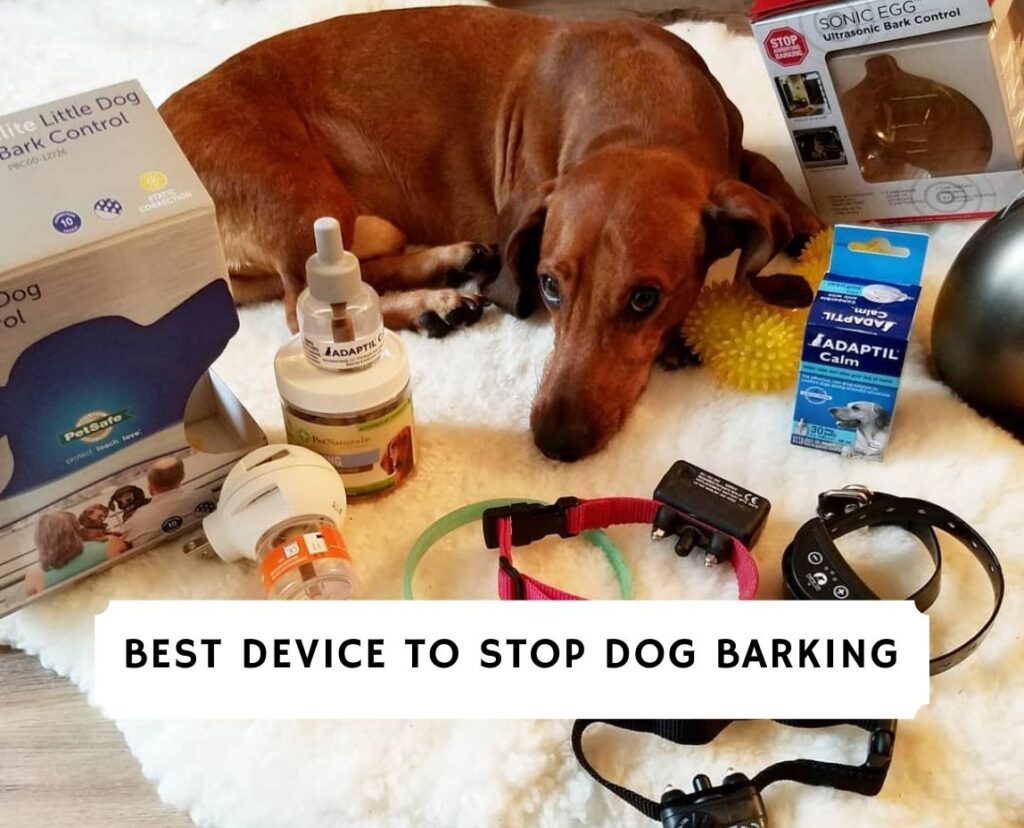 When you own a dog, you're already aware of what they love to do: chase, chew, and bark. Most of them, especially some breeds, love to bark all day long. Some dogs take barking to the next level, and it's not pleasant to wake up at 3 A.M. with your Husky or Basset barking at seemingly nothing or howling to the moon.
There are plenty of options to minimize nuisance barking or howling. One effective option is to use a special device to stop barking. We have five products that are great at minimizing excessive barking which will give peace and quiet around the house. Whether it's your own dog barking or your neighbor's dog, we have a solution.
In a rush? Here are the top picks!
Product
Best Bark Collar
Pet Resolve
Best For Neighbors Dog
Good Life
Best Ultrasonic Device
Ultrasonic Bark Device
Image
We start with the Pet Resolve Training Kit. Off the bat, the kit is both a training collar and an anti-bark collar designed for your own dog. It has a myriad of features jam-packed into an easy-to-use remote and an anti-bark mode to automatically train your dog.
Let's focus first on the automatic anti-bark mode. Before you switch to it, make sure you've already set the collar's static stimulation to the lowest level your dog will react to and ensure that the remote is paired to the correct collar (It can handle up to 3 collars). Now when your dog barks, it will first beep for about 2 seconds, and when your dog continues to bark after the tone, only then will it trigger static stimulation. 
That simple programming teaches your dog when to stop barking, but still allows them to bark when they have to. Sometimes, a dog has to do doggy things, even for a bit.
Switching back to training mode, you have access to three training modes: static stimulation, vibrate, and tone. There's a lot of ways you can train your dog to do more than just keeping barking to a minimum. The collar kit itself allows you to have a new method to communicate with your dog and is an efficient way to teach them how to listen and obey. If your puppy knows how to obey you, the possibilities are endless.
The collar is "Always-Active", which means you need to charge it a bit more often than usual, but in exchange, this device to stop barking will always trigger at the right time. In training and conditioning, proper timing is everything so this collar has an edge with a fast response time.
The receiver is waterproof and can withstand up to 25 feet of water, so it can survive a dip and even a dive in a pool. In a nutshell, the Pet Resolve Remote Training kit is a decent anti-bark collar that stops your dog from barking.
The second bark control device on the list is something you can put on the wall of your house and affects all the dogs inside your house or nearby such as the neighbor's dogs if they are within range. This small and simple device uses ultrasonic waves to signal any dog to stop barking. 
Think of it like a dog whistle that activates when it hears the sound of barking. You won't hear it no matter how close you are, but dogs will. The ultrasonic sounds won't harm a dog's hearing, but they will be "loud" enough for them to notice, and through conditioning, keep them from barking too loudly. 
The small black (or brown) box can be hung on any wall or fence, or placed on any surface, but it needs to be roughly on dog height, so if you have a yappy and snappy Chihuahua, you need to place the box approximately 12 inches in height for the best results.
The control is basically a switch you can use to adjust the range of the ultrasonic sounds. The max setting has a 50-foot range which can help control dogs out in your yard. The minimum range is 15 feet, which is perfect for small dogs inside certain rooms. One good use of the small range is to keep your dog quiet when on the second floor and allow them to bark on the floor below.
Unlike most anti-bark products though, you need a 9-volt battery to power this device. It will last for a while, depending on how often it triggers but it will at least be guaranteed to last more than a week. 
The box is also water-resistant, so it can withstand heavy rain if you happen to place it outside.
To summarize, this ultrasonic device to stop dog barking is simple to use and can be used to help quiet down even your neighbor's dogs. It needs a 9-volt battery, and the range can be adjusted.  
Our third product also features ultrasonic noise to deter barking and can also be used for a certain level of training. It can also be a way to protect yourself from other dogs when you're out and about. You can't hear the sound no matter how hard you try, but your dog, and possibly the neighbor's dog, can hear it.
This handheld device is flashlight-sized with two directional speakers on the front deliver the ultrasonic frequency. It has three buttons, one to deliver a 'Training' tone and another one to 'Deter' an all-too aggressive dog. The third is to power the device on or off. The device will vibrate whenever you trigger the ultrasonic noise so you know when it's active. As an added way to either signal or deter, the LED light will flash repeatedly whenever you press any of the buttons. 
The 'Training Mode' is what you'll use to keep your dog from barking. Much like our second product, it will use noise to catch your dog's attention. It's meant as a way to train your dog in the same way you're calling their name to signal them.
'Deter' mode is as it says, it delivers a more powerful wave meant to stop a dog on its tracks. It will not damage their hearing, but it will be annoying enough that they will stop whatever they are doing. You can use this to stop dogs from barking loudly, or are being too aggressive to you, another person, or another dog. The device has a total range of 25 feet and you need to somewhat aim at your dog for them to hear the tone properly.
The battery can last for quite a while, a whopping 4 months if it's triggered less than 10 times a day. When you finally remember to charge it after so long, it only takes 4-5 hours to charge it back to full.
Just like the shock collar, please do not use this product to punish bad behavior. Ultrasonic noise is at worst, very annoying, but using it the wrong way can break a dog's spirit.
Our fourth product's design is much like the 2nd one: a device you can place or hang at any surface no higher than six feet and will activate whenever it hears barking, plus a remote. Ultrasonic devices like these are relatively harmless to a dog's hearing, but is meant to be irritating. 
The Good Life Bark Control operates in the same way as the other bark-control devices. When it hears an "audible" bark or noise from your dog, it will trigger the ultrasonic noise to stop them. Eventually, your dog will learn that their barking will trigger the noise and lessen it. Although some dogs are smart enough to just lessen their barking volume to compromise. 
The remote control is quite handy as it allows plenty of flexibility. You can adjust the sensitivity range from a maximum of 50 feet, to a minimum of 15 feet. Should your dog be farther than 50 feet, you can use the remote to manually trigger the device. This is good when your dog's bothering the neighbors in the yard, or the other way around. 
Like the second product, this anti-bark device is powered by a 9 Volt battery. It will last for a good while depending on how often it triggers.
The last product is certainly not the least. It's a collar-only device that detects only your dog's barking and triggers static stimulation. It has its own unique programming to help condition your furry buddy and reduce the stress they feel with the collar on. 
The shock collar is designed with small dogs in mind. It can comfortably fit a 10 pound dog. If you own a dog bigger than an adult Chihuahua, the collar will fit. The collar has 5 levels of static stimulation and must be manually set. Make sure you spend some time calibrating the lowest effective level with your furry friend before using, to minimize their stress in the early days of collar usage. 
Also for the sake of minimizing stress, the collar will automatically shut down after 7 triggers under one minute, and turn back on after. So if your dog decides to stubbornly bark at something, the collar won't continuously send the static stimulation, which may lead to soreness and skin irritation.
If using static stimulation isn't to your liking, you can switch the collar to vibrate. It has the same 5 intensities and 7-per minute limiter. Other than static stimulation and vibrate, you have a page or beep mode as well. The beep is not the same as the ultrasonic noise that some anti-barking devices have, but depending on your dog, vibrate or tone may work just as effectively. 
The battery on the collar can last anywhere between 1 to 2 weeks. When the juice runs out, you can charge it via USB-cable and will be fully charged in 1-2 hours depending on the power source. If you need a device to stop your own dog from barking, we highly suggest you try an e-collar.
Frequently Asked Questions
Now that you've read the features of the devices you can use to stop a dog's barking, you may have questions or doubts on which to buy, when to buy, and what kind suits you best. We'll try to address them along with answering a few frequently asked questions. 
1. Which Anti-Barking Device is Best?
There are many types of bark control devices, from ultrasonic-noise emitting devices to shock collars and even devices that spray citronella. Some more effective than others, yet this depends on the dog. For maximum efficiency, remote training collars are recommended. These collars can be used to send signals to your dog, opening a clear and consistent way of communication that's under your control. Once they learn to obey, keeping them from barking is not difficult.
If you want to localize the effect to just your lawn, or one level on your house, an ultrasonic device will suffice, but please take note that cats and other mammals can hear ultrasonic noise as well. Perhaps not as annoying to them compared to dogs, but they will hear it nonetheless. These devices can affect pretty much any dog in a range, so adjust the range as needed.
2. Are Anti-Barking Devices Safe?
Yes, in general, all commercial bark control devices are tested and calibrated to be safe. The harm comes from irresponsible owners who use the devices without respect. Ultrasonic noise is, at worst, irritating for dogs. It has to be irritating in order to condition the dog so they'll think: "When I bark too much, I hear that high-pitched sound. I better keep it down." 
Shock collars are only called "Shock" because they technically use electricity. It's more of a static stimulation that causes a pulsing or prickly sensation on the target area. If you try this on your hand, at low levels, it will feel more like a bug crawling on your skin. Those who have electric ab-stimulators or underwent physical therapy with muscle stimulators may find the sensation similar just significantly weaker. 
3. How Can I Keep My Dog From Getting Harmed When Using Anti-Bark Devices?
In case you're concerned about causing all kinds of distress, we have a few tips to make sure your furry friend has the best experience when using anti-bark devices. 
Some of the bark control products have certain handy instructions on how to use them and how to program them. Knowing more about the product first can greatly improve your experience, (just like reading this!) and in turn, improves your dog's experience. 
Find the lowest possible level of stimulation/ultrasonic noise your dog will respond to
When using a shock collar or ultrasonic device for the first time, set the level to the lowest stimulation, if applicable. Watch your dog if they respond to it. If it catches their attention or even makes them look a bit confused, then it's likely working. It doesn't work instantly though it may be faster for some dogs. If they don't so much as bat an eyelash, increase the level to the next and continue to observe until you get their attention.
Watch your dog on the first few days of use
This applies to automatic bark training devices. If all went well the first time, things should go well. But in some cases, your dog may act out or find the stimulation too irritating after a while. The collars in this list have programming that either warns your dog or automatically shuts down to eliminate this step. But if you can, it wouldn't hurt to observe them.
Don't keep the device on for more than 8 hours
Use your device for short periods of time only. If it's a collar, remove it after 4-8 hours. If you're away from work, for example, remove the collar as soon as you get home. The same goes for ultrasonic devices. Until your fur-fam learns to limit the noise to a "need-to-bark" basis, the learning curve can cause them a bit of distress. 
Always return with positive reinforcement
The Carrot and 'Ultrasonic/Static Stimulation Stick' approach is efficient, so you need to provide the carrot. By carrot, we mean praise, affirmation, and treats. If you see your dog has stopped barking after the device triggers, show some love and give a treat if you have any. This approach cements good behavior and shows them respect, which I'm sure they will highly appreciate.
4. How Do I Tell if My Dog Needs an Anti-Bark Device?
A common but tough question to answer. Tough in the sense that there are many reasons behind a dog's excessive barking. For example, if your fur-fam went from just barking at the mail-man to "raising the woof" at every sound they hear outside, they may have anxiety over something they can't deal with, like loneliness or stress. Dealing with this anxiety can help, but figuring out which causes the anxiety can be difficult. 
In some cases, your dog may be in some sort of pain or irritation that makes them act out. What could be normal for you, could be irritating when you're dealing with constant headache, or an upset stomach. 
Sometimes, your dogs just barks a lot because it's just what they do. If you've been to a place with, say, three to five Mini Pinschers or Beagles, you'd know how noisy they can get over the smallest things. Often, the more dogs you have, the noisier each of them become. 
If they exhibit nuisance barking out of the blue, it may be a good idea to check their behavior or check with your vet or see if they have anything causing them distress. If there's nothing that needs to be addressed, you can get yourself a remote training collar or an anti-bark box depending on your needs.
Conclusion for the Best Device to Stop Dog Barking
There are so many ways you can mitigate barking. Sometimes, it's caused by illness or anxiety, while other times, it's just your dog expressing themselves too loudly. As long as you're mindful of the needs of your puppy, using a shock collar or ultrasonic deterrent is likely your best solution. We reviewed the best devices to stop dog barking to help you easily make a decision!
Other articles you would like:
Garrett loves animals and is a huge advocate for all Doodle dog breeds. He owns his own Goldendoodle named Kona. In addition, he volunteers at the Humane Society of Silicon Valley, where he fosters dogs and helps animals. Garrett enjoys writing about Doodles and believes that dogs can teach humans more about how to live than humans can teach a dog.
Why Trust We Love Doodles?
At We Love Doodles, we're a team of writers, veterinarians, and puppy trainers that love dogs. Our team of qualified experts researches and provides reliable information on a wide range of dog topics. Our reviews are based on customer feedback, hands-on testing, and in-depth analysis. We are fully transparent and honest to our community of dog owners and future owners.