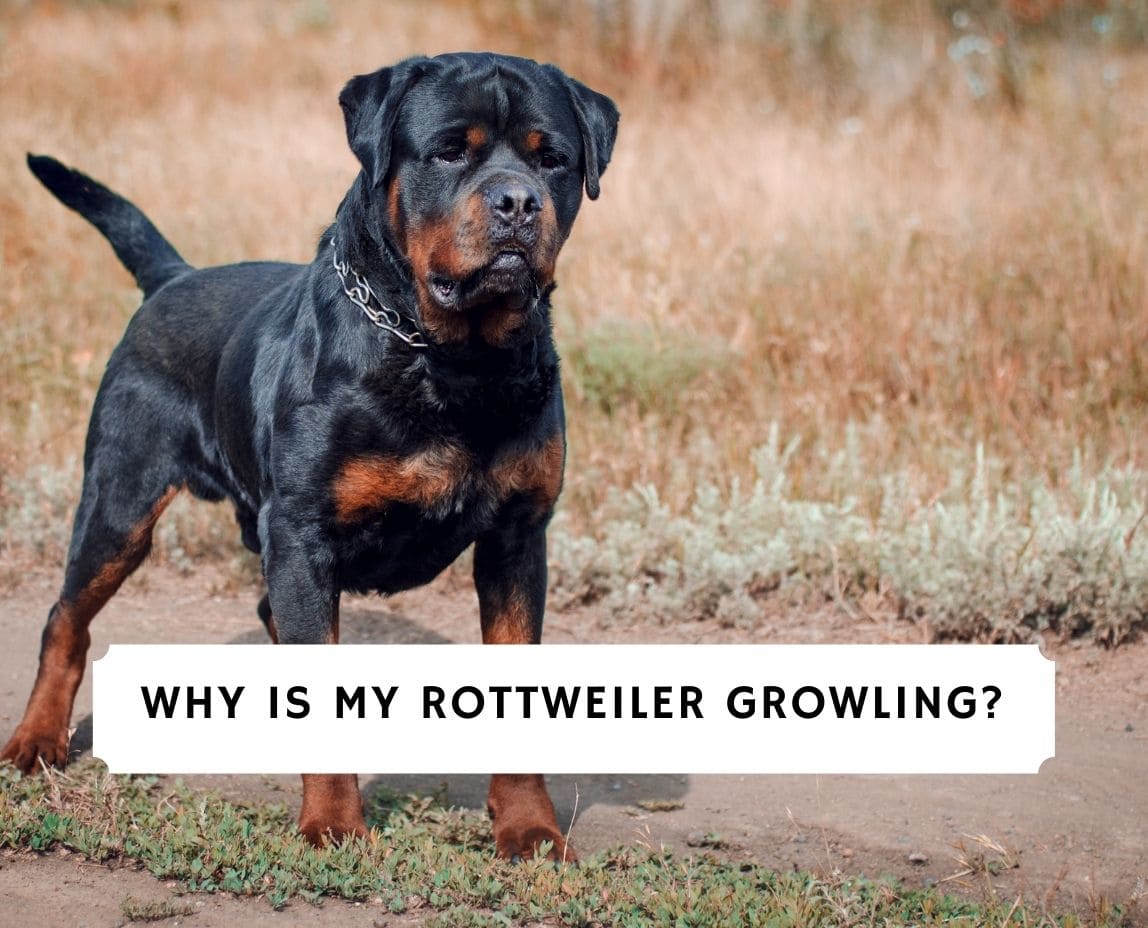 Sometimes, Rottweilers will growl and display strange behaviors. If your companion is doing this, you're probably wondering: "Why is my Rottweiler growling?" The growl or bark is one of the main ways that dogs verbally communicate. While there are no words involved, the tone of the growl, the body language, and the facial expressions of a dog can give you a hint as to what they're thinking and what they may be about to do. While barks can come in a variety of tones and purposes, the growl tends to be more clear in what is being communicated. However, there are still different types of growls that dogs used based on the situation they are in.
For Rottweilers especially, knowing the reason why they let out a growl is very important. While Rottweilers may not be as aggressive as they are often portrayed as they do have a very territorial and dominant temperament that you should be aware of. In caring for your dog and ensuring they are loved and have what they need, it's helpful to be able to identify different growls and why they have the need to growl. To help you best meet the needs of your Rottweiler, here we share some common reasons why they may let out a growl and how you can identify what the growls mean.
If your Rottweiler is growing in its sleep, then you might want to check out "Dog Barking in Sleep. What Does This Mean?"
Why Does a Rottweiler Growl?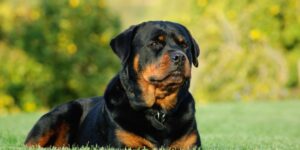 Rottweilers are often portrayed as aggressive and difficult dogs that can come with dangers. However, their true temperament and personality can be much different. Just like other dog breeds, Rottweilers growl for a variety of reasons depending on their activity, mood, and environment. Knowing the differences between these growls can be important in helping to better understand your dog and what they may need. Here are just a few reasons why a Rottweiler may let out a growl.
Advice For Aggressive Dogs: How To Use Shock Collar For Aggressive Dogs
1. Play
As active and energetic dogs, Rottweilers love to play. As an expression of emotions like joy and excitement, they may let out a growl. When not associated with any other signs of aggression, the Rottweiler is indicating that the game or activity they are playing is fun. Especially if they are playing with another dog or with their owner, and it's clear they are not frustrated or agitated by anything, this type of growl is harmless.
2. Seeking Attention
A Rottweiler may also growl if they're seeking attention from you. Whether you are just coming home at the end of the day or haven't petted them in a while, your dog may tell you they need some love through a growl. Once you do show them some love with petting, they may also let out a slow, calm growl. This can communicate that they are enjoying you petting them and want you to keep going. This type of growl is not aggressive but instead communicates delight and pleasure in the experience.
3. Discomfort or Pain
If a dog is experiencing pain or some other kind of discomfort, it may express its feeling through a growl. Like how a human might cry at their pain, a dog may growl in response to the discomfort they feel. They also growl as a way of telling you that something is not right and that they are experiencing pain. Notice if your Rottweiler has any other side effects or signs of struggle in a movement to identify if their growl is a result of pain.
4. Fear of Aggression
Growls that stem from expressions of fear, aggression, or frustration are the kinds you want to be particularly aware of. These growls indicate the potential for negative behavior if not trained well. Growls that stem from this type of emotion come from a need for dominance and expressing their power and authority wherever they please. They may also growl out of fear and they feel a need to communicate that threat they see. This can be something particularly bothersome for Rottweilers who are known for being a naturally aggressive and dominant dog in the first place. They can get defensive over their sleeping area, their food, or other areas they've claimed as their own.
While this can stem from a Rottweiler's natural instincts as a protective and territorial animal, it's not a behavior your should tolerate. Much of this aggression comes from a feeling of them being threatened, whether that's potential physical danger or the fear of losing their authority and alpha status. These dogs can be very competitive and territorial of what they think is theirs. They may also let a growl out of warning others not to approach them or that they should just stay away. It's important to notice these types of growls immediately and prevent the behavior, which can often spiral into dangerous behaviors when not controlled.
It's important to know that when it comes to Rottweilers that serve in the police force, they may be trained to growl in certain scenarios. In dangerous situations or high-risk environments, Rottweilers can use their growl to unnerve a perpetrator or direct attention in a particular way. Due to the intense training and preparation these police dogs undergo, the growls of these Rottweilers may carry an aggressive nature on purpose.
Rottweiler Related Article: Are Rottweilers Dangerous?
How To Tell What Kind of Growl Your Rottweiler Gives
As you seek to identify the meaning behind your Rottweiler's growl, there are certain factors that can be helpful in giving you clues. The environment they're in or the activity they are doing is perhaps the easiest indicator for what type of growl they are letting out. For example, if the dog is engaged in play and is looking like they are having a good time, their growl is most likely an excited, cheerful one. However, if it's clear your dog is agitated or disturbed by not getting its way or is afraid of a situation, the growl may have a more negative message. Be sure to notice this type of negative behavior and take the next steps in obedience training if becomes more of a problem.
The frequency, duration, and pitch are also key factors to notice in determining which type of growl your Rottweiler is sharing with you. Low and slow growls may indicate a calm pleasure. Short and more "yippy" growls can indicate play and enjoyment. Higher pitched or sharp growls may indicate a more aggressive or fighting growl. Dogs also have different vocal ranges, so it's important to be able to identify your dog's unique pattern of communication. As growls can mean many different things, it's important to understand the variances between them.
Related: When Do Puppies Start Barking and Best Bark Collar For Large Dogs.
How To Stop Your Rottweiler from Growling
Like other negative behaviors, it's important to understand the underlying reasons behind your dog's growl. For example, if their growl is out of pleasure and delight, there's not much you can do to eliminate that harmless natural reaction. Just be sure that their temperament and feelings don't suddenly change to frustration or agitation.
Helpful Articles: Reasons Why Dog is Wobbly and Off-Balance and Why Is My Dog Sneezing Lately?
Conclusion For "Why Is My Rottweiler Growling"
However, when growls are a result of fear, agitation, or aggression, you'll want to take action immediately. Obedience training is essential to raising a Rottweiler to be well-behaved and a great family pet. Starting this behavior training early on can prevent your Rottweiler puppy from developing negative habits and address problems before they spiral out of control. Proper socializing of your dog also can greatly improve their behavior and interactions with other dogs and people.
When Rottweilers are comfortable in different situations with different dogs and people, they may feel less threatened. Exposing them to potential triggers of what may make them aggressive and then directing their reaction to a more positive outcome can also be helpful in training. Also establishing yourself as the dominant authority in the relationship will teach your Rottweiler that they are not the boss of the house. Once your dog begins to learn appropriate reactions to triggers and does not show aggression, be sure to reward them with positive reinforcement, whether that's a treat, a new toy, or lots of petting.
For more helpful articles, check out:
Rottweilers will sometimes growl because it's trying to defend its territory. For example, watch "Big Rottweiler Defends His Territory" from Emirhan Duran down below: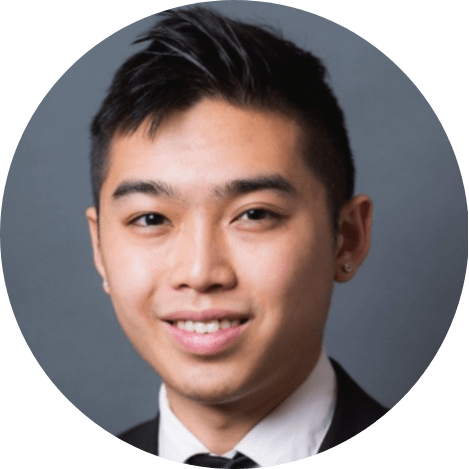 Andy is a full-time animal rescuer and owner of a toy doodle. When he's not saving dogs, Andy is one of our core writers and editors. He has been writing about dogs for over a decade. Andy joined our team because he believes that words are powerful tools that can change a dog's life for the better.
Why Trust We Love Doodles?
At We Love Doodles, we're a team of writers, veterinarians, and puppy trainers that love dogs. Our team of qualified experts researches and provides reliable information on a wide range of dog topics. Our reviews are based on customer feedback, hands-on testing, and in-depth analysis. We are fully transparent and honest to our community of dog owners and future owners.