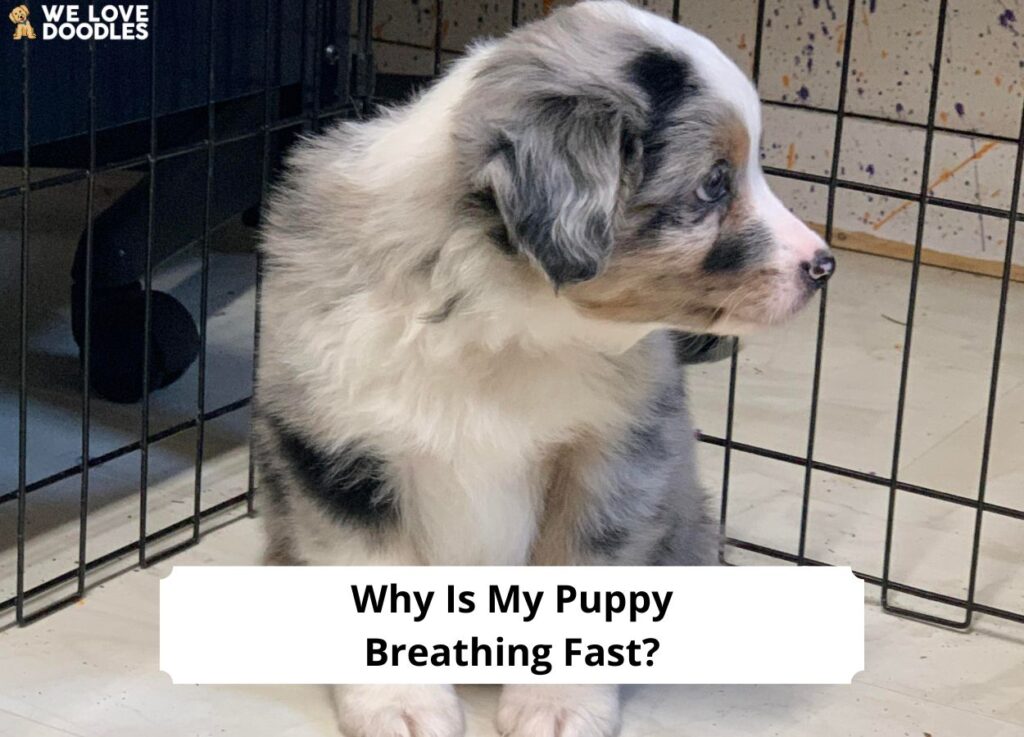 Should a puppy be breathing fast? If you have a new pup, you may be asking yourself whether your fur baby's breathing is normal. Those of you who are new to puppy ownership may be particularly concerned, though veterans of puppy parenting may worry, too. Don't worry, we've got just the guide.
In reality, puppies do breathe more quickly than adults. But in some cases, you may want to contact a vet to make sure your dog is healthy and safe. We'll talk about those indicators in this article. Whether you have a puppy you're observing or you're just curious, read on to learn about puppy respiration.
Before you see a more in-depth answer to this guide, "Why Is My Puppy Breathing Fast," check out: Why Is My Dog Breathing Heavily While Sleeping? (2023) and Can Dogs Breathe Under Blankets? (2023).
Normal Respiration in Puppies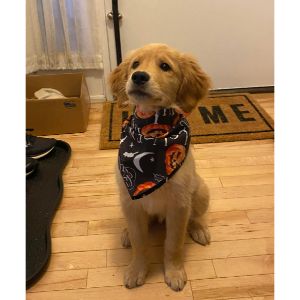 As you may know, our bodies are smart. Generally speaking, we know what we need, and many of those needs are met automatically. Breathing, for instance, is a natural process that occurs as our blood needs oxygen; when you inhale, your body's need for oxygen is sated. You don't even have to think about it.
Puppies' bodies work the same way. They breathe, inhaling and exhaling, to regulate the carbon dioxide and oxygen in their blood. The amounts of these compounds can vary based on whether your puppy is active, at rest, or ill. Therefore, you may notice the respiratory rate changing from time to time.
Normal respiration in a puppy is anywhere between 15 and 40 breaths each minute. Anything within this range is considered healthy, given an activity level that corresponds.
In other words, if your puppy is at rest, but is breathing at around 40 breaths per minute, this may be indicative of an issue. If he is playing or exercising, it's probably nothing to be concerned about.
Compare this to an adult dog, which has a respiratory rate of around 10 to 30 breaths per minute. Adult dogs will breathe slower than your puppy, so you'll notice a difference between a mom and her pups.
Why Is My Puppy Breathing Fast?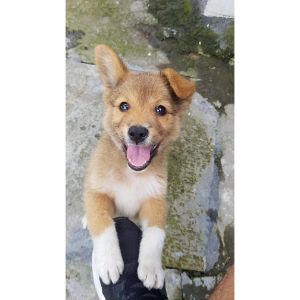 There are plenty of reasons your puppy may be breathing more quickly than usual. The good news is that many of these reasons are perfectly fine — your pup isn't in any trouble! Let's look at a few explanations.
Exercise
When your puppy is exercising, which usually consists of running around with his brothers and sisters or romping in the yard, his breathing may be faster than when he's at rest. This is because of elevated carbon dioxide levels in his blood. Quickly breathing will help balance your puppy's oxygen levels.
Stress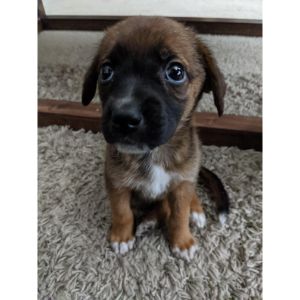 If your puppy is stressed, you may notice that he's breathing faster than usual. This is normal, but it's a good idea to be vigilant. Obviously, it's not good for your puppy's mental health to be stressed, and prolonged anxiety can lead to aggression, both now and later in your dog's life.
Excitement or Stimulation
It's okay for your puppy to be excited! After all, you want your little one to be as happy as possible. When your pup is enthusiastic about this Big New World, he may tend to breathe more quickly than normal.
Remember that overstimulation can affect your puppy in much the same way that stress can, so please try to keep your pup sheltered from sensory overload.
Heat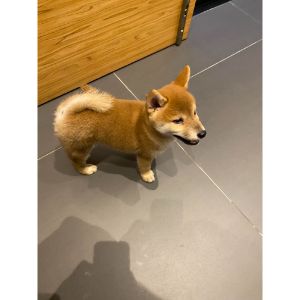 As you may have guessed, your puppy may breathe heavily if he gets too hot. Again, this is normal but you'll want to keep an eye on your dog. Monitor him, as heatstroke isn't uncommon in puppies. It can even be fatal, so a watchful eye is a necessity.
So, if you're asking "Do puppies breathe fast," the answer is yes! Sometimes. They naturally breathe more quickly than adults, and usually, it's perfectly normal for your dog to have an accelerated respiratory rate.
Other times, however, it's not normal and may be cause for concern. In the next section, we'll take a look at problematic reasons your puppy's breathing quickly.
When Is Fast Breathing Cause for Concern?
There are a few instances in which your puppy's quick breathing may be a sign of something more serious. Let's take a quick look at these causes.
Heart Disease
In rare cases, your dog may be breathing fast due to a heart condition. The blood your puppy's heart circulates contains oxygen, and if that oxygen is in less quantity than it should be, your puppy may be breathing fast.
Heart conditions like this are rare, and your vet should be able to diagnose the condition early on. Take your puppy to the vet as soon as you get him home.
Lung Disease or Infection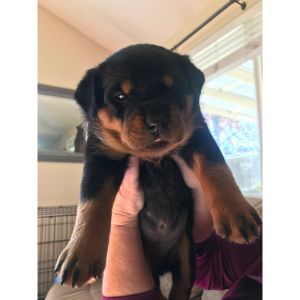 Lung disease or infection is also rare, but it can happen. If your puppy is breathing fast, he may have inhaled something like mulch or grass seed or may have contracted an infectious disease.
If your pup has a lung issue, he will probably be lethargic and may have a cough. Talk to your vet if you see these symptoms.
Other Underlying Conditions
Some other underlying conditions may cause your dog to breathe more quickly. Worms and other parasites, onion poisoning, autoimmune disorders, and other conditions may cause an accelerated heart rate. It's best to schedule an appointment with the veterinarian or an emergency pet clinic.
Secondhand Smoke or Other Contaminants
If you smoke, you may be putting your puppy at risk. Just as secondhand smoke can adversely affect humans, your dog may be susceptible to breathing problems after exposure to your tobacco smoke. If you must smoke, do so in an outdoor area away from your pets.
Carbon monoxide or seasonal allergies may also cause your puppy's rapid breathing. If you see your pup's breathing impacted, look around for external factors and do your best to separate your dog.
Frequently Asked Questions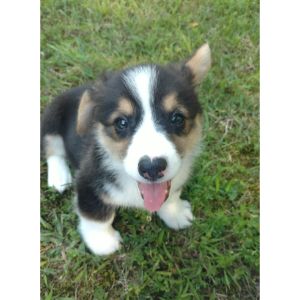 Do puppies breathe fast? Well, the short answer is "sometimes." But if you've spotted a change in your dog's respiratory rate, you may still have questions. Here are a few of the most commonly asked questions from our readers.
Why is my puppy breathing so fast?
Your puppy may be breathing more quickly than normal due to a number of factors we've covered above. Usually, he's just hot, active, or excited. But in some cases, your dog may be in distress.

Heart and lung conditions, smoking tobacco, or even parasites may be causes for rapid breathing.

Try your best to isolate the cause of your dog's rapid breathing, and if you still have concerns it's best to call a vet.
Do puppies breathe fast while sleeping?
Interestingly, puppies can breathe faster while they're sleeping than they do while they're awake. Puppies' bodies need extra oxygen during REM sleep, the period of sleep when your dog dreams.

Puppies dream more than adult dogs do, so you may notice accelerated breathing more in your young dog than in your grown-up one.
How fast is too fast for puppy breathing?
Remember that puppies normally breathe at a more accelerated rate than adult dogs. Your dog will typically breathe 15 and 40 breaths per minute. That said, if your puppy is breathing between 35 and 40 breaths per minute, you may want to remain vigilant.

Should your puppy's respiratory rate reach over 35 breaths per minute, try to single out any external factors that your puppy may be exposed to. If you can find none, such as tobacco smoke or carbon monoxide, it's worth your time to make a call to the vet's office.

Note that your dog may be experiencing no problem at all. Puppies breathe fast because that's just how their bodies work, but it may be best to rule out any other issues with a trip to the vet.
Why is my puppy breathing fast while resting?
The short answer is that they're growing! Your little fur ball needs more oxygen than an adult dog to grow and develop properly.

This is true for humans, too. Have you ever noticed that babies breathe significantly more quickly than adults do? In some cases, their breathing may even stop for a few seconds. This is normal, and as long as breathing returns to a normal rate, your puppy is probably fine.

Puppies have a fast metabolism and they need a lot of energy.
When should I call a vet if my puppy is breathing fast?
Usually, your puppy's accelerated respiration is nothing to worry about! However, as you now know, your puppy's quick breathing may be cause to sound the alarm.

If your puppy is expanding his stomach to breathe, you should call your vet as this is not normal. If you've noticed that your dog is lethargic, refusing to eat, or won't drink, call the vet.

Furthermore, you may notice that your dog is mouth breathing (which is normal for some breeds but not for others) or that his skin coloration is changing to blue or gray. Additionally, your pup's gums may be blue or red. These symptoms signify that your dog may need to visit a veterinarian.

No matter what, if you have any doubt, it never hurts to call a vet. He or she can guide you through the next best steps in caring for your dog.
Conclusion for "Do Puppies Breathe Fast"
Now that you're a little more familiar with puppy respiration, you know the answer to the question "Do puppies breathe fast" and can care for your puppy appropriately.
Quick respiration can be caused by illness, allergies, or exposure to airborne contaminants. But puppies naturally breathe more quickly than their adult counterparts, so an accelerated breathing rate is usually not cause for concern.
Monitor your puppy and make sure his breathing rate doesn't exceed between 35 and 40 breaths per minute. Should your puppy exceed this rate, it's time to call the vet to rule out underlying health concerns.
If you find this guide, "Why Is My Puppy Breathing Fast," helpful, check out:
Learn more by watching "10 Reasons Why Your Dog Is Breathing Fast" down below:
Garrett loves animals and is a huge advocate for all Doodle dog breeds. He owns his own Goldendoodle named Kona. In addition, he volunteers at the Humane Society of Silicon Valley, where he fosters dogs and helps animals. Garrett enjoys writing about Doodles and believes that dogs can teach humans more about how to live than humans can teach a dog.
Why Trust We Love Doodles?
At We Love Doodles, we're a team of writers, veterinarians, and puppy trainers that love dogs. Our team of qualified experts researches and provides reliable information on a wide range of dog topics. Our reviews are based on customer feedback, hands-on testing, and in-depth analysis. We are fully transparent and honest to our community of dog owners and future owners.