Dachshunds! They're cute little Wiener dogs with big personalities, and if you're lucky enough to meet a Dachshund you'll learn that they're clever little pups, too! The sweet dogs are friendly, special pups with sassy attitudes, but you can match your dog's sass with these Dachshund jokes, puns, and memes.
Whether you want to share with your friends on Facebook or just tell jokes to your dog, we've got you covered. Ready? Here we go! These are our favorite wisecracks about Dachshunds.
Before you read this list of Dachshund memes, check out: 15 Best Crying Dog Memes! (2023) and 15 Best Dog Side-Eye Memes That Will Make You Laugh! (2023).
The 10 Best Dachshund Jokes to Tell Your Friends
Do you want to make your friends (or your kids) giggle? Practice delivering the punchline to these cute little Dachshund jokes!
Question: What do you call a Wiener dog that doesn't want to go on a walk?
Answer: Pulled pork!
Question: What do you give a Dachshund with a fever?
Answer: Sauerkraut! It's the best thing for a hot dog!
Question: What do you call a Dachshund in a mummy costume?
Answer: A Hallo-wiener dog!
Question: What do you call a Dachshund playing in the snow?
Answer: A chili dog!
Question: Why didn't the Dachshund visit the psychiatrist?
Answer: Because he wasn't allowed on the couch!
Question: What do you call a cross between a Dachshund, a Poodle, a Schnauzer, and a Shih Tzu?
Answer: A Wienerschnitzel!
Question: Why did the cowboy adopt a Dachshund?
Answer: So he could get a long little doggy!
Question: What do you call a Dachshund that likes burritos?
Answer: A been weenie!
Question: Why do Dachshunds love ice cream?
Answer: Because they're hot dogs!
Question: Why did the Dachshund get a traffic ticket?
Answer: Because low riders weren't legal in his city!
10 Dachshund Puns, Dad Jokes, and One-Liners
Sometimes you just want to impress your friends with your remarkable wit. Keep these Dachshund jokes, puns, and one-liners in the back of your mind for the next backyard barbecue.
Bonus points if hot dogs are being served.
Dachshunds will go down in history as the greatest of dogs… because history is written by the Wieners!
Dachshunds are horrible dancers because they have two left feet!
Dachshunds love the paparazzi because they just love being hounded!
My Dachshund is angry and grumpy today… I fear the wurst.
When a Dachshund is hungry, he's a hollow-ween.
The Dachshund went to the flea circus and stole the show!
Watch a movie with Dachshunds on either side of you for the best surround hound!
I can't take my Dachshund on road trips anymore because he's a bark-seat driver.
I always know when my Dachshund is barking because he has collar ID.
The scientist crossed a Dachshund with a vampire – he created a bloodhound!
The Best Funny Dachshund Stories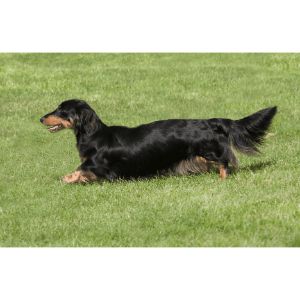 Gather around the campfire, grab a drink, and roast some weenies while you tell these funny Dachshund stories to your buddies!
The Gates of Heaven
A Collie, a Dachshund, and a Poodle crossed the rainbow bridge and waited before God.
God asked each dog what they believe in. "Collie, what do you believe in?"
The Collie answered, "I believe in loyalty and in protecting my human's safety!"
God says, "Okay, take a seat to the left of my throne."
God then asks the Poodle, "Poodle, what do you believe in?"
The Poodle answered, "I believe in mixing play and love for my human! I've had a good, long life!"
God says, "Okay, you can take a seat to the right of my throne."
Finally, God asks the Dachshund, "Dachshund, what do you believe in?"
The Dachshund wiggles past God, hops up on his throne, and says, "I believe you've been keeping my seat warm."
Dachshund House Rules
These are the unbreakable house rules for any Dachshund owner:
The Dachshund isn't allowed in the house.
Okay, the Dachshund is allowed in the house, but only with permission.
Fine, the Dachshund can come in the house whenever he wants, but only in certain rooms.
Alright, he can come in any room but not on the furniture!
Well, okay, but he can only get on the furniture with permission.
Okay, the Dachshund can get on the furniture if he wants to, but he can't sleep in the bed.
Alright, the Dachshund can sleep in the bed, but only with permission.
Whatever. The Dachshund can sleep on the bed if they wish.
The humans can sleep in the bed only with the Dachshund's permission.
Dogs Can't Talk!
A man and his Dachshund walk into a bar. The bartender immediately tells them to leave, to which the man replies, "But my dog can talk!"
The bartender decides to test the Dachshund and asks him a few questions.
Bartender: What's on top of your house?
Dachshund: Roof!
Bartender: What's the scratchy stuff on the outside of trees?
Dachshund: Bark!
Bartender: Okay, last question — who's the greatest baseball player of all time?
Dachshund: Ruth!
The bartender tells the pair that this is dumb, and throws them out. Once they're outside, the dog looks at his owner and says, "What, should I have said A-Rod?"
Dachshund Memes to Make You Smile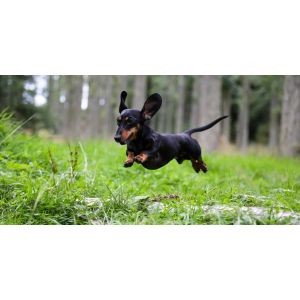 Share these Dachshund memes on your social media pages, update your cover photo, or just save them as your phone's wallpaper. These Dachshund memes are as cute as the little Wiener dogs are!
This little Wiener didn't eat your donut. No, really! Dachshunds are notorious for finding trouble, so make sure you don't fall for those little puppy dog eyes.
It's a darn good thing their little faces are so forgivable. Your little Doxie's mood can change from zoomies to snuggles in a heartbeat. Don't judge your pup for what he did a few seconds ago — he's a changed dog now.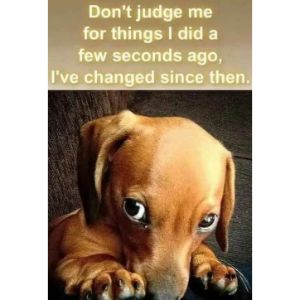 From: Alpha Paw
Dachshunds mean well. But hide your keys, because your pup will steal them for just a few more minutes of cuddle time!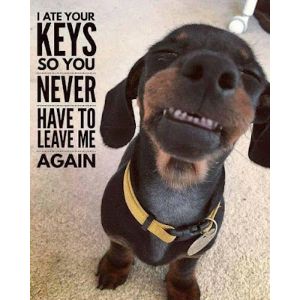 From: Birdhouse Books
Dachshunds like to play … usually. This Dachshund meme speaks for itself.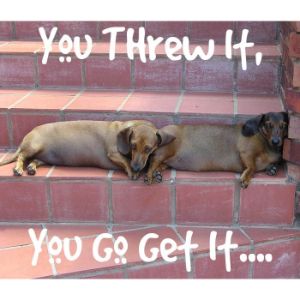 From: Saying Images
Dachshunds are quick to take over your schedule, your heart… and your bed. This Doxie knows what's up!
From: bratwurstdoxie1 on Twitter
Dachshunds will do just about anything for a treat! Don't let them manipulate you with those wigglebutts and snuggles — they know what they're doing!
From: Cheezburger
Do you own your Dachshund or does your Dachshund own you? The jury's still out on that one, so beware! Maybe your dog is training you instead of the other way around.
From: YouDidWhatWithYourWeiner
Dachshunds are incredibly smart and easy to train… if they want to be trained, that is. They hate the water, so if it's raining outside? Forget it! Your pup's potty break may need a little more supervision than normal if you want to prevent accidents in the house, like in this Dachshund meme.
From: Alpha Paw
Did this low rider want a better view of the world? Maybe the dog next door needed to be taught a lesson. Anyway, this clever little disguise just might work!
From: Alpha Paw
Okay, we'll admit it. This Dachshund meme could fit just about any breed. But, little buddy, to answer your question — yes!
Conclusion for "Best Dachshund Memes, Jokes, and Puns"
Whether you have a Doxie or are just a huge fan of their little antics, we hope we've made you smile! We can't brighten your day like your Dachshund can, though, so put down your phone, then go play fetch, take a walk, or visit your local Dachshund rescue for an extra boost of short-legged sunshine.
If you enjoyed these Dachshund memes, you could also check out:
You might also like "Dog Memes" down below:
Garrett loves animals and is a huge advocate for all Doodle dog breeds. He owns his own Goldendoodle named Kona. In addition, he volunteers at the Humane Society of Silicon Valley, where he fosters dogs and helps animals. Garrett enjoys writing about Doodles and believes that dogs can teach humans more about how to live than humans can teach a dog.
Why Trust We Love Doodles?
At We Love Doodles, we're a team of writers, veterinarians, and puppy trainers that love dogs. Our team of qualified experts researches and provides reliable information on a wide range of dog topics. Our reviews are based on customer feedback, hands-on testing, and in-depth analysis. We are fully transparent and honest to our community of dog owners and future owners.