Are you searching for happy birthday dog memes to send to a friend or someone you know? Well – you're in luck. Anyone who loves dogs knows just how cute, crazy, and hilarious they can be. They make us smile, laugh, cry and go nuts with their never-ending antics or shredding our new cushions.
Despite this, we can't live without them, and they bring out our fun side when it comes to their facial expressions. One of the best ways they do this is through happy birthday dog memes you can find all over the internet.
Some make us cringe, while others send us to the floor, howling with laughter. If you want to have a good laugh from man's best friend, read on for some of the best happy birthday dog memes.
Before you scrolling down this list of happy birthday dog memes, take a look at these other meme recommendations that you can share with your friend: Best Sad Dog Memes and Best Walter Dog Memes.
1. Angry Dog Birthday Meme
While dogs get angry or jealous around other dogs, they don't generally feel that way about their owners. However, the tune can change quickly when it comes to the food. This doggy doesn't look too happy about anyone.
Even its beloved owner was getting close to or touching its birthday cookie. While some may take the chance and take a small bite just as a tease, based on how ferocious this little dog looks, we would avoid getting close to the dog until the party's over.
Other dog memes you would like: Funny Smiling Dog Memes and Best Scared Dog Memes.
2. Sad Dog Birthday Meme
Have you ever been to a party and you were really hungry? Like ravenous? That's how this doggy feels right now. The look of disappointment on its face is palpable, and we feel for it.
Come to think of it, do we need candles on a birthday cake? Isn't it about all the tasty treats anyway? This dog doesn't care about its age and wants to get its grub. We can't blame it.
3. Sneaky Dog Birthday Meme
Dogs often use their cuteness to fool us, and the funny thing is, it works. This little fellow here decided to use its looks to its advantage by sneaking away all of its birthday cake and pretending not to know where it all went.
That look of pure innocence could woo just about anyone, and we can't help but laugh at the nerve of its cheekiness. We bet it didn't realize that the evidence on its nose would give it away.
4. Dancing Dog Birthday Meme
You're missing out if you've never felt like dancing on your birthday. Our friend is happy that its birthday has arrived, and it's not hiding it.
While its moves may not impress everyone, we give it an A for effort. His adorable little dance makes us feel like we need an invite to the party. Looks like it's going to be a good one with it around.
5. Fire Birthday Dog Meme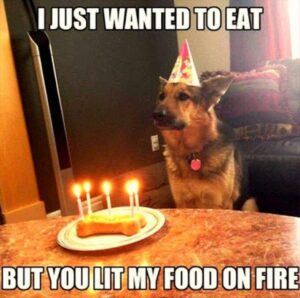 Some jokes are not funny, especially at a dog's birthday party. Our furry friend's look of annoyance cannot be underestimated. After all, joking about calling the fire department just as it's about to blow out its candles is ludicrous at best. While everyone else is laughing at the bad joke, in its mind, it's planning its next birthday in Maui with a new group of friends.
6. Funny Happy Birthday Dog Meme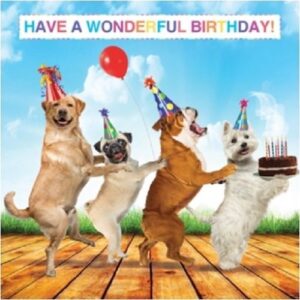 Some may find it weird that dogs have birthday parties, but it's simply a right of passage. This hilarious birthday dog meme shows an innocent-looking pooch accessorized with its party hat and balloon at the ready.
While the person on the other line seems to find it crazy that their friend is attending their dog's birthday party, there's no other place they'd rather be. As for the dog, it seems that it's ready to get the party started.
7. Greedy Dog Birthday Meme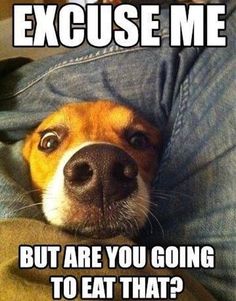 There's nothing better for a great picture than a megawatt smile. This birthday boy has just that and more. Not only is it happy and giddy about its birthday, but it couldn't wait to down its birthday cake.
Just look how sad and impatient it looks in the first picture. But quickly, the picture transforms into a  hungry and hilariously funny birthday dog meme that is sure to last on the internet for a long time to come.
8. Nervous Dog Meme
The only thing worse than a birthday everyone forgot is the one where you realize when you're getting older, and you're not too keen on it. If your 20s are running away and you don't know where they went, you may feel like the dog in the picture, looking with fear at the number balloon. Instead of fretting, please make the most of it and enjoy what life offers. After all, age is just a number, even if this dog doesn't agree.
9. I Am The Gift Meme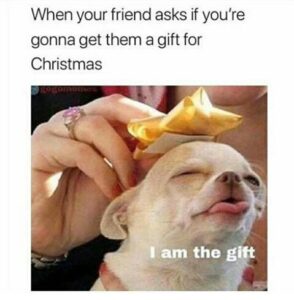 Imagine looking forward to a birthday gift from your friend, only to be told, "I am the gift." We all have gotten duped by that friend before, and it's almost to be expected. You may not be happy bout what your friend has done once again, but you can't help wanted to laugh at how royally cute this dog looks. It's as if it knows it's the party's life and no one can take its crown from it. The wagging tongue certainly adds to the grandeur, too.
10. Anticipating Cake Dog Meme
If you love a birthday doggy meme that's not only funny but also relatable, look no further than this one. The beauty of having your birthday party is enjoying all that cake. But when you've got to wait on the singing to end, it can seem like an eternity.
Our cute little Poodle doesn't look too sad, though. It looks quite relaxed, anticipating an end to the traditional birthday song and its chance to dig into that delicious cake. Based on how it's smiling, let's see if it plans to leave some cake for the guests.
11. Annoyed on Birthday Meme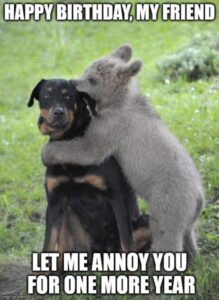 It's great when you can dine out at a restaurant for your birthday, but it's another thing when you want to enjoy your meal, and the waiters are coming to 'surprise' you. What's a funny birthday dog meme without a dog in its cute party hat enjoying its best life when it's rudely interrupted by clapping and singing. Oh, just the nerve. It looks like this dog is thinking. Looks like it's just waiting for the next course and doesn't want any more attention on it until it's the dancing portion.
12. All Attention On Me Meme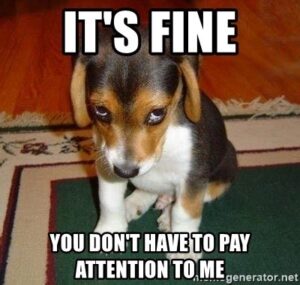 While some dogs hate attention on their birthdays, others soak it right up. They want to be seen, and they want everyone to know they are the star. Take our friend here, for example.
It hates the attention on its 364 days of the year, but it hogs the spotlight when it comes to its birthday. He's not ashamed to show off its gorgeous face either. It rented a billboard to advertise the day after all.
13. Dog Years Meme
This dog looks surprised that it's its big day, and we want to give it a big hug. The cake looks pretty tasty to us, and we're ready to dig in, but we guess it's worried about aging much too quickly.
The fact that its doggy years are a tad shorter than ours is probably giving it a fright based on its look of cute pessimism written on its face. Worry not, doggo. We're rooting for you.
14. we Smell Birthday Cake Meme
Our next funny happy birthday dog meme is all too familiar to those of us of carrying delectable treats home to a hungry dog. We all know dogs have a strong sense of smell, and this doggy is using it to its advantage.
This dog looks happy, surprised, confused, and eager. We would love it if we could get some of that birthday cake, and we wouldn't mind a slice too.
15. Funny Puppy Birthday Meme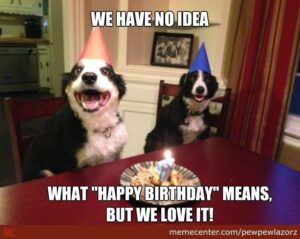 Our list wouldn't be complete without a funny puppy birthday meme. This cute little guy does look guilty for eating the birthday cake, but who can stay mad at it? He's too adorable.
The most important thing is that it made a big effort to make that cake, even if it did gobble it down before anyone could taste it. Looks like they enjoyed it too.
Check out these other articles:
If you enjoyed these funny happy birthday dog memes, you might also want to look at this very funny video called "Cute Dogs Bark The Happy Birthday Song" down below:
Garrett loves animals and is a huge advocate for all Doodle dog breeds. He owns his own Goldendoodle named Kona. In addition, he volunteers at the Humane Society of Silicon Valley, where he fosters dogs and helps animals. Garrett enjoys writing about Doodles and believes that dogs can teach humans more about how to live than humans can teach a dog.
Why Trust We Love Doodles?
At We Love Doodles, we're a team of writers, veterinarians, and puppy trainers that love dogs. Our team of qualified experts researches and provides reliable information on a wide range of dog topics. Our reviews are based on customer feedback, hands-on testing, and in-depth analysis. We are fully transparent and honest to our community of dog owners and future owners.