When Victoria Leigh, the "human mommy" to the famous Walter the Dog, got Walter almost five years ago, she had no idea he'd become such a social media sensation. Maybe she secretly willed it into existence since she's always taking photos of her beloved bull terrier.
Walter the Dog became famous on social media almost overnight after his original meme went viral on Twitter and spread to other social media sites. He has hundreds of thousands of followers across multiple social media sites, making him one of the most famous dogs in the meme world.
We've collected 13 of the most popular Walter the Dog memes to introduce you to Walter the Dog and his world.
Other articles you would like: Sad Dog Memes and Funny Smiling Dog Memes.
13 Walter the Dog Memes
Some of the most popular Walter the Dog memes originated with Walter the Dog's owner. However, some are fan-created mashups with other memes.
1. The Original Walter the Dog Meme
The very first Walter the Dog Meme appeared on Walter the Dog's Twitter account. His owner took some photos of him one day when he was looking out the window and barking. One was particularly unflattering because his ears are pinned so far back that it seems like he is earless.
Victoria posted the picture to his Twitter account, with the caption, "when u open the front-facing camera on accident." It was this image that launched Nelson into fame and memedom.
Many people used this unflattering, earless image to make their own memes about how unflattering forward-facing camera shots can be.
2. The Meme That Gave Walter the Dog His Name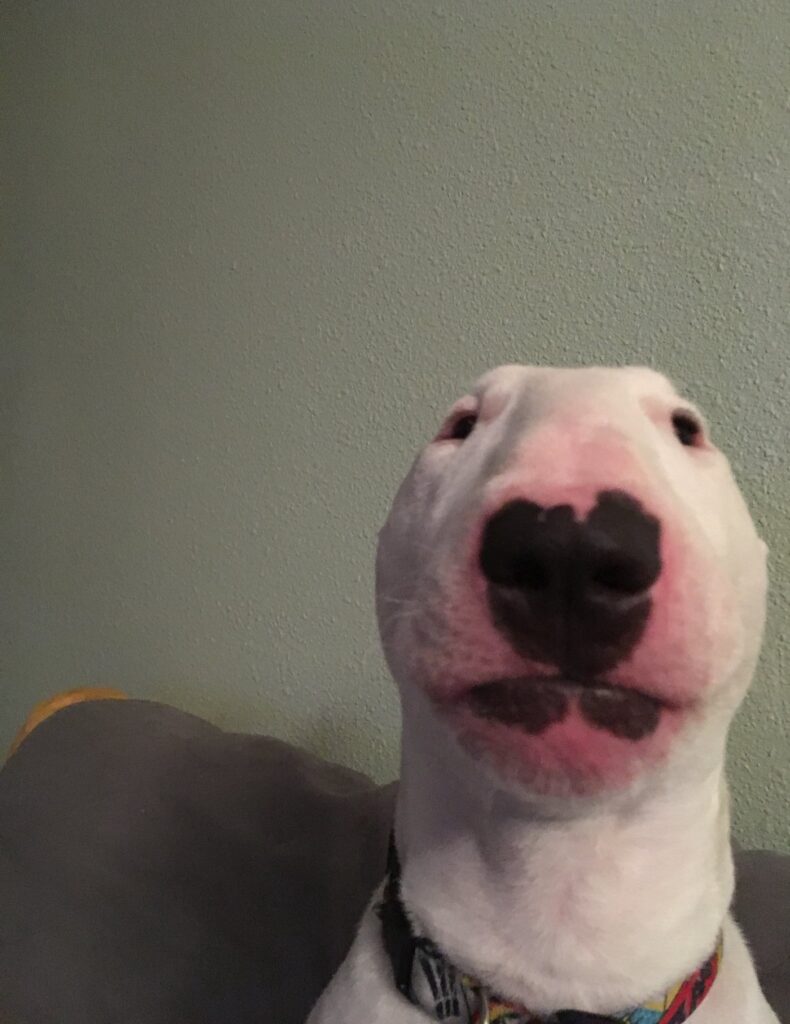 Walter the Dog's real name is Nelson. His meme name comes from a mashup of two memes. The original Walter the Dog meme and the Walter Clements meme were trending at the same time in late 2018 on the r/OkBuddyRetard subreddit.
Soon, users started to combine the two memes with Nelson's face photoshopped to represent Walter Clements. Thus, Walter the Dog was "born."
A famous Walter Clements and Walter the Dog mashup is a yearbook page where the creator replaced Walter Clements' photo with Nelson's famous unflattering photo.
3. Walter the Dog Fire Trucks and Monster Trucks Meme
Walter Clements (who loves fire trucks and monster trucks) was also the inspiration for the Walter the Dog fire trucks and monster trucks meme. You can even order merchandise from Redbubble that says, "I like fire trucks and monster trucks. Walter."
4. Walter the Doge Meme
The Doge internet meme became popular in 2013 with a Shiba Inu dog's internal dialogue Photoshopped onto the picture in Comic Sans.
There have been a few memes featuring both Walter and Doge. One chuckle-worthy version is a smashup of the original Doge image with Walter the Dog's face, creating Walter Doge.
5. Walter the Dog Target Memes
Some people have called Nelson the Target dog since he's the same breed as Target's mascot. This designation has resulted in a few Target Walter the Dog Memes.
For example, there's a Walter the Dog Target meme with Nelson dressed up in Target attire. It says, "Walter working minimum wage. He do be joining a union, though."
6. Walter for President Meme
Enough people believed in Walter that he had his own presidential campaign. You can still buy Walter for President 2020 paraphernalia on Redbubble.
7. Walter the Dog Exercise Extra Fries Meme
Walter the Dog first won everyone's hearts by being our worst selfie. With his exercise meme, he tugs on our heartstrings again by being the voice of our inner self: "Exercise? I thought you said extra fries!" Sorry. It's time to walk around the block, not time to go to McDonald's.
Walter the Dog's exercise meme has even been the subject of a study at Cornell University on how sentence demarcation affects meme popularity.
8. Walter the Dog Furniture Meme
Some memes are great because they're clever. The Walter the Dog furniture meme makes an excellent point about the essence of furniture. "Yes, I know I've gotten hair all over the couch….It's called 'fur'niture…"
Maybe our pets are just taking the word more literally than we are.
9. Walter the Dog Steal Your Heart Meme
"First, I steal your heart. Then I steal your sofa." Not only do our dogs take the word "fur"niture at its face value, but they claim our furniture as their own. It's really not a sinister plot, or is it?
10. Walter the Dog Laughing Meme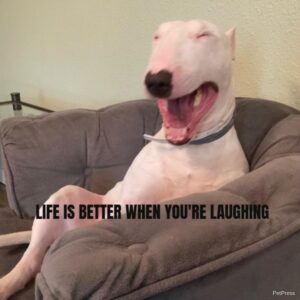 The original Walter the Dog meme and the Walter the Dog laughing meme resulted from a picture that caught Nelson at the perfect moment. In this case, Walter's mouth is open, and his eyes are squinting so that it looks like he's laughing.  "Life is better when you're laughing," says Nelson. Can any of us disagree with that?
11. Walter the Dog Cheese Meme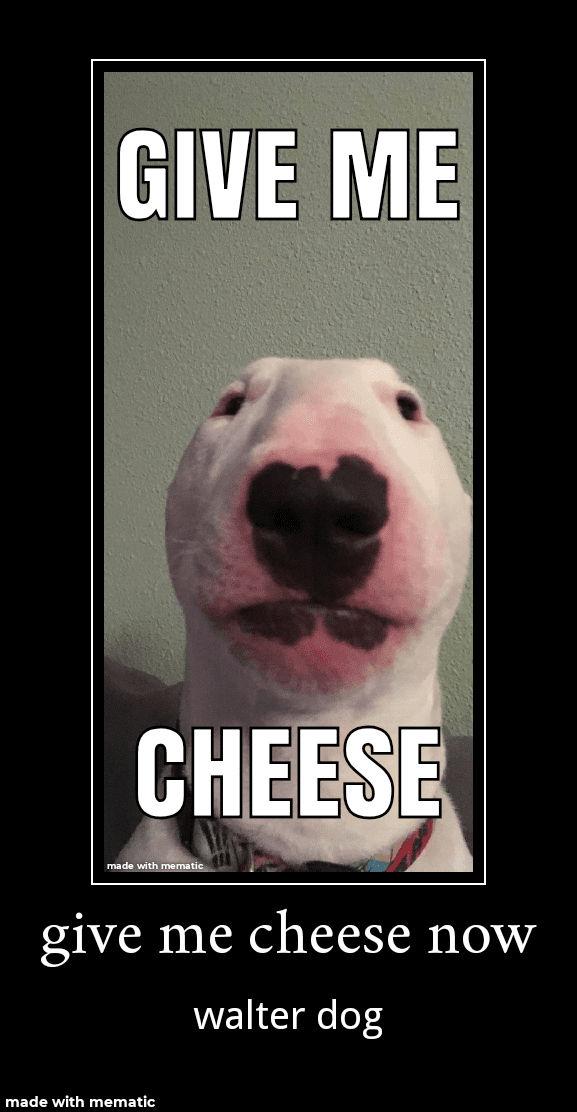 If you have a dog, you know this face. You open up the refrigerator door, and your dog sits expectantly, looking at you and saying, "Give me cheese. Give me cheese now." Nothing else exists but cheese. Once again, Nelson emotes our inner, baser selves. Somebody needs to give me cheese now, too.
12. The Walter the Dog Is Dead Meme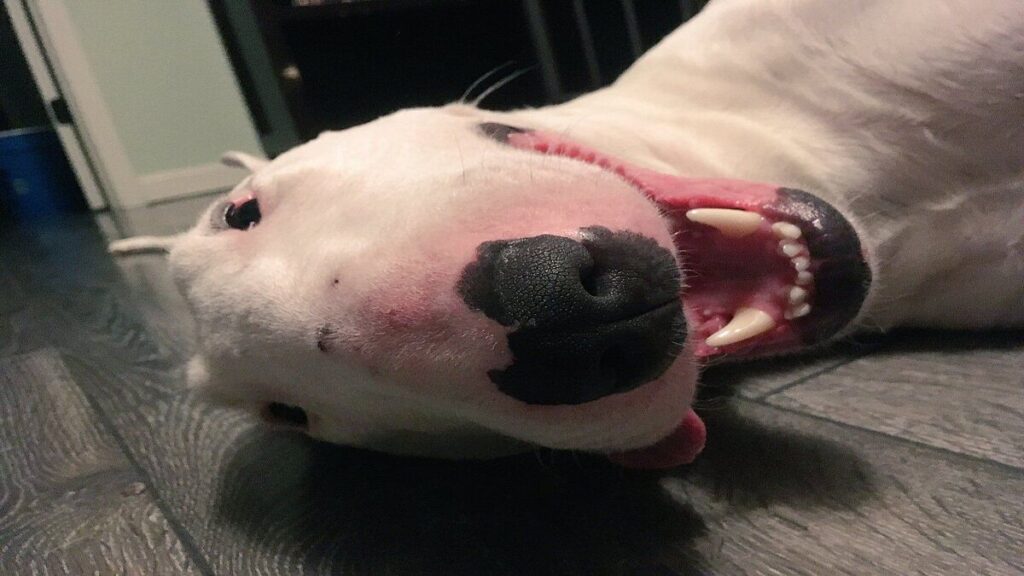 Rumors of Walter's death began when CelebritiesDeaths.com posted images of Walter the Dog on the ground dead from gunshot wounds. This rumor launched memes such as the one that said, "Walter Dog is Dead. No more fire trucks and monster trucks."
However, Nelson's owner confirmed that the rumors were false.
It turned out that the dog from the pictures was actually a dog named Billy, who was shot while protecting his owner during an armed robbery in Philadelphia. Luckily, Billy lived, and Nelson was never at the receiving end of a bullet.
13. Walter the Dog I'm Still Alive Meme
In response to the rumors that Nelson had died, his owner posted a meme of Walter saying, "I'm still alive." The image features the classic Walter the Dog image, glowing angelically with a cloudy sky background.
Keeping Up With Walter
It's difficult to guess where the next popular Walter the Dog Memes will originate. However, you can't go wrong following Walter the Dog on his many social media accounts:
Who knows? Maybe the best Walter meme is yet to come.
Walter the Dog in the Limelight
Walter the dog became famous on social media almost overnight, starting with Twitter then Reddit. Thanks to these sites, Walter's meme went viral and spread to other social media sites like YouTube and Instagram. He is so popular that he has his own TikTok, Twitter, and Instagram pages, having over 250,000 followers, over 100,000 followers, and over 100,000 followers respectively, making him one of the most famous dogs in the meme world.
You can go on any of his pages to see him in his element; demonstrating his antics and just being a lovable dog with lots of personality. As hard as it is to believe, many moderators on Reddit began to ban Walter due to the influx of posts about him on meme subreddits. But there are animal and meme lovers out there who have loved Walter since his meme first came on the scene, and he just keeps gaining popularity. My own daughter, who is five years old and an avid dog lover, adores Walter!
The Origin of Walter the Dog
You can say that Walter was predestined to be a social media star. However, Walter is not Walter the dog's name. He is known as Walter the dog the world over, but his real name is Nelson, given to him by his owner at the time of his adoption. He has been called a few nicknames, but  the comparison to a certain Walter Clements, because both Nelson and this Walter Clements character love fire trucks.
It quickly caught on by his followers, and soon he was being called Walter. He has even been called the Target dog, and understandably so, since both dogs are of the same breed. The name Walter stuck, and his owner just went along with it. It is probably easier for him to adopt the name Walter the dog than to keep correcting people on mass social media on his real name.
Walter has become a household sensation, you can purchase all kinds of merchandise online from him: plushies, t-shirts, coffee mugs and stickers, just to name a few. He was even in a commercial on television.
His characteristic, telltale Black spot on his nose makes him stand out from lots of bull terriers. I can only imagine how his owner feels, with all this fame thrown on them with just a click of a mouse. Many of us wish we could get success from a random photograph that was posted of us just for fun. Walter has done that for us. Nelson, otherwise known as Walter, has achieved what many of us never will!
Popularity Has Its Downside
You know, as they say, there's the other side of fame. Walter has experienced this in his own way. When something is going well, there will always be those people who will seek a way to stir the pot and add a dash of dramatics in. In the past, there have been bizarre rumors and supposed pictures, that also went viral, about Walter being fatally injured. The meme world enthusiasts and Walter fans were stunned and disheartened when the news of his supposed passing hit the social media platforms once again.
This piece of news turned out to be false, happily. His owner, Victoria, had to be the one to put those rumors to a screeching halt by letting the world know, with the proof of her pictures, so rest assured that Walter is doing well wherever he is. There are also fake social media accounts of Walter the dog; there has even been an owner of a bull terrier with the name Walter, who has tried to amass money through suing under false pretenses. It is so amazing the lengths that some will go to gain virality. I'm telling you, there are some characters on the internet who just love a good drama!
If you happen to be on TikTok looking for videos and snippets to entertain you, look up Walter.  You can also find him on Twitter, the social platform where it all started for him. All is well with Walter. You'll see that he's healthy as ever and collecting more followers on all platforms. I wonder if his human mommy will take any more photos of him that will send the meme world reeling with excitement again. My daughter and I watched a few of his TikTok videos just this evening. Walter is a one of a dog, for sure!
Check out these other articles:
Garrett loves animals and is a huge advocate for all Doodle dog breeds. He owns his own Goldendoodle named Kona. In addition, he volunteers at the Humane Society of Silicon Valley, where he fosters dogs and helps animals. Garrett enjoys writing about Doodles and believes that dogs can teach humans more about how to live than humans can teach a dog.
Why Trust We Love Doodles?
At We Love Doodles, we're a team of writers, veterinarians, and puppy trainers that love dogs. Our team of qualified experts researches and provides reliable information on a wide range of dog topics. Our reviews are based on customer feedback, hands-on testing, and in-depth analysis. We are fully transparent and honest to our community of dog owners and future owners.