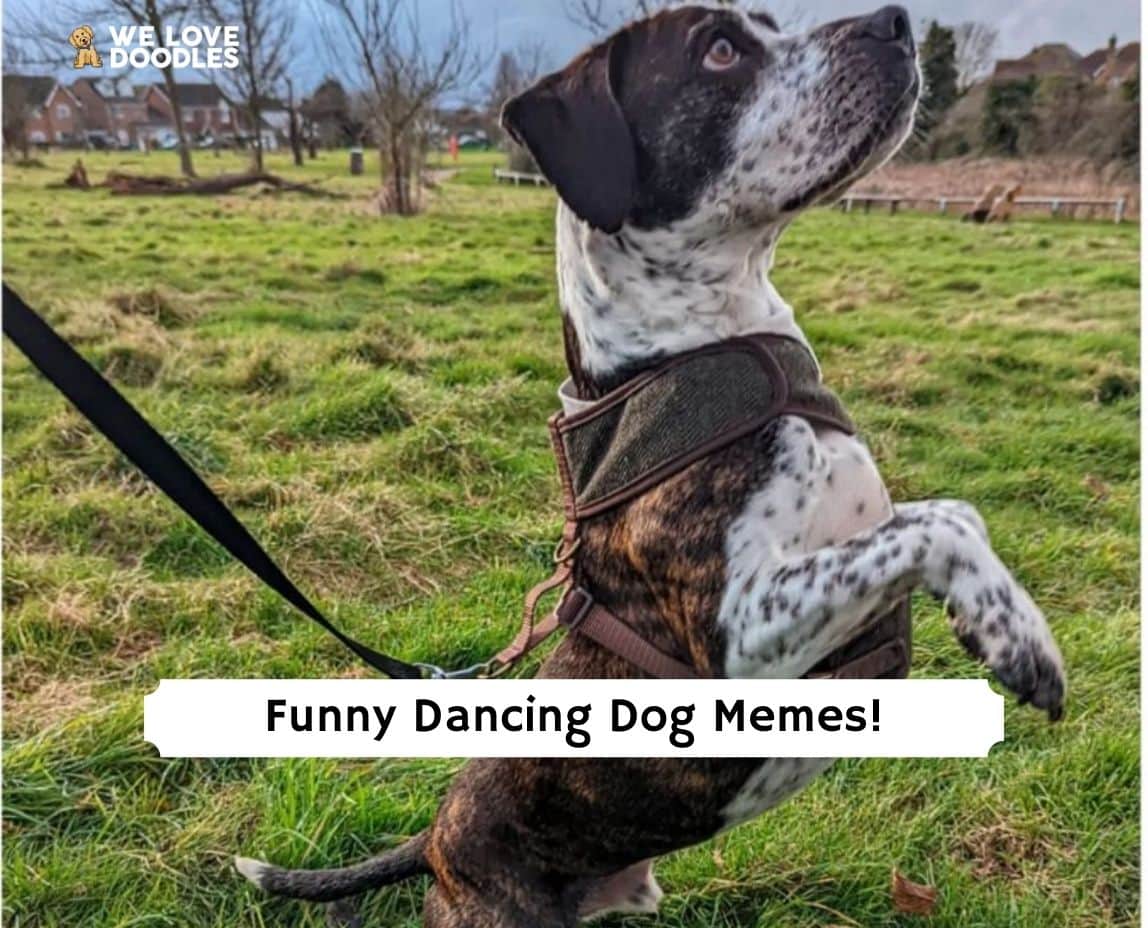 Are you looking for a good laugh? Do you love to play with dogs and find them quite funny in the right circumstance? Well, then you've come to the right place! 
If a dancing dog meme is what you're looking for to get a good chuckle, then this list of 20 amusing dancing dog memes will keep you entertained for hours. Take a look at the memes below with each one showing a funny dancing dog. Let's get right into it!
Other articles you would like: 8 Funny Looking Dog Breeds!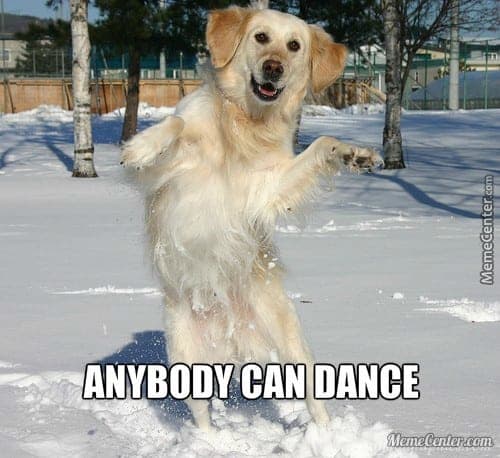 It doesn't get much funnier than a labrador shaking his groove thing in a pile of snow. This dancing dog meme is sure to get you chuckling. His big smile is sure to bring some warmth to your heart!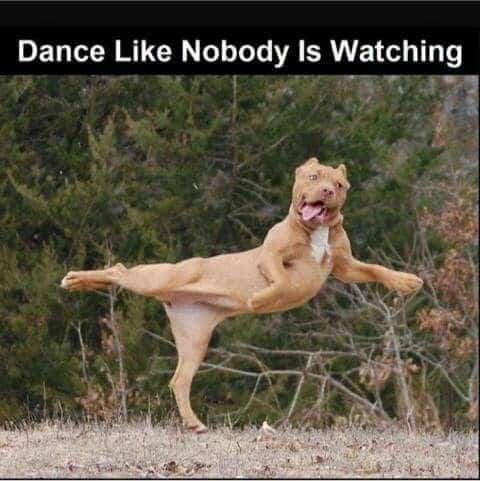 A dancing dog meme is especially hilarious when you see a pitbull doing moves just like a ballerina. This brown dog also has his big tongue sticking out of his mouth and the forest background makes it look like the dog's in a musical.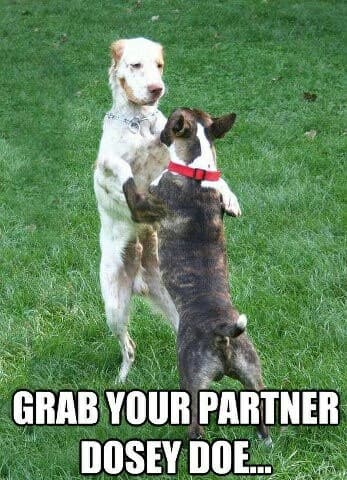 These two dogs are holding each other around the shoulders and standing upward as if they're ballroom dancing! They'll be ready for that prom in no time!
When is a dancing dog meme original? When you see a pup jumping up in the air with the wind pushing his lips back. This isn't just original. This dog looks hilarious and like he does not care what he looks like. He's got plenty of self-esteem!
This dancing meme dog looks like he's laughing with his tongue sticking out. He's having a great time dancing on the sand and shaking his hips! This beautiful golden retriever is sure to put a smile on your face.
This dog clearly loves the winter! This meme dog dancing in the snow and showing off her jazz hands will crack you up! The pup looks like she's having fun, as her smile is huge while the snow is falling around her.
These pups look like their practicing their moves and how to dance together at their first dance during their wedding. Not only do they have their paws around each other's shoulders and are standing upward, but it also looks like they're about to kiss!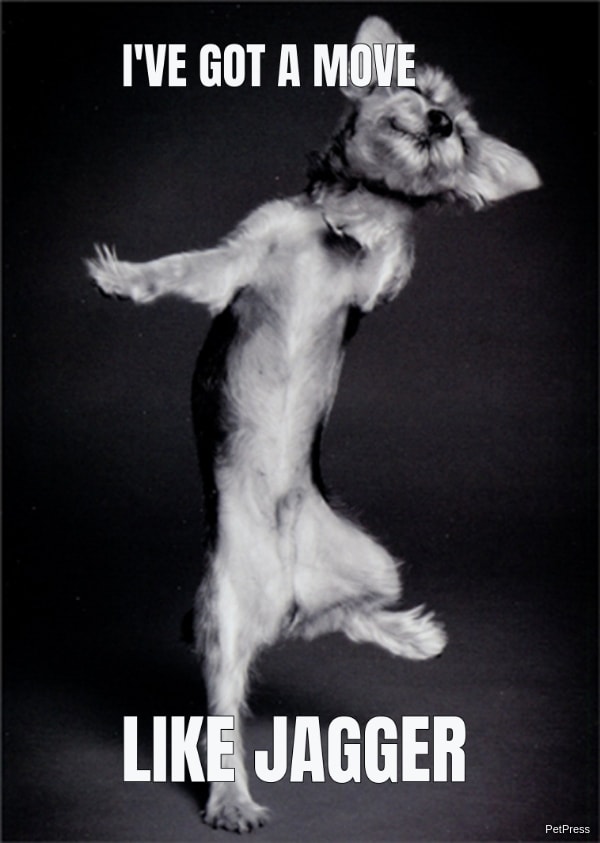 This meme is of a funny dog who looks like he's at peace with himself and his silly dance moves. It looks like the dog's really dancing to a fast song. He's got moves just like Jagger!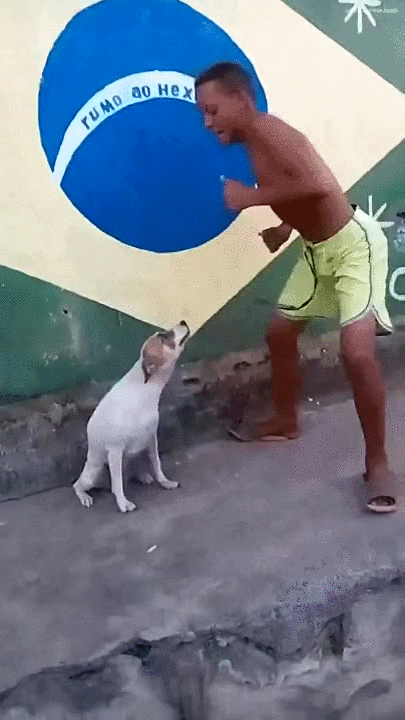 This meme is of a boy and dog dancing in the streets of Brazil. The pup looks like he really wants to have the same dance moves as the young boy. It's truly funny to think of how sad the dog looks due to his dance-obsessed jealousy!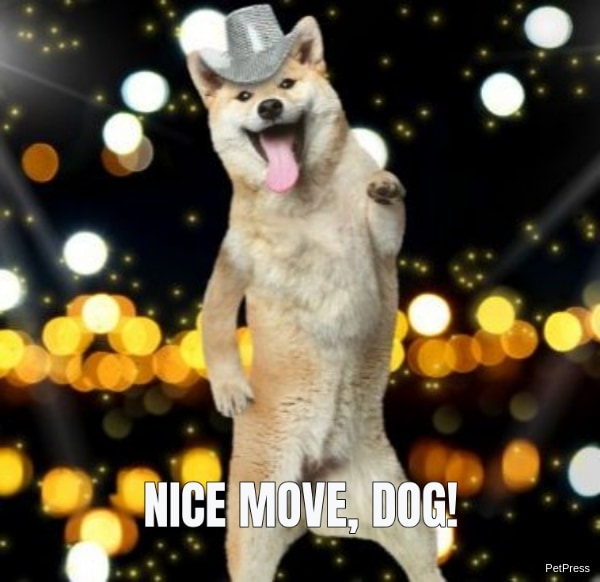 This dog is having a good time dancing it up! It's truly funny since the pup is wearing one of those top hats you usually see people wearing on New Year's Eve. The gold lights in the background also remind you of the New Year.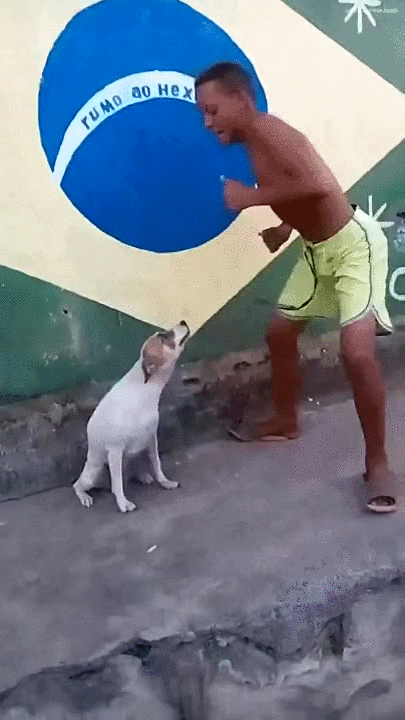 These pups are hilarious! They're dancing in the street with the chihuahua looking like he's so happy and peaceful. The black pups are smiling with their tongues sticking out and their eyes dancing with excitement!
If you want to see a dog dancing to music, this particular dancing dog GIF definitely makes it look like the pup is getting down to some tunes. This fluffy, white dog is moving his feet and drumming with his paws.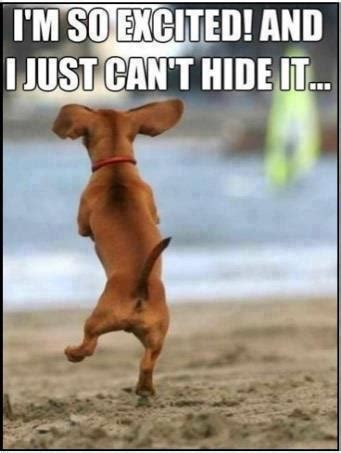 This puppy has got huge ears dancing in the wind while taking a stroll down the beach. He looks like he's excited to see the ocean right in front of him. This cute meme is sure to make you chuckle.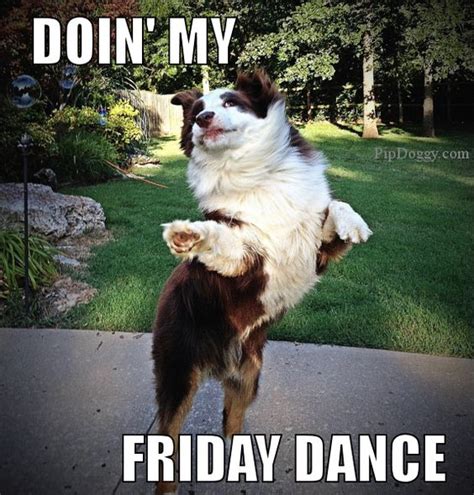 This pup looks happy to be dancing in the street. The dog's standing on her hind legs and moving her arms as if she's disco dancing! This dancing dog meme is sure to make you happy.
This fluffball has a huge smile on its face as the owner holds the chow-chow underneath its armpits to help the dog shake it and dance. The adorable pup will definitely make you laugh.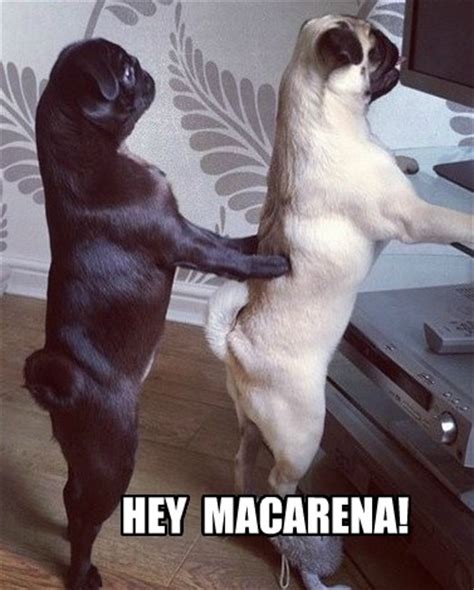 The light-brown pug and black pug are lined up behind each other, standing on their hind legs. They look like they're doing the Macarena or some other line dance. These cuties will make you giggle!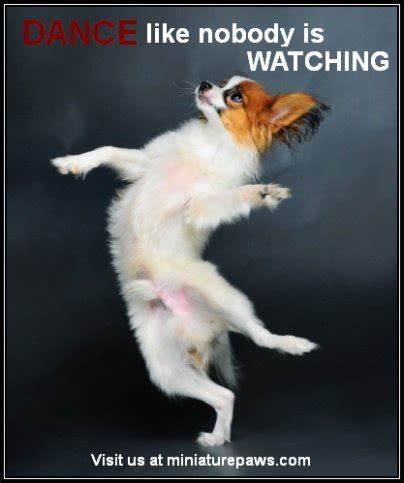 This little princess looks like she has plenty of confidence and will dance like nobody is watching. She's got three legs up and is balancing on just one foot. She's definitely a little ballerina!
Did this dog just finish up a dance-off? Is he waiting for you to show off your moves? This pug really looks like he's just finished up breakdancing. It's just too funny!
We've all heard of Jesus Christ walking on water, but this meme's better. This meme is a dog DANCING on the water! 
This meme has the cutest puppy wiggling his tail and standing on his hind legs. The pug looks behind his back, looking shy. The cuteness overload will definitely make you chuckle.
Conclusion for Dancing Dog Memes!
These 20 dancing dog memes should have provided you with plenty of laughter. Save this list for a day when you're looking for some stress relief and you really need some cute dog memes.
Check out these other articles:
Garrett loves animals and is a huge advocate for all Doodle dog breeds. He owns his own Goldendoodle named Kona. In addition, he volunteers at the Humane Society of Silicon Valley, where he fosters dogs and helps animals. Garrett enjoys writing about Doodles and believes that dogs can teach humans more about how to live than humans can teach a dog.
Why Trust We Love Doodles?
At We Love Doodles, we're a team of writers, veterinarians, and puppy trainers that love dogs. Our team of qualified experts researches and provides reliable information on a wide range of dog topics. Our reviews are based on customer feedback, hands-on testing, and in-depth analysis. We are fully transparent and honest to our community of dog owners and future owners.