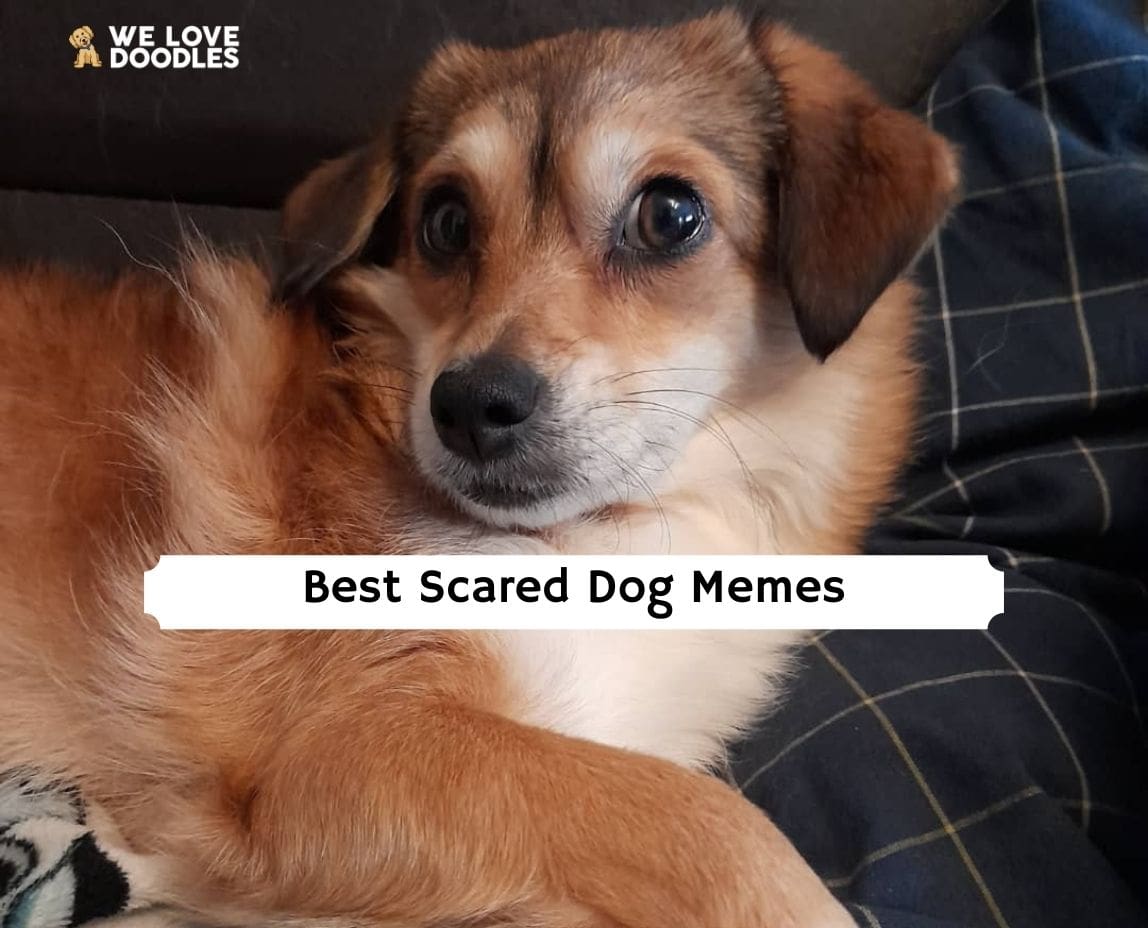 Do you love dogs and playing with your pup? Is your dog hilarious, especially when it is surprised? If so, you'll get a good laugh when looking at a scared dog meme below.
If you need some cheering up or you're a bit bored and want to chuckle, then check out our list of the 15 funniest frightened dog memes shown below. Let us know your favorite scared dog meme! Let's get started!
Other articles you would like: Funny Dancing Dog Memes!
General Scared Dog Memes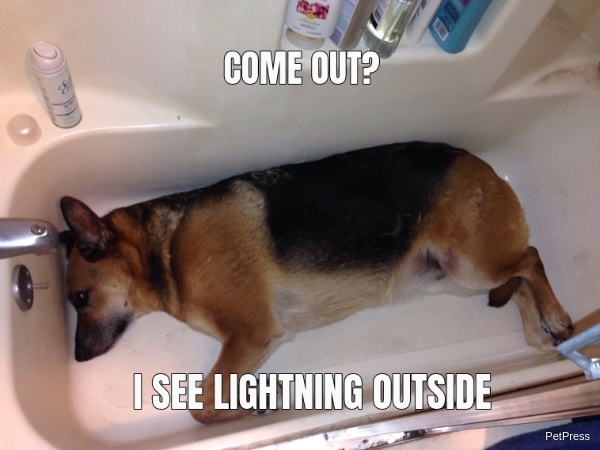 We have gathered a few memes showing frightened and surprised dogs below.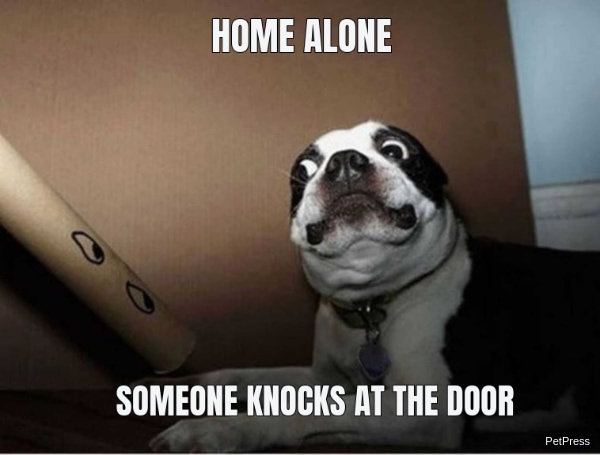 This scared dog meme shows a pup who is supposedly home alone and gets large bug eyes when he hears a knock on the door. You can truly see the concern on this silly dog's face!
Not only does this canine's eyes look afraid, but his mouth is open wide, and he looks like he might be howling out in fear. Did this dog see a spider in the living room or did he see another canine walk by through the windows? Whatever the reason, you'll love this scared dog funny meme.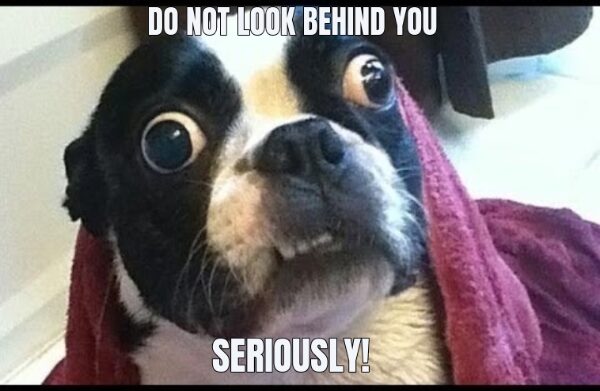 This little pup is literally hiding under a blanket from whatever is scaring him. His eyes are wide open, and his teeth are showing. He might be about to growl at that big, scary thing! You'll love this dog scared meme.
Dogs Scared of Cats Memes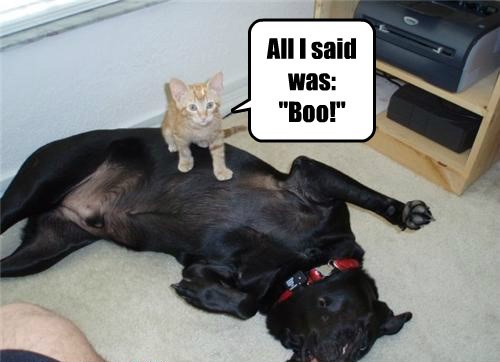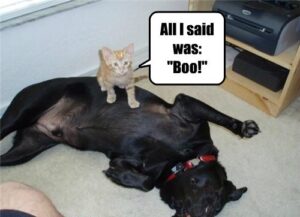 There are tons of hilarious memes online showing cats scaring dogs and the pups looking terrified. Check out a few below!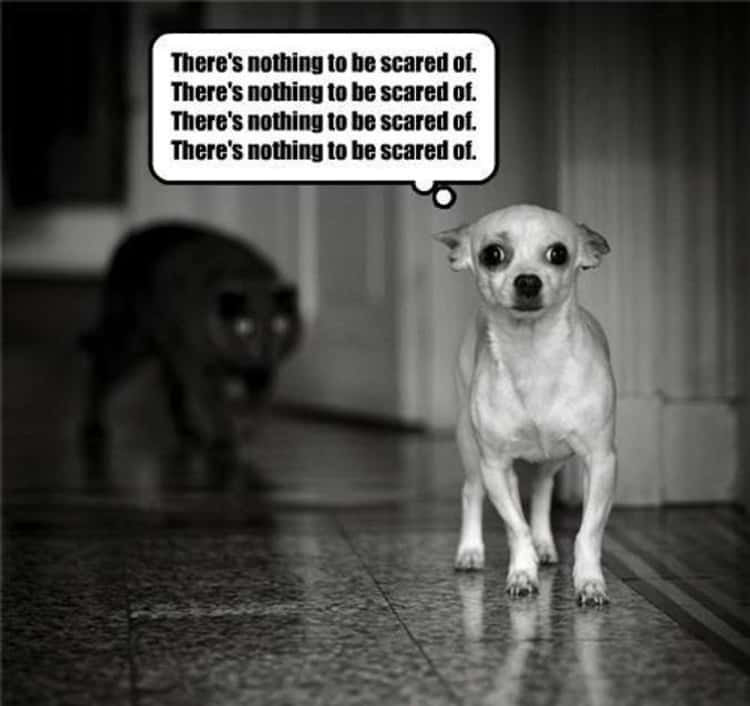 In this funny dog scared of cat meme, there is a black cat in the background stalking a little Chihuahua and taking a slow step toward the pup. The poor Chihuahua looks very worried and concerned. These silly animals will make you giggle!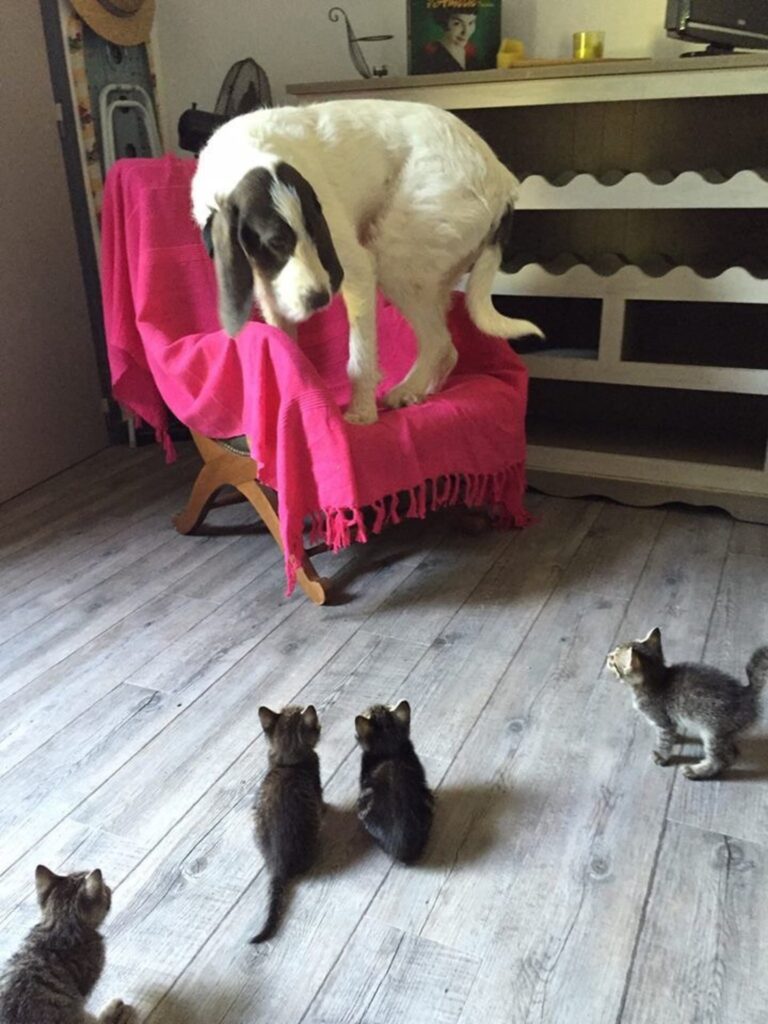 If you're looking for a dog scared of cat meme, then this one won't disappoint. Here, you'll see a large, white dog with brown ears jumping onto a big chair because four kittens surrounded him. The tiny kittens look like they want to play, but the canine's afraid!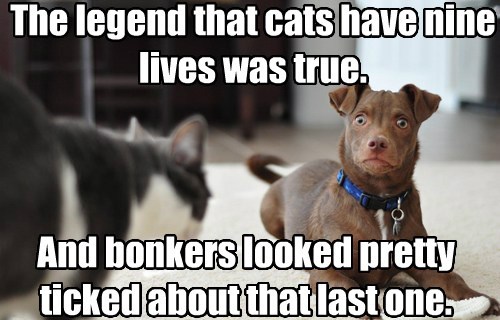 In this dog looking scared meme, it makes perfect sense why this dog's eyes are wide open and look very concerned. Right in front of him is a fluffy cat who's crouching down and looks like he's about to leap forward to attack the dog.
Dogs Scared of Fireworks Memes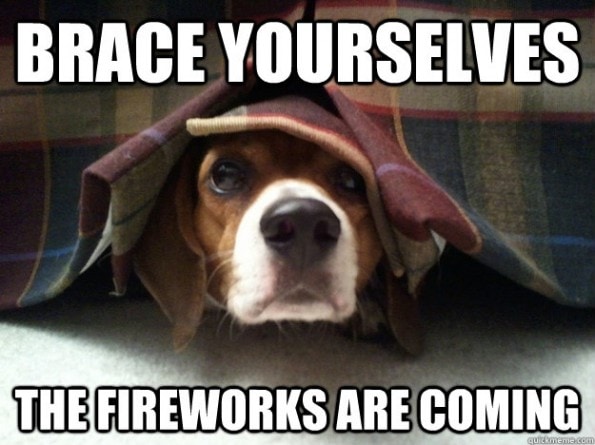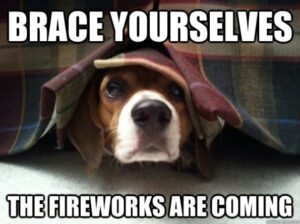 If you're looking for hilarious dogs scared of fireworks memes, you won't be disappointed with the ones below.
In this scare dog meme, a funny black dog hides his snout under his paws and crouches down low when he hears fireworks in the distance. It's our favorite dogs scared of fireworks meme!
This meme is a silly beagle hiding under a colorful, checkered couch and poking her head out when she hears the loud sounds of fireworks outdoors. The meme tells you to brace yourself for the upcoming fireworks. You'll be laughing out loud in no time!
This is a hilarious meme of a small dog dressed in an army uniform with a gun in his paws and a cigarette sticking out of his mouth. The meme explains how this dog survived the Fourth of July. The pup says, "The explosions. It changes you, man."
Dogs Freaking Out Memes
If funny memes of dogs freaking out are your cup of tea, then the ones below will get you laughing and cracking up!
The Lockdown Look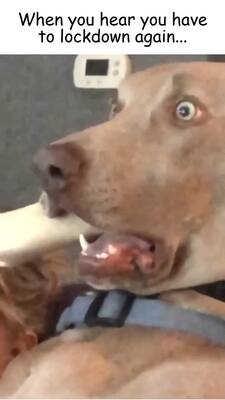 This dog has big and wide eyes while his mouth has dropped open. He looks absolutely shocked while the words above say, "When you hear you have to lockdown again…" This dog is surely showing the lockdown look.
Now, if you're looking for a dog freaking out meme, this one has a canine who gets so scared and freaked out that he jumps into the bathroom sink. It's truly a funny picture of a colossal dog barely fitting into the sink!
In this funny meme, a small and yellow stuffed animal seems to scare a dog that's about eight times bigger. The dog looks like he's barking at the stuffed animal, and his eyes are really bugging out!
Scared Puppies Memes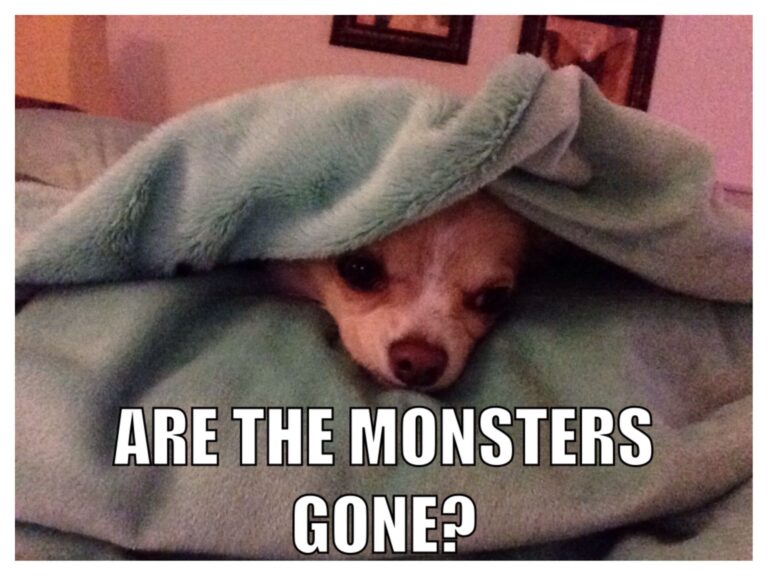 If you want to see a scary puppy meme, then take a look at the several frightened puppy memes we gathered below.
Puppy Holding His Teddy Bear Out of Fear
This little puppy looks very fearful and hides behind his stuffed teddy bear. He's holding onto the teddy and looks like he doesn't want to be touched. The poor little thing might make you giggle when you read the words on the meme: "Can teddy come to vet too? I is scared."
While this puppy looks sad and slightly scared, his stern demeanor is trying to mask it by asking, "You scared now? Don't mess with me!" With those silly words, you're sure to crack up at this small, scared, and tough puppy.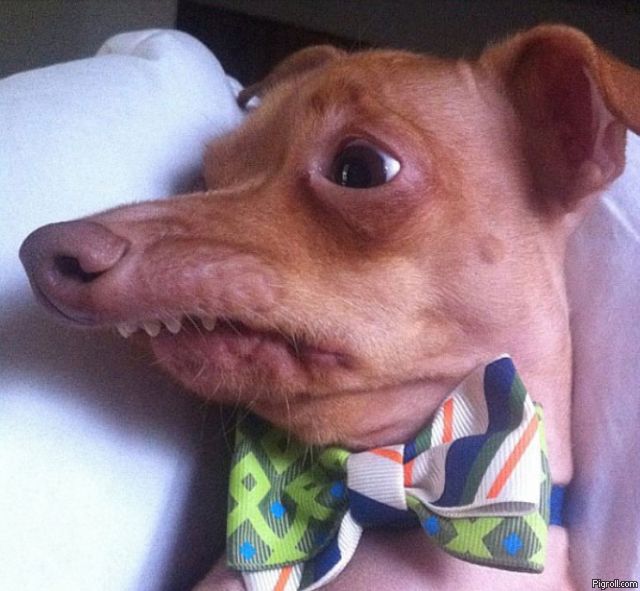 This young puppy is wearing a blue, green, and white bowtie and looking very fancy for the day. Yet, his eyes are wide open and concerned. The dog's teeth are out, and he seems like he may growl any second. We hope you find the scared and whimsically-dressed puppy quite funny.
Conclusion for Scared Dog Memes
Now that you've looked through these funny scared dog memes, you should feel relaxed and happy. You have a variety of humor to choose from, as there are scared puppies, dogs fearful of fireworks, and even cats frightening dogs.
Next time you're feeling in need of a laugh, come back to these silly dog memes and enjoy a good chuckle!
Other articles you would like:
Garrett loves animals and is a huge advocate for all Doodle dog breeds. He owns his own Goldendoodle named Kona. In addition, he volunteers at the Humane Society of Silicon Valley, where he fosters dogs and helps animals. Garrett enjoys writing about Doodles and believes that dogs can teach humans more about how to live than humans can teach a dog.
Why Trust We Love Doodles?
At We Love Doodles, we're a team of writers, veterinarians, and puppy trainers that love dogs. Our team of qualified experts researches and provides reliable information on a wide range of dog topics. Our reviews are based on customer feedback, hands-on testing, and in-depth analysis. We are fully transparent and honest to our community of dog owners and future owners.