You're probably searching for weird dog breeds due to irresistible curiosity. So our team members at We Love Doodles went through a list of dog breeds to find the weirdest ones for you.
Before scrolling down this list of weird dog breeds, you might be interested in our other dog lists: Healthiest Dog Breeds That Don't Shed and Most Aggressive Dog Breeds.
Weirdest Dog Breeds with Pictures
Dogs come in all different shapes, sizes, and temperaments. Some dogs are considered "normal" or "ideal," while others are a little more unconventional.
Below you will find a list of some of our favorite weird dog breeds. Many of these dogs are weird in both appearance and personality. However, regardless of what your dog looks or acts like, it is sure to have unconditional love for you.
1. Puli
First on the list of weird dog breeds is the Puli. Originating in Hungary over 1,000 years ago, the Puli is a herding dog. A very distinct sheepdog type, Pulis were used to guard and herd livestock and sheep. However, these dogs do not look like the typical type of sheepdog.
These dogs have a unique coat that some may find endearing while others may find just plain weird. Puli coats grow in long, thick cords along their body. These dogs are born with these natural dreadlocks that slowly get longer as they age.
Adult Puli cords are often so long that they touch the ground, making them look more like a mop than dogs. This mop-like texture also contributes to the fact that these dogs are virtually waterproof.
In some cases, people will brush the cords out of their Pulis' hair. However, even when brushed out, these dogs have very unique looks. A brushed-out Puli has a long, fluffy coat that plumes across its entire body.
Another trait that makes these dogs so weird is the hair length around their eyes. Puli eyes are often covered by their hair, giving them an extremely distinct appearance. These are one of the most distinctive and weird dog breeds around.
Related: Best Hypoallergenic Guard Dogs.
2. Chinese Crested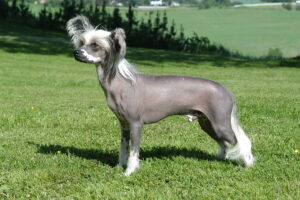 Despite what their name might suggest, Chinese Crested dogs did not originate in China. There is plenty of debate about where these dogs came from, but China is not one of them. Instead, Chinese Crested dogs were first bred in Africa or Mexico.
Despite these beginnings, these dogs have developed the name Chinese Crested over the years. However, the confusing name is not the only reason the Chinese Crested has made it onto our weird dog list.
These little puppies have extremely distinct features that are unforgettable. There are two different types of Chinese Crested dogs available. First, you can get a Powderpuff version which has a light dusting of silky fur all over its entire body.
This is not the weird version of this dog. The truly odd Chinese Crested is the hairless kind. The hairless Chinese Crested has an almost entirely hairless body except for small tufts of fur around the head, ankles, and tail. This naked appearance can be disorienting and weird at first.
But, once you get to know these dogs, you will begin to see their unique beauty. However, the hairlessness does require special attention that you may not see with other dogs. Specifically, hairless Chinese Crested dogs need special skin protection as they can quickly develop allergies and are exposed to sunburns.
Chinese Crested Mention: Top Dog Breeds That Look Like Rats.
3. Bedlington Terrier
Next on our list of weird dog breeds, we have the Bedlington Terrier. These dogs were initially bred to be hunters in Northeast England. These hunting genes have led these dogs to become popular sporting dogs often used in racing and competitions.
However, most modern Bedlington Terriers live their lives as family companions. Therefore, it is not their origin that makes these dogs weird. However, it is their appearance. The Bedlington Terrier could easily be mistaken for a sheep.
Especially those that come in lighter colors such as sandy, tan, and light blue. However, the most distinctive feature of these dogs, which solidifies their spot on our list, is the shape of their head.
Bedlington Terriers have pear-shaped heads that are unmistakable for any other breed. Additionally, many people will also groom their Bedlington Terrier in a way that accentuates the shape of their heads and makes their ears look like Pom Poms.
Adding to this unique appearance is also a long, pointed tail. This thin, long tail can often be found sticking straight out. Overall, Bedlington Terriers have a generally odd appearance. Still, they have kind and bright personalities that make them great family dogs.
Bedlington Terrier Mention: Best Bedlington Terrier Breeders in the United States.
4. Brussels Griffon
One of the most miniature breeds on our list, the Brussels Griffon, is a tiny dog with a huge personality. Originally bred to clear stables of vermin, the Brussels Griffon is a feisty dog with the appearance to match.
These dogs are known for their frowning faces and big beards. This notoriously grumpy expression that permanently graces every Brussels Griffon's face looks uncannily human.
This experience with a dog that looks like a human makes these dogs weird to interact with. Adding to this appearance is the sense of self-importance that Brussels Griffons tend to carry.
This self-important attitude adds to the feeling of judgment that seems to exude from the Brussels Griffon. Therefore, when your Brussels Griffon looks at you with its grumpy face, you may feel like it is judging you, creating a weird experience.
Brussels Griffon Mentions: Best Hypoallergenic Teacup Dogs and Funny Teacup Dogs That Will Make Your Day.
5. Xoloitzcuintle
Xoloitzcuintles are an ancient dog breed with roots reaching back over 3,000 years. These dogs are said to be the dogs of the Aztec gods and goddesses. Nowadays, Xoloitzcuintles spend their time as companion dogs.
Like Chinese Crested dogs, Xoloitzcuintles come in coated and hairless varieties. The coated Xoloitzcuintles have extremely short coats that require minimal brushing and grooming.
This coated variety is the less weird of the two types of Xoloitzcuintles. On the other hand, hairless Xoloitzcuintles is somewhat weird because they look naked.
In addition to their apparent nakedness, the skin on these dogs is typically rough and thick, making it unpleasant to pet. Young Xoloitzcuintles also suffer from acne often, so they may need prescription medication to combat this problem.
Lastly, these dogs require sunscreen when they are outside. These dogs are also known for their thoughtful facial expressions. This expression is significantly impacted by the fact that these dogs have noticeable wrinkles on their heads. So, when your Xoloitzcuintle is deep in thought, you will be able to see its brow furrow.
This expression gives these dogs an extremely humane appearance which can be weird when encountering it. Overall, Xoloitzcuintles have very unique appearances, making them unsettling and strange to be around when combined with their human-like facial expressions.
6. Affenpinscher
The next breed on our list is the infamous Affenpinscher, also referred to as "the monkey dog." These dogs were initially bred in the 17th century as pest control. Affenpinschers would hunt rats to protect farms from diseases that come from these vermin.
The word "Affenpinscher" comes from the German word "affen," which directly translates to "monkey." Therefore, even when they were first bred, these dogs resembled apes so much that they became part of their name.
This unique appearance makes these dogs one of the most distinct and weird dog breeds. Additionally, Affenpinschers are tiny dogs with huge personalities. Affenpinschers are independent and fearless even though they are only about 11 inches tall (at maximum) and approximately 7-10 lbs.
With their big attitude, you would assume these dogs are much larger than they are. But this disproportionate confidence makes these dogs even more unique. Like the Brussels Griffon, Affenpinschers have somewhat grumpy-looking faces with large beards.
This grim expression is very human, and it pairs well with the fact that these dogs do not train well. It is said that you need to befriend these dogs before you can teach them.
This is because Affenpinschers are extremely independent dogs who are only interested in listening to people they have bonded with. Therefore, with their unique ape-like appearance and independent personalities, Affenpinschers are one of the weirdest dog breeds around.
Affenpinscher Mentions: Best Small Hypoallergenic Breeds.
7. Borzoi
Borzois, also known as Russian Wolfhounds, are known for their long, elegant bodies and calm, regal demeanor. These large dogs were bred to hunt large game such as foxes, hares, boars, and even wolves.
Therefore their huge size was needed to do their job. However, these dogs are gentle and dainty despite their size. Borzois are sighthounds; therefore, these dogs relied heavily on their eyesight to become the famous hunters that we know them as today.
This eyesight makes them both unique and kind of weird. Specifically, Borzois have eyes that provide them with a visual field of a whopping 270 degrees. Therefore, their incredible sense of sight makes Borzois extremely unique.
Their immense size is not the only thing contributing to these dogs' unique appearances. These dogs have extremely long and lanky legs, similar to that of a Greyhound. However, unlike a Greyhound, Borzois' long, thin bodies are draped in a coat of long, silky hair.
Additionally, Borzois have very distinct faces that match their body in both length and slenderness. Overall, these dogs have a unique appearance that makes them unmistakable. Additionally, the contradiction between their size and origins with their overall calm and gentle personalities makes Borzois an enigma.
These dogs may have been bred to be killers of large animals. Still, they are incredibly affectionate and loyal to their families, making them a weird but lovely dog breed.
8. Shar-Pei
Last on the list of weird dog breeds is the Shar-Pei. Shar-Peis have a rich history of being hunters, guardians, fighters, and companions. These origins have created a dog breed that is calm and loyal but also fiercely protective of its family and property.
Therefore, Shar-Peis have contrasting appearances and personalities. With the ferocious history that Shar-Peis have, you might expect them to be more fierce-looking. But, in fact, these dogs are most commonly compared to wrinkly hippopotamuses.
These dogs have broad muzzles and small, deep-set eyes that give them a sleepy appearance. These traits, combined with their naturally blue tongues and tiny ears, add to the odd appearance of the Shar-Pei.
However, the most distinguishing physical characteristics of Shar-Peis are their plethora of wrinkles. These abundant wrinkles are mostly found around their face, neck, and shoulders. However, you can still see them on the rest of your Shar-Peis body as well.
Even when they are puppies, these dogs have an overabundance of wrinkles. Some people find these wrinkles cute, while others find them weird. This quirky appearance gives the impression that your Shar-Pei is more of a blob than a dog.
However, despite their sleepy and squishy appearance, Shar-Peis are fierce guard dogs who are often suspicious of strangers and are not afraid to stand their ground. This contradiction between their appearance and personality makes Shar-Peis a strange dog breed.
Shar-Pei Mentions: Best Shar-Pei Breeders in the United States.
Conclusion For "Weird Dog Breeds with Pictures"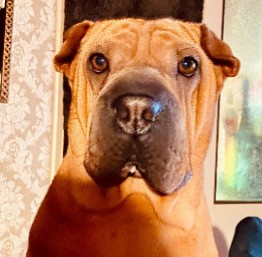 As you can see, many dog breeds can be considered weird. However, it is essential to remember that being weird is subjective. So, one person might find these dogs odd, while another may find them perfectly normal.
Therefore, these dogs made our list because of their uniqueness. But that does not mean there is anything wrong with them. All dogs are unique in some way, but all dogs still have lots of unconditional love to give.
If you want to learn and discover more exciting dog breeds, check out these guides from We Love Doodles:
You can learn more about weird dog breeds by watching "25 Most Bizarre Dog Breeds" down below: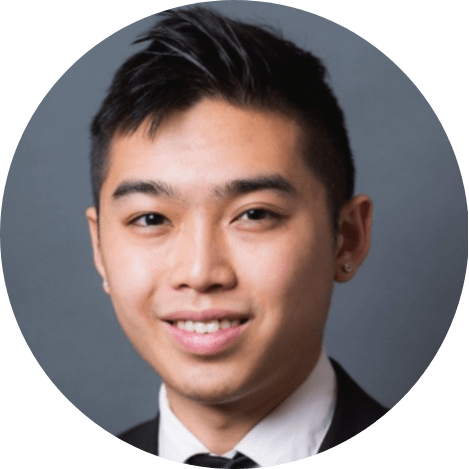 Andy is a full-time animal rescuer and owner of a toy doodle. When he's not saving dogs, Andy is one of our core writers and editors. He has been writing about dogs for over a decade. Andy joined our team because he believes that words are powerful tools that can change a dog's life for the better.
Why Trust We Love Doodles?
At We Love Doodles, we're a team of writers, veterinarians, and puppy trainers that love dogs. Our team of qualified experts researches and provides reliable information on a wide range of dog topics. Our reviews are based on customer feedback, hands-on testing, and in-depth analysis. We are fully transparent and honest to our community of dog owners and future owners.