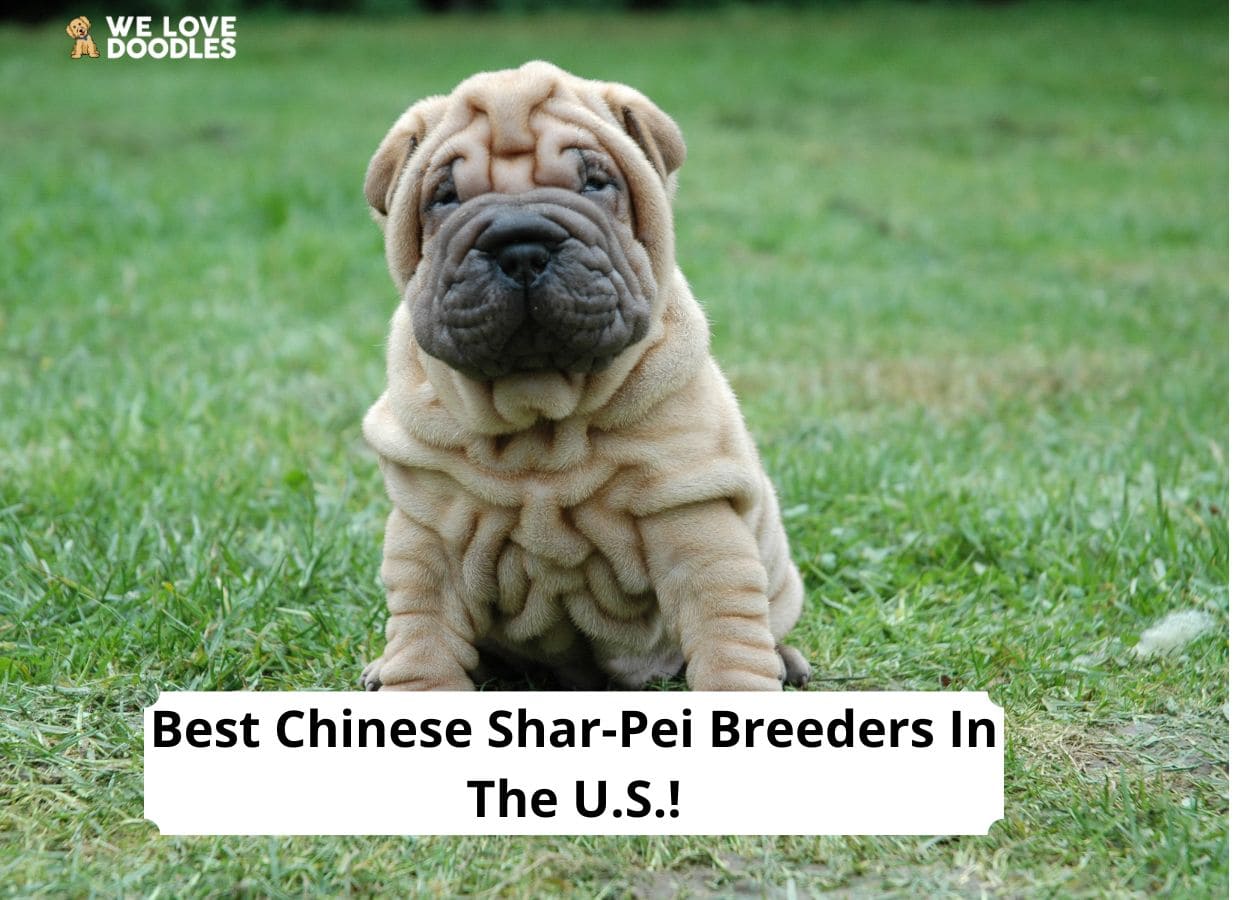 Getting the Chinese Shar-Pei is a good choice because they are a loyal breed and they make excellent guard dogs for a family. However, it is challenging to get healthy Chinese Shar-Pei puppies because some breeders focus on quantity than quality. We have researched and curated a detailed list of reliable Shar-Pei puppies for sale from reputable breeders. Hopefully this article helps you narrow down the choices for finding various breeders for your next puppy!
Related articles: Akita Breeders and Mini Golden Retriever Breeders.
Top Chinese Shar-Pei Breeders In The U.S.

We understand that finding a puppy is difficult. That's why we've done our own independent research to help you find your next Chinese Shar-Pei puppy. Below is a list of seasoned and reputable Chinese Shar-Pei breeders.
1. B&G Shar-Pei
B&G Shar-Pei is situated in West Deptford, New Jersey. Its manager, Galyna, is a certified dog trainer, AKC merit Breeder, and canine evaluator, also an accredited member of the Chinese Shar-Pei Club of America and the Berkshire Spur Chinese Shar-Pei Club.
Dogs from B&G are winners of different awards ranging from the grand champion Shar-Pei to specialty best in show. This Chinese Shar-Pei breeder has over 15 years of experience and gives special attention to the fitness and character of the Shar-Pei. She pays attention to the soundness, health, and attitude of the Shar-Pei puppies during breeding.
However, all the dogs are OFA qualified and healthy. Some of the puppies end up in homes as therapy dogs while others as pets. They undergo different pieces of training like crate training, potty training, and they tolerate all forms of grooming. Contact B&G Shar-Pei and get an adorable puppy as soon as possible!
Shar-Pei Breeder Information
2. Catren's Shar-Pei
Catren's Shar-Pei is located in Marshfield and is a certified member of AKC National breed, Chinese Shar-Pei Club of America, inc. And the Ozark kennel club incorporation. They have the breeder of merit award and have been producing for almost Thirty years.
However, the breeder, Catherine Mall, started partaking in shows twenty years ago, so she has experience in Shar-Pei conformation. She prioritizes health and soundness overall qualities during breeding. It is because no matter the role you expect from your pet, it would be effortless to fit in when healthy. Also, a sound dog is fun and a seamless companion.
During her years in show rings, countless judges have commended the soundness of the breed from her kennel. Catren's Shar-Pei does not breed for the coat colors but quickly gets it from matching pedigree. Some dogs have the horse coat while others the brush coat in different textures.
Most of the dogs undergo health assessments such as POAG/PLL, DNA screening for Glaucoma. Also, all breeding dogs are "CHIC" specifically when they are old enough to produce liter. They believe in the test because it shows if a puppy is a carrier or clear of POAG/PLL. The aim is to ensure the dogs are of premium quality and very healthy. Catren Shar-Pei is a small-scale kennel, so there's a waiting list most times; however, it is worth it.
Shar-Pei Breeder Information
Address: Marshfield, MO 65706
Telephone: (417) 818-6076
3. Blackwitch Farms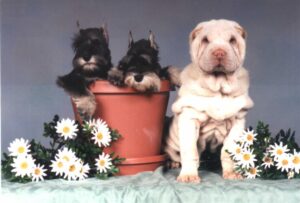 Blackwitch Kennels/Farms is located on King Road, Michigan, and was established in 1969 by James and Carol Beagle. They started showing Chinese Shar-Pei in 1982 when they got their first pup and have been breeding them since then.
The kennel is primarily a boarding, training, and grooming kennel. James conducted the training in Blackwitch farms while carol is a full-time groomer. To have a clearer view of most of their adorable puppies, check their website and Facebook page with the link above.
Some of the dogs are involved in championship shows; however, all are AKC certified. Blackwitch farms are available to answer your questions about your prospective Chinese Shar-Pei breed. They are members of the breed with heart club, AKC national breed club, and have the AKC breeder of merit award.
Shar-Pei Breeder Information
4. Marbo Kennel
Marbo Kennel is a certified member of the Berkshire Spur Chinese Shar-Pei Club. They breed therapy dogs, rescues, and puppies for interested owners. The breeder has AKC certification and a member of the Chinese Shar-Pei club or America, inc. and AKC licensed by the Farmington and Naugatuck Valley.
They breed strictly purebred Chinese Shar-Pei to motivate and facilitate the quality of their dogs. It helps them effortlessly meet the standards created by the Chinese Shar-Pei Club of America. The aim is to preserve the integrity of their dogs while advancing their characteristics and making them more appealing.
Dogs from the Marbo kennel are sound, healthy, intelligent, and athletic. They participate in sport or competitive events such as performance, matches, obedience training, and show ring activities. They teach new owners or novice breeders about the Chinese Shar-Pei and would be available to answer your questions.
Shar-Pei Breeder Information
Contact Name(s): Marge & Bob Calltharp
Address: 44 Mt. Parnassus Road, East Haddam, CT 06423
Phone Number: 860-873-2572
Email: marbo@portone.com
5. B'Lee's Shar-Pei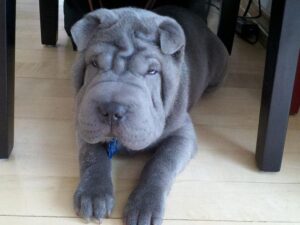 B'Lee Shar-Pei has been bleeding since 1986 and has been the primary preference among Shar-Pei enthusiasts. They have a variety of colors and are open to answer all your questions about their puppies. The kennel offers a discount you purchase two pups at a time.
B'Lee kennel breeds healthy quality puppies with outstanding bloodlines. They are OFA certified, well behaved, have excellent sight, and no issues with their skin. You can get all colors of Chinese Shar-Pei at B'lee except blue.
B'Lee Shar-Pei puppies range between $1000 to $1500, and shipping is subject to an increase based on airline courier cost. However, there is no extra charge for a health certificate and delivery to the airport, but you would have to pay a deposit for the shipping crate.
Shar-Pei Breeder Information
Contact Name: B Lee Parker
Address: 1156 Highway 43 S, Columbia MS 39429
Phone Number: 601-736-3692, 601-441-0456
Email: nub3nub@aol.com
6. Tuck'n Roll Acres
Tuck'n roll Acres have been breeders of Chinese Shar-Pei for about 38years and have accumulated a lot of experience through research. They have a master's in the art of producing perfect bloodlines puppies. Their healthy Shar-Pei puppies are vaccinated, and they adopt current veterinary procedures.
The puppies and dogs from Tuck'n roll acres were planned and their parents are selected with utmost care. They have great longevity, temperament, and health. Although some partake in show activities but not so often. However, they do not reduce the quality and capability, or fitness of the dogs.
One of the foundation breeds was the first female AKC champion in 1992 and was honored by the American kennel club. Furthermore, the kennel helps the dogs achieve their highest potential through trainings and care.
If properly looked after, the Chinese Shar-Pei from Tuck'n roll acres can live for as long as 12years. However, they do not readily sell off their puppies without vetting procedures. Also, due to the thorough process, the breeding has to undergo, you may have to join a waiting list to get your pet. The primary reason that there is always a limited number of Tuck'n roll Chinese Shar-Pei; nonetheless, you should expect the best quality.
Shar-Pei Breeder Information
Contact Name: Sheila Marquart
Address: 8080 NE Parrett Mtn Road, Newberg, OR 97132-9304
Phone Number: 503-925-8631, 503-720-2426
Email: tucknrollacres@aol.com
7. Martini Shar-Pei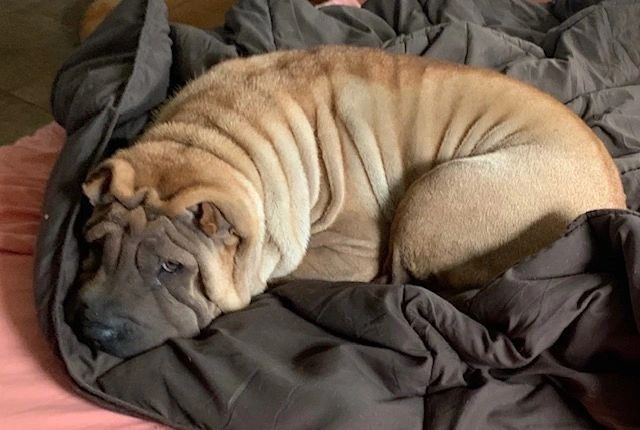 Dogs bred by martini Shar-Pei are well-behaved and healthy. They are located on Twin oaks road and have been breeding for over 20years. Dogs from martini have unique features that persuade their owners to specialize in only Shar-Pei breed; also partake in show conformation.
However, they recommend reading about the Shar-Pei breed before getting one as it enlightens you adequately about them. Ann Matto is a member of the CSPCA and currently resides in North Carolina after living in Florida for 40 years.
The breeder has AKC certification and raises the dogs in a home. They receive enough attention and are socialized. Ann shows dogs at the south or home events and breeds focusing on temper, standard, and health. You would need a reference to get one of the martini puppies.
The kennel has a mix of companion and show puppies in the litter so that you can contact them with your preference. However, you would have to join a waiting list because they breed at most two times a year.
Shar-Pei Breeder Information
8. Ricketts Hill Kennel
Ricketts Hill Kennel is located in Arizona. It is AKC registered and belongs to the Chinese Shar-Pei Club of America, Inc. The kennel is primarily owned and managed by Josie Baker-Ricketts, but he has recently partnered with another breeder, Lois Brown.
Josie has been breeding Chinese Shar-Pei puppies for sale since 1985 and involves in show conformation. He got his first pup in 1983 and has been fascinated with the pedigree of the breed. Over the years, through research and testing, the quality of the Ricketts hill kennel dogs has evolved and improved.
The breeding focus in most cases is to enhance their health and temper, but other physical training help, such as socializing them adequately. Ricketts dogs undergo potty training as soon as their bladders can hold but mainly before the adoption process.
Josie is a breeder of merit certified by AKC and is always enlightening buyers on the Chinese Shar-Pei. Three of his dogs have been part of the top25 during show events, and he trained them personally. Lois, his partner, has over 25 years of experience in breeding, showing, and obedience training.
Shar-Pei Breeder Information
9. Sandstone Chinese Shar-Pei
Sandstone Chinese Shar-Pei is situated in North Dakota, specifically in the southeast region. Jessica and sandy have owned it for 25years. They make sure their dogs are healthy and comfortable.
A few of the breeds are involved in different activities planned by the local Kennel Club. They are well-behaved and happy with an excellent response to socializing training. The dogs have maintained a clean bill of health for generations.
Sandstone offer at least two years of health guarantee and are not susceptible to swollen Hock Syndrome, Shar-Pei Fevers, or significant skin problems. The puppies feed on diamond premium dog meals.
The pups are loving and fit right as companions in most homes. Sandstones are experts in matching the right dog with their forever parent. They focus breeding on the health, temperament, and soundness of the dogs because they want the pups to surpass the expected standards.
Shar-Pei Breeder Information
10. Beaux-Art Chinese Shar-Pei's
The Beaux-art has been into the Chinese Shar-Pei breeding for 35years. The breeder Barbara Dion is very passionate about her dogs and has improved their quality over the years. In 1985, She founded the Chinese Shar-Pei Fanciers located in South Florida.
The Chinese Shar-Pei puppies from Beaux-Art are all home-raised, socialized, and receive attention, care and love. They are used to being around other dogs and people and would tolerate grooming and other handling. Barbara trains all her Shar-Pei puppies for sale, so they are well-behaved.
They promise top bred in diverse colors and wrinkles! They are picture-perfect, healthy, and exceptional puppies with an extended life expectancy. Barbara raises them in a lovely home setting, and their sizes vary, just like their colors or wrinkle pattern. Her breed has excellent eyes, perfect ears, dense bones, and great personalities. They live up to 14 years and more.
The dogs from Beaux-art have a mixed bloodline comprising both American and European premium genes. You can call via video chat to see the Chinese Shar-Pei before purchasing. Furthermore, contact using the information above in case you have any questions.
Shar-Pei Breeder Information
Frequently Asked Questions
Where can you buy a Chinese Shar-Pei puppy?
The Chinese Shar-Pei originated from China and is an ancient dog breed that is medium-sized and compact. To find the best and most reputable Chinese Shar-Pei breeder in the U.S., here's a list to choose from:
B&G Shar-Pei
Catren's Shar-Pei
Blackwitch Kennels/Farms
Marbo Kennel
B'Lee Shar-Pei
Tuck's roll Acres
Martini Shar-Pei
Ricketts Hill Kennel
Sandstone Chinese Shar-Pei
Beaux-arts Chinese Shar-Pei
How much is a Chinese Sharpei puppy?
Chinese Sharpei puppies range in price and fetch as little as $750 to as much as a few thousand dollars. The cost will vary depending on the breeder, pedigree, age, gender of the puppy, and the breeder's location. For example, Chinese Shar-Pei dog breeders should have health screening tests performed on parents.
Chinese Shar Pei's should be tested for the following:
Patellar luxation,
Elbow dysplasia
Hip dysplasia
Eye examination by an ophthalmologist
Autoimmune thyroiditis (blood test).
Is a Shar-Pei a good dog?
The Chinese Shar-Pei is an alert and serious dog breed that is also intelligent. This affectionate dog breed is wonderful around family but wary of newcomers and other pets.
Sometimes this breed may be aloof. The AKC says that the Chinese Shar-Pei is extreme in his devotion to his family and describes the Chinese Shar-Pei is the following:
Regal
Alert
Devoted
Scowling
Sober
Snobbish
Lordly
Dignified
Is the Shar-Pei high maintenance?
This is a low-maintenance breed when it relates to grooming, but this breed has special needs like:
Wrinkle cleaning
Exercise
Socialization
Training
Health needs that are of possible concern are:
Amyloidosis
Cancer
Immune system problems
Shar-Pei fever
Are Shar-Peis easy to train?
The Shar-Pei is an intelligent dog breed that's easy to train. The best pet parent for this breed is an active person that will spend time with this charming breed. The Shar-Pei is a calm and confident breed that is serene.
This breed is easy to train, but early training and socialization are crucial to avoiding a dominant adult Shar-Pei. You'll need to get a jump start with training, and although the Shar-Pei is a willing breed that's smart, they may be stubborn.
How old do Shar-Peis live?
The lifespan of a Shar-Pei is usually around 9-11 years. Many factors may affect this, such as the following:
Predisposed health conditions like cancer or immune system issues
Regular veterinary care
Healthy and active lifestyle
Can Shar-Peis be left alone?
The Shar-Pei can be left alone for short periods, but if you're out at work all day, consider a reputable doggie daycare or pet sitter so that your dog is not alone at home all day.
Dogs get bored without mental stimulation and can suffer from canine depression and separation anxiety. Before bringing a new dog home, you should look at the responsibilities and benefits of having a new pet and ask yourself whether you're ready for your new addition.
Conclusion for the Best Chinese Shar-Pei Breeders
Choosing the right Chinese Shar-Pei breeder is confusing but not impossible. Some breeders tend to try to maximize profit from their dog sales than surpassing breeding standards. You should pick a breeder that is open to answering your questions. Good breeding conditions determine the longevity, health, and temperament of your pet.
Other articles you would like:
Garrett loves animals and is a huge advocate for all Doodle dog breeds. He owns his own Goldendoodle named Kona. In addition, he volunteers at the Humane Society of Silicon Valley, where he fosters dogs and helps animals. Garrett enjoys writing about Doodles and believes that dogs can teach humans more about how to live than humans can teach a dog.
Why Trust We Love Doodles?
At We Love Doodles, we're a team of writers, veterinarians, and puppy trainers that love dogs. Our team of qualified experts researches and provides reliable information on a wide range of dog topics. Our reviews are based on customer feedback, hands-on testing, and in-depth analysis. We are fully transparent and honest to our community of dog owners and future owners.