In this review for the best dog brushes for the Shih Poo, we've listed seven options that we would recommend to any pet parent looking for a great brush. 
With the correct grooming and care, you can keep your Shih Poo's fur and coat healthy and looking good all year round. This breed is hypoallergenic, making this the perfect teddy bear small dog breed for people with allergies.
We've purchased and tested every product on this list on our mini Goldendoodle. Additionally, we've looked at hundreds of different dog-brush reviews (and even more product details) to find our top picks for this breed. We've looked into the essential features, tried out brushes, and then given our opinion on how each brush measured up – we hope this helps you choose your perfect brush for your Shih Poo furbaby! In this review for the best dog brush for a Shih Poo, we've made the selection so that you can choose from our top 6 picks for your Shih Poo.
Product
Best Overall
We Love Doodles Small Slicker Brush
Runner Up
Chris Christensen Dog Brush
Budget Pick
Andis Dog Brush
Image
The We Love Doodles slicker brush is the top pick for a Shih Poo. Not only is it affordable, but it is high-rated on Amazon by all doodle dogs. The small size is also perfect for a smaller-sized Shih Poo.
The pins are extremely long to get through your Shih Poos long coat. Additionally, the pins are bent so they won't directly scratch your puppy's coat. It also contains 50% more dense pins when compared to competitor slicker brushes, so you'll spend less time brushing your dog.
This slicker brush also comes with a 100% money-back guarantee. If you or your dog doesn't like it, you'll get a full refund. We highly suggest that you check it out. It's used by professional groomers all around the United States and was just launched in 2022.
Features
Long pins (>1 inch)
Angled pins that won't scratch your dog's coat
Ergonomic handle
Designed for doodles like the Shih Poo
Removed tangles and mats easily
The Baby K is a professional quality brush with long, round, soft rubberized cushion tips designed for quick and efficient grooming. They lift loose hair from your dog's undercoat without irritating or cutting the skin like some brushes can. 
This brush is made for professional groomers and show dogs and has a cushioned pad that retracts the soft and scratch-free pins to grasp tangles and knots. The GroomGrip rubber coating is excellent for use in the bath to prevent the brush from slipping in your hands, and its ergonomic handle will help avoid fatigue brushing.
It's designed with larger than standard pins to grasp the hair and save time and energy during pet grooming. We like this slicker brush because it's excellent for both professional and home use, and it can be used on all breeds.
Features
Professional dog grooming brush

Three sizes

Black color

Suitable for all hair types

Ergonomic rubber handle

Designed for detangling & removing knots
The BioSilk Boar Hair Bristle Brush features over 3,000 positive reviews and is one of the best-reviewed brushes for dogs on Amazon. This brush is extremely gentle and effective at removing loose fur, tangles, and dead hair. 
It's crafted with 100% boar bristle to help distribute natural oil throughout your pet's coat while massaging their skin which helps promote a shiny, healthy-looking coat. We like this bristle brush because it's made with boar hair and is gentle yet effective at removing loose hair. It's also crafted from plant-based materials.
Features
Affordable for multi-pet homes

Boar's hair bristles

Green color

Crafted with plant-based materials

Over 3,000 positive reviews

Eco-friendly

Wide handle grip

A BioSilk pet grooming product
If you're looking for an excellent pin brush that's made with high-quality materials and is extremely gentle, the Andis pin brush does a great job. It's the ideal hair brush for small to medium dogs.
The Andis pin brush features over 3,000 positive reviews. This brush is made with nylon pins arranged in a "pin-dot" pattern on an ergonomic rubber handle, making it easy to grip and control. 
These pins are gentle on your pup's coat yet perfect for removing tangles, de-shedding, or massaging their skin. We like this brush because it's made with very soft pins yet effectively removes loose hair. 
Features
Affordable

Green color

Two sizes

An Andis pet grooming product

Over 3,000 positive reviews
The Go-Pets de-matting comb features over 13,800 positive reviews. The all stainless steel teeth and ergonomic grip make this comb one of the most popular tools for de-matting and de-shedding your pet. With this grooming tool, you get to deshed with the 23 tooth side of the comb and dematt with the 12 tooth side.
The GoPets de-matting comb removes mats from any type or length of coat. This dematting comb is designed to remove the undercoat and loose hair from your pet to give them a groomed, tangle-free look. 
This dematting comb will work on all types of matted coats. Great for short, long, and curly type grooming jobs.
Features
Orange & grey color

Stainless steel

Affordable

Double-sided pet comb

Dematting brush or detangling comb

Donates a portion of profits to animal charities
The We Love Doodles Slicker brush features sturdy yet flexible stainless steel pins guaranteeing both strength and effectiveness. The wire pins are hand bent to a 45-degree angle and specially tempered for rust resistance. 
This brush has 50% longer, denser, and softer pins making grooming a breeze. It works through thick and long coats removing more dog hair than traditional slicker brushes. We like this slicker brush by WeLoveDoodles because each pin is bent and angled (at approximately 45 degrees), so it won't scratch your dog's skin. The brush is also eco-friendly and made of recycled wood. It does a great job of preventing matting and removing tangles and knots. It's also super easy to hold and use while grooming.
Features
50% longer, denser, and softer pins

 Extended 7″ ergonomic handle

 Non-scratching dog brush

Long bending pins for optimal grooming

Affordable

Gentle

 Ideal for Labradoodles and other Poodle-crosses

High-quality dog grooming brush

 Recycled wood dog brush

 Blue color

A We Love Doodles pet product
The Hartz Groomer's dog brush is a "combo" brush developed by pawfessional groomers for everyday de-shedding, detangling, and removing small mats. It features two brushes and allows for gentle yet effective grooming.
One side contains stainless steel tips with a protective coating to remove loose hair and detangle coat; the other has dense nylon bristles to redistribute natural oils for a healthy, shiny coat. This product features over 14,000 positive reviews.
Features
Affordable

Combo brush with dual sides

Nylon material

Multi-colored

Ergonomically designed handle 

Suitable for all coat types

Over 14,000 positive reviews
The Shih Poo
The Shih Poo is a crossbreed between a Toy Poodle and a Shih-Tzu. The Shih-Tzu Poodle mix breed is considered semi-hypoallergenic and sheds very little. Since this breed is a mix of two breeds, it's best to look at the breeding from both sides to get a clue about the coat, size, temperament, and appearance. The Shih-Poo has a lifespan between 14 and 17 years.
Shih Poo coat and grooming requirements
This small-sized designer breed needs daily brushing to prevent its silky smooth coat from tangling up. All poodle mix breeds can have a variety of coats with lots of fast-growing fur. A Shih-Poo can either be single-coated (Poodle side) or double-coated from the Shih Tzu side. Either way, you're going to end up with a super soft and cuddly teddy bear puppy. Brushing your Shih-Poo regularly has many essential benefits, which include the following:
 Eliminates mats, burrs, tangles, and dead hair

 Stimulates blood supply to the skin

 Severe matting can prevent the skin from protecting and regulating your dog's body temperature.
Shih-Poo puppy grooming needs
That said, if you've recently adopted or purchased a puppy Shih-Poo, you'll be mesmerized by all that fluffy puppy fur. Yet, around eight months to a year, your Shih-Poo will begin losing his puppy fur and may be prone to plenty of matting and tangling. 
So it's at this stage that you'll need to consider getting your Shih-poo's fur-trimmed short to avoid heavy matting and tangles. But, on the other hand, if you want to maintain coat length, you'll need to brush your Shih-Poo every day to maintain coat health.
Shih-Poo adult coat grooming needs
The Shih-Poo's coat can be short and curly like the Poodle or long and silky like the Shih-Tzu. As for coat colors, the Shih-Poo can be black, white, gray, cream, beige, sand, brown, or even two-tone. Sometimes puppies from the same litter sport very different coat colors.
The Shih Tzu Poodle coat
This breed is one of the most popular dog breeds in the United States and lasts 1,000 years. The American Kennel Club (AKC) adds that this small lion dog breed has hair on their faces that grows in every direction and that "Shih Tzu owners who keep their dogs clipped short to know all too well that not much time goes by before a Shih Tzu's hair grows up from her snout and in front of her eyes." 
Given the long, flowing coats of the Shih Tzu, and if your Shih Poo ends up with this coat, it's best to use the correct grooming tools for this breed. Keep in mind that your Shih Poo could end up with a double coat from the Shih Tzu side or be single coated from the Poodle side. 
Whether your Shih Poo furbaby has a short, curly coat from the Poodle side or a straight, long coat from the Shih Tzu side, they will have lots of fast-growing fur throughout puppyhood that requires regular grooming. 
The Shih Poo will also have hypoallergenic fur from the Poodle side and does not shed very much, making this a dream hybrid furbaby to have at home, most especially if you or family members suffer from allergies.
Frequently Asked Questions
How often does a Shih Poo need to be groomed?
You should brush your Shih Poo every day to prevent matting or if their fur is long and flowing.
How to groom a Poodle mix?
You should brush your Shih Poo every day to prevent matting or if their fur is long and flowing. Because this breed is high maintenance, you should consider getting your dog clipped to avoid painful tangles and mats.
What kind of coat do Shih Tzu Poodles have?
Common coats for a Shih Tzu Poodle are wavy, curly, straight, and sometimes silky. 
How often to bathe a Shih Poo? 
You should bathe your Shih Poo every 4-6 weeks, depending on how active they are and whether or not they get dirty. If you notice any skin problems (i.e., dry skin, rashes), then take them to the vet for a check-up and shampoo only if necessary.
What brush do I use first?
You can brush with a gentle pin brush first and then run a comb through for a follow-up to ensure that there are no tangles close to the skin that you may have missed. A comb also brings hair that has fallen out up to the surface and helps clean dirt out.
What are the most troublesome areas when grooming a Shih Poo?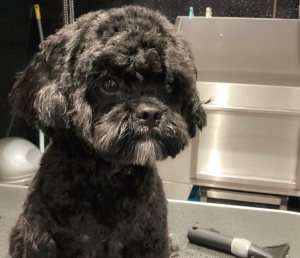 These areas are under the ears, under the chin, in the armpits, and around the feet and legs are examples of these places. Always trim fur as needed or visit a professional dog groomer in your area with good reviews.
How do mats occur?
Mats can be painful and cause skin irritation and disease, so if they are not brushed out daily, mats can occur wherever there is rubbing or movement, such as between the legs, under the chest and tail, or around the ears or collar area.
Matting also can occur when old, loose hair is not brushed or combed out. If left ungroomed even more, old hair can get caught up with the new, growing hair, and the mats will get larger, tighter, and closer to the skin. If your Shih-Poo leads a very active outdoor lifestyle, you also run the risk of burrs, leaves, and other outdoor materials getting caught up in his fur, as well.
How do I find the best dog products for my Shih Poo?
You can visit WeLoveDoodles.com, an excellent site for finding the latest and trendiest products for your dog that you can get on Amazon.
Conclusion for Best Round Dog Bed
Dog kennels are designed to provide your pet with shelter and comfort. The enclosure is well-ventilated and allows your dog access to light and fresh air. The roof of the kennel protects your dog from the hot sun and other harsh elements as well as keeps them safe from escaping. Lucky Dog kennels have a wide range of designs to choose from including the ones listed below. 

Claudia Bensimoun is a writer who specializes in dog content and veterinary topics! Aside from writing for We Love Doodles, Claudia also writes for other major dog blogs like Fido Friendly, Animal Wellness Magazine, and the United States Dog Agility Association (USDAA). She has a ghostwritten over 50 different dog e-books. Her passions include animal welfare, veterinary research, and wildlife conservation.
Why Trust We Love Doodles?
At We Love Doodles, we're a team of writers, veterinarians, and puppy trainers that love dogs. Our team of qualified experts researches and provides reliable information on a wide range of dog topics. Our reviews are based on customer feedback, hands-on testing, and in-depth analysis. We are fully transparent and honest to our community of dog owners and future owners.