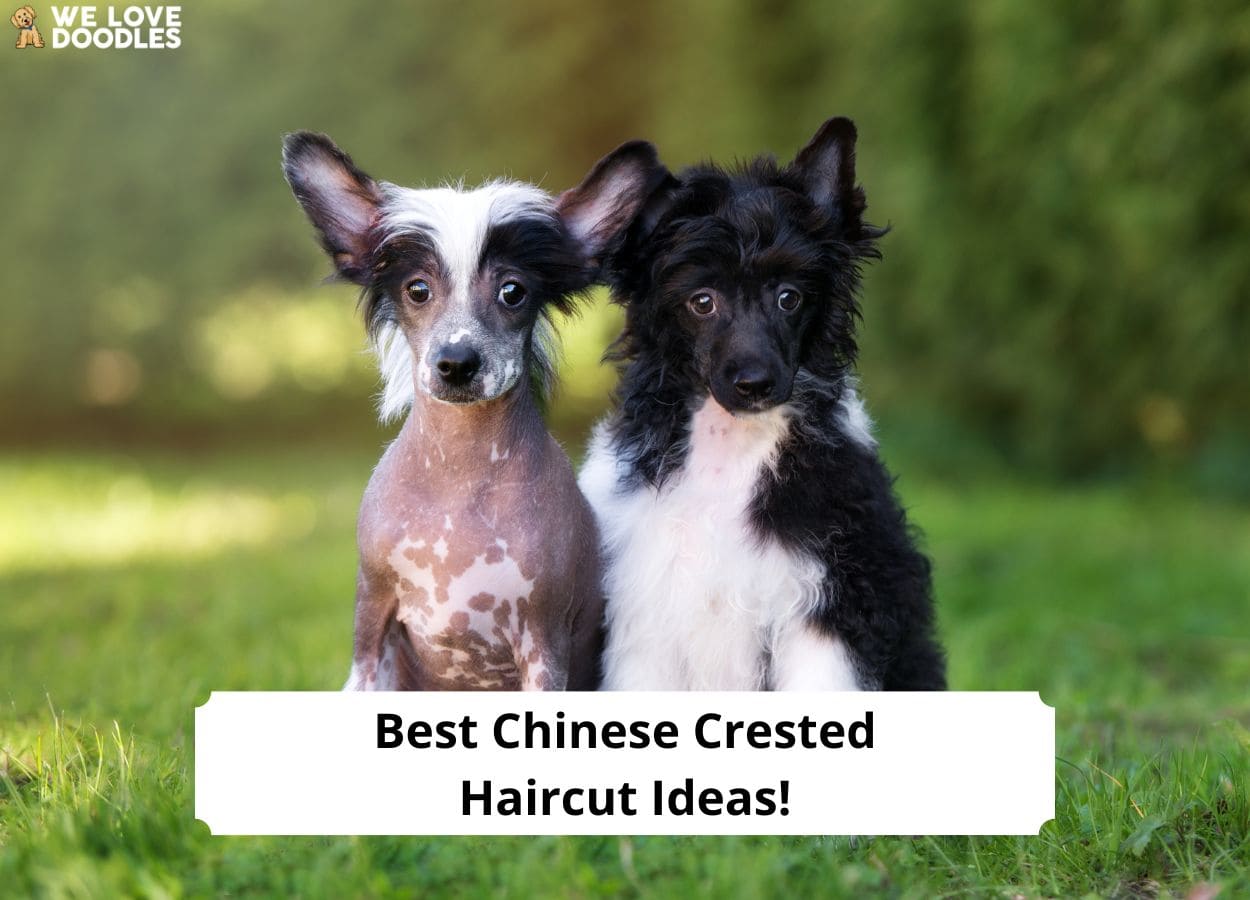 Chinese Crested are alert dogs who are deeply affectionate. These dogs adore people and will happily spend their days curled up on the couch with their owners. They form unbreakable bonds that make them the perfect pet for any adventurous and fun-loving family. Read on for the wide range of Chinese Crested haircut ideas and how to care for your dog's hair at home.
Chinese Crested dogs are lightweight, meaning they are ideal companions for families who like to travel with their dogs. Typically, they will only grow to about 13 inches tall and weigh no more than 12 pounds.
They will need plenty of special care, however. Chinese Crested dogs have stunning long hair that can easily tangle and knot. As such, they will need to see a groomer every few weeks to maintain their hair, receive a trim, and take care of their nails.
Alternatively, you can manage these needs at home.
Before scrolling down this guide "Best Chinese Crested Haircut Ideas," check out: 9 Best Cheap Hypoallergenic Dogs! (2023) and 7 Small Non-Shedding Dog Breeds! (2023).
What Type of Hair Do Chinese Crested Dogs Have?
Chinese Crested dogs can be born with long, luxurious hair or hairless. Some of these dogs might have patches of hair, but most Chinese Crested dogs are hairless.
9 Best Chinese Crested Haircut Ideas
Browse some of the best Chinese Crested haircut ideas to decide which style suits your precious pup. Some of these styles may mean shaving off all the hair while others focus on stunning and simple designs.
Long Hair Trim
The long hair trim will leave your Chinese Crested dog looking stunning with a uniform look. This haircut will maintain the length of your dog's hair, even if it's so long that it drags across the floor. The long hair trim may make your dog look like a Yorkshire Terrier, whose long hair can sometimes sweep across the floor like a mop.
Lion Cut
A lion cut will keep the hair around the head and neck of your Chinese Crested dog long while shaving the rest of the body and chest. This haircut makes your dog resemble a stunning and regal lion, complete with a small puff at the end of its tail.
Consider using a lion cut for Halloween, costume parties, or during the holidays to make your dog feel more confident and festive.
Mohawk Cut
A mohawk cut is popular among many Chinese Crested dog owners. This haircut will leave a stunning strip down your dog's back and head to create a fun and exciting display perfect for holidays and parties.
Mohawk cuts may help your dog cool down and can be a good way to express the personality you and your dog share.
Clean Shave
Clean shaves are uncommon for Chinese Crested dogs, as most will keep the hair around their head and face long. However, a clean shave may get rid of any fleas, ticks, or lice that could linger from a stint in a shelter or kennel.
A clean shave is the best haircut when a Chinese Crested is first adopted because it can help remove pests and dead hair.
Bell Bottom Cut
The bell bottom cut is one of the most common for Chinese Crested dogs. Most of the hair on your dog will be trimmed short while maintaining long locks around the legs and paws of your dog. This haircut resembles bell-bottom jeans, but you can modify it to allow as much hair around the legs as desired.
Hedgehog Cut
A hedgehog cut is a little more complicated than most haircuts but can be a perfect option for dog owners who want to add a little flare to their dog's appearance. This haircut will mean trimming the hair around the dog's head and face until it looks poofy and stands upright.
The groomer will then shave the chest, belly, and most of the legs so your Chinese Crested dog looks like a hedgehog.
Uniform Cut
A uniform cut is a popular choice for Chinese Crested dogs since the hair doesn't look unseemly or wild. This haircut will keep all the hair on your dog's body even and ensure there are no spikes, mismatched layers, or non-uniformity.
Uniform haircuts on Chinese Crested dogs are easy to do since most of these dogs don't have much hair, and the hair they do have is light, thin, and easily managed.
Schnauzer Cut
A Schnauzer cut will work on a Chinese Crested dog since a Schnauzer and a Chinese Crested dog have hair in nearly the same places. Your Chinese Crested will likely need to have the hair around their head and ears trimmed to resemble a Schnauzer more closely, but the two dogs can look similar with this haircut.
The only giveaway may be the lack of snout hair on your Chinese Crested dog, but the guessing game that others will play when passing you and your dog can be a lot of fun for all!
'80s Rock Band Cut
Last on our list, the '80s rock band cut works best on a Chinese Crested with large pointed ears and plenty of hair to atop their head. This haircut is done by manicuring and trimming an even layer of hair atop your Chinese Crested dog's head and the hair down the sides of its neck.
This haircut will be reminiscent of a big hair band ruling the stadiums in the '80s.
Frequently Asked Questions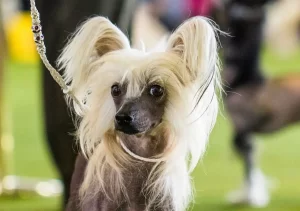 Choosing the best haircut for your Chinese Crested can be challenging. These answers will help you best manage their haircare without any struggle.
How Do You Cut A Chinese Crested Dog's Hair?
You can cut a Chinese Crested dog's hair at home if you have the right tools. For example, you'll need a trimmer and some scissors to keep the hair uniform. Use verbal commands to maneuver your Chinese Crested, as needed.
How Do You Cut A Chinese Crested Face?
Cutting the hair around a Chinese Crested dog's face will mean being very careful with a pair of small trimming scissors. Always ensure your dog is properly trained to obey basic commands before going near them with scissors or other grooming tools.
Are Chinese Crested Dogs Shaved?
Most Chinese Crested dogs are born without much hair on their bodies, but some may be shaved to make them more comfortable. Those living in warm climates may choose to shave their Chinese Crested dog to boost overall comfort.
Are Chinese Crested Dogs Bald?
Some Chinese Crested dogs are hairless or bald on most sections of the body. Others can have a thick coat of hair that can grow long and droop downward. Even bald Chinese Crested dogs will have some hair around their ears and faces.
Why Do Chinese Crested Dogs Have No Hair?
Chinese Crested dogs have no hair due to a mutation in their genetic makeup that will keep some of them from growing hair in some regions of the body. This dog breed may have descended from the African Hairless dog, leading to the mutation coming down the genetic line.
Conclusion for "Best Chinese Crested Haircut Ideas"
Chinese Crested are stunning dogs with luxurious hair and a lively personality. These dogs love to spend time with their owners and will gladly cuddle up on the couch or bed. Chinese Crested are small dogs with plenty of hair that may knot or tangle if they aren't brushed properly.
You may need to brush your dog every other day to ensure there are no tangles in the luxurious hair. Take your dog to the grooming salon to get one of the above fun and elegant haircuts. Most Chinese Crested haircuts will have parts shaved short while others may indulge in their natural long locks.
Consider how much hair your Chinese Crested has before deciding which style is best for them. Some of these dogs may not have enough hair to manicure but others may need a haircut.
For more guides similar to this list showing Chinese Crested haircut ideas, check out:
If you want to learn more about Chinese Crested grooming, watch "Dog Show Grooming: How To Groom a Hairless Chinese Crested" down below:
Garrett loves animals and is a huge advocate for all Doodle dog breeds. He owns his own Goldendoodle named Kona. In addition, he volunteers at the Humane Society of Silicon Valley, where he fosters dogs and helps animals. Garrett enjoys writing about Doodles and believes that dogs can teach humans more about how to live than humans can teach a dog.
Why Trust We Love Doodles?
At We Love Doodles, we're a team of writers, veterinarians, and puppy trainers that love dogs. Our team of qualified experts researches and provides reliable information on a wide range of dog topics. Our reviews are based on customer feedback, hands-on testing, and in-depth analysis. We are fully transparent and honest to our community of dog owners and future owners.