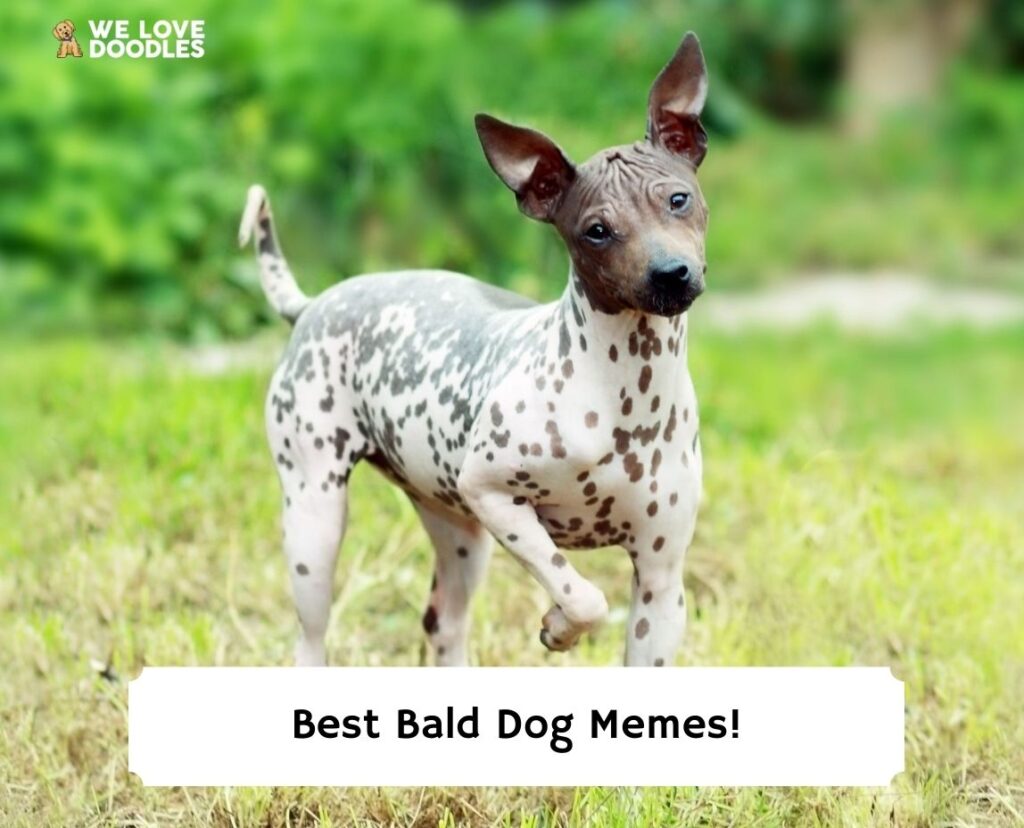 If you're searching for some fun bald dog memes, you've come to the right place! Shaving your dog is often a strenuous process. It's hard to know what a fluffy dog will look bald, which often results in some hilarious shave jobs.
Other dogs are naturally bald, both in patches and across their bodies. Though people sometimes overlook them, bald dogs make the funniest meme templates. Check out some of our favorite bald dog memes from across the internet.
Before you scroll down this list of bald dog memes, check out these other recommendations from our team at We Love Doodles: Best Sad Dog Memes and Best Walter Dog Memes.
1. The Dog of Your Nightmares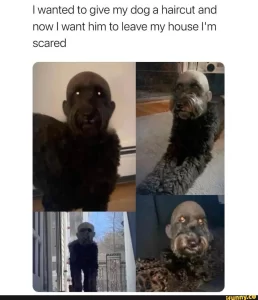 Shaving any pet can lead to some unexpected results. In the case of these pet owners, their dog is now reminiscent of a frightening, bald human. Imagine walking into your living room and seeing this face staring at you from the couch!
As one can notice by the ears, this dog isn't bald. Instead, someone made this bald Poodle meme using a Snapchat filter. The bald poodle picture made its rounds across the Internet in 2021, though no one knows the original poster. Many users have since used the photos for reaction memes, horror art, and hilariously terrifying templates.
More Dog Memes: Sad Dog Memes and Funny Smiling Dog Memes.
2. Dead-Pan Doggo
It's safe to say this mostly-hairless dog exemplifies the feeling of Monday. Its blank expression staring forward is an unintentional hoot. This Chinese Crested dog isn't entirely bald.
Instead, what hair it has billows and sticks in just about every direction, adding to the comedic chaos. Other captions of this meme template include "Hey Boo" and "Fite Me."
3. The Gentleman Pup
This doggy isn't fully bald, but he's got a few bald spots showing. The before-and-after difference is stark. Was he even wearing a bow tie in the first photo? The world may never know. On the left, we have an unshaven dog with a prominent fur brow.
We have a scholarly-looking dog who isn't ready to talk about his receding hairline on the right. The photo and caption originated with American comedian Morgan Murphy on Twitter.
4. Bald Dog or Sid the Sloth?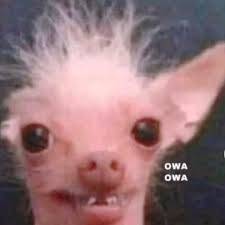 This close-up photo of a dog with a bald face is a popular meme. People commonly use it as an absurd profile photo on TikTok, Pinterest, Facebook, and other social media apps.
The caption, "owa owa," originates from TikTok's Pudgywoke, also known as the "owa owa dog." This TikTok user's small dog makes a distinct "owa owa" yipping noise, which many consider a trait of small dogs.
5. This Is Not a Comfy Outfit
This dog probably doesn't normally look bald, but this tight outfit seems to have pulled some of his furs back, revealing a big bald spot.
Not all dogs are fans of Halloween costumes (this canine included). Anyone who has tried to put on too small clothes probably knows how this dog is feeling.
6. Bald and Fuzzy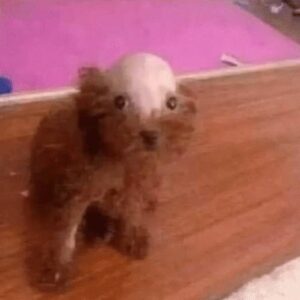 Here we have another canine: the legendary "monkey ripping dog's hair off the meme." This meme originated as a photo showing a monkey attacking a dog, though captions implied it may have been a wig and a shave job.
People have used the "dog gets hair ripped off" memes for countless templates and reaction photos across the Internet. Some call the hairstyle the "the bald man haircut." The most common usage of the meme is as a zoom-in gif, with this puppy providing the perfect reaction for any awkward occasion.
7. There's Always One in the Pack
This meme of a small, moderately-hairless dog next to a large, fuzzy canine is fun. The star of the show is the hairless dog, who grits her teeth and squints her eyes viciously.
Meanwhile, the fuzzy dog is visibly uncomfortable with having to take a photo with her. Even without the caption, this bald dog meme is funny. The only question is, what is this rascal of a canine smiling about?
8. Piggy Bank or Doggy Bank?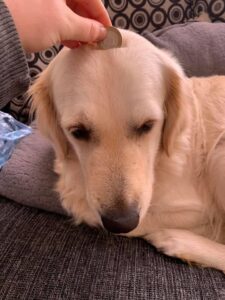 This dog has an interesting story when it comes to bad shave jobs. This shaved dog meme originated when a UK Facebook user shared an unfortunate incident with her pet. While the dog's owner was holding the shaver and joking about shaving the dog's head, the dog moved their head upward — right into the razor!
Thankfully, the dog was entirely unscathed, aside from a single bald spot in its fur. Photos of the dog have made their way around the Internet, where people used them for memes. This photo of a person inserting a coin into the dog's fur slot is the most common version of the picture.
9. Bald Dog vs. Hairy Dog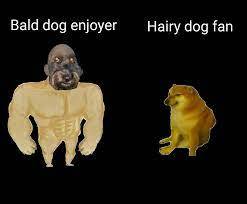 Many pet owners enjoy a bit of friendly competition over which type of dog is best. This meme uses the "doge" meme template to show that they think bald dogs are superior to hairy dogs.
The meme uses the canine from our first bald poodle meme as evidence. The bald poodle looks hilarious on top of a muscular body. This beast of a dog is more terrifying than ever before.
10. What's on the Table?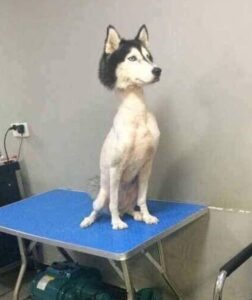 Many dogs are unrecognizable after a shave, which was the case for this Husky. His face may be intact, but one can only imagine how much fur there was before.
This shaved dog meme has no funny caption but is nonetheless hard to look away from. Despite being entirely shaved, this bald Husky stands firm on the high ground as if his fur was as mighty as it was yesterday.
11. The Dog Did Not Approve This Break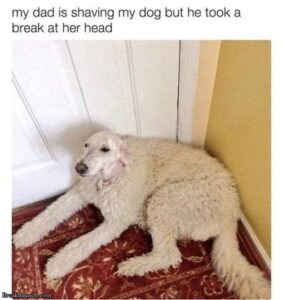 This shaved dog meme isn't about a shave gone wrong, but instead a shave that's incomplete. This dog is probably confused about why his face is suddenly so cold.
Does he realize how colder he's about to be in a few minutes? Whatever this dog is thinking. We're sure you'll enjoy this bald dog meme.
12. Bald Dogs Are Less Cute as Cartoons
Even if you don't watch the shows, you could still recognize characters from "The Simpsons," "Family Guy," and "The Flintstones."
This fact makes the revelation of bald Brian Griffin from "Family Guy" even more frightening. What makes this meme funny is the reaction featuring Fred from "Spongebob Squarepants." Bald Brian on his own is more scary than funny.
13. This Dog is a Mood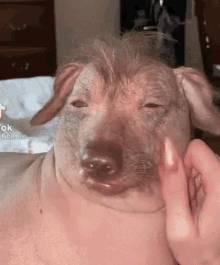 Originating as a TikTok, this adorable doggo has made its rounds across the Internet. Most often used as a GIF, this bald dog meme is fun to watch and is strangely relatable.
This hairless dog isn't showing much emotion, but it's clear he's having the time of his life with little movements. We hope this bald dog meme made you as happy as this hairless canine is.
14. Return of the Nightmare Dog
Here we have another meme derived from the first bald dog meme on this list. Tumblr user "see that nasty thing" created this extraordinary artwork. The official title of this piece is "dog with bald man Snapchat filter, but it's a haunted painting."
This artwork is another example of how widespread the bald Poodle meme has become. Users have made other pieces of art inspired by the bald Poodle meme, but this one is the most frightening.
15. That's Heart-ly What I Asked For
Shaving and grooming are perfect opportunities to give your dog some style. While this pet owner certainly had the right idea, they lacked proper execution.
As far as bad shave jobs go, this poor puppy wasn't dealt the worst hand. We hope this final bald dog meme made you laugh as much as it made us chuckle.
If you enjoyed these bald dog memes, you could also check out:
If you enjoyed scrolling through our list of bald dog memes, we think you'll enjoy watching "Best Cat and Dog Memes Compilation" down below:
Garrett loves animals and is a huge advocate for all Doodle dog breeds. He owns his own Goldendoodle named Kona. In addition, he volunteers at the Humane Society of Silicon Valley, where he fosters dogs and helps animals. Garrett enjoys writing about Doodles and believes that dogs can teach humans more about how to live than humans can teach a dog.
Why Trust We Love Doodles?
At We Love Doodles, we're a team of writers, veterinarians, and puppy trainers that love dogs. Our team of qualified experts researches and provides reliable information on a wide range of dog topics. Our reviews are based on customer feedback, hands-on testing, and in-depth analysis. We are fully transparent and honest to our community of dog owners and future owners.