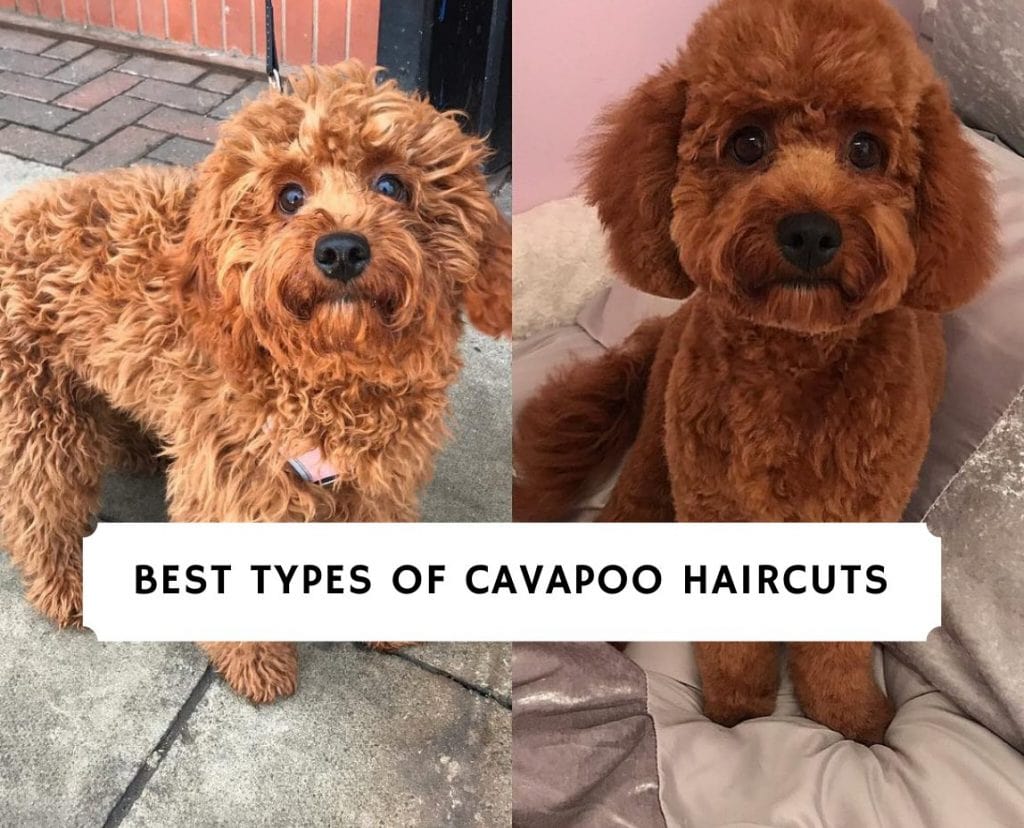 Cavapoos are fun, adorable, and great for families. They have great temperaments and always want to be around people. However, due to the hypoallergenic and nonshedding coat, Cavapoos need to be regularly groomed and given haircuts.
Since this designer breed is a cross between Poodle and Cavalier King Charles Spaniel, this means they will have a lot of hair that grows quickly.
If your Cavapoo has mostly Poodle genetics like an F1B generation, then they will have wavy or curly hair that needs to be regularly cut to prevent mats and tangles. Thus, Cavapoos must go to the groomer at least every six to ten weeks, no matter the type of hair they end up with.
It can be tough to choose a hairstyle because you want your Cavapoo to look cute but also don't want to spend money at the groomers every month. We have put together a list of some of the best types of Cavapoo haircuts to give you some inspiration.
We also made a video on the different types of Cavapoo Haircuts if you want to watch it below:
Before scrolling down our types of Cavapoo haircuts guide, check out these related articles: Cutest Lion Cut Dog Photos on the Internet and Types of Cavapoo Colors.
Cavapoo Summer Cut
The Cavapoo has a Summer Cut just like many of the other Doodle breeds. This is a great haircut to keep your pooch feeling cool on those long and hot summer days.
If your Cavapoo likes to run around outside under the sun, it's also beneficial to give them a shorter Summer Cut to prevent overheating. However, proceed with caution when you take your Cavapoo to the groomer and tell them to give your Cavapoo a Summer Cut.
This is a really generic term and can mean many things to many different groomers. In general, a Summer Cut means a very short cut all over your dog's body. Some interpret this as a shave while others will leave some hair a little bit longer.
You need to be specific about what you want. When it comes to a Cavapoo Summer Cut we are going to tell you the specific features so you can explain them to your groomer.
We suggest that you cut your dog's hair approximately 1/2 inch or less. Typically owners don't like to shave their Cavapoo because it's not an attractive hairstyle.
The best aspect about a Cavapoo Summer Haircut is that if you cut your dog's hair short, it typically won't mat or tangle for quite some time. Thus, you'll be spending less time at the groomers and more time having fun with your dog. 
Summer Cut Features
Hair is even all over the body, generally 1/2 inch or less
You decide how short you want it. However, we suggest that you don't shave your Cavapoo
The face is trimmed back, but the hair can be kept longer and shaped
Tail and feet hair is short
Cavapoo Guides: How Much Does a Cavapoo Cost and Havapoo vs. Cavapoo.
Cavapoo Teddy Bear Cut
The Cavapoo Teddy Bear Cut is the quintessential Doodle cut and it looks great on Cavapoos. It is likely that if you have seen a doodle of any kind then you have seen the Teddy Bear Cut. This is one of those haircuts that isn't really open for interpretation. Most groomers know what this cut is and how to do it on different breeds of Doodles.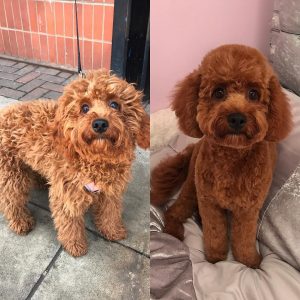 This might be one of the cutest haircuts on a Cavapoo because they look like an adorable teddy bear since they are even the size of a teddy bear. One aspect that you can change about this cut is the length of hair on the body. That is up to the owner's discretion, but most people cut their Cavapoo's hair between 1/2 and 1 1/2 inches.
However, the traditional haircut involves the legs and feet hair being kept short and blended in with the body hair. The shape and length of the face and head are kept pretty standard. The head and face are rounded and this is quite often done with dog shears or scissors.
Teddy Bear Cut Features
The body is one length. Usually mid to short length at around 1 inch
Legs and feet kept short, especially around the paw pads
Face trimmed and blended in with the body hair
Head rounded with scissors
More Cavapoo Guides: Best Types of Cavapoo Generations.
Cavapoo Puppy Cut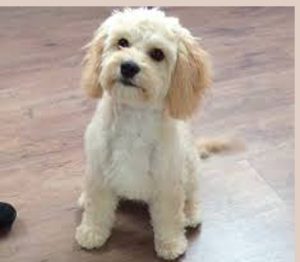 A Cavapoo Puppy Cut is another very common and popular style for the doodle world. Cavapoos look very endearing and lovable when they have a Puppy Cut. In fact, it is very similar to the Teddy Bear Cut and most groomers will consider this the same haircut.
One of the main differences is the length of the hair. A Puppy Cut tends to be slightly longer than the Teddy Bear Cut. While the name may make Cavapoo owners think it is only for puppies, this simply isn't the case.
A Puppy Haircut can be done on a dog of any age and is actually somewhat low maintenance and adorable haircut. The upkeep of this coat between grooming appointments is actually very easy.
You will need to brush your Cavapoo regularly, but that should keep tangles from occurring for several weeks. This is a really good choice if your Cavapoo's fur tends to mat easily.
Even if you regularly brush your dog, Cavapoo owners know that mats and tangles still regularly occur. If that is the case, then the Puppy Cut is a good balance between cute and low maintenance.
Puppy Cut Features
Same length over the body and legs. Typically around 1 1/2 inches or more
Face and ear hair can be longer, but it is up to the owner
Related: Cavapoochon Guide.
Cavapoo Lamb Cut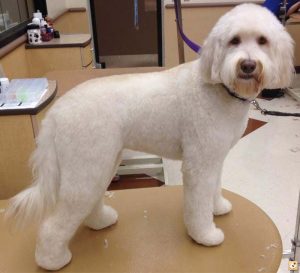 There are several haircuts on our list that are able to be executed on multiple doodle breeds. The Cavapoo Lamb Cut is one of them and it looks good on dogs who received more Poodle genetics. This is a traditional type of Poodle haircut and makes the Cavapoo look like a sweet little lamb. 
This is a cute haircut that has long hair around the legs with feet that are rounded and are even with the pads. The body is one length and is typically longer than the Puppy Cut but is still considered a medium haircut. The facial hair has a nice trim and is rounded with long ears.
Lamb Cut Features
Overall shorter body length hair around 1+ inches
Longer leg hair
Rounded feet even with pads
Longer ear hair
Trimmed face hair
Cavapoo Shih Tzu Cut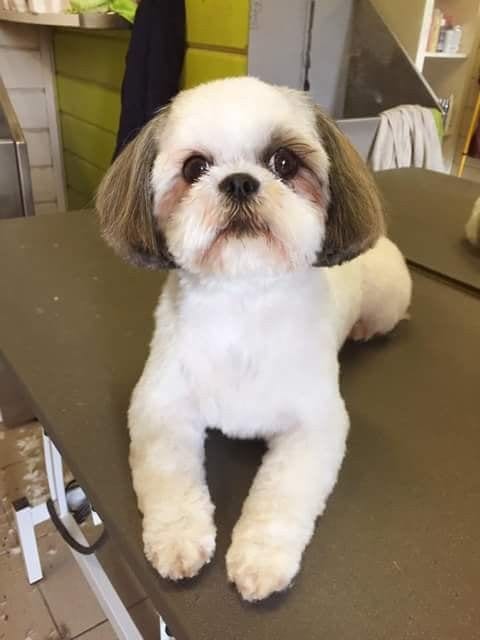 We know it sounds weird to have a Shih Tzu cut on a different breed of dog, but this is a very versatile and somewhat universal haircut that works well on a Cavapoo. A Cavapoo looks adorable in this haircut and it's a low-maintenance haircut.
There isn't much length to this cut except on the tail and the ears. Most Shih Tzus do tend to sport this cut so it is likely you have seen it around your neighborhood or dog park. The good aspect of this haircut is that that it doesn't have much room for error and groomers are typically familiar with the look.
Most experienced groomers have done many of these cuts and know what it means when an owner asks for one. However, you need to know what you are asking for if you want to avoid miscommunication.
The best thing to do is to look up a Shih Tzu cut online and take a screenshot with you to the groomer. A picture can't be misunderstood and the groomer will replicate that look.
Shih Tzu Cut Features
Body hair one length all over
Usually one to two inches in length (two inches looks adorable, but be ready for extra brushing to prevent mats)
Face hair is trimmed
Ears and head longer but rounded
At-Home Grooming Tips for a Cavapoo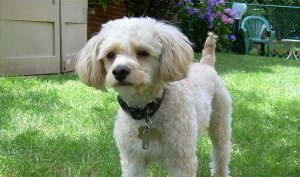 There are going to be times when you can't get to the groomer as often as you would like. If you typically take your dog to the groomer every six weeks, but your schedule forces it to wait an extra two weeks, what do you do? There are some things that you can do at home that will help spread out the visits to the groomer.
If you really want to save money and trips to the groomer, you can learn to groom your Cavapoo yourself. There are a lot of tutorials on that, but for this post, we are just going to give you tips for in-between groomer visits tips.
Bathing Your Dog
Visits between grooms can be 6 to 12 weeks and it will be important that your dog is bathed between visits. Dirt and debris are something that can contribute to matting, tangling, and unhealthy skin. Giving your Cavapoo a good bath with a gentle dog shampoo once a month will go a long way to making your groomer's job easier.
Daily Brushing
This may actually be the most important at-home grooming tip for your Cavapoo. This is especially true when you have a Cavapoo that has long and oftentimes textured hair. Brushing your dog doesn't have to be a long session every day.
We suggest that you pick one of your dog's body parts per day whether it be their face, belly, body, or legs. Brushing your Cavapoo should be very relaxing for both you and your dog. In addition, it should help strengthen your bond together.
Brushing daily will also get rid of any tangles before they can become mats. This will make your groomer's job easier and prevent your dog from getting shaved to remove the matts. It will also make your dog's experience at the groomer more pleasant.
Recommendations: Best Brush For a Cavapoo.
Nail Trimming
Keeping your dog's nails maintained between grooming visits is another way to keep your Cavapoo from having a traumatic experience. Nails grow quickly, and if your dog doesn't get walks on a sidewalk or pavement, then their nails will grow out of control.
It could even pierce the pad as nails grow in a "C" shape. If you are going to go a long time between grooming visits, then don't forget about the nails.
Articles we think you'll like: Dog Breeds That Look Like Fried Chicken and Best Poodle Mixes.
Conclusion For The "Best Types of Cavapoo Haircuts"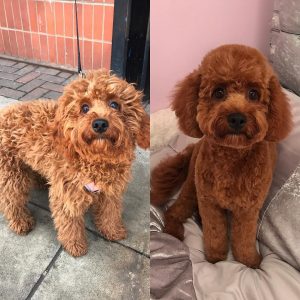 Cavapoos aren't confined to the hairstyles in this article and they can pull off a number of creative haircut looks. Since Cavapoos have curly hair, your options to cut their hair is basically limitless.
However, one of the main reasons to take your Cavapoo to the groomers is for maintenance to prevent matting. Most Cavapoos don't shed so that means hair care and maintenance are very important.
Curly hair can tangle so easily that daily brushing is imperative to having a healthy dog. When you are choosing a hairstyle make sure you know if that style will work with your financial lifestyle and your dog's lifestyle.
A cut might be cute, but if it isn't practical, then it isn't a good cut for your Cavapoo. We hope you found some inspiration for your future Cavapoo's haircut.
For more Cavapoo guides, you can check out:
You can learn more about grooming a Cavapoo by watching  our video on the"Best Types of Cavapoo Haircuts" down below: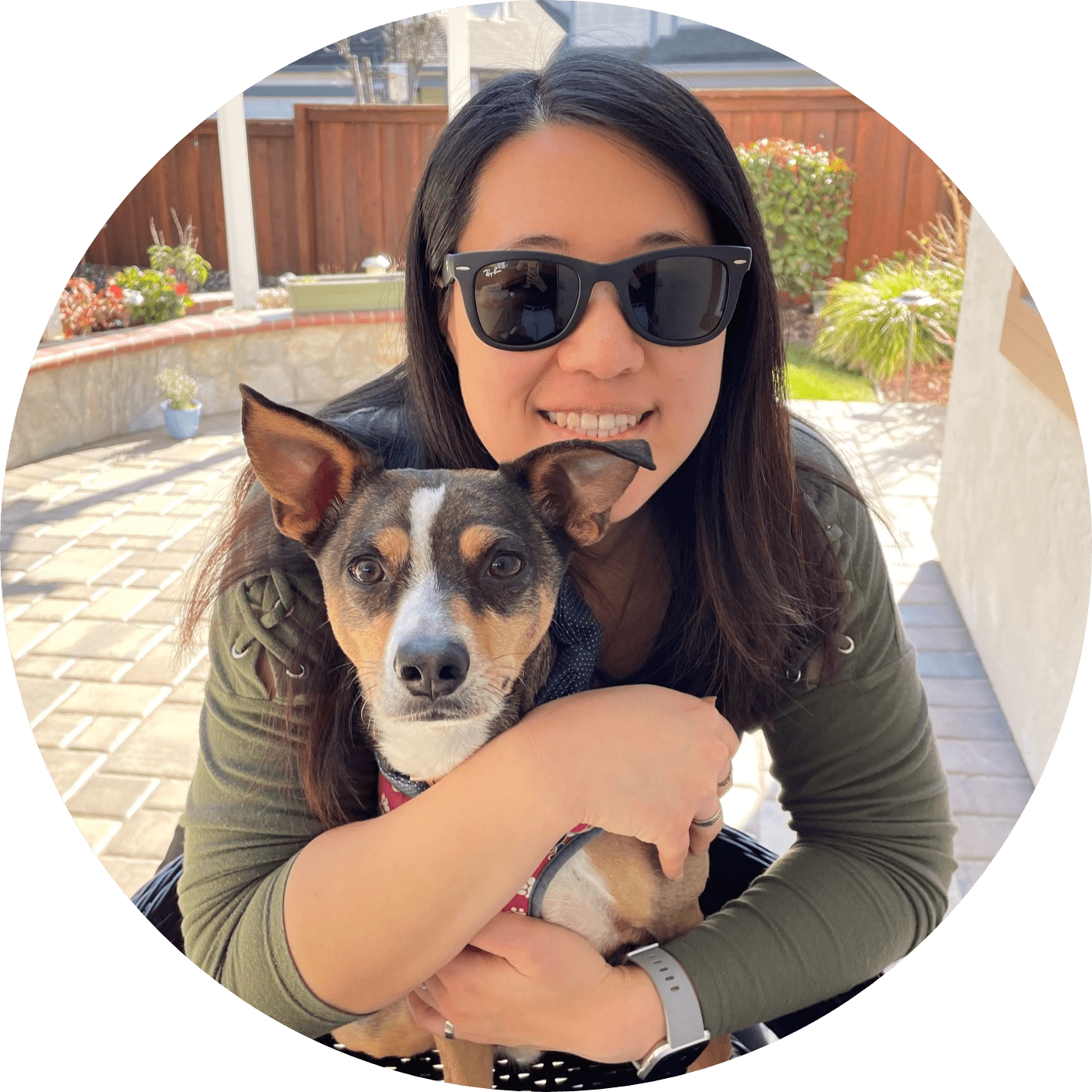 Dr. Sabrina Kong graduated from the Royal Veterinary College in England in 2016 and has been working at a small animal clinic in Northern California since then. She grew up in the Bay Area and got her bachelor's degree from Cal Poly San Luis Obispo. She also became a Certified Canine Rehabilitation Practitioner through a program at the University of Tennessee.
When she isn't in the clinic taking care of her four-legged patients, she enjoys traveling and trying new foods with her friends and her three-legged dog, Apollo. She adopted Apollo from her clinic when he was a puppy with numerous health issues. Dr. Kong truly cares about taking care of animals.