For many reasons, crossbreed dogs like Cavapoos are in high demand by dog enthusiasts across the globe. Cavapoos are one of the most popular dog breeds that people look for when trying to add a companion to their home. We're here to help you find the top Cavapoo rescue in the UK.
Cavapoos are from two popular and well-tempered breeds: the Poodle and Cavalier King Charles Spaniel. These dogs make excellent pets because they are always energetic, friendly, and playful.
However, popularity can be a problem. It means more of these lovely dogs are on rescue missions awaiting adoption. Fortunately, there are many reputable Cavapoo rescue organizations in the UK from which to adopt this dog breed, though it can be challenging to select the right one.
After careful consideration and consultation, we have compiled a list of the best Cavapoo rescues in the UK to make your search easier and more productive. Here are the best places to adopt your next pet.
Before you read this list of Cavapoo rescues in the UK, check out: The 6 Best Cavapoo Breeders in the UK! (2023) and The 7 Best Cockapoo Breeders in the UK! (2023).
1. Doodle Trust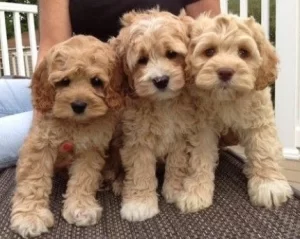 Doodle Trust is a well-established non-profit dedicated to helping Cavapoos in need of a loving, caring home. This organization works without discrimination and empathy for lost, abused, rejected, neglected, and surrendered dogs. They rescue and rehome all Poodle mixes, including Cavapoos.
Doodle Trust began in 2007 and has saved thousands of Doodles since its emergence. It is also the first Doodle rescue in the United Kingdom, making it the go-to choice for many people. The organization strives to contribute positively to the lives of all the dogs that come their way. They do not reject Doodles regardless of their circumstances or health condition.
Doodle Trust rescue relies on a network of dedicated volunteers who are passionate about giving these pets a second chance at life and work tirelessly to achieve these aims. They go the extra mile to ensure dogs are comfortable, safe, and healthy before finding an ideal family for them.
Having no central location, this organization places all its rescued dogs in foster care. While in foster care, they are health-checked by professional vets to ensure they are physically and mentally stable before being placed in a family.
Dogs with special medical care get appropriate attention until they recover fully. They do not give out dogs with health or behavioral issues. In addition, all their dogs are temperament-assessed and evaluated before choosing a suitable family for them. Doodle Trust also aims to educate the public on the advantages and disadvantages of all types of Poodle mixes.
All their rescued dogs are spayed or neutered before joining their new families. In addition, the dogs are fully vaccinated, dewormed, and microchipped before going home. The foster parents engage the dogs in physical and mental exercises to ensure they are well-socialized and trained to be part of a family again.
You can also rely on them for continuous support after adopting your new family member from them. They provide lifetime support and would guide you through the challenges of raising a dog.
Doodle Trust Details:
2. Dogs Trust
Dogs Trust is another dog rescue with an excellent reputation and track record in the UK. It is an all-breed dog rescue organization having more than 77 different breeds in its care. This highly passionate rescue does not leave any behind on its rescue mission. Regardless of the dog's physical, behavioral, or mental condition, Dogs Trust always puts itself out for them.
They are committed to giving homeless, lost, abused, and surrendered dogs a second chance at life. If you want to surrender your dog for any reason, you can confidently contact this rescue.
Dogs Trust believes all dogs deserve to live to the full, so they go the extra mile to make that possible for dogs on the street and in shelters. In addition to owner-surrendered dogs, this rescue saves dogs from shelters, pounds, and streets.
Since 1891, they've been working for a better future for dogs all over the UK. They are also there for people who love dogs, helping them find loving, adorable dogs suitable for their lifestyle.
Dogs Trust has dedicated staff and volunteers who would do anything to ensure these dogs are happy, healthy, and placed in loving, caring homes. Dogs Trust has a very large family and every member plays a crucial role. They have a strict screening process that aims to place the dogs in ideal homes.
All applicants are thoroughly screened before being considered. They also conduct home visits to ensure the dogs are placed in safe and comfortable homes.
If for any reason, you're not able to care for your dog again, you can always return it to this rescue organization. They are always available and willing to take back their dogs to prevent them from ending up on the streets or in shelters.
Dogs Trust Details:
3. Danaher Animal Home
Next up, we have Danaher Animal Home — a volunteer-run rescue focused on various dog breeds. This organization has a long-standing association with the RSPCA but is self-funded.
The organization saves dogs of all breeds and sizes, including Cavapoos. If you are looking for a healthy and well-socialized Cavapoo, Danaher Animal Home is one of the best places to get one.
Danaher Animal Home welcomes dogs that are injured or in dire health conditions. They have a dedicated vet staff that provides extensive health exams and treats these vulnerable dogs with care.
All their dogs go to live in a safe and comfortable facility. They have a central location where you can meet the rescued dogs before adoption. They also encourage all adopters to visit the facility and spend some time with their dogs before proceeding with the adoption.
In addition to providing all necessary medical care, this rescue team ensures the dogs receive all the love, care, and attention they need. They spend quality time with them daily to help build their social life, making it easy to blend into their new families.
Your new dog will come home vaccinated, dewormed, microchipped, and re-socialized. Potential adopters are thoroughly screened and only the most qualified are paired with their dogs. Spending time with the dogs helps them assess their temperament and traits, making it easy to determine the families they are best suited for.
Danaher Animal Home Details:
4. Doodle Aid
Doodle Aid is one of the most trusted Doodle charities in the UK. It is a leading UK-based registered non-profit organization focused on rescuing, rehabilitating, and rehoming Poodle mixes.
The organization has been rescuing dogs for many years but became an official charity in 2016, registered in England and Wales. Since its emergence, this rescue's mission has always remained the same; to help all Poodle cross dogs and their owners.
You can rely on this organization for various sizes, colors, and ages of Cavapoos. They occasionally rescue puppies or pregnant dogs, so you can reach out to them if you want a Cavapoo puppy.
Doodle Aid's number one priority is to keep a high standard of understanding the needs of their rescued dogs. After every rescue, the dog is placed in intensive care and given appropriate health care.
They are extensively vet-checked and treated for any known medical condition. After being treated, the dogs are brought up to date on vaccines and dewormed. They are also microchipped at no extra cost.
Doodle Aid only places the dogs for adoption when they are physically, mentally, and behaviorally stable. You can visit or contact them to start the adoption process.
Doodle Aid Details:
Frequently Asked Questions
How much should you pay for a Cavapoo puppy in the UK?
On the lower end, you can expect to pay a small adoption fee for a Cavapoo puppy from a shelter or rescue in the UK. Otherwise, a breeder may charge £2,500 or more for a Cavapoo.
Do Cavapoos bark a lot?
While Poodles are moderate barkers, Cavalier King Charles are not. As such, Cavapoos do not typically bark a lot. That said, barking will vary depending on the individual dog and its training.
What is the life expectancy of a Cavapoo?
A healthy Cavapoo should live anywhere from 10 to 15 years.
Conclusion for "Best Cavapoo Rescue in the UK"
Before signing any agreements or making any donations to a Cavapoo rescue in the UK, make sure you check the reviews. Check their social media pages and ask for references. Call the references to know about their experience with the organization before proceeding with the adoption.
You also want to ensure the dog is vaccinated before rehoming it. If the organization does not vaccinate their dogs, you should move on to the next one.
For guides similar to this list of Cavapoo rescues in the UK, check out:
Learn more by watching "Cavapoo Dog Breed Guide | Dogs 101 – Cavapoo/Cavoodle" down below:
Garrett loves animals and is a huge advocate for all Doodle dog breeds. He owns his own Goldendoodle named Kona. In addition, he volunteers at the Humane Society of Silicon Valley, where he fosters dogs and helps animals. Garrett enjoys writing about Doodles and believes that dogs can teach humans more about how to live than humans can teach a dog.
Why Trust We Love Doodles?
At We Love Doodles, we're a team of writers, veterinarians, and puppy trainers that love dogs. Our team of qualified experts researches and provides reliable information on a wide range of dog topics. Our reviews are based on customer feedback, hands-on testing, and in-depth analysis. We are fully transparent and honest to our community of dog owners and future owners.