Over the past few years, the Cavapoo has surged in popularity throughout the United Kingdom. There's a reason why the Cavapoo goes by many names such as Cavoodle, Cavalierdoodle, to Cava-doodle. It all boils down to their allure, lovely temperament, intelligence, and friendly nature. 
These small, charming puppies are the epitome of the doodle family's all-in-one bundle. They excel in entertainment, love children, and add a lot of joy to their owner's life. Additionally, Cavapoo puppies are generally considered to be hypoallergenic and nonshedding which is great for people who hair dog hair getting all over their house or suffer from allergies.
The only drawback is that Cavapoo breeders in the UK are difficult to come by and finding an ethical breeder will be hard. Luckily, we've done a ton of research to help you find a Cavapoo puppy and avoid a puppy mill.
Other articles you would like: Cavapoo Pros and Cons & Cavapoo Puppy Insurance Guide!
1. Henley Cavapoos UK
Henley Cavapoo is a registered family breeder of Cavapoo puppies in South East England, UK. The Henley family's deep love for dogs has prompted them to work on Cavapoo breeding for three generations, totaling more than 90 years of experience.
Instead of keeping their Cavapoo puppies in kennels, they allow them to share a house, kitchen, sofas, and even beds, which is a terrific approach to breed social and friendly dogs.
Their puppies go through the Kennel Club Assured Breeder Scheme's prescribed testing and receive their first vaccination, microchip, and vet check before coming home to you. 
The family does not do deliveries and requires all new forever parents to pick up their Cavapoos in their residence. 
If, for any reason, there is a problem with the Cavapoo – the family guarantees a complete refund within 5 days of signing the contract.
Cavapoo Breeder Contact Details:
2. Prestige Cavapoo
Prestige Cavapoo is owned and run by Nik and his spouse, Becky. The duo has loved dogs their entire life and it was only natural for them to venture into dog breeding. 
The couple has been breeding and raising Cavapoos for over 22 years now in their 4-acre property along with other domestic animals such as horses, goats, ducks, geese, and many more. 
These Cavapoo breeders in the UK are keen on the development of their dogs' temperaments. They go to great lengths to ensure each puppy receives all the love and attention it requires to grow into a well-rounded dog. They also receive an extra helping hand from their kids – Jake, Isla, and Joss – in cuddling and playing with the puppies.
Becky, who is a veterinary nurse, ensures that each Cavapoo puppy receives all their vaccinations and dewormings according to their schedule. The breeders also ensure your forever Cavapoo receives all the care it needs. 
Due to their experience and quality of Cavapoos, the breeders typically have a long waiting list. If you are interested in buying a Cavapoo puppy from them, prepare to wait a little longer. 
The breeders require a £500 deposit for each Cavapoo puppy. Although they have not mentioned how much their Cavapoo puppies are, you can expect them to be in the range of £2000 to £3000.
Cavapoo Breeder Contact Details:
3. Glendream Doodles UK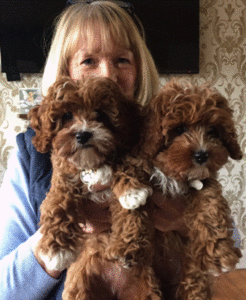 Paul is the breeder and owner of Glendream Doodles. He specializes in breeding Cavapoos and Cockapoos in Fife. 
Even though Paul has over 20 years of experience in breeding Cavapoos, he is keen on running a select in-house kennel. This is a change from most breeders who tend to grow bigger as they get more clients. Paul says that he still wants to maintain the personal touch and care in breeding happy and healthy Cavapoos and Cockapoos. 
Being the first Cavapoo breeder in Scotland, Paul believes in transparency and going the extra mile for each Cavapoo puppy. He ensures that each puppy receives excellent medical care and attention from birth to when you pick them up. This care and attention also extends to the dogs' parents who you can find running around in Paul's small farm in Fife. 
The breeder accepts full responsibility for all his puppies and will accept them when returned, as per the kennel's terms and conditions. 
Cavapoo Breeder Contact Details:
4. Kettreana Cavaliers and Cavapoos
Kettreana Cavaliers and Cavapoos have been breeding and raising Cavapoos for over 10 years. The owners are kennel club registered and live with all their dogs at home. 
The breeders do not kennel their dogs and love to give them tons of space and fresh air. The breeders are also keen on health testing and ensure each dog undergoes tests such as DNA, BVA eye tests, and heart tests among others. 
When coming home to you, the puppies come with 4 weeks of free insurance, a health certificate, microchip, pedigree registration, and food to start their new journey with you. 
The Cavapoo breeder also offers canine scanning and stud services if you're interested in breeding a female dog in the future.
Cavapoo Breeder Contact Details:
5. Lotties Cavapoos Breeders UK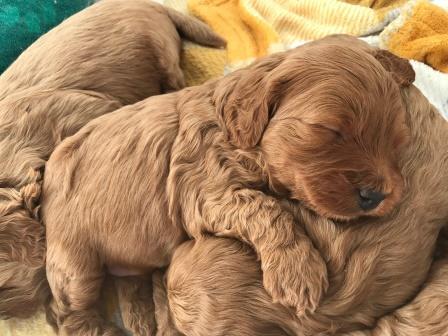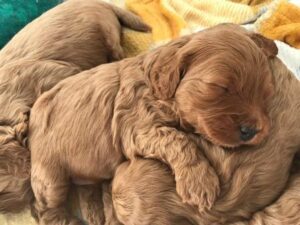 Charlotte, who has a wonderful husband and three children, began breeding Cavapoos in 2012 after losing two of her own children. She discovered the genuine bonding of love in Cavapoos after discovering she couldn't have any more children.
This shaped the way Charlotte breeds and raises Cavapoos to date. She does not and will never kennel her puppies because she has strong maternal instincts towards them. Therefore, she raises them in her open dining room to ensure that each offspring is safe and well taken care of. 
The breeder works full-time on the business to ensure every Cavapoo is safe, healthy, and will bring more joy to your home. Charlotte ensures that each Cavapoo goes through indoor and outdoor training, and has a wonderful temperament. 
All of their Cavapoo puppies for sale in the UK goes home with a 4-week Petplan insurance, heart report card, immunization card, and much more. 
Cavapoo Breeder Contact Details:
6. Castellan House Kennels UK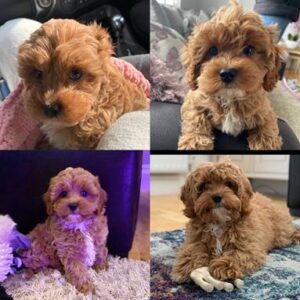 As seen on BBC TV Wales, the Castellan house family has quite a reputation for breeding Cavapoo puppies. They are long-established and licensed breeders of low shedding puppies.
Their puppies are primarily vaccinated, wormed every two weeks after birth using a Panacur wormer. The puppies are also given small homeopathic tablets to boost their immunity.
The puppies are very social, thanks to the dog-loving nature of their grandchildren and the affection that they spent hours playing with the puppies.
At the age of 8 weeks, the puppies become ready to leave for their new homes with 4 weeks of insurance and can be delivered through their services as a professional, licensed pet courier.
Cavapoo Breeder Contact Details:
Conclusion For Cavapoo Breeders in the UK
Most Cavapoos breeders remain booked due to the huge demand and few breeders. These breeders are dog-loving families who consider so many factors before finalizing the price and delivering the puppy. However, you can expect to pay an average of  £1,200 to £3,000 for a Cavapoo puppy in the UK. 
Protip: Because these families are not there for business purposes so, when you visit them, try to convince them that you are the best possible choice for their puppies.
Other articles you would like:
Garrett loves animals and is a huge advocate for all Doodle dog breeds. He owns his own Goldendoodle named Kona. In addition, he volunteers at the Humane Society of Silicon Valley, where he fosters dogs and helps animals. Garrett enjoys writing about Doodles and believes that dogs can teach humans more about how to live than humans can teach a dog.
Why Trust We Love Doodles?
At We Love Doodles, we're a team of writers, veterinarians, and puppy trainers that love dogs. Our team of qualified experts researches and provides reliable information on a wide range of dog topics. Our reviews are based on customer feedback, hands-on testing, and in-depth analysis. We are fully transparent and honest to our community of dog owners and future owners.