Dog kennels are used to keep your dog safe and comfortable while you are away from home or to prevent your dog from danger. Above ground dog kennels provide a space between the ground and the bottom surface of the kennel. This space allows air to circulate and prevents the kennel from getting damaged during harsh weather.  In addition, several off the ground dog kennels have wheels for easy portability and dog trays underneath to quickly clean up your dog's mess.  Above ground dog kennels serve a great purpose and have become popular in the dog world. We have evaluated over 100+ dog kennels and found the best above ground dog kennels that are available for purchase today.
In a hurry? Here's the Top Picks!
Product
Best Seller
SmithBuilt Heavy Duty Dog Kennel
Runner Up
LOCKUP Dog Kennel
Best Budget Pick
Richell Pet Training Kennel
Image
Best Seller
Product
SmithBuilt Heavy Duty Dog Kennel
Image
Best Budget Pick
Product
Richell Pet Training Kennel
Image
Image
Image
The Luckup Heavy Duty Above Ground Dog Kennel is the best above dog ground dog kennel on the market.  This strong and sturdy dog kennel is made from corrosion-resistant steel that your dog won't be able to escape. In addition, it has a non-toxic finish, two locks, and safety buckles to keep your dog safely inside. Additionally, since this is an above-ground dog kennel, it has a removable plastic tray that makes it easy to clean up your dog's poop and pee.  Since there are only 8 screw bolts and 4 wheels, this dog kennel is also easy to assemble and can be completed in 3 to 5 minutes.
It's available in four sizes and two color options such as black or silver.  In addition, there are 6 different sizes that will virtually fit any small, medium, or large-sized dog. The wheels keep the kennel above ground and they lock into place for safety. The wheels make this kennel easy to move.  
The Smonter Heavy Duty Above Ground Dog Kennel is another great choice if you want a kennel that is off the ground.  This sturdy dog kennel features an escape-proof design for those dogs that like to break free from their crate. In addition, the heavy-duty metal is non-toxic and rust-resistant.  You can easily use this kennel indoors or outdoors.  Since this dog kennel is above the ground, it ensures that no water, dirt, or anything else will get inside of the crate.
The unique design provides safety as well as plenty of ventilation to keep your dog cool and comfortable. It's available in three sizes and two color options. You can't really go wrong with this off the ground dog kennel.
This Richell Pet Above Ground Kennel is great for small dogs and puppies. This easy to move dog kennel is perfect for training purposes including if you need to potty train your dog. The wheels keep this kennel lifted off the ground as well as make it easy for your pup to enter and exit. 
Two storage trays on top are the perfect size to put leashes, toys, and treats. The white and tan color combo looks great in any household. There are two size options available.  This is the best above ground dog kennels for smaller dogs.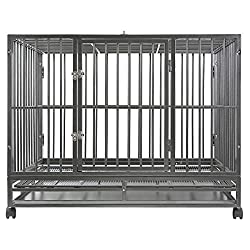 The SmithBuilt Heavy Duty a great dog kennel that is built off the ground. If you're searching for a hardcore steel dog crate this should be your pick. This is a completely inescapable steel create that would be great for large dogs or puppy litters. There are two entryways on this dog create, one on the side and one of the top. This enormous steel create is best for big canine breeds, puppies who need potty training, or dogs who bite on their crate
Since this crate is amazingly strong, but it also heavy. To help neutralize the weight they put on four moving wheels that can be secured.  This keeps the dog kennel off the ground.  In addition, it makes it simple to move this steel kennel container around your home or move it outside. This steel kennel has a removable metal tray that doesn't hold smell or lose its color. This is ideal for small puppies or little dogs who like to defecate in their kennel.
This high-quality dog kennel is specially constructed to prevent dogs from escaping. It features anti-escape locks and double doors for easy and safe use.
It's easy to assemble and clean due to the removal tray. The lockable wheels keep the bottom of the crate off the ground and your pet safe from water, puddles, heat and other harsh elements when used outdoors. It's available in two sizes and the colors silver or black. 
This spacious dog kennel features a roof design that provides extra headroom for your large dog. The kennel is made from sturdy metal and features heavy-duty locks that latch securely to prevent your dog from escaping. This dog kennel is built off the ground and features a front entrance as well as roof entrance.  This is a great indoor and outdoor kennel and will remain above the ground.
The metal has a multi-layer of protection to prevent corrosion or rust. This above ground dog kennel has lockable wheels, it's easy to assemble and available in two sizes. 
This uniquely designed two-tier above ground dog kennel is perfect for a household with more than one pet. It's durable, easy to clean, and features pull out trays that you easily wash.  In addition, this two story kennel has wheels so it is off the ground and easily portable to where ever it needs to reside.
The top of the kennel opens at the top and allows you to put your pet safely inside. The top door option is great for dogs that like to jump out the side door. They also have front doors as well to easily take your pet in and out.
This heavy-duty dog kennel is designed with 20-gauge durable steel that keeps your dog safely inside while preventing them from escaping. The strong metal surface has been smoothed out to prevent sharp edges from hurting your dog. 
The door located at the front features two slide-bolt latches that are secure and easy to use. The wheels swivel 360 degrees which makes it easy to move from one location to another. They also lift the kennel above ground the perfect amount so your dog can still easily enter and exit their kennel with ease when unlocked. 
This extremely strong above ground dog kennel features a steel frame, four rolling casters, and dual latches. The crate door is easy to open and the slide-out tray makes it easy to clean. 
This kennel comes in two colors, black or silver. It's available in three different sizes which makes it easy to find the best fit for your dog. The wheels lift the kennel off the ground and they are removable for versatility when needed. 
This dog kennel features a heavy-duty frame that is made with high strength stainless steel. The surface is smooth and rust-proof which makes it suitable for indoor or outdoor use. 
The easy to remove slide-out tray located at the bottom of the kennel keeps your dog's paws safe. The four wheels keep the kennel lifted off the ground and the front wheels lock into place to prevent the kennel from moving. This dog kennel comes in three different sizes. 
This above-ground dog kennel features welded wire that is durable, safe and long-lasting. The kennel arrives pre-assembled and is easy to setup. 
The special design provides optimal ventilation for your dog, plenty of space to roam around and a roof cover to keep them protected from harsh weather elements such as the hot sun or cold rain. 
How to Find the Right Above Ground Dog Kennel 
Finding the right dog kennel for your pet is easier than you think. The first thing you need to consider is your dog's size. Measure your dog from nose to the tip of the tail and the top of the head to the front paw. Once you have the two measurements add 2 to 5 inches to each one. The added inches will help you choose the perfect size kennel for your dog and ensure they have plenty of room. 
The next thing you need to consider is your dog's habits. Some dogs happily enjoy being in their kennel while others do everything they can to escape and gain their freedom. 
If you have a dog that likes to escape from their kennel it's best to choose a kennel that is made with sturdy metal or steel and features heavy-duty latches and locks. Many kennels mentioned on the list above include these beneficial features. 
One thing many pet owners forget to consider is the cleaning process. Dog Kennels get dirty and need to be cleaned. If your dog tends to make a mess daily you will find yourself cleaning the kennel frequently. This means you need an easy to clean dog kennel that comes with an easy to remove bottom tray. 
This tray is smooth and sturdy. It catches all debris and messes while the bottom of the crate prevents your dog's paws from coming into contact with the mess. This helpful bottom tray will make your life easier when it comes to keeping the kennel clean. 
An important topic is ventilation. It's needed to ensure your dog is cool and comfortable. The dog kennels on the list all feature optimal ventilation for your pet. 
Finding the Right Place to Put an Off the Ground Dog Kennel
Off ground dog kennels are designed to provide a gap between the bottom of the kennel and the ground. The space found between the two surfaces allows airflow and prevent your dog from coming into contact with the ground while inside their kennel. It also prevents the kennel from flooding due to harsh rain or weather. 
Dog kennels built off the ground are suitable for dogs of any age, size, and breed. You can place the kennel indoors or outdoors. Most of the kennels feature wheels that make it easy to move from one location to another without too much hassle. 
When placing the kennel inside your home, find an area that will help keep your dog calm. If your dog enjoys burrowing and den-like environments, place the kennel in the corner where they can feel safe. If your dog likes to see everything and monitor what's going on in the house, place their kennel near a window or a high traffic area in the house like the kitchen. 
Above ground dog kennels are perfect for outdoor use too! Placing the kennel in a backyard that is fenced is recommended. While your dog will be safe inside the kennel, a fenced-in yard will help prevent anyone from having access to your dog while you are away from the house. 
The placement in the backyard depends on the climate. You can also move the kennel as seasons and weather changes. Typically, in hot climates, the kennel needs to be placed in the shade. This placement will provide a cool place for your dog to relax while in their kennel and prevent them from being in direct sunlight which causes dehydration and heatstroke. 
If you live in a cool or cold climate, place the kennel against the wall of the house or in a secluded corner that blocks the wind. Placing a blanket on top of the kennel is recommended to provide a sense of security and warmth. 
Once you find the right off the ground dog kennel for your pet, they will feel safe, secure and thrive in their environment! 
Conclusion for Best Above Ground Dog Kennels / Off the Ground Dog Kennels
Dog kennels are designed to provide your pet with shelter and comfort. The enclosure is well-ventilated and allows your dog access to light and fresh air. The roof of the kennel protects your dog from the hot sun and other harsh elements as well as keeps them safe from escaping. Lucky Dog kennels have a wide range of designs to choose from including the ones listed below. 
Other Articles to Read:
Garrett loves animals and is a huge advocate for all Doodle dog breeds. He owns his own Goldendoodle named Kona. In addition, he volunteers at the Humane Society of Silicon Valley, where he fosters dogs and helps animals. Garrett enjoys writing about Doodles and believes that dogs can teach humans more about how to live than humans can teach a dog.
Why Trust We Love Doodles?
At We Love Doodles, we're a team of writers, veterinarians, and puppy trainers that love dogs. Our team of qualified experts researches and provides reliable information on a wide range of dog topics. Our reviews are based on customer feedback, hands-on testing, and in-depth analysis. We are fully transparent and honest to our community of dog owners and future owners.