Finding an honest and reputable Cavapoo breeder in New Hampshire is possible, but we only found one. There are other reputable Cavapoo breeders located in the surrounding areas and others who will actually help transport or ship the puppies to New Hampshire.
Buying a Cavapoo puppy within driving distance of New Hampshire is always preferable because you can ensure you aren't buying from a puppy mill by schedule a visit to meet the breeder. However, we know that this isn't always possible, especially because the Cavapoo is a new designer dog breed that is trending. There honestly aren't many reputable Cavapoo breeders in New Hampshire that are health testing and genetic testing their dogs. There are a lot more puppy mills and backyard breeders which you should try to avoid.
For this article, we found three breeders near New Hampshire who we believe are reputable. This means they care for the adult dogs and Cavapoo puppies by properly socializing them and exposing them to various sites and sounds. They aren't only after the money involved, but they truly love their Cavapoos puppies and want them to have the best life possible with their forever family.
Even though we have done the research, we don't recommend buying from any of these breeders without at the very least a phone call and asking them questions. Breeding practices constantly change, and you want to avoid puppy mills at all costs. We always recommend that you visit a Cavapoo breeder in person. 
Other articles you will like: Goldendoodle Breeders in New Hampshire and Labradoodle Breeders in New Hampshire.
1. New England Cavapoo Puppies
Our first breeder is the only reputable Cavapoo breeder on our list that is located within the state of New Hampshire. This Cavapoo breeder operates differently because she doesn't have her own website or Facebook page.
She has a page on Gooddog.com with all the information about her Cavapoo puppies and breeding program. This is also how you apply to get a puppy from New England Cavapoos. We do usually like to see a full website with contact information for each Cavapoo breeder, but Good Dog is a reputable site and can be trusted to do some initial screening.
This website is how you will contact the Cavapoo breeder. You can ask questions before you apply for a puppy that will go directly to the breeder or you can just go ahead and apply.
All of the Cavapoo puppies in New Hampshire undergone health and genetic testing to ensure preventable genetic conditions are not passed on to the puppies. This is how the breeder does everything in her power to make sure your puppy has a long and healthy life as your companion.
Pricing does vary based on the color and gender of the dog. These Cavapoo puppies for sale in New Hampshire can be anywhere from $2,500 to $5,200. The breeder will contact you with all of the specific information such as deposits and the final price of a specific puppy after an application is submitted.
However, if you are set on a Cavapoo puppy from New England Cavapoos, be prepared to wait. The estimated wait time for any of the Cavapoo puppies in New Hampshire will be around six months. This is a fairly typical wait time for many reputable Cavapoo breeders and is a good sign. Not many breeders who are considered reputable have puppies available immediately.
There are two options to pick up your new Cavapoo puppy – it should be noted that this breeder does not ship puppies. New owners can drive to the breeder's location to pick up their puppy in person, or if you are not within driving distance you can fly in. The breeder is happy to meet new owners at the airport with the Cavapoo puppy ready to fly home. They do not like to ship their Cavapoo puppies outside of New Hampshire because of the potential risk to the dog.
All of the puppies go home with a one-year health guarantee that covers the puppy's heart and hips. These Cavapoo puppies in New Hampshire are also socialized well and start basic obedience before being sent home.
The breeder lives on a farm with her husband and young child. They have many other animals to which they expose the puppies to. This makes them especially good with other small pets such as chickens and cats. Proper socialization helps to ensure your Cavapoo puppy transitions to later stages in life without anxiety or stress.
Good Dog does have a breeder question and answer section on the breeder's site. This is a place where you can read about this Cavapoo breeder in New Hampshire and what motivated her to start her program. We encourage you to read this information and ask additional questions when the breeder gets in contact with you.
Cavapoo Breeder Information
2. Coastal Havapoos & Cavapoos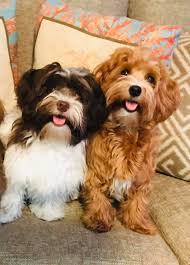 While the Coastal Havapoos and Cavapoos breeding operation is not located in New Hampshire, they are very close by and within driving distance. This Cavapoo breeder is located in the state of Maine near the coast. They are in Seaport, Maine, and make it their mission to make sure they produce healthy and well-adjusted Cavapoo puppies.
In addition to this, they are passionate about making sure no one falls victim to a puppy mill scam. They know that many scammers use designer dogs as a way to take advantage of people who only want to purchase a puppy. They offer a link on their website to the Better Business Bureau puppy scam website so hopeful owners know how to spot a scam.
All of the Cavapoo puppies that come from Coastal Havapoos & Cavapoos come with a health guarantee. The health guarantee is good for one year and covers all genetic conditions that could have been unknowingly passed down. All of the adults are tested for genetic and health conditions to prevent passing on conditions. Most reputable Cavapoo breeders will over a puppy health guarantee because they believe in the health of their dogs.
Coastal Havapoos & Cavapoos has been a reputable dog breeder for more than 20 years. This kind of experience is passed on to the new owners by way of a healthy and happy puppy free of genetic conditions. There Cavapoo puppies are also well socialized. What we like most about this Cavapoo breeder is that she offers up her expertise to the owners even after the puppies go home. She wants the puppy and the owner to be successful and enjoy their companionship. Thus, she is available to answer questions about anything from potty training to basic care.
The website also has references available from past clients who are happily living with their Cavapoos or Havapoos. While all of this sounds great and you are probably ready to get on that waiting list, you will need to wait a little bit longer. The waiting list for all of the puppies is closed. They are completely full and have stopped accepting applications. From time to time a spot will open up so make sure you keep an eye on the website for updates.
Checking their Facebook page regularly is also a really good way to keep up to date on the information and availability. 
Cavapoo Breeder Information
3. FoxGlove Farms Cavapoo Puppies
FoxGlove Farms is a top name in designer puppies that breeds Cavapoos and Cavachons. These beautiful and child-friendly companions will be a joy to any family. They place their Cavapoo puppies all over the country so getting a puppy to New Hampshire will be no issue for FoxGlove Farms.
The owner has been involved with dogs in one way or another for decades and has no plans to stop. She has written books about raising puppies and also runs an online boutique supplying all of the needs for your new puppy or your adult dog.
With a commitment to health and wellness, her Cavapoo puppies are sound and well-adjusted. They come free of health and genetic conditions. In addition, there is a health guarantee to plan for any unexpected circumstances. The puppies are also socialized with children and other pets to make sure they have a seamless transition into any kind of family.
It is possible to place holds for their Cavapoo puppies that are available but a deposit must be placed to keep the puppy reserved. The deposit can vary from dog to dog. Each Cavpoo puppy's listing is complete with the price and deposit required to hold one of them. If the hold expires with no deposit then the puppy will be available to other people.
This Cavapoo breeder does take time off during the holidays to rest. However, keep your eye on the website to make sure you don't miss the puppies as the break ends. Shipping is available, but it requires a flight nanny for an additional charge so the puppies don't fly in cargo. You can also pick up your Cavapoo puppy in person.
If you aren't sure this is the breeder you want to use, head over to the reviews page to read what past clients have said about their services, breeder, and puppies.
Cavapoo Breeder Information
Conclusion for Cavapoo Breeders in New Hampshire
There aren't many reputable Cavapoo breeders in New Hampshire that are genetic and health testing their puppies. This is important because it's one of the only ways to ensure that your Cavapoo puppy doesn't have any issues later down the line. The good news is there are other Cavapoo breeders in nearby surrounding states and some breeders that are also willing to ship their Cavapoo puppies to New Hampshire. In general, if you're a new puppy owner, you should verify testing, ask for a puppy health guarantee, and either visit or video conference the breeder. Best of luck in finding your new dog!
We will periodically update this article as we find new reputable Cavapoo breeders in New Hampshire. Unfortunately, since this is a trending dog breed, there aren't many breeders out there on the market.
Check out these other articles:
Garrett loves animals and is a huge advocate for all Doodle dog breeds. He owns his own Goldendoodle named Kona. In addition, he volunteers at the Humane Society of Silicon Valley, where he fosters dogs and helps animals. Garrett enjoys writing about Doodles and believes that dogs can teach humans more about how to live than humans can teach a dog.
Why Trust We Love Doodles?
At We Love Doodles, we're a team of writers, veterinarians, and puppy trainers that love dogs. Our team of qualified experts researches and provides reliable information on a wide range of dog topics. Our reviews are based on customer feedback, hands-on testing, and in-depth analysis. We are fully transparent and honest to our community of dog owners and future owners.