Cavapoos are fun and trendy little dogs that can make even the most unhappy person at least crack a smile. These fluffy and silly small dogs make great family pets due to their non-aggressive personality and easygoing nature. Cavapoos are, all around, a great dog for most people. They have an amazing temperament, are low shedding, and are eager to please their owners.
The Cavapoo is a designer breed that is a cross between a King Charles Cavalier and a Miniature Poodle. Poodles are amazing little dogs that are used to cross with many other breeds of dogs because they are nonshedding and hypoallergenic.
If you have been searching for Cavapoo breeders in Florida, we've put together a great list. Through our own independent research, we've found several reputable Cavapoo breeders in Florida – puppy mills are excluded from this list! After all, you want a healthy and happy Cavapoo that will live a long life.
Remember that breeding practices change all the time. There are not very many Cavapoo breeders or places to buy Cavapoo puppies in Florida so our pool is limited. We don't want to promote puppy mills so we ask you to do some extra research if you choose one of these suppliers.
Other articles you might like: Cockapoo Breeders in Florida and Labradoodle Breeders in Florida.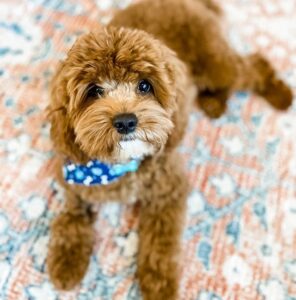 Premier Pups is the USA's top Cavapoo puppy provider that helps you adopt small-breed puppies from responsible breeders.
They set themselves apart by focusing on the quality and well-being of the Cavapoos. As you might know, a puppy's emotional and physical health depends upon the breeder and the environment they grow up in.
At Premier Pups, you do not need to worry about such things. Their Cavapoo breeders support their clients' interests by bringing the highest-quality puppies to market.
They don't tolerate Cavapoo breeders who are not up to the mark and are USDA-compliant. Their team works closely with the breeders by developing long-term, personal connections. They believe in the health of their dogs so much that all Cavapoo puppies for sale will come with a 10-year health warranty. No other individual breeder will offer this type of health warranty.
They also visit their Cavapoo breeders regularly to verify that the puppies and the methods used to raise them are continually improving. They ensure that the breeders' primary focus and priority are their dogs and puppies.
Cavapoo Breeder Details
PuppySpot is #1 on our list because they thoroughly screen all their breeders to AKC standards and there is virtually no wait time for a Cavapoo puppy in Florida. If you've contacted other Cavapoo breeders in the state of Florida, you know that there is a long wait time for a puppy (sometimes over a year). Since PuppySpot is a network of reputable breeders that are registered, you can get your puppy sooner with a "no puppy mill" guarantee. This prevents scams and helps you get a puppy faster.
In addition, you can choose the age, gender, size, and coat color of the Cavapoo puppy you want. If the breeder isn't located in Florida, they will fly your new puppy out to you and hand-deliver it. We highly recommend checking out PuppySpot if you don't want to have to screen a bunch of breeders and want your puppy sooner rather than later. They are a highly reputable marketplace that is disrupting the dog breeding industry.
Cavapoo Breeder Details
3. Wags To Riches Cavapoo's Florida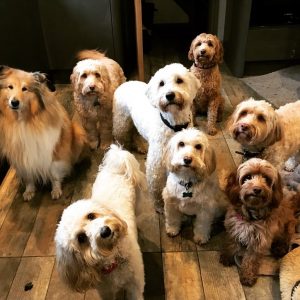 This Cavapoo breeding operation bills itself as "the nation's premier full-service pet boutique." While some of us may not be sure what that means, it basically covers all of the pet parent's needs. This is a place that not only supplies the population with high-quality designer dog breeds like the Cavapoo, but they also have a grooming facility, store for supplies, and a cute little pet boutique with all of the bells and whistles.
Wags to Riches is dedicated to helping you pamper the Cavapoo puppy you get from them or from any other breeder. Among the many designer and purebred dogs that they have in their boutique is the small and adorable Cavapoo. However, just note that they do offer many other breeds.
Prices of Cavapoos aren't listed on the website, nor is information about whether or not there is a deposit. You will need to contact them for that information. They do however say that they will ship the puppy if you do not live in the area and can't drive to pick up the Cavapoo puppy in Florida.
They claim that the Cavapoo puppies in Florida do not come from puppy mills and all we can do is pass on that information to our readers. If you don't want a puppy from a questionable source then make sure you ask plenty of questions prior to purchase.
Another service that you may want to take advantage of if you live in the area is their training services for your new little Cavapoo.
Cavapoo Breeder Details
4. Lancaster Puppies FL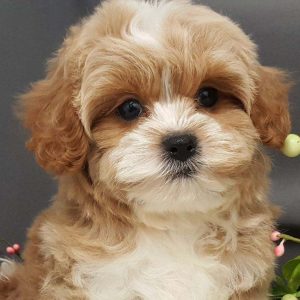 Lancaster Puppies is an online pet shop that sells Cavapoo puppies in Florida. They have many different breeds of puppies and will ship them pretty much anywhere if you aren't local to the puppy you pick. They do typically have Cavapoo puppies and other small doodle dog mixes.
The Cavapoo puppies that were most recently sold were priced at $4,999, but prices may vary. Contact the breeder for information about their currently availale pups. 
Because of how this breeder and supplier operates, it is impossible to find on the website where exactly the Cavapoo puppies come from. We put them on the list because there simply are not that many Cavapoo breeders in Florida. We would caution you when it comes to purchasing a puppy from Lancaster Puppies. It would serve you well to ask a lot of questions about the dog's origin, generation, and genetic health testing.
You may even directly ask them if the puppies come from puppy mills. There is an aspect that allows outside Cavapoo breeders to list puppies for sale in Florida. We aren't sure what their process is when it comes to vetting those breeders so be sure to ask your own questions.
Cavapoo Breeder Details
5. Sweet Manor Country Cavaliers Florida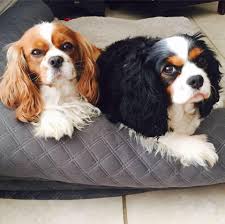 Sweet Mano Country Cavaliers is a Cavapoo breeder in Florida that seems to operate only on Facebook for publicity and selling puppies. You'll need to connect with them via social media if you're interested in a puppy, as alternate contact information isn't published. 
With that being said, based on what we could determine from the Facebook page, the Cavapoo dogs are healthy and the puppies are cared for. It doesn't seem like they have a ton of dogs in their home or litters being born. We all know that what you see on social media is what they want you to see, so make sure you do your own independent research! With this Cavapoo breeder, asking questions will be crucial for making sure you get a feel for the breeding operation.
This operation seems like a true hobby breeder. They only breed King Charles Cavaliers and Cavapoo puppies in Florida. To us, this is a good sign that they are not a high quantity puppy mill. Ask to visit the location just to be sure though and make sure that they have ethical breeding practices.
The Facebook page doesn't talk about pricing or how to leave a deposit. We are assuming you would message the breeder through email or Facebook to express interest and get the details. They also don't talk about shipping or transportation arrangements.
Cavapoo Breeder Details
6. Florida Pups Cavapoos
Florida Fur Babies is an online pet store that sells Cavapoos in Florida. They source puppies from all over the United States. They are not the breeder of these puppies and may not even know where the Cavapoo puppies are actually from. Florida Fur Babies has so many puppies that they actually have sales reps that are hired to connect would-be dog owners with available puppies.
This marketplace offers to finance puppies for qualified buyers. They do offer a health guarantee for the puppies that are sold through their store, but make sure you go through and read the fine print. It would also be a good idea to take the puppy to a veterinarian immediately after you take them home to make sure they are healthy.
If you want the details of the health guarantee, it is on their website under the warranty section. You can also make an offer for a Cavapoo puppy if you don't want to pay the full price. They may not accept the offer, but it doesn't hurt to try!
While this business did make our list, it is because of the lack of Cavapoo breeders in Florida. We don't necessarily recommend that you get a puppy from here, but it is a place to get a Cavapoo if you want to take the chance and are willing to take time to ask questions.
With a breeding business like this, it is impossible to visit the breeding facility or the Cavapoo puppy before you bring them home. That means you have no idea what the temperament or health is for the puppy you choose.
The Cavapoo puppies in Florida range in price anywhere from $2800 to $4000 to purchase and shipping can be arranged. They discourage you from picking up your puppy in person by charging a pick-up fee. They do this because they make money on the shipping costs of the puppy. They state this clearly in the FAQ section of the website. 
Cavapoo Breeder Details
Conclusion for Cavapoo Breeders in Florida
Cavapoo puppies in Florida are becoming popular because they have a coat that doesn't shed and they're considered hypoallergenic. In addition, these dogs look like little teddy bears with an easy-going temperament. If you're looking to add one of these dogs to your family we highly suggest you pick one of the Cavapoo breeders in Florida listed above. However, always be sure to ask a lot of questions because many of the breeders on our list can act as puppy mills.
Other articles you might like:
Garrett loves animals and is a huge advocate for all Doodle dog breeds. He owns his own Goldendoodle named Kona. In addition, he volunteers at the Humane Society of Silicon Valley, where he fosters dogs and helps animals. Garrett enjoys writing about Doodles and believes that dogs can teach humans more about how to live than humans can teach a dog.
Why Trust We Love Doodles?
At We Love Doodles, we're a team of writers, veterinarians, and puppy trainers that love dogs. Our team of qualified experts researches and provides reliable information on a wide range of dog topics. Our reviews are based on customer feedback, hands-on testing, and in-depth analysis. We are fully transparent and honest to our community of dog owners and future owners.