Bernedoodles are a designer dog breed that is quickly becoming more and more popular as they make the perfect family dog. These dogs are really quite amazing with their hypoallergenic and nonshedding features! In addition, they are lovable and tend to be easy to train.
Finding quality Bernedoodle puppies in Florida doesn't have to be a major challenge. There are plenty of them out there but you do want to try to make sure that you're not supporting a puppy mill disguised as a quality breeder. You'll want to do your own independent research to verify a breeder is providing genetic testing, health warranties, and lets you see the parent dogs.
We've done our best to help compile a list of the top 5 Bernedoodle breeders in Florida and we're here to share them with you!
Other articles you might like:
Bernedoodles Defined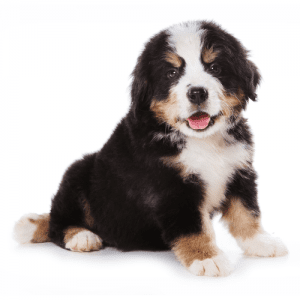 Bernedoodles are a designer breed that is made from a Poodle and a Bernese Mountain Dog. The parents come together and create beautiful Bernedoodle puppies that have all of the best qualities of these two breeds.
They tend to have easy temperaments and loyal personality traits as dogs. Also, Bernedoodles are also smart, loving, and goofy all at the same time. Bernedoodles can vary in size quite a bit, depending on if they are bred with a mini Poodle or standard Poodle. You can find Bernedoodles weights ranging from 20 to 90 pounds.
Typically, the breeder will let you know the size range and an approximation of the anticipated height and weight. You can often get a clear indication of this expectation from the parent's statistics.
Without further ado, here are the best Bernedoodle breeders in Florida.
1. Highfalutin Furry Babies Florida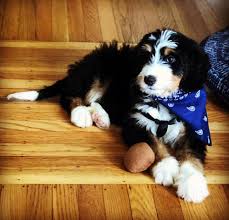 Highfalutin Furry Babies Florida is a boutique breeder that has fun raising their beautiful Bernedoodle puppies in Eustis, Florida. They are kept busy and even have specific open hours that people can visit or swing by to view their puppies and adult dogs. Their best point of contact via email.
This breeder uses the very best breeding lines to make beautiful Bernedoodle puppies in Florida. Their puppies are known for becoming joyful family pets as well as therapy and service dogs. This is a reputable Bernedoodle breeder in Florida because they are part of the United Bernedoodle registry group.
They breed only Bernedoodles which also means they can focus their attention solely on this breed and deliver premium results. They breed a variety of sizes from the mini Bernedoodle to standard-sized Bernedoodle. In addition, they have both F1 and F1B Bernedoodle generations available as well. An F1B Bernedoodle puppy has a majority Poodle genetics so they are less likely to shed.
The health and care of your puppy are also of utmost importance. They even can hand deliver puppies to most destinations in the United States for an additional fee.
Highfalutin Furry Babies Florida also believes in giving back. They donate puppies to families in need of service and therapy dogs and have donated multiple puppies to support all types of people with special needs.
Bernedoodle Breed Information
Bernedoodle Breeder Information
Location: Eustis, Florida
2. Juniper Crossing Farms FL
Juniper Crossing Farms is a Bernedoodle breeder that is located on a Florida century pioneer family farm.  It was always their dream to breed heritage livestock and puppies. They began to turn that dream into a reality in 2014 when they decided to breed Bernedoodles. They do have multiple types of animals on this farm and the Bernedoodles are well socialized with these animals.
With all of their other animals, they also avidly support 4-H. On their site, you can see all sorts of information about the farm and the farm animals that they breed and sell, this includes Bernedoodles. 
This breeder is part of the United Bernedoodle registry because their dogs are high-quality. All parents are health tested and you can see the information for the dams and sires on their site. You can also check out their contract and health guarantees for their Bernedoodle puppies in Florida.
In addition to Bernedoodles, they also sell Aussiedoodles. All puppies are raised and loved as part of the family on this lovely farm. They are well-cared for and are guaranteed to be well socialized.
Bernedoodle Breed Information
Sizes: Standard, small, and mini Bernedoodle puppies
Generations: F1 and F1B Bernedoodle puppies
Bernedoodle Breeder Information
3. Summerfield Mini Bernedoodles Florida
Summerfield Mini Bernedoodles Florida is a breeder that is located in Summerfield, Florida. They are well-known and highly-rated for their mini Bernedoodle puppies. They have been breeding F1 mini Bernedoodles for 13 years and have perfected the breeding practice. They work hard to produce top-quality dogs and even attempt to predict the coat and size of their puppies.
All puppies are part of the family from the day of birth. They are loved and live in the home with the family who raises them. The goal is to breed great family pets that you will be able to love for years to come. Their mini Bernedoodle puppies have minimal shedding and almost always have an easygoing and attentive personality.
The mom and dad dogs all live on the family farm and are well cared for. Other family members even come out to help take care of all the pets so they get tons of attention and get to play with children and learn socialization manners. 
You can take a tour and meet the family and the Bernedoodle puppies in Florida. You can also see plenty of testimonials on their website and their Facebook page. This is one of the best mini Bernedoodle breeders in Florida.
Bernedoodle Breed Information
Bernedoodle Breeder Information
Location: Summerfield, Florida
Phone: 765-863-1838
4. Clovie's Creation Goldendoodles and Bernedoodles
Here is another unique family dog breeder. They are located near Jacksonville, Florida and they raise both Goldendoodles and Bernedoodles. Clovie's Creation Goldendoodles and Bernedoodles is a family-run operation with a good reputation. They have lots of pictures and information on their site as well as their social media pages.
The breeder got its name after their first Goldendoodle whose name was Clovie. She is not one of the parent dogs but rather an inspiration for the family business. All their Bernedoodle puppies are raised in the home with the family. There are kids and adults as well as other pets for the puppies to socialize with.
This breeder is totally open and honest, sharing videos of the puppies being born so you know they are truly born right there with the family. They are certainly worth checking out as a reputable Bernedoodle breeder in Florida. 
Bernedoodle Breed Information
Bernedoodle Breeder Information
5. Bailey's Bernedoodles
Bailey's Bernedoodles is a breeder that is located near a beach area in Verda Beach, Florida. They have a waitlist for a littler that is anticipated later this month and they have regular Bernedoodle litters available as well.
The Bernedoodle puppies come from their mother Bailey, who is a happy and healthy mother. She weighs about 70 pounds and is an AKC and CKC registered Bernese Mountain Dog. She is still fairly new and this is only her second litter breeding Bernedoodle. She has been bred with a mini poodle so you can anticipate their Bernedoodle dog to be medium-sized. They anticipate medium to standard-sized Bernedoodles similar to her first litter.
While they are still fairly new, you can check out their Facebook page and see testimonials from the first Bernedoodle litter. You can tell they are still working on building up all of the information but they are looking like quite a reputable breeder in Florida.
The downside is that it's unclear whether they plan to add or just continue to work with the same dog parents for a few litters. That information will come out over time as well as how the puppies are cared for and raised.
Bernedoodle Breed Information
Sizes: Medium and Standard Bernedoodle puppies
Generations: F1 Bernedoodle puppies
Bernedoodle Breeder Information
Finding a Bernedoodle Breeder in Florida
Florida has quite a few Bernedoodle breeders spread out throughout the state. If none of these breeders on our list are what you are looking for or there's another option you're considering, we have a couple of helpful tips for finding Bernedoodle breeders in Florida.
Ask Questions – don't be afraid to truly look into your options. Ask lots of questions, do your research, and take the time to get to know the Bernedoodle breeder. Most breeders will openly provide health information for parents and puppies and will stand by their breeds. If possible, visit the breeder's location and meet them and the parents and puppies.
Check References and Reviews – The best thing you can do for yourself is to do some basic research. If there are social media pages, check them out. Additionally, dig into reviews and testimonials to see the truth of what others have to say about the Bernedoodle breeder you're considering.
Conclusion for Bernedoodle Breeders in Florida
Bernedoodle puppies in Florida are extremely popular because they are oftentimes multi-colored. In addition, they typically don't shed as much fur as a Bernese Mountain Dog and are mostly hypoallergenic which is great for people with pet allergies. There are several Bernedoodle breeders in Florida and it's very hard to find a reputable breeder. We've done a lot of independent research as well as checked the United Bernedoodle Registry to help you find your next puppy!
Garrett loves animals and is a huge advocate for all Doodle dog breeds. He owns his own Goldendoodle named Kona. In addition, he volunteers at the Humane Society of Silicon Valley, where he fosters dogs and helps animals. Garrett enjoys writing about Doodles and believes that dogs can teach humans more about how to live than humans can teach a dog.
Why Trust We Love Doodles?
At We Love Doodles, we're a team of writers, veterinarians, and puppy trainers that love dogs. Our team of qualified experts researches and provides reliable information on a wide range of dog topics. Our reviews are based on customer feedback, hands-on testing, and in-depth analysis. We are fully transparent and honest to our community of dog owners and future owners.