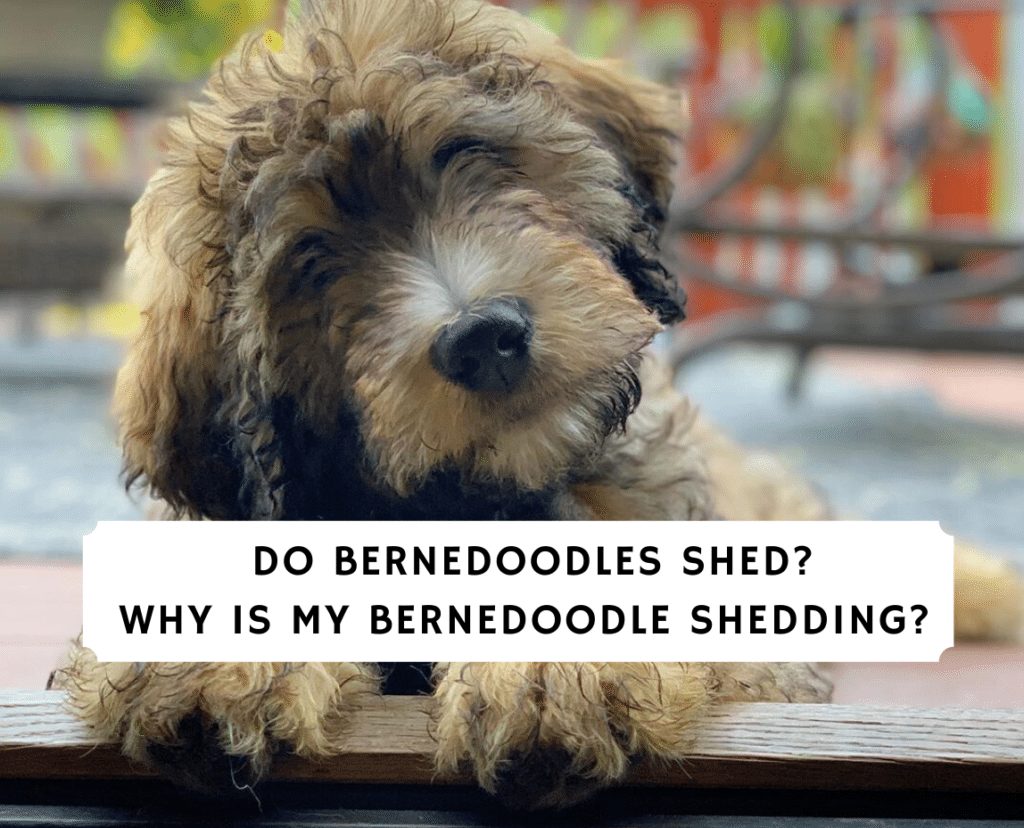 Lots of dog owners who buy a Bernedoodle do so because they think that Bernedoodles are nonshedding dogs. What these dog owners do not recognize is that Bernedoodles aren't a completely non-shedding dog breed and it's highly dependent on what type of generation your Bernedoodle is.
For instance, if you have an F1 Bernedoodle or an F2 Bernedoodle, they are going to shed a lot more hair than an F1B or F2B Bernedoodle. This is simply due to the fact that F1 Bernedoodles have less Poodle genetics. Poodles have genetics that doesn't shed much hair.
In addition, there is no dog that truly doesn't shed any fur. However,  Bernedoodles will certainly shed a lot less hair than a Bernese Mountain Dog. This is because the Bernedoodle has some Poodle genetics that makes it slightly nonshedding.
Naturally, if your Bernedoodle shedding is getting out of control, it may cause a lot of concern. If you are thinking about obtaining a Bernedoodle, you should remember that there is no guarantee that this pet type will never shed any hair. There are a number of new Bernedoodle owners that are shocked to see fur all over their home and all over their clothes because they bought this dog under the assumption that they don't shed. So, why is my Bernedoodle shedding and what can I do to stop my Bernedoodle from shedding?
Why is your Bernedoodle Shedding?
Your Bernedoodle is shedding because it obtained Bernese Mountain Dog genetics rather than the nonshedding Poodle genetics. Bernedoodle shedding highly relies on the Bernedoodle generation that you purchased. 
Generally speaking, it's likely that you acquired an F1, F2, or F3 Bernedoodle generation which is 50% Golden Retriever as well as 50% Poodle. The F1, F2, or F3 Bernedoodle generations are extra susceptible to shedding hair because your canine inherits 50% Bernese Mountain Dog traits. This basically means that it's going to be a coin flip, or 50% chance, whether your dog sheds or not.
Even if you get an F1B Bernedoodle which is 75% Poodle, sometimes the shedding gene might prevail. On top of that, there is also a number of different genetic anomalies that can result in excess Bernedoodle shedding. It's also worthwhile to note that just because your Bernedoodle is considered hypoallergenic, doesn't mean that they won't shed hair.
How Can I Stop My Bernedoodle From Shedding?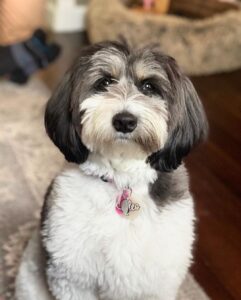 If your Bernedoodle is shedding hair, do not panic – most dogs shed hair. A lot of dog breeds establish thick coat layers in the winter and lose them as temperature levels climb in the spring – it's typical for a Bernedoodle to shed in warmer temperatures. The steps below will certainly assist in lessening the quantity of hair shed by a Bernedoodle
Brush Your Bernedoodle Lots
Ensure that you are routinely brushing your Bernedoodle at the very least every couple of days. Ideally, you want to brush your Bernedoodle every day, but it doesn't take up a lot of time. There are some good Berndoodle brushes that you can get, but in general, you can't go wrong with a slicker brush and a comb. Slicker brushes have lots of thick versatile steel pins that do a superb job of accumulating excess hair.
These tools are low-cost, and you will be utilizing them very frequently. Even if you had a Bernedoodle that really did not shed hair, you would still 
Maintain Appropriate Nutrition
Extreme Bernedoodle shedding can sometimes be limited to the correct nutrition. Your Bernedoodle's coat is a reflection of the nutrients that they are eating every day. Several veterinarians have thought that Omega 3 fatty acids are necessary for a healthy coat and also limit the amount of shedding. Think about purchasing Omega 3's for your dog to limit the quantity of fur that is shed.
Bathe Your Pet On A Regular Basis
An excellent method to decrease Bernedoodle shedding is to regularly shower or bathe your pet dog. Deshedding shampoos like the Furminator Deshedding shampoo will restrict just how much your dog sheds. Try to develop a routine where at least once a month you bathe your dog to rinse off the dead hair.
If you wash off the dead hair, your Bernedoodle will shed significantly less. In the warmer months when your Bernedoodle sheds more often, you can think about giving them a bath twice a month. Don't shower your dog too often or they will get itchy and dry skin.
Reduce Your Bernedoodles Stress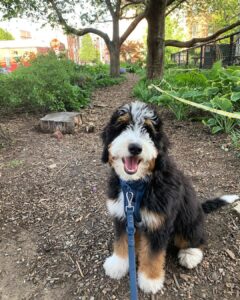 All pet dogs get stressed just like humans do. Increased stress is a powerful emotional as well as physical feedback in your canine's body. Too much Bernedoodle shedding can be attributed to a very stressed-out dog such as a change in their environment, insufficient exercise, or the death of a close friend.
If you just brought your Bernedoodle to a new house, perhaps they may simply have a stressful time adjusting to their new residence. Bernedoodles are extremely sensitive to a change in the environment.
If you think your Bernedoodle is experiencing stress, the best thing you can do is supply a daily routine for them to walk, eat, and rest. This helps your Bernedoodle to anticipate what will be happening next. A routine schedule helps your Bernedoodle adjust to its new environment.
Is your Bernedoodle Shedding Excessively?
If you assume your Bernedoodle is abnormally shedding (i.e. shedding frequently, bald areas, or hair loss) then you must get in touch with a vet. There are numerous medical problems that can trigger excess Bernedoodle shedding. Some of them are listed here:
Infections: Fungal or bacterial
Fleas, lice, or mites
Pet Allergic reactions
Cushing's condition or other kidney, thyroid, or liver problems
Current medications
Cancer
Nonshedding Bernedoodle Generations
There are numerous Bernedoodle generations that will shed less hair. For instance, an F1B Bernedoodles (25% Bernese Mountain Dog, 75% Poodle) will shed less because they are 75% Poodle. The more Poodle genetics that a dog has, the less likely it will shed. In addition, the F1BB Bernedoodle (87.5% Poodle & 12.5% Bernese Mountain Dog), F2B Bernedoodle (62.5% Poodle & 37.5% Bernese Mountain Dog), and also F2BB Bernedoodle (81.25% Poodle & 18.75% Bernese Mountain Dog) also are likely to not shed.
Nevertheless, at the end of the day, it boils down to luck whether your Bernedoodle will certainly shed. As an example, if you have an F1 Bernedoodle (50% Poodle, 50% Bernese Mountain Dog) you may get lucky and get a dog that doesn't shed. Because this Bernedoodle is a 50% Poodle mix, there's only a 50% chance that it may shed less hair.
Furthermore, some Bernedoodles tend to shed very little for the first year of their lives as their puppy coat develops. As their adult coat grows in, then dog owners may start discovering globs of hair around their house.
Conclusion for Do Bernedoodles Shed? Why is my Bernedoodle shedding? (2020)
Too much Bernedoodle shedding is triggered because your dog inherited the Bernese Mountain Dog genetics. Bernese Mountain dogs tend to shed a lot of hair while the Poodle doesn't shed any hair at all.
You will likely notice seasonal hair loss in the warmer months of the year as Bernedoodles will certainly shed their winter season layer throughout this time around. You can have minimal dog shedding by brushing your Bernedoodle daily, showering your dog, preventing stress or anxiety, and also giving them nutritional supplements. 
Other articles you might like:
Garrett loves animals and is a huge advocate for all Doodle dog breeds. He owns his own Goldendoodle named Kona. In addition, he volunteers at the Humane Society of Silicon Valley, where he fosters dogs and helps animals. Garrett enjoys writing about Doodles and believes that dogs can teach humans more about how to live than humans can teach a dog.
Why Trust We Love Doodles?
At We Love Doodles, we're a team of writers, veterinarians, and puppy trainers that love dogs. Our team of qualified experts researches and provides reliable information on a wide range of dog topics. Our reviews are based on customer feedback, hands-on testing, and in-depth analysis. We are fully transparent and honest to our community of dog owners and future owners.