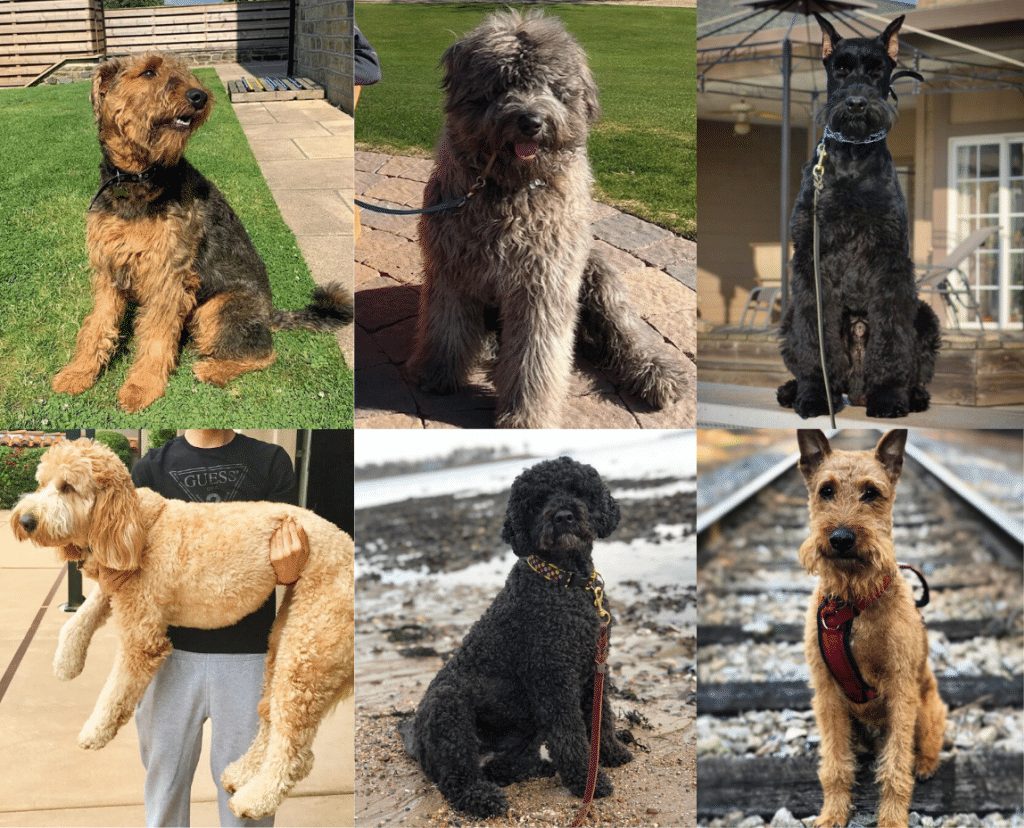 Some dog owners live by the motto that bigger dogs are better.  Other dog owner's refuse to get a big dog because they typically shed a lot of hair that gets everywhere including your clothes, carpet, car, and every imaginable crevice.  Bigger dogs also tend to carry a lot of more dandruff which can cause severe allergy issues for some humans.  But what if you could have a big dog that doesn't shed and is allergy free?  Yes, allergy-free big dogs that don't shed do exist!
Big dogs that don't shed are considered a class of dogs that we call hypoallergenic dogs.  According to the American College of Allergy, up to 10% of all Americans are potentially allergic to dogs.  Getting a big dog that is hypoallergenic and non shedding helps limit the amount that person will suffer if they are allergic to dogs.  It's important to note that no dog is 100% non-shedding and hypoallergenic.  However, hypoallergenic dogs collect less dander than non-hypoallergenic which causes all the allergies in humans.  This is because hypoallergenic dogs have a coat that is made of hair instead of a shedding fur coat.  The hypoallergenic coats also cause dogs to shed a lot less than non-hypoallergenic dogs.
Below is our list of the Best Top 10 Big Dogs that Don't Shed.  Our criteria was dogs over 50 pounds (22.68 kg) that don't shed.  We hope you enjoy!
1) Airdale Terrier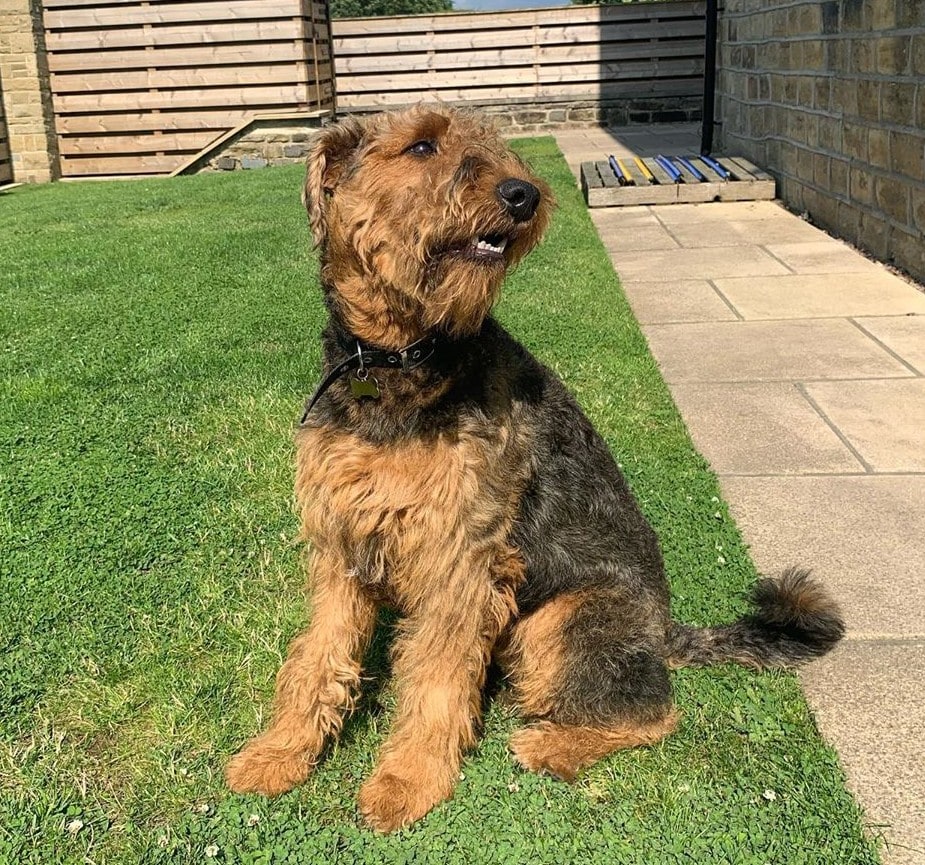 Airedale Terrier's typically weigh somewhere between 50 to 70 pounds and are often referred to as the King of Terriers since they are the largest of the breed.  They were originally bred to catch otters and rats in the Aire of Yorkshire Valley.  Airedale Terriers can stand up to 23 inches tall and are considered an athletic hunting dog and loyal companion.  In addition, Airdale Terriers are considered able body working and sporting dogs that can compete in agility and well as hunting test.
The best feature is Airdale Terrier's shed almost no hair at all.  They have two major layers of hypoallergenic coats: a rough and wiry top coat as well as a short hair undercoat.  Regular brushing keeps the dander out making the Airdale Terrier a great option for a hypoallergenic dog.  However, since Airdale Terrier's don't shed, you'll have to pay a professional groomer or learn to shave your dog yourself.
2) Bouvier de Flanders
Bouvier de Flanders are big dogs weighing from 80 to 120 pounds.  They were originally bred as a herding and farming dog for sheep herding, cart pulling, and cattle driving.  Bouvier de Flanders originated in Flanders, Belgium and the name directly translates to "Cow Herder of Flanders."  They are a powerfully built, rough coated, and make a great companion.
Due to their rough exterior coat, Bouvier de Flanders shed virtually no fur, but need to be regularly groomed at least a few times a year to maintain cleanliness and prevent matting of the fur.  Since the Bouvier de Flanders is an extremely active breed, they also require regular exercise.
3) Giant Schnauzer
The Giant Schnauzer is like the Standard Schnauzer, but a lot bigger.  This dogs typically weighs around 95 pounds and stands tall at 27.5 inches.  The Giant Schnauzer has a wired double coat, beard, eyebrows, and a happy looking face.  Due to their wired double coat, Giant Schnauzers shed little to no hair at all when properly cared for.  These dogs were bred from Germany are considered to be a loyal, bold, and trainable dog breed.  Giant Schnauzers were also used as military and police dogs at one point during World War 1 and World War 2.  The Giant Schnauzer is a food motivated dog and are prone to obesity if they aren't regularly exercised.
4) Goldendoodle
We might be biased, but the Goldendoodle is the cutest of all our big dogs that don't shed.  Goldendoodles are a relatively new breed that is bred by mixing a Golden Retriever and a Poodle together.  Golden Retrievers typically weigh around 80 pounds (36.29 kg) while Standard Poodles weigh between 50 pounds (22.68 kg) and 70 pounds (31.75 kg).  Larger Goldendoodles can weigh between 70 pounds (31.75 kg) and 80 pounds (36.29 kg) and stand 24 inches (0.61 meters) tall.  The original purpose of breeding a Goldendoodle was to create a guide dog for allergy prone and visually impaired individuals.  They are extremely fun-loving and loyal dogs.  Every wonder what it is like to cuddle with a real life teddy bear?
The Goldendoodle gets their hypoallergenic and non shedding coat from the Poodle.  If you're looking to get a hypoallergenic and non shedding dog then you should not get a straight coat Goldendoodle.  Instead, it's best to get a Goldendoodle that is back crossed several generations to the Poodle.  We wrote a whole article where you can read more about the Best Goldendoodles Generations.  The Goldendoodle is our #1 Pick for big dogs that don't shed!
5) Portuguese Water Dog
The Portuguese Water Dog is a working dog that can get up to 60lbs in size.  They originated in Portugal to help herd fish into nets and retrieve broken nets or lost fishing tackle.  The Portuguese Water Dog is one of the rarer breeds on our list of big dogs that shed.  It's unlikely that you will see a Portuguese Water Dog every day at your dog park so choose this dog if you want a more unique breed.
Portuguese Water dog's shed very little hair due to the curly coat.  Their hypoallergenic and non shedding coat have made them fairly popular in recent years.  In fact, the U.S. President, Barack Obama has two Portuguese Water Dogs named Bo and Sunny.  The Obama family specifically chose the Portuguese Water dog because they don't shed and are hypoallergenic.  The closest relative to the Portuguese Water Dog is the Standard Poodle that also doesn't shed.  Portugueset Water Dog's essentially have a single layer coat that doesn't shed and is relatively easy to maintain with daily brushing.  You'll have to groom your Portuguese Water Dog fairly often since their hair will grow indefinitely.
6) Spanish Water Dog
Spanish Water Dogs will get up to around 50 pounds (22.68 kg) in weight and stand around 20 inches (50.8 cm) tall.  They originated from Spain with the intent of herding sheep as well as being an all around guard dog.  The Spanish Water Dog is a big dog that doesn't shed and loves to retrieve items from the water.
Spanish Water Dogs shed very little and have a woolly coat.  Spanish Water Dogs are unique in a sense that they don't to be groomed as often as the other big dogs that don't shed.  A haircut once is a year is recommended, and they don't have to be brushed as often as the other dogs. 
7) Standard Poodle
The Standard Poodle is a tall dog that can weight up to around 70 pounds (31.75 kg) and stand over 25 inches (0.64 meters) tall.  They have extremely long legs that make them "bounce" around the house or yard.  According to the AKC, Standard Poodles are one of the smartest dogs so it's important to make sure that this big dog that doesn't shed gets enough mental stimulation.
The Standard Poodle has a hypoallergenic coat that is extremely curly and will tangle and matte up if not properly groomed.  Though the Standard Poodle sheds very little, they are prone to several genetic diseases due to inbreeding.  However, the Standard Poodle makes a great big dog companion.
8) Irish Terrier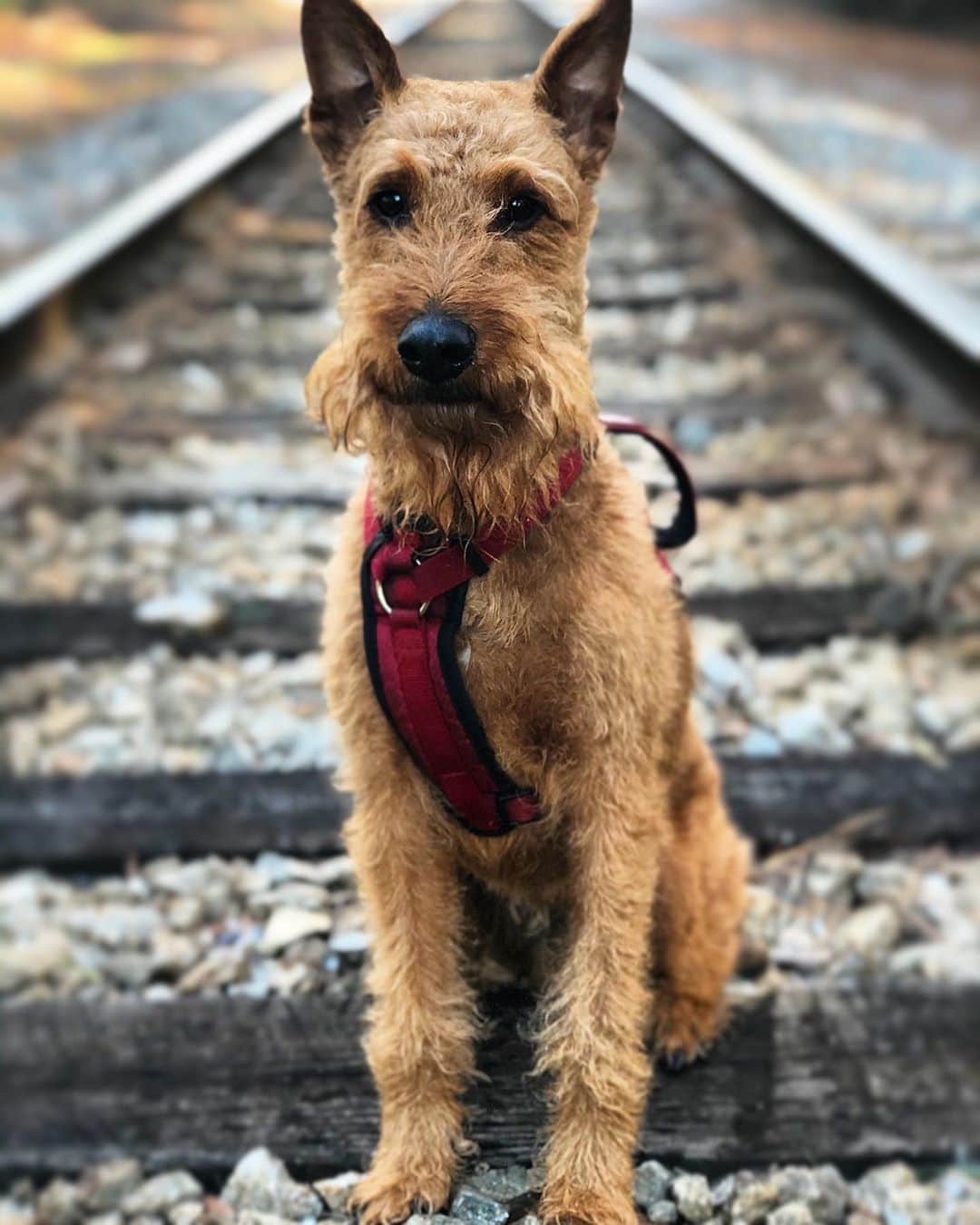 The Irish Terrier is a big dog breed from Ireland that is considered one of the oldest dog breeds in the world.  They typically weight around 50 pounds (22.68 kg) and can grow 20 inches (50.8 cm) tall.  
The Irish Terrier sheds very little despite the fact that they have a double coat.  The have a somewhat coarse outer coat and shorter haired inner coat that helps to maintain their hypoallergenic feature.  Grooming is also easy, and they typically come in beautiful colors like golden red or wheat.
9) Lagotto Romagnolo
The Lagotto Romagnolo is a famous big dog that doesn't shed.  They are used to find truffles all over the world due to their ability to smell.  Lagotto Romagnolo came from a sub region in Italy called Romagna and was originally bred as a water dog.  This dog can get over 35lbs and roughly 19 inches tall.
The Lagotto Romagnolo sheds very little hair due to its thick waterproof double coat.  Their coats are extremely fluffly and are one of the easiest to get matted so you will need to regularly groom this breed.
10) Manchester Terrier
Like the other terriers, the Manchester Terrier is a medium sized dog that was bred in the 19th century to hunt rats.  You'll often see these dogs chasing squirrels at the dog park as they are high spirited and extremely athletic.  Manchester Terrier's are easy identified by their black and brown coats.
Manchester Terriers shed infrequently due to their short wiry hair.  They are type of dog that you simply just need to wipe down and occassionally bathe.  The downside is that these dogs are extremely active so you will likely need to give them a good walk at least a couple times a day.
Things to Consider Before Getting a Big Dog that Doesn't Shed
Exercise: Large dog breeds are typically bred for a specific purpose.  Some dogs are meant to herd livestock while other dogs are mean to protect their owners.  In general, many of the big dogs that don't shed were bred to have some form of daily exercise.  If you don't exercise your big dog regularly then they may become obese, bored, frustrated, and cause chaos around your house by biting and ripping things.  You need to keep you mind your dog's needs based on their age, size, and breed.

Living Area

: The size of your living area is extremely important.  Several of the big dogs that don't shed are indoor animals.  If you're a city dweller that lives in a small apartment, it might be better to find another type of dog.  However, big dogs that don't shed are perfect for urban home-owners who have a backyard or rural residents.  

Cost of Maintenance

: In general, bigger dogs will cost a significant more than smaller dogs to maintain because they weigh more.  Many cost factors are determined based on a dogs weight such as surgical procedures, boarding, grooming, and medication.  In addition, bigger dogs that don't shed will eat a lot more increasing food costs.
Training: Big dogs require significantly more training that smaller dogs.  This involves taking your big dog to training classes or implementing strict rules that they abide by as a puppy.  You don't want your dog jumping on people at the dog park, reaching on the table to grab food, or barking loudly at night.  If you don't train your big dog that doesn't shed properly they will quickly become one of your biggest nightmares.  
Conclusion for Big Dogs that Don't Shed
Big dogs make great companions.  However, big dogs that don't shed and are hypoallergenic make better companions!  You'll no longer have to vacuum up dog hair  every day, lint roll your clothes out, or brush your socks off before you put your shoes on.
Other popular articles to read:
Garrett loves animals and is a huge advocate for all Doodle dog breeds. He owns his own Goldendoodle named Kona. In addition, he volunteers at the Humane Society of Silicon Valley, where he fosters dogs and helps animals. Garrett enjoys writing about Doodles and believes that dogs can teach humans more about how to live than humans can teach a dog.
Why Trust We Love Doodles?
At We Love Doodles, we're a team of writers, veterinarians, and puppy trainers that love dogs. Our team of qualified experts researches and provides reliable information on a wide range of dog topics. Our reviews are based on customer feedback, hands-on testing, and in-depth analysis. We are fully transparent and honest to our community of dog owners and future owners.