Bernedoodles are some of the best family dogs you can get. They may be a crossbreed dog, but they are known for being goofy, loving, and loyal. In addition, these dogs are mostly hypoallergenic and nonshedding which is why the Bernedoodle has become so popular in Illinois.
We know that it can be quite challenging to find good and reputable Bernedoodle breeders in Illinois that will sell you a healthy and happy puppy. Thus, we've searched through virtually all the Bernedoodle puppies in Illinois to find the top breeders. We have excluded all puppy mills and breeders that don't take proper care of their dogs.
Other articles you might like: Best Bernedoodle Rescues.
Central Illinois Doodles is the #1 Bernedoodle breeder in Illinois on our list. They are a reputable family-owned Bernedoodle breeder specializing in beautiful tri-color Bernedoodle puppies from health tested parents.
As a professional breeder, they understand the importance of having high breeding standards, to not only be an ethical breeder but also improving the breed. Their adult canines undergo a strict temperament screening and genetic health testing ensuring they are raising the healthiest puppies with amazing temperaments. After birth, they start socializing all their puppies with a process called early neurological stimulation to ensure they have the happiest and most socialized Bernedoodle puppies for sale!
Bernedoodle Puppy Information:
Sizes: Mini and Micro Bernedoodle puppies
Generations: F1 and F1B Bernedoodle puppies
Bernedoodle Breeder Information:
2. Walnut Valley Puppies Illinois
Walnut Valley Puppies is located near Flat Rock, Illinois. They breed both mini and standard Bernedoodles puppies. This family is all about a loving environment and a loving puppy that will be the perfect family addition for your home. This Bernedoodle breeder works hard to help you find and match with a  puppy.
All the Bernedoodle puppies in Illinois are raised comfortably and lovingly within their home. Once they are born, they are raised with love and care from the family. They often have tri-color Bernedoodle puppies in their litters, which is one of the most popular coat color options out there.
You can see tons of information and pictures on their website if you check out their website. All parents and puppies are health and genetic tested so you can rest assured that they won't have hereditary diseases. When you take your puppy home, you get an ICA registration, an online training course, health certification, microchipping, de-worming and vaccinations, blanket, collar and leash, toys, dog food, and more. We think this is one of the most reputable Bernedoodle breeders in Illinois.
Bernedoodle Puppy Information:
Sizes: Mini and standard Bernedoodle puppies
Generations: Multi-generational, F1B Bernedoodle puppies
Bernedoodle Breeder Information:
3. Maple Valley Puppies IL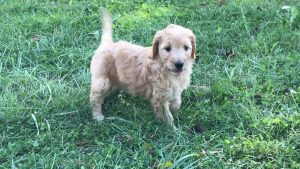 This breeder can be found in Robinson, Illinois where they raise both Goldendoodle and Bernedoodle puppies. You can find different sizes at different times of the year which includes toy, mini, and standard sizes.
For this breeder, you can check out lots of great pictures and testimonials on their website. They have made many people very happy with tri-color Bernedoodles, as well as other colored puppies. This family lives on a 20-acre piece of pasture and woodland and is located centrally in Illinois. Their goals are to raise healthy and happy Bernedoodle puppies in Illinois to add to your family.
These puppies are raised as part of the family. They spend time with the family and the children as well as other animals on their farm. They offer delivery services at reasonable prices as well if you're located in Illinois. Their litters tend to have waitlists so don't wait too long! Their Bernedoodles are all health-tested and genetic tested to not pass on hereditary diseases.
We will point out that there are a lot of price variations so it's unclear just how much your Bernedoodle will cost. However, you can contact them for exact pricing.
Bernedoodle Puppy Information:
Bernedoodle Breeder Information:
Location: Robinson, Illinois
Phone: 618-707-0705
4. Eight Pines Bernedoodles Illinois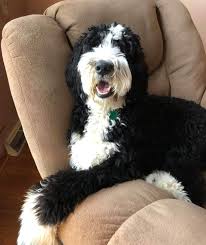 This Bernedoodle breeder is a mother and daughter pair that has a family farm in Shelbyville, Illinois. There Bernedoodles are bred and raised on the farm and taken care of until they find their forever homes. The mother of the group is a veterinary assistant with plenty of experience working with all types of animals and pets.
Their goal is to provide high-quality Bernedoodle puppies in Illinois that will integrate into family homes with little adjustment. The puppies are happy, healthy, and well socialized before they go to their forever home. The females are part of the family farm and live in the home as well. The father is local and lives apart from the females.
You can find plenty of information on their website as well as their Facebook page if you want to check this Bernedoodle breeder in Illinois. All of the parent dogs are AKC registered and standard sized. You can expect that your Bernedoodle will be standard size and most likely tri-color as well. Puppies will come with age-appropriate health treatments and a one year health guarantee as well.
Bernedoodle Puppy Information:
Bernedoodle Breeder Information:
5. Erica's Doodles Illinois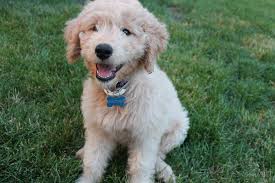 This breeder runs a breeding program that welcomes multiple doodle breeds, including Bernedoodles. They've been breeding like this for 11 years and are one of the oldest Bernedoodle breeders in Illinois. They are state-licensed for breeding puppies and they stand behind the care and quality of their dogs.
This is a family breeder and puppies are raised around their house. Moreover, they have 10 acres of land so the puppies get to run and play outside. They are around children and other animals as well so they come home well socialized. Their Bernedoodle puppies in Idaho are gorgeous, healthy, and happy when they go home.
Their Bernedoodle parents are all health tested as well as the puppies. You can see all sorts of pictures and reviews on their website, but they also have a Facebook page where they share a lot of information. When the puppies go home they have shots, de-worming, leash and collar, toy, dog food, and more. They are started on both crate training and housebreaking practices as well. These puppies have a 3-year health guarantee. This is one of the most reputable Bernedoodle breeders in Illinois.
Bernedoodle Puppy Information:
Bernedoodle Breeder Information:
6. Awesome Paws IL
This is a premier Bernedoodle breeder in Illinois that also breeds several types of dogs, including Moyen Poodles, Aussiedoodles, and Bernedoodles. They even have ragdoll kittens at this breeder if you're interested in getting a cat. In addition to purchasing a puppy, they also have a program with trained dogs that are older and retired parent dogs that are available to adopt to good homes. So if you're looking for a Bernedoodle that is slightly older but already trained, this could be a really good option.
This company has been in operation for 25 years and they strive hard to provide a health guarantee as well as quality and well-mannered puppies for your home. Their Bernedoodle puppies in Illinois get loving care and socialization from their first day in the world. They are raised in the home with the family as well as other cats and dogs.
The Bernedoodle puppies are taught manners in their short time before they find there forever. This makes it easier for you to begin training when you take the puppy home. All puppies have a health guarantee and are provided with the standard health treatments. You can apply for a Bernedoodle puppy and waitlist on their website. They also have a Facebook page with lots of pictures and information as well.
They don't currently have any Bernedoodle puppies for sale in Idaho, but they are bred there so you may need to inquire about planned litters and a waitlist.
Bernedoodle Puppy Information:
Sizes: Standard Bernedoodle puppies
Generations: Multi-generational Bernedoodle puppies
Bernedoodle Breeder Information:
Choosing a Bernedoodle Breeder in Illinois
Illinois has a lot of great options for choosing a Bernedoodle puppy. Where some states only have a few breeders sporadically spread out, Illinois has a handful of them which made it challenging to just pick a few top breeders. Since there are so many Bernedoodle breeders in Illinois, we wanted to share a couple of tips to help you choose a breeder.
Research
Take the time to do a little research about the dog breed as well as the breeder. Read testimonials and check out social media. Try to dig through and make sure there isn't any hidden information that might make a difference in your decision. Puppy mill operators are getting smarter and often operate under the guise of a premium breeder.
If you can find an in-home breeder that raises the puppies in their home as part of the family, that is always your best bet. You find that puppy mills tend to raise their dogs in kennels and keep them in the house all day long.
Be Patient
Finding a quality breeder and waiting for a quality litter can easily take some time. Not only should you research all your options but you may end up on a waitlist. We promise the wait is well worth the time but you do have to be willing to be patient in the meantime.
What is a Bernedoodle?
The Bernedoodle is a breed that has become more popular just in the last decade. It is considered a designer dog breed that is a cross between the Poodle and the Bernese Mountain Dog. They are also known for their easygoing temperaments and their all-around positive attitude. They can also be hypoallergenic if you have any type of pet allergy and they tend to not shed as much fur as a Bernese Mountain Dog.
These dogs are smart, funny, goofy, loyal, friendly, and caring. In addition, they are easy to train and are relatively food motivated. Many people look for the tri-color coat blend of black, brown, and white, but there are plenty of unique traits about these dogs.
Bernedoodles can be found in a variety of sizes from mini to full-size. This means there is a variety of weight and height measurements, with the potential to weigh as little as 10 pounds or as much as 60+ pounds.
Now, let's take a look at the best Bernedoodle breeders in Illinois to help you find a potential puppy.
Conclusion for Bernedoodle Breeders in Illinois
Bernedoodle puppies in Illinois are becoming so popular due to their tri-color coats. In addition, they are also considered mostly hypoallergic and don't shed much hair around your house. If you're looking for one of these puppies, you should reach out to one of our Bernedoodle breeders in Illinois. We've done a lot of research for you so you can easily choose a breeder.
Other articles you might like:
Garrett loves animals and is a huge advocate for all Doodle dog breeds. He owns his own Goldendoodle named Kona. In addition, he volunteers at the Humane Society of Silicon Valley, where he fosters dogs and helps animals. Garrett enjoys writing about Doodles and believes that dogs can teach humans more about how to live than humans can teach a dog.
Why Trust We Love Doodles?
At We Love Doodles, we're a team of writers, veterinarians, and puppy trainers that love dogs. Our team of qualified experts researches and provides reliable information on a wide range of dog topics. Our reviews are based on customer feedback, hands-on testing, and in-depth analysis. We are fully transparent and honest to our community of dog owners and future owners.